Shepard Smith, respected nonpartisan voice at Fox News, is leaving the network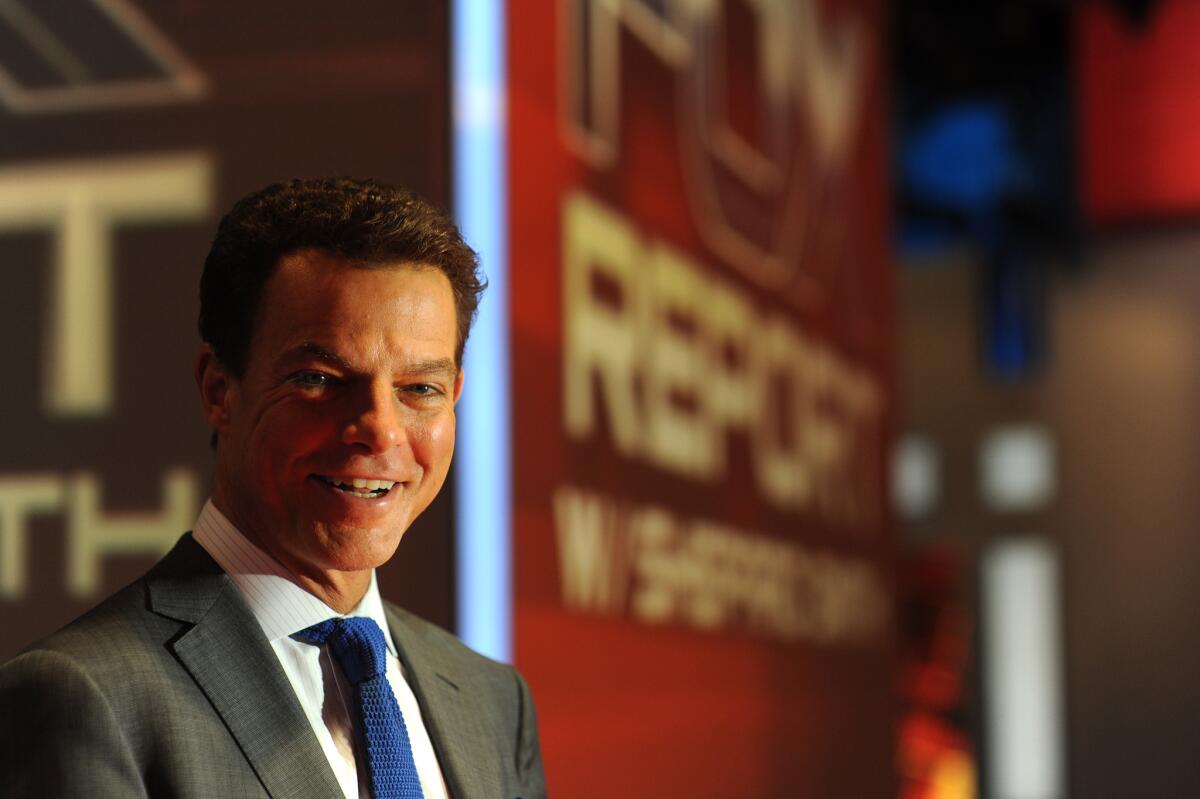 Shepard Smith, the longtime lead anchor of Fox News who stood out as the nonpartisan voice on the conservative channel, is leaving the network.
Smith, 55, who has been with Fox News since it launched in 1996, told viewers at the end of his Friday broadcast that he asked management to be let out of his contract and that they "graciously obliged." After the program, he left the network's Midtown Manhattan headquarters for the final time.
While Smith was far from being the highest-rated personality on Fox News, his straight-ahead approach to stories that often contradicted what viewers heard from its conservative commentators in prime time was a major source of credibility for the network.
His departure is a major blow to Fox News' efforts to remain a reliable news operation, as many people view it as a propaganda arm for the Republican Party and the Trump White House. President Trump has close ties with Rupert Murdoch, executive chairman of parent firm Fox Corp., and a number of Fox News employees and contributors have gone to work at the White House.
Smith was often targeted in tweets by Trump, who would complain about the coverage he received on the anchor's daily program.
But Smith's value to Fox News was reflected in his salary. His current contract paid him $15 million a year, a staggering figure for an hourlong newscast that aired in the middle of the day.
His high salary kept cable news competitors CNN and MSNBC from poaching the anchor, even though both have expressed interest in recruiting the broadcaster.
But Smith decided to become a free agent amid reports that he was increasingly unhappy with the intensity of the pro-Trump rhetoric spouted by prime-time hosts Tucker Carlson and Sean Hannity.
Smith was said to be especially dismayed over comments by Carlson, who said, "White supremacy is not a real problem in America."
Smith was also angry when Carlson did not call out lawyer Joe diGenova for describing Fox News senior judicial analyst Andrew Napolitano as "a fool" on his program. "Attacking our colleague who's here to offer legal assessments on our air is repugnant," Smith said.
Otherwise, Smith was popular with his colleagues at Fox News, including Hannity. He had often described his connection to Roger Ailes, the late founding chief executive of Fox News, as a father-son relationship. Ailes strongly supported Smith whenever he received pushback from the network's right-leaning fans.
Staffers, who had no inkling that Smith's announcement was coming, were said to be crying on the set Friday after he gave his on-air farewell to viewers. Neil Cavuto, whose Fox News program follows Smith's, was visibly stunned by his colleague's departure.
In a staff memo, Fox News Chief Executive Suzanne Scott and her second-in-command, Jay Wallace, said the anchor "recently asked us to step down and begin a new chapter. We know this was an extremely difficult decision for him and he made it with much deliberation, care and consideration. While this day is especially challenging for both of us who have worked alongside him for 23 years, we respect his decision and are deeply grateful for his immense contributions to the entire network."
A native of Holly Springs, Miss., Smith was a local TV news reporter in Florida and a correspondent on the syndicated program "A Current Affair" before joining Fox News in 1996.
Fox News executives said privately that Smith's departure — which comes amid the growing intensity of the impeachment inquiry into Trump's interactions with Ukraine — does not reflect any change in the direction of the channel.
The 3 p.m. Eastern hour will remain a straight news hour without commentary (although Smith occasionally veered into that area himself in the Trump era, often to push back at disinformation from opinion hosts on the network).
Other members of the news-gathering operation said privately that they were reassured Smith's departure should not be seen as a move away from having venues for opinion-free reporting.
Inside the business of entertainment
The Wide Shot brings you news, analysis and insights on everything from streaming wars to production — and what it all means for the future.
You may occasionally receive promotional content from the Los Angeles Times.