Univision, the nation's largest Spanish-language media company, nears a sale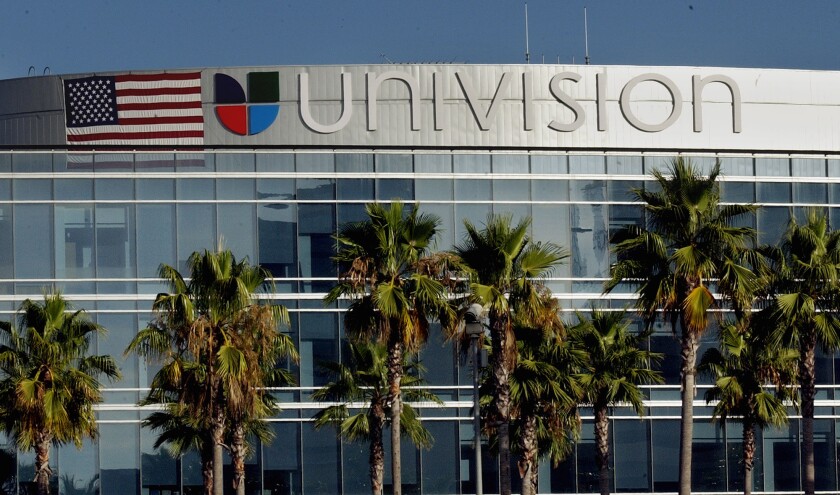 Univision Communications, the nation's largest Spanish-language media company, is nearing a sale to an investment group led by former Viacom executive Wade Davis, according to three people familiar with the matter.
Univision is in advanced negotiations to sell itself to the Davis group, which includes the private equity firm Searchlight Capital Partners, according to the sources, who were not authorized to comment.
A deal could happen as early as next week, but the two sides continue to hash out key provisions of the deal.
The sellers, a consortium that includes Los Angeles billionaire Haim Saban, had been seeking $10 billion, which is dramatically less than what the owners paid more than a decade ago when they bought Univision from the late Jerrold Perenchio and his Latin American partners.
It was unclear Friday how much Davis and his bidding partners are offering for Miami-based Univision, which includes the television networks Univision, UniMás and Univision Deportes. The company also owns more than 50 radio stations and more than 60 television stations, including KMEX-TV Channel 34 in Los Angeles.
Univision remains a potent draw with Spanish-speaking viewers, primarily immigrants from Mexico and Central America. Prospective buyers hope to capitalize on its ability to reach a key demographic: Latino millennials and their children.
What's more, analysts predict a record year for political spending in advance of the November election, and some of that largess is expected to be spread across Spanish-language media. Already, several presidential candidates have begun wooing Latinos, and Univision's national and local newscasts on KMEX and other stations supply news to millions of viewers.
Still, the company faces steep challenges, in part because of demographic shifts. There has been a significant slowdown in immigration from Mexico in recent years, a problem for Univision because it has relied heavily on Spanish-speaking newcomers to replenish its audience. U.S.-born Latinos typically prefer to watch shows on Netflix, Hulu, ABC and NBC.
Univision's prospective owners also must bolster the company's entertainment programming to make it more appealing to younger viewers, expand its digital platforms and pay down the debt that would come with the acquisition.
Saban and four private equity firms in 2007 paid $13.7 billion for Univision, figuring the nation's largest Spanish-language media company would be a sure bet.
But years of boardroom bickering and missteps, including a disastrous foray into English-language media, as well as rising competition have taken a toll. The owners decided last year that they wanted out — even if it meant not reaping a profit on their investment.
In addition to Saban Capital, the consortium is made up of TPG (formerly known as Texas Pacific Group), Thomas H. Lee Partners, Providence Equity Partners and Madison Dearborn Partners.
John Malone's Liberty Global had been in the running for Univision, one of the informed persons said. Miami-based Hemisphere Media Group dropped out of the bidding, another source said.
Davis, the former chief financial officer at Viacom, left the company last fall after that company's merger with CBS Corp. The former investment banker spent 13 years at Viacom, owner of MTV, Comedy Central, BET and Nickelodeon, joining in 2005 as head of its small mergers and acquisitions unit. In 2012, after leading corporate development and strategy, Davis became the top financial officer.
In December, Davis founded a new firm called Forgelight, based in New York.
Searchlight Capital Partners is a New York-based private equity firm, which maintains a varied portfolio. Earlier this month it took a stake in Global Risk Partners, an independent insurance intermediary firm. It has investments in the Israeli communications services provider Bezeq and the Italian broadband provider Eolo.
Last spring, Searchlight Capital was part of a group that acquired Frontier Communications' fiber broadband operations in Montana, Idaho, Washington and Oregon. The firm previously was an investor in the children's clothing chain Gymboree, which twice filed for bankruptcy.
A Univision representative declined to comment.
The Wall Street Journal first reported on the Univision sale talks.
Univision, which began in 1961 with a lone TV station in Texas, used to be the premier Spanish-language destination, commanding 80% of the market. Its main competitor, Telemundo, was barely a threat.
But cable giant Comcast Corp. in 2011 bought NBCUniversal and began investing in Telemundo, even snatching rights for the FIFA World Cup of soccer from Univision, the tournament's longtime home.
Now the two companies — Univision and Telemundo — have been jockeying to claim the title of most-watched Spanish-language network in the U.S.
---
Inside the business of entertainment
The Wide Shot brings you news, analysis and insights on everything from streaming wars to production — and what it all means for the future.
You may occasionally receive promotional content from the Los Angeles Times.