Indie Focus: Enduring war in 'The Painted Bird'
Hello! I'm Mark Olsen. Welcome to another edition of your regular field guide to a world of Only Good Movies.
Get the Indie Focus newsletter, Mark Olsen's weekly guide to the world of cinema.
You may occasionally receive promotional content from the Los Angeles Times.
For anyone with an interest in the world of movies, this remains an uncertain time. The usual calendar and ways of doing things are out the window. The Telluride Film Festival's 2020 edition is canceled, as Josh Rottenberg reported. And the evolving COVID-19 pandemic means an ever-changing status for the reopening of movie theaters, as Ryan Faughnder wrote. As the head of a theater industry group put it: "This is existential for the movie theater industry. If we go a year without new movies, it's over."
Anousha Sakoui took a look at Hollywood's struggles to resume production in Los Angeles amid concerns over safety protocols. As one Boyle Heights resident said of the prospect of a film shoot in his neighborhood, "No one needs to die for a Michael Bay movie."
Our Ultimate Summer Movie Showdown has been rolling along, pitting movies released in the same week of different years against each other and asking readers to vote. This week "Back to the Future" narrowly beat out "Terminator 2: Judgment Day." Justin Chang and I tossed around some thoughts on the movie, and then I had the distinct pleasure of interviewing one of its stars, Lea Thompson, who spoke with warmth and affection about not only the film but also its dedicated fans.
Last week I reviewed one of the year's most unconventional films, "Bloody Nose, Empty Pockets," the new film from brothers Bill Ross IV and Turner Ross, available now in virtual cinemas. In creating this confounding hybrid of documentary and fiction filmmaking, the Ross brothers assembled a group of people to celebrate the fictitious last night at a dive bar in Las Vegas. (The film was shot in New Orleans.)
"So if it's not a strict documentary and it's also not a conventional fiction feature, then what exactly is this movie? Does the distinction matter?" I asked. "The most important thing is that it is genuinely great, a singular and moving glimpse of loneliness, community and finding the strength to face another day."
Enjoying this newsletter? Consider subscribing to the Los Angeles Times
Your support helps us deliver the news that matters most. Become a subscriber.
'The Painted Bird'
Directed by Václav Marhoul and based on a novel by Jerzy Kosiński, "The Painted Bird" is a nearly three-hour black-and-white film set in Eastern Europe during World War II. Thought the cast includes Stellan Skarsgård, Harvey Keitel, Barry Pepper and Udo Kier, the story focuses on a young boy played by Petr Kotlár and the horrors he sees as he attempts a journey back home. Distributed by IFC Films, the movie is available on VOD.
For The Times, Justin Chang wrote, "the pummeling, totalizing horror of 'The Painted Bird' ultimately proves its undoing. In the greatest films about rural and societal collapse, Elem Klimov's 'Come and See' and Béla Tarr's 'Sátántangó' among them, you come away with something more than bludgeoning misanthropy and calculated shocks. You get a rich, nuanced sense of the past as it once existed, and you feel the lingering rhythms of ordinary life even after they've been fatally disrupted. 'The Painted Bird' is a challenging film, impressively and proudly hard to watch. It's also just a little too easy."
For the Hollywood Reporter, Deborah Young wrote, "As in the book, the shock effect of coldly detailed incest, bestiality and sexual abuse, beatings, killings and mutilation is furiously nonstop in a film of nearly three hours. Rather than numbing the viewer, however, the parade of evil is presented in a dismaying crescendo of horror that offers no escape, least of all into Vladimir Smutny's rawly beautiful black-and-white 35-mm cinematography, shot in a CinemaScope ratio that recalls so many classic films on World War II."
At rogerbert.com, Glenn Kenny wrote, "Some have described the hellscapes that unfold here as Boschian, but in terms of composition and the rich black and white film tones, the affinity to Breughel is far more explicit. With Breughel, asking what was the point was beside the, um, point. A painting like 'The Triumph of Death' is just that. Is that the kind of timelessness to which Marhoul aspires in this movie, rather than a specific portrait of a near-apocalyptic recent world historical moment?"
For Variety, Guy Lodge wrote, "The extreme lashings of suffering and sadism shown here are scarcely ameliorated by the exacting beauty of their presentation ... The film's sheer unblinking stamina is as impressive as its pristine formal composure, though it has to be said that at nearly three hours — somewhat surprising, considering the novel's brevity — its blunt-instrument force doesn't yield much fresh perspective on oft-dramatized atrocities."
'We Are Freestyle Love Supreme'
Before creating "In the Heights" and "Hamilton," Lin-Manuel Miranda was part of an improv hip-hop group known as Freestyle Love Supreme, alongside future collaborators including Thomas Kail. Filmmaker Andrew Fried, director of the documentary "We Are Freestyle Love Supreme," was right there with them from the beginning, making this documentary a rare glimpse of friendship and raw, young talent. The film is streaming on Hulu.
For The Times, Michael Ordoña wrote, "The film contains 'Wow, they got that' footage from Freestyle Love Supreme's early days, including its first big success (a booking at Edinburgh's Fringe Festival) and its days performing in a black-box theater in the basement of Manhattan's revered Drama Book Shop. It also catches up with them today, during the Broadway run of their eponymous show last year. There are glimpses of the special bond the performers built over so many years of struggle and success. Mostly it captures them coming together to form a more powerful collective force, like a freestyle Voltron."
For the AP, Lindsey Bahr wrote, "Director Andrew Fried wasn't, you imagine, just filming his friends and their improv group across several years sincerely thinking that they were going to end up in obscurity. It sort of gets to the heart of the 'theater kid problem' where extreme earnestness crossed with laser-focused ambition can seem, to some, disingenuous and even annoying. Your tolerance for 90 minutes of that should probably help determine whether or not to watch 'We Are Freestyle Love Supreme.'"
For IndieWire, David Ehrlich wrote, "It's rare that making a documentary seems like the obligatory thing for someone to do, but Fried was sitting on such a treasure trove of unseen home video footage from the group's formative years that he didn't really have any other choice. Even at its broadest and most self-congratulatory, 'We Are Freestyle Love Supreme' is the work of someone trying to commemorate a shared bond in a way that only he could … He wasn't in the car for the grueling road trip during which 'Hamilton' director Thomas Kail and MC Anthony Veneziale — then mere college students — freestyled for hours on end and decided to join forces, but Fried had a front row seat for just about everything that happened after that."
At Rolling Stone, David Fear wrote, "What 'We Are Freestyle Love Supreme' gives you is a story familiar to anyone who binges rock docs: Young, talented friends create something out of love; success and adulthood gets in the way; the show must go on, because really, this is bigger than all of us. As an introduction to who these guys are, the bond they share and the legacy they contributed to, it's a better-than-decent primer. You simply wish it didn't feel like one long, stop-and-start mic check."
'Father Soldier Son'
Directed by Leslye Davis and Catrin Einhorn, the documentary "Father Soldier Son" is a look at the impact of war and military service on one family. The film tells the story of Brian Eisch, who served with the U.S. Army in Afghanistan and returns home to the two young sons he is raising as a single father. The film is streaming on Netflix.
For The Times, Kevin Crust wrote, "The generous access given and the vérité approach used by the filmmakers allow them to create an intimate portrait not only of a family in crisis, but a deep examination of the underlying issues related to patriotism, fatherhood, family and masculinity … 'Father Soldier Son' is a demanding film, a sometimes brutal story told with immense empathy. There is sorrow and joy; success and failure; marriage, birth and death. The Eisches are a tough crew, absorbing the challenges and even tragedy with a fragile resilience."
For the New York Times, Jessica Kiang wrote, "The unquestionable admiration for the Eisches — and all who serve — does not sell short the complexity and contradictions of military service, an ambivalence most striking in the ending Einhorn and Davis choose … But the story continues past any kind of circle-of-life climaxes, instead coming to rest on a note of conflicted pride and faltering certainty. Life in 'Father Soldier Son' does not move in a circle, but in an incrementally decaying orbit around the values that, in making us what we are, also keep us from being anything else."
For the Wrap, Steve Pond wrote, "You can appreciate the calm, measured approach and the care with which 'Father Soldier Son' is composed and assembled, but it's hard to escape the damage that has been done to the people at the heart of the film, and the damage that they've done to themselves. If this is a portrait of American manhood or American patriotism, it's a troubling one."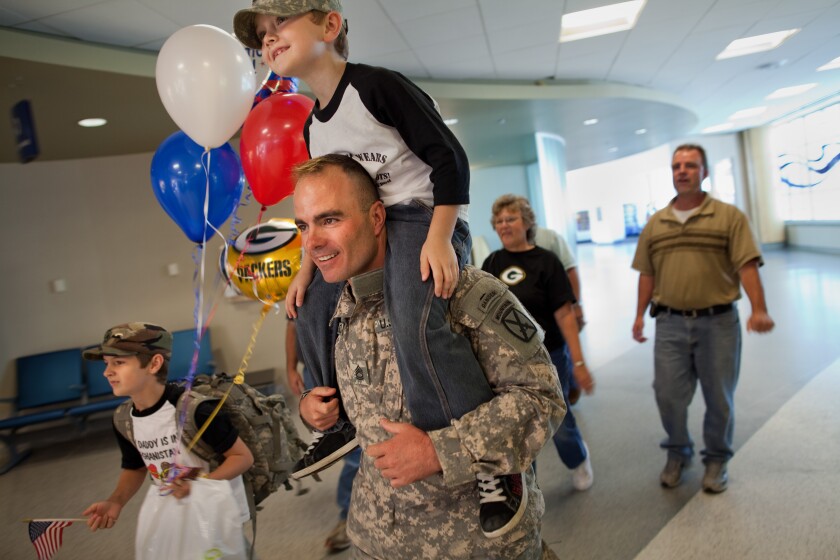 ---
The complete guide to home viewing
Get Screen Gab for weekly recommendations, analysis, interviews and irreverent discussion of the TV and streaming movies everyone's talking about.
You may occasionally receive promotional content from the Los Angeles Times.