Choose your fighter in 'Creed III' — Michael B. Jordan or Jonathan Majors
Hello! I'm Mark Olsen. Welcome to another edition of your regular field guide to a world of Only Good Movies.
Get the Indie Focus newsletter, Mark Olsen's weekly guide to the world of cinema.
You may occasionally receive promotional content from the Los Angeles Times.
Oscars around the corner. I'm not sure just how many actual Oscar voters are also regular readers of this newsletter (Hello!) but just in case someone out there needs some help with filling out their final ballot, our own Justin Chang is here to help. With a useful breakdown of the top categories, Justin describes who he would vote for if he could — including "Tár" for best picture and Steven Spielberg for director, among others — while also noting some who should been on the ballot in the first place. (The lack of nominations for Park Chan-wook and "Decision to Leave," Dolly de Leon for "Triangle of Sadness" or Jordan Peele and "Nope" jump right out.)
Another trip to the VardaVerse. The Academy Museum has launched a second part to its incredible series, "Enter the VardaVerse: Women's Liberation Through Film 1971-1977," which uses the work of Agnes Varda as a jumping-off point for exploring how other female filmmakers around the globe used cinema to examine their lives and express themselves. Tonight will feature a screening of Chantal Akerman's "Jeanne Dielman, 23 quai du Commerce, 1080 Bruxelles," recently voted the best film of all time in a poll by the magazine Sight & Sound. Other upcoming highlights include Lina Wertmüller's "Love and Anarchy"; Julie Dash's short "Diary of an African Nun" paired with Joan Micklin Silver's "Hester Street"; and Ulrike Ottinger and Tabea Blumenschein's "Madame X: An Absolute Ruler."
Free screening of 'Inside.' March 14 at the Culver Theatre, we have another Indie Focus screening series, featuring Vasilis Katsoupis' existential art-heist tale "Inside," with Willem Dafoe as a thief who becomes trapped in a luxury penthouse. There will be a prerecorded Q& A with Katsoupis, Dafoe, producer Giorgos Karnavas and art curator Leonardo Bigazzi.
Enjoying this newsletter? Consider subscribing to the Los Angeles Times
Your support helps us deliver the news that matters most. Become a subscriber.
'Creed III'
Michael B. Jordan makes his feature directing debut with the new "Creed III." This time Jordan's Adonis Creed is retired from boxing and trying to enjoy life with his wife, Bianca (Tessa Thompson), and their young daughter. When Damian "Dame" Anderson (Jonathan Majors, having quite the year), a figure from Adonis' past, suddenly reappears in his life, Adonis finds himself headed back to the ring. The film is in theaters now.
For The Times, Katie Walsh wrote, "If 'Creed III' tells us anything, it is that Majors is the heir apparent to Marlon Brando; his angry, resentful Dame, a bruiser with a chip on his shoulder, is in direct lineage from Brando's Terry Malloy in 'On the Waterfront.' … What Jordan does best as star, director and producer is showcase Majors' heavyweight performance, cementing him as one of our brightest stars. Taking over a behind-the-scenes role is a part of the 'Rocky' legacy, and Jordan takes the reins with ease, championing Majors and heralding an exciting new chapter of his career, beyond 'Creed.'"
Greg Braxton spoke to Jordan about his move to the director's chair. As Jordan said, "There's nothing anyone could have told me to prepare me for what I was getting ready to do. People have tried and I have listened, and there still is no comparison to what my wildest challenges were. But I gotta take my swings."
For the New York Times, Manohla Dargis wrote, "As entertaining as it is predictable, 'Creed III' does exactly what you expect, delivering nicely balanced helpings of intimacy and spectacle, grit and glamour. It's enjoyably old-school Hollywood in how squarely it hits all the familiar genre beats — even as it pragmatically advances the series — yet it's also very much of the moment in how it grapples with family, friendship and the complexities of contemporary masculinity, its pleasures and its burdens."
For the Hollywood Reporter, Lovia Gyarkye wrote, "In the spirit of its predecessors, 'Creed III' gears audiences up for a fight of the century: The battle between Adonis and Damian is billed as one between an underdog and a man with nothing to lose. But the implications of those categories are murky and unsettling. Even as Damian amasses more championships, putting him at a level respectable enough to fight Adonis, he has neither the capital nor the social power that his former friend does. The film, to its credit, doesn't overplay Adonis' struggles, but it never lets go of the idea that we, by default, are on his side."
For Rolling Stone, K. Austin Collins wrote, "Dramatically, the movie has its highs and lows, wandering as it does through domestic and ringside scenes that tend to have more of a spark the more deeply we delve into the differences between these men. Its fight scenes work because they're willing to get a little brutal — and the conflict that the movie sets up seems fit for that brutality. This is a fight between haves and have-nots. The movie's onto something for noticing the fundamental wisdom of the fight between a success story and his living, breathing collateral damage. We're obviously here to raise a few questions about racial progress. The symbolic overtones are sometimes painfully overt, but the story satisfies."
Enjoying this newsletter? Consider subscribing to the Los Angeles Times
Your support helps us deliver the news that matters most. Become a subscriber.
'Palm Trees and Power Lines'
Directed and co-written by Jamie Dack, "Palm Trees and Power Lines" earned Dack the directing prize at the 2022 Sundance Film Festival and is nominated for four prizes at this weekend's Spirit Awards. In the film, lonely teenager Lea (Lily McInerny) falls into a relationship with an older man, Tom (Jonathan Tucker), which leads her to places she could never anticipate. (But you just might.) The movie is in theaters and available on-demand now.
For The Times, Justin Chang wrote, "[Dack] never allows us to fall under Tom's spell, or to lose ourselves entirely in Lea's perspective. There's a disturbing edge — sometimes clinical, sometimes transactional — to the way the director and her cinematographer, Chananun Chotrungroj, frame Lea and Tom's conversations. Sometimes they'll place the two characters side-by-side in medium shot, a choice that undercuts rather than deepens their intimacy. Sometimes Tom's head will be menacingly lopped off by the top of the frame, as if to underscore just how small, and how vulnerable, Lea is. The filmmaking maintains its discretion and unblinking restraint even in its most terrifying passage, shot with an implacable calm that renders it all the more unbearable."
For the New York Times, Manohla Dargis wrote, "Dack rightly doesn't pass judgment on Lea, and she remains on the character's side throughout. But because she never gets in the teen's head and even seems oddly incurious about the girl's inner life, she fails to adequately engage with questions of sexual consent, free will and whether Lea's choices (or those of any underage child) are truly her own. Dack takes obvious care to make sure that the filmmaking and camerawork don't further exploit the character. Yet it's a bummer that the ethical and political thoughtfulness that she extends during Lea's most harrowingly vulnerable moments doesn't extend to the rest of the movie."
For the Washington Post, Ann Hornaday wrote, "Part of what makes 'Palm Trees and Power Lines' so courageous is that Dack doesn't shy away from Lea's pleasure, psychic and physical. But she manages to give the character sexual agency without reducing her to a stereotype. Instead, her insecurity and confusion are always at the fore in a story that, by the time it reaches its devastating climactic moments, is both shocking and queasily understandable. With 'Palm Trees and Power Lines,' Dack has created a haunting portrait of how trust is manipulated and abused; the trust she builds up with her characters and audience, however, remains steadfast, resulting in a film of disarming candor and power."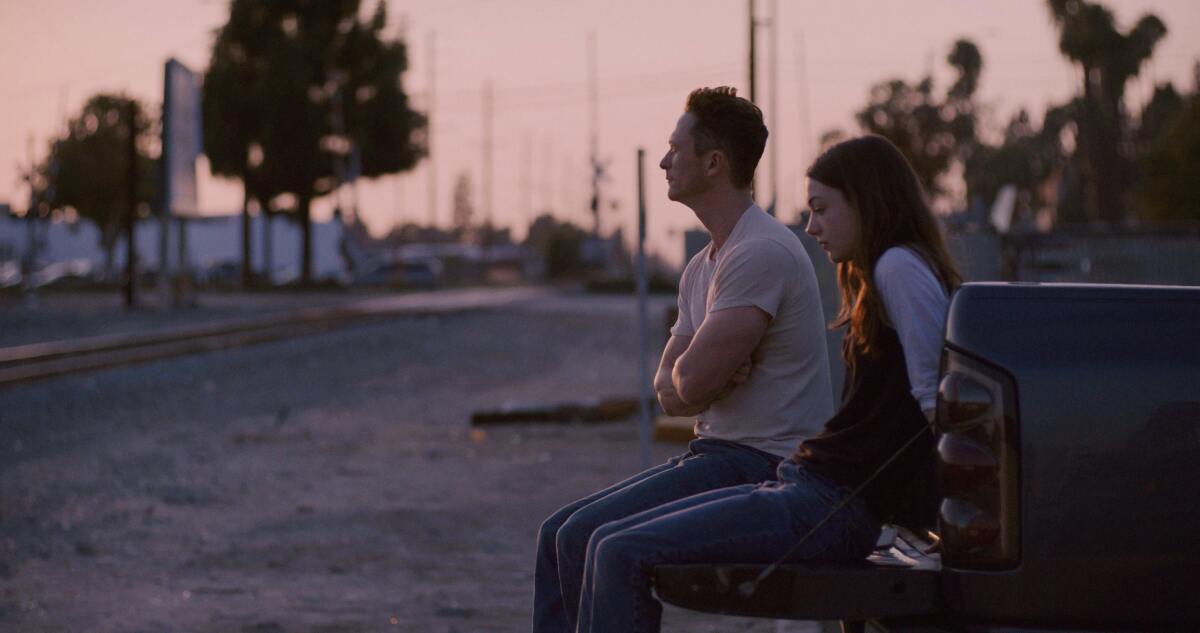 'Pacifiction'
Spanish filmmaker Albert Serra explores the legacy of colonialism with "Pacifiction," which recently won two prizes at France's César Awards, including lead actor Benoît Magimel. The story focuses on De Roller (Magimel), a French government official in Tahiti, who drifts through his days amid the lush, beautiful locale. The film is in theaters now.
For The Times, Justin Chang wrote, "'I just make sure everything's OK,' De Roller says in a meeting with a potential investor. But things are far from OK, something that Serra trusts you'll grasp even as he refuses to break the intoxicating spell of Tahiti itself. One of the most stunning widescreen panoramas in the movie (which was shot using digital cameras by Artur Tort) shows an open-air church back-framed by lush palms, mossy hills and a cloudy blue sky — an image so postcard-perfect you could almost overlook the sight of De Roller threatening the priest, demanding that he not oppose the opening of an upcoming casino. In scene after scene, Serra holds beauty and menace in a kind of uneasy equilibrium. He's made a trouble-in-paradise movie where the trouble doesn't overwhelm the paradise so much as poison it, at an almost imperceptible slow drip, from the inside."
For the New York Times, A.O. Scott wrote, "'Pacifiction,' which was filmed in Polynesia in 2021 under the shadow of Covid, is more interested in texture than plot. There is a thriller lurking around the edges of the movie, or perhaps in its subconscious, as if the conspiracies and acts of violence that are sometimes alluded to in De Roller's conversations were buried in the subtext, just out of view. It suggests John le Carré by way of David Lynch — a feverish and haunting but also wry and meditative rumination on power, secrecy and the color of clouds over water at sunset."
For the Hollywood Reporter, Leslie Felperin wrote, "It's like a Polynesian version of 'Chinatown' but made by a cast and crew stoned on rum and ketamine. Forget it, Jake, it's Papeete. … If you took away Serra's practically troll-like commitment to making his films as syrup-slow, abstruse and bourgeoisie-épater-ing as possible, they're more interesting than they sound on paper. That's especially true of this one, which really is on to something fresh and compelling with its sidelong look at the frictions between the frayed remains of French colonialist rule and the growing calls for further autonomy coming from the indigenous people of French Polynesia, which is still kinda sorta part of France."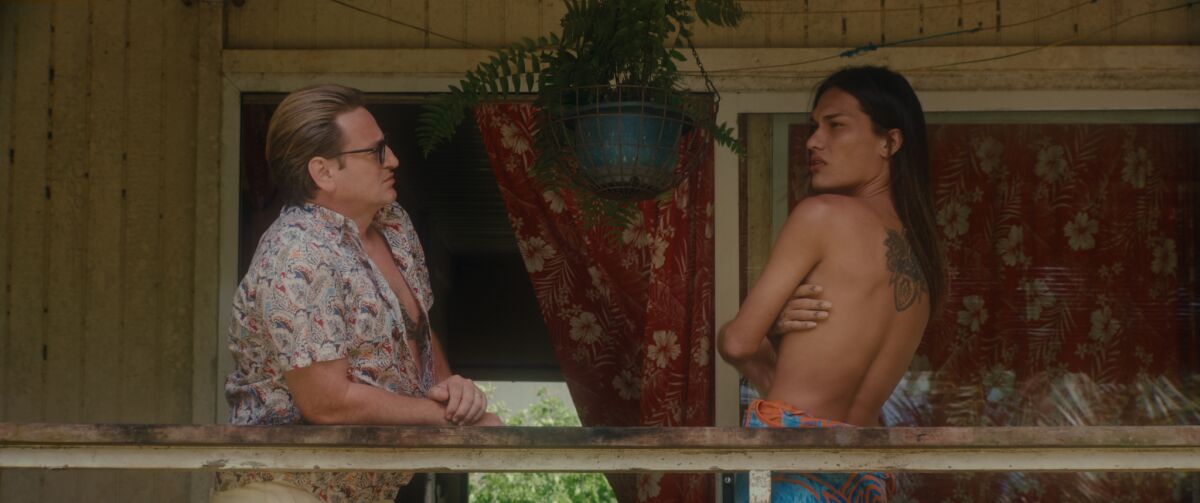 Get the Indie Focus newsletter, Mark Olsen's weekly guide to the world of cinema.
You may occasionally receive promotional content from the Los Angeles Times.