Review: The teen drama 'Palm Trees and Power Lines' tells a searing story of abuse
When we first meet Lea (Lily McInerny), the shy, watchful 17-year-old protagonist of "Palm Trees and Power Lines," she's wandering off by herself at sunset, listening to music and losing herself in thought. Those power lines stretch out in the distance behind her, a drab symbol of American suburban anomie; in one upward-glancing shot they seem to form, briefly, the bars of a cage. Another summer is under way, and Lea has spent much of it doing the same things day after day: sunbathing, smoking, staring down at her phone, hurling clipped remarks and sullen glares at her well-meaning single mom (a warm Gretchen Mol) and, most of all, wasting time with the teenagers she calls her friends.
They're not her friends, not really, with the possible exception of Amber (Quinn Frankel), the less-than-trustworthy pal with whom she exchanges secrets and gossip. One of the secondary subjects of this tough, absorbing, meticulously controlled movie is the creeping vacuity of so much contemporary teen culture — a culture in which Lea participates without feeling entirely of it. Sure, she drinks with the other kids, laughs at their dumb, raunchy jokes and even casually hooks up with one of them. But as the guy paws at her in his backseat, the camera locks in on Lea's dark, watchful eyes and registers a flash of something between boredom and terror: a gnawing fear that life may never get much more exciting or meaningful than this.
She's not entirely correct, though she may wish she had been. Directed by Jamie Dack, who based it on her same-titled 2018 short film, "Palm Trees and Power Lines" starts off as a depressive snapshot of youthful ennui and soon becomes a stark, harrowing story of predation and abuse. That story proper begins when a group dine-and-dash attempt goes wrong and Lea, the only one with enough moral sense to object to the prank, is predictably left holding the bag. That's when a man named Tom (Jonathan Tucker) seemingly comes to her rescue. After fending off a restaurant worker, he chases after Lea, pulls up alongside her in his pickup truck and gives her a ride home. Tom is assertive and good-looking; he's also 34, something he discloses with a candor that's disarming yet also, in its way, deceptive. He has more to hide than the fact that he's twice her age.
But Lea is intrigued, flattered and, as their initial flirtation grows into something more, increasingly smitten and finally seduced. She's smart enough to know that her relationship with Tom is wrong, which of course makes it that much more enticing. The thrill of the forbidden, plus the gift of an older man's generous, undivided attention, promises an escape from her humdrum reality — and especially from her clueless mom and sneering friends, none of whom she tells about her new boyfriend. She doesn't realize that when Tom tells her how special she is, and how unworthy of her those friends and family members are, he isn't building her up; he's setting a trap.
I'm reluctant to discuss the full extent of Tom's agenda, especially since "Palm Trees and Power Lines," which Dack co-wrote with Audrey Findlay, largely rests on the tension between how much Lea knows or suspects, and how much we in the audience do. You'll get an inkling when Tom describes himself as self-employed, and more than an inkling when he takes her back to his place and it turns out to be a rundown motel room. Lea registers each of these red flags with hesitation and alarm, but she also keeps gazing at Tom with a palpable need for reassurance, tenderness and love — conflicting reactions that are wrenchingly commingled in McInerny's quietly revelatory turn. Lea's emotional confusion is all too apparent, even (or especially) when she tries to stifle it, when she tries to respond to Tom's propositions with grown-up nonchalance.
Tucker, for his part, gives an unerring tightrope walk of a performance, one that might take on an extra layer of sinister resonance for those who remember him as a preyed-upon 17-year-old himself in 2001's "The Deep End." Tom's skill at allaying Lea's fears is, in the end, precisely what's scariest about him: He always knows what to say, always knows how to deflect or shut down her objections, whether with an excuse, a gift or an expression of tenderness. Like the proverbial slow-boiling pot of water to Lea's innocent frog, he knows how to temper his sleaze with just enough warmth and affection to keep his target from bolting.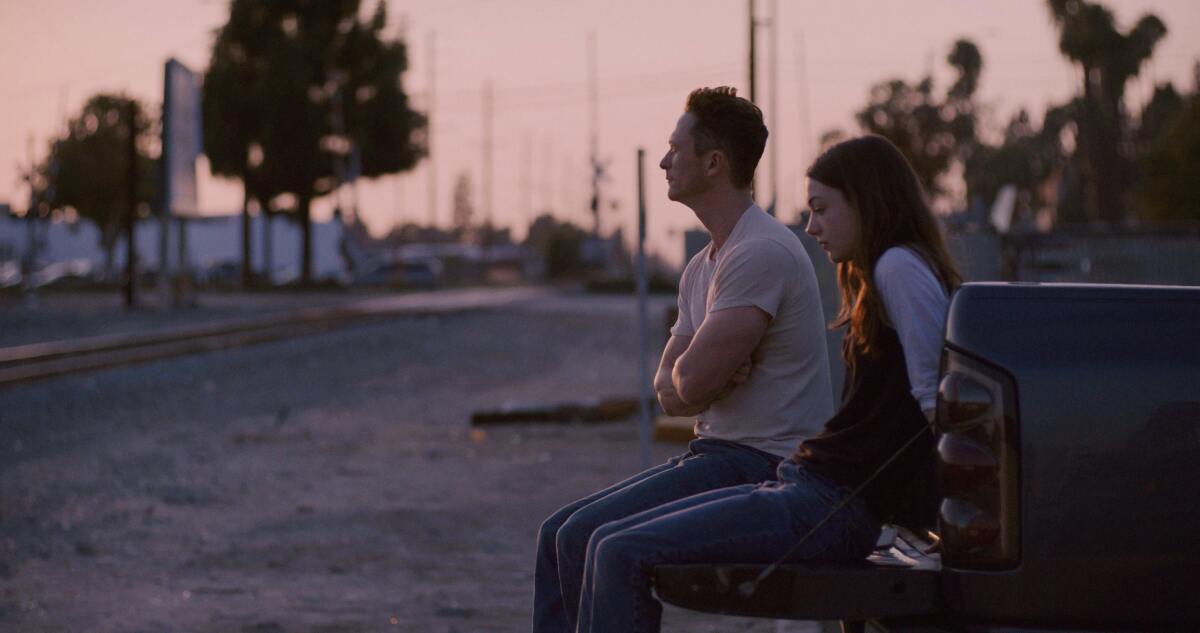 But Dack, whose methodical direction won her a prize at last year's Sundance Film Festival, never allows us to fall under Tom's spell, or to lose ourselves entirely in Lea's perspective. There's a disturbing edge — sometimes clinical, sometimes transactional — to the way the director and her cinematographer, Chananun Chotrungroj, frame Lea and Tom's conversations. Sometimes they'll place the two characters side-by-side in medium shot, a choice that undercuts rather than deepens their intimacy. Sometimes Tom's head will be menacingly lopped off by the top of the frame, as if to underscore just how small, and how vulnerable, Lea is. The filmmaking maintains its discretion and unblinking restraint even in its most terrifying passage, shot with an implacable calm that renders it all the more unbearable.
What will become of Lea? And even if she were to escape, how much of an escape would it really be, given the excuse for day-to-day normalcy that awaits her? There are no heartening answers to these questions, and Dack's rigorous, unsparing honesty is both a measure and perhaps a limitation of her movie's power. If "Palm Trees and Power Lines" is a cautionary tale, it's one that can feel locked in by its own bleak case-study detachment, especially when it unleashes its heart-sinker of an ending. The last time we see Lea can't help but wistfully recall the first, when she was by herself, lost in her thoughts — and yet somehow, far less alone.
'Palm Trees and Power Lines'
Rating: R, for disturbing material, sexual violence, sexual content, drug/alcohol use and language — all involving teens



Running time: 1 hour, 50 minutes



Playing: Laemmle NoHo 7, North Hollywood
Get our L.A. Goes Out newsletter, with the week's best events, to help you explore and experience our city.
You may occasionally receive promotional content from the Los Angeles Times.