'Armageddon Time' director says he can cast non-Jewish actors as Jews: 'It's my story'
Director James Gray is defending his latest film, "Armageddon Time," just days into its theatrical release.
Gray addressed concerns over the casting in his new coming-of-age movie in a New York Times interview published Friday. Amid calls for more authentic representation in Hollywood projects, "Armageddon Time" stars a handful of actors who are not Jewish, including Anthony Hopkins, portraying members of a Jewish immigrant family. Gray, who is Jewish himself, said he isn't too worried about what critics have to say.
"I reserve the right to cast someone like Anthony Hopkins," the "Ad Astra" director said. "Does that person watch 'The Godfather' and complain that Marlon Brando is from Omaha, Neb., and not an Italian New York guy?"
Banks Repeta plays an 11-year-old version of the writer-director James Gray in this stirring semi-autobiographical drama, also featuring Anthony Hopkins, Anne Hathaway and Jeremy Strong.
In "Armageddon Time," Hopkins portrays Aaron Rabinowitz, a Jewish immigrant from Ukraine, a Holocaust survivor and grandfather to the film's young protagonist, Paul Graff (Banks Repeta). The movie opened Friday in limited release and goes wider this coming weekend.
Gray said he takes "huge offense" at the backlash, adding that exclusively casting Jewish actors to portray Jewish characters contributes to stereotypes.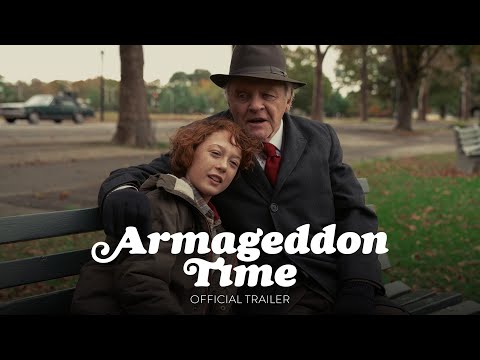 "At some point, we have to acknowledge that our whole function as artists is to try and step into the consciousness of someone else and find compassion and find something of emotional power in doing that," he said.
"Armageddon Time," inspired by Gray's own upbringing, is set in Queens, N.Y., in 1980 and follows the friendship between Paul and his Black classmate Johnny Davis (Jaylin Webb). While following Paul's transition from public to private school, "Armageddon Time" also touches on assimilation, the American Dream and privilege.
Fears that antisemitic remarks by Kanye West would spur additional bigotry came to fruition in Los Angeles on Saturday.
Gray said the criticism would be "valid" if he tried telling the story through the eyes of his Black character, Johnny, instead of from his own perspective as a white Jewish man.
"But it's my story," he said. "And you don't have to say that my story is of value, but that's a different criticism."
In an interview with the Los Angeles Times, Gray said that as close to home as "Armageddon Time" is for him, it's not a documentary.
"I wanted it to be personal, which is much more important," he said. "Autobiographical is I'm reciting the facts of the case. And personal means that your emotional life and what is important to you emotionally is in the work."
"Armageddon Time," which comes to theaters amid a rise in antisemitic hate, also stars Jeremy Strong, Anne Hathaway, Tovah Feldshuh and Ryan Sell.
Get our L.A. Goes Out newsletter, with the week's best events, to help you explore and experience our city.
You may occasionally receive promotional content from the Los Angeles Times.