'Emancipation' producer called out for showing off photo of enslaved man at premiere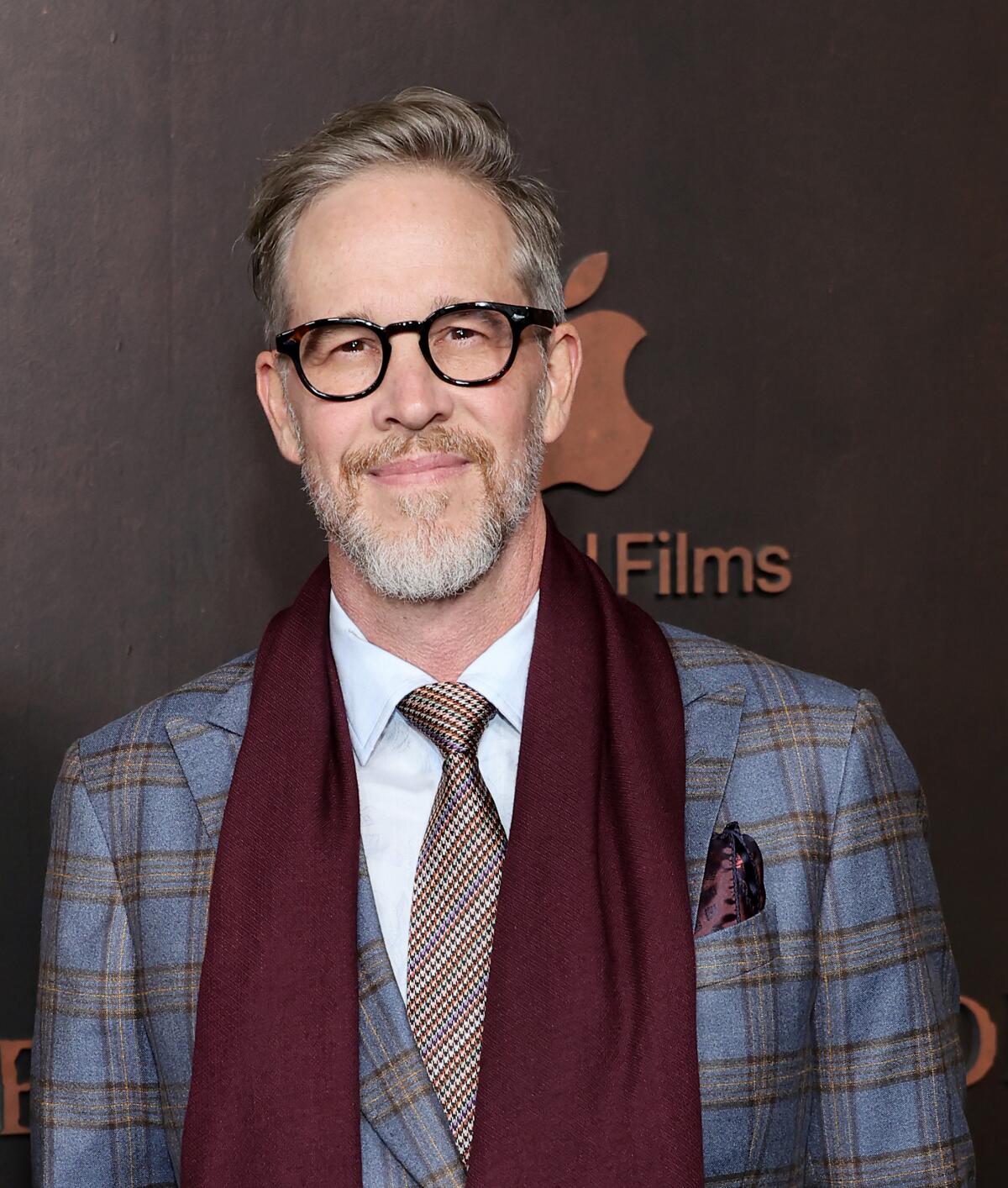 Joey McFarland, a producer on Antoine Fuqua's "Emancipation," apparently did not think through the ramifications of showing off the original 1863 "scourged back" photo of an enslaved man at the film's L.A. premiere Wednesday.
It gets worse: McFarland proudly discussed the historical photo of the man — whose story inspired "Emancipation" — with a red-carpet reporter from Variety.
For the record:
12:27 p.m. Dec. 2, 2022An earlier version of this story cited outdated information about the name and life of Peter. It has been replaced with more current information.
"This is the original photograph from 1863, and I wanted it to be here tonight — I wanted a piece of Peter to be here tonight," McFarland said in a video posted Wednesday night. "Sadly to say, so many artifacts and photographs have not been preserved or curated or respected. And I took it upon myself to curate and build a collection for future generations."
The photo was taken when Peter was being fitted for a uniform after running 80 miles to join the Union army in Baton Rouge. Peter had run away from the Louisiana plantation where he was enslaved. He was recovering from a horrific beating delivered by an overseer.
As the slavery thriller 'Emancipation' arrives in theaters, its awards prospects have been dimmed by star Will Smith's Oscar-night meltdown.
McFarland, who is white, said that he has been collecting for a "very long time" and that he intends for his collection of photos to be donated for educational purposes when he dies.
"For me, my love of history, my love of truth, my love of larger-than-life individuals that had an impact on not just some people's lives but the world, it's worth fighting for," he added. "It's worth preserving. It's worth seeking out and protecting. That's what I sought to do. And the story that came out of that, it transcends entertainment, it transcends cinema. It is a lesson, it is a conversation that needs to start and continue and keep growing and evolving."
McFarland, who was also a producer on "The Wolf of Wall Street" and "Daddy's Home," said it was important to "reckon with the past" so that future generations don't repeat the same mistakes. His Instagram account displays a number of photographs from what he calls the #McFarlandCollection.
Smith plays Peter, the enslaved Black man whose escape to freedom helped galvanizes the abolitionist movement, in this grueling Civil War-era action-drama from director Antoine Fuqua.
"I'm really excited about discovering and acquiring these incredibly rare and important photographs from the Civil War era (1860s)," McFarland wrote Nov. 22 in an Instagram post that showed two enslaved children. "Please note my collection is for historical preservation, education, and storytelling."
Some commenters praised his efforts — "That's wild. Happy you understand the importance of them" — while others weren't buying his motive.
"This is such a stark example of white savior complex. Who are you that you think YOU are the best person to preserve this piece of Black history?," another user wrote. "And that you walk around showing them off like baseball cards is even more problematic. This ain't it."
McFarland did not respond to The Times' request for comment Thursday.
On Twitter, commenters were focused on McFarland's mistakes — chief among them bringing that photo to a movie premiere and owning the thing in the first place.
Franklin Leonard, a producer and founder of the respected Black List of best unproduced screenplays, tweeted that he needed some "real time" to process what he had seen.
"Why do you own the photograph?," he tweeted Thursday. "Why did you bring it to a movie premiere if the intent is to preserve it respectfully? You wanted 'a piece of Peter' here? You collect slave memorabilia that will be donated upon your death? What do you do with it in the meantime? So many questions.
"don't know, man, but bringing 'a piece of Peter' that you 'own' to the red carpet of a movie that's personally enriching you so that you can collect more slave memorabilia that you'll keep until your death," Leonard continued in more tweets. "When do I get my own anger translator..."
The director opens up about the brutal process of depicting an enslaved man on the run — and the controversy that threatens to overshadow his movie.
One user, @BellanMelissa, tweeted: "What a colossally inappropriate thing to do on every level. He shouldn't own it. Shouldn't use the wrong name for it. And definitely should not bring it to show and tell."
And user @erockjamz wrote, "i don't get why (for ytppl) trying to humanize already dispossessed black people has to involve reliving their lowest, hardest, moments. carrying a 'piece of someone' even if it's just a personal memento to you TO A MOVIE PREMIERE is just gross. no rest! even in death."
As to whether McFarland owns the actual "original" photo, even that may be up for debate.
Who asked Will Smith to leave? Why did he refuse? What did Chris Rock do backstage? What comes next? We piece together an Oscars scandal like no other.
The photographic team that shot the image "mass-produced and sold copies of [the] portrait in the small and popular format of the time, known as the carte-de-visite," Frank H. Goodyear III, former National Portrait Gallery assistant curator, wrote in an article preserved by the website of America's Black Holocaust Museum in Milwaukee. "The image provoked an immediate response as copies circulated quickly and widely." Commercial photographers in Philadelphia, New York, Boston and London ultimately produced copies as well.
"Recognized as a searing indictment of slavery, [the] portrait was presented as the latest evidence in the abolitionist campaign," Goodyear wrote. The image, along with two others of the man, was reproduced in the July 4, 1863, edition of Harper's Weekly.
Will Smith plays him as Peter in the movie, but the man was mistakenly called "Gordon" for years. Harper's had misprinted his name as "Gordon," leading to confusion about his actual name, according to more up-to-date information on the National Portrait Gallery website. Gordon was the name of another enslaved person who had escaped with him.
"When photographs documenting Peter's condition reached the public, they created shockwaves," the website said. "Widely copied and distributed, pictures such as this example quickly became among the most powerful evidence of slavery's brutality."

Get the Indie Focus newsletter, Mark Olsen's weekly guide to the world of cinema.
You may occasionally receive promotional content from the Los Angeles Times.