Review: Reimagined Chinese legends power the visual marvel 'New Gods: Yang Jian'
To American audiences, especially comic fans, the title "New Gods" may confuse. "New Gods: Yang Jian" is not related to comic legend Jack Kirby's 1970s DC masterwork that spawned Darkseid, Mister Miracle and others. And the gods are hardly new; the protagonists of this exquisitely animated Chinese film franchise (first "Nezha Reborn," now "Yang Jian," with "The Monkey King" possibly next) are very, very old gods — figures from mythology reimagined for modern viewers.
There's plenty of imagination in that reimagining: The world of "New Gods: Yang Jian" is a swirling mélange of myth, pseudo-steampunk, "Blade Runner," the kung-fu film genre and music from many corners of your ears. Bet you didn't expect a gorgeously rendered Chinese legend to be characteristically scored by a lonesome harmonica (among the comedic swing, reggae and everything else).
We're introduced via opening narration to a world that has survived an epic war among the gods in which the realms of the mortal and immortal are aware of each other but now generally keep apart. Our lethargic lead is fallen hero Erlang Shen, who used to be a big deal but now leads a group of scrappy bounty hunters on a flying wooden boat that seems in continual danger of running out of fuel. How big a deal did he used to be? He's the artist formerly known as Yang Jian, a mighty three-eyed deity who lost his powers in a nearly apocalyptic struggle involving his family. In the tradition of American detective movies, the big job he and his team lands forces him to grapple with his traumatic past.
There are fun characters and dazzling action sequences. The filmmakers' approach to rethinking legendary figures and placing them in a kind of timeless, weirdly teched-out reality is intriguing. It looks like the "New Gods" franchise is meant to be the Chinese animated answer to the Marvel Cinematic Universe, and it's certainly got the deep bench of stories to compete at that level.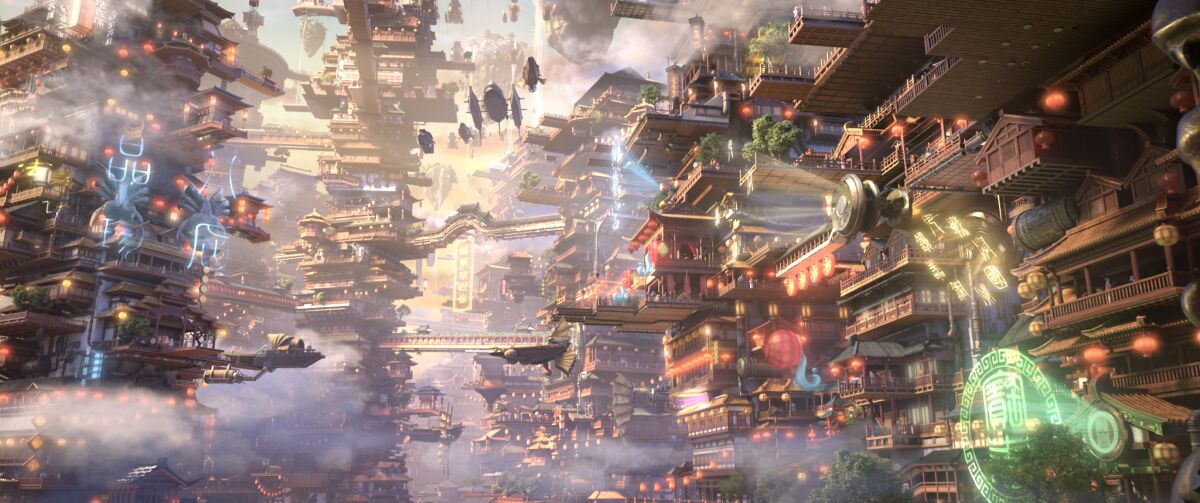 It's also got the filmmaking talent. The movie is a visual knockout. The environs aren't just photorealistic, they're bursting with creativity and often effectively create emotion. Among the sumptuous sequences: the flying wooden ship traveling through a multicolored magic passage/wormhole; the poetic tableau as one character dies on a moonlit, winter night; a languid shot of a character walking down a hall, captured through translucent silk curtains.
The creatures are designed with electric inspiration. So are the combat sequences — some influenced by the kung-fu oeuvres of Jet Li and Jackie Chan, some magic and cosmic without losing tension (as so often happens with flying people shooting beams at each other). One sequence seems visually influenced by Scott Derrickson's "Doctor Strange" without feeling derivative.
As to the film's messages beyond being a ripping yarn updating mythology for fun and profit, things get significantly murkier. If there's a real-world metaphor in the central conflict, it could be a polemic against governmental regulation of climate change. It could also be essentially the opposite: an argument for what is natural against what is approved by leaders. But whatever else one comes away with, "New Gods: Yang Jian" belongs alongside the more visually striking recent animated features.
'New Gods: Yang Jian'
In Mandarin with English subtitles; there is also an English-dubbed version
Rated: Unrated
Running time: 2 hours, 7 minutes
Playing: In wide release Jan. 20
---
Get our L.A. Goes Out newsletter, with the week's best events, to help you explore and experience our city.
You may occasionally receive promotional content from the Los Angeles Times.