'Shazam! Fury of the Gods' feels fury of the box-office gods in disappointing debut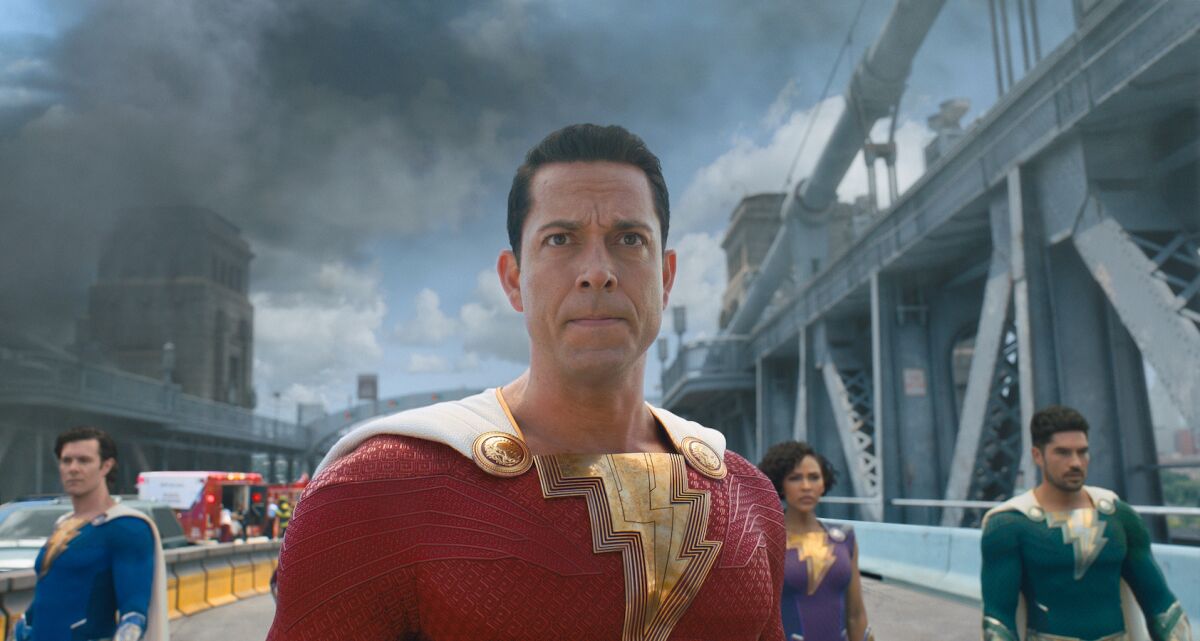 "Shazam! Fury of the Gods" felt the fury of the marketplace in its opening weekend, as the New Line Cinema and Warner Bros. superhero movie grossed a disappointing $30.5 million despite playing in 4,071 theaters, according to studio estimates Sunday.
The "Shazam!" sequel fell short of modest expectations ($35 million) and the first film in the series (a $53.5 million opening in April 2019), falling at the low end of modern DC Comics movie launches, between "Birds of Prey" ($33 million in February 2020) and "The Suicide Squad" ($26.2 million in August 2021), both of which were R-rated.
Directed by David F. Sandberg, "Shazam! Fury of the Gods" brought back Zachary Levi, Asher Angel, Jack Dylan Grazer, Adam Brody and Djimon Hounsou, and added Helen Mirren, Rachel Zegler and Lucy Liu. Critics, many of whom found the first film charming, were largely underwhelmed by this outing. It holds a 53% Rotten Tomatoes critic score.
The stale approach of D.C.'s 'Shazam' sequel, starring Zachary Levi and Asher Angel, pushes the budding superhero franchise past its expiration date.
Audiences were slightly more positive about the sequel, giving it a B-plus CinemaScore overall. Younger crowds rated the movie more favorably.
"This movie clearly was lighter than we thought it would be," said Jeff Goldstein, the head of domestic distribution for Warner Bros. "We know there's a rolling spring break over the next few weeks when kids are available, which is who it's targeted towards. We're hopeful that we can get a big multiple."
"Shazam! Fury of the Gods" cost a reported $125 million to produce, not factoring in marketing and promotion costs. Internationally, it grossed $35 million from 77 overseas markets including China, bringing its total earnings to $65.5 million.
Is Gal Gadot still the DC Universe's Wonder Woman? What her 'Shazam! Fury of the Gods' cameo could mean for the character's future.
The DC shop at Warner Bros. has been going through a major recalibration for months, with new bosses in James Gunn and Peter Safran forging a path ahead for the DC Universe that officially will kick off with a new "Superman" in 2025. The latest "Shazam!" was one of several holdovers of the old regime that will include "The Flash" in June and a new "Aquaman" in December.
"Part of our company's total overhaul of DC with Peter Safran and James Gunn is to reset it for the future," Goldstein said. "It's all about the future for us."
For Paul Dergarabedian, the senior media analyst for Comscore, there's a silver lining in that Warner Bros. and DC have "another No. 1 under their belt."
"They're trying to readjust and realign the brand," Dergarabedian said. "You don't change the trajectory for a brand as big as DC without it taking some time. This is a work in progress and this is one step in that journey."
The 'Superman Legacy' announcement comes several months after new DC bosses James Gunn and Peter Safran parted ways with Henry Cavill's Superman.
Second place went to "Scream VI" in its second weekend in theaters. The horror pic, distributed by Paramount, fell 61% from its debut and added $17.5 million, bringing its domestic total to $76 million.
In its third weekend, "Creed III" grossed an additional $15.4 million to land in the No. 3 spot. The film, directed by and starring Michael B. Jordan, has earned $127.7 million in North America. The films "65" and "Ant-Man and the Wasp: Quantumania" rounded out the top five with $5.8 million and $4.1 million, respectively.
Following its Oscar sweep last Sunday, A24 added over 1,000 screens for an encore run of "Everything Everywhere All at Once," which earned an additional $1.2 million. "The Whale," for which Brendan Fraser won best actor, played on 509 screens and made $145,230.
Kenny and Irene Majers are the real-life owners of the San Fernando laundromat featured in 'Everything Everywhere All At Once." This is their story.
"What audiences are enjoying right now is a diversity of content," Dergarabedian said. "Overall, it's shaping up to be a strong month with 'Creed III' and 'Scream VI' getting franchise best debuts. We may see the same with 'John Wick 4'."
Get our L.A. Goes Out newsletter, with the week's best events, to help you explore and experience our city.
You may occasionally receive promotional content from the Los Angeles Times.