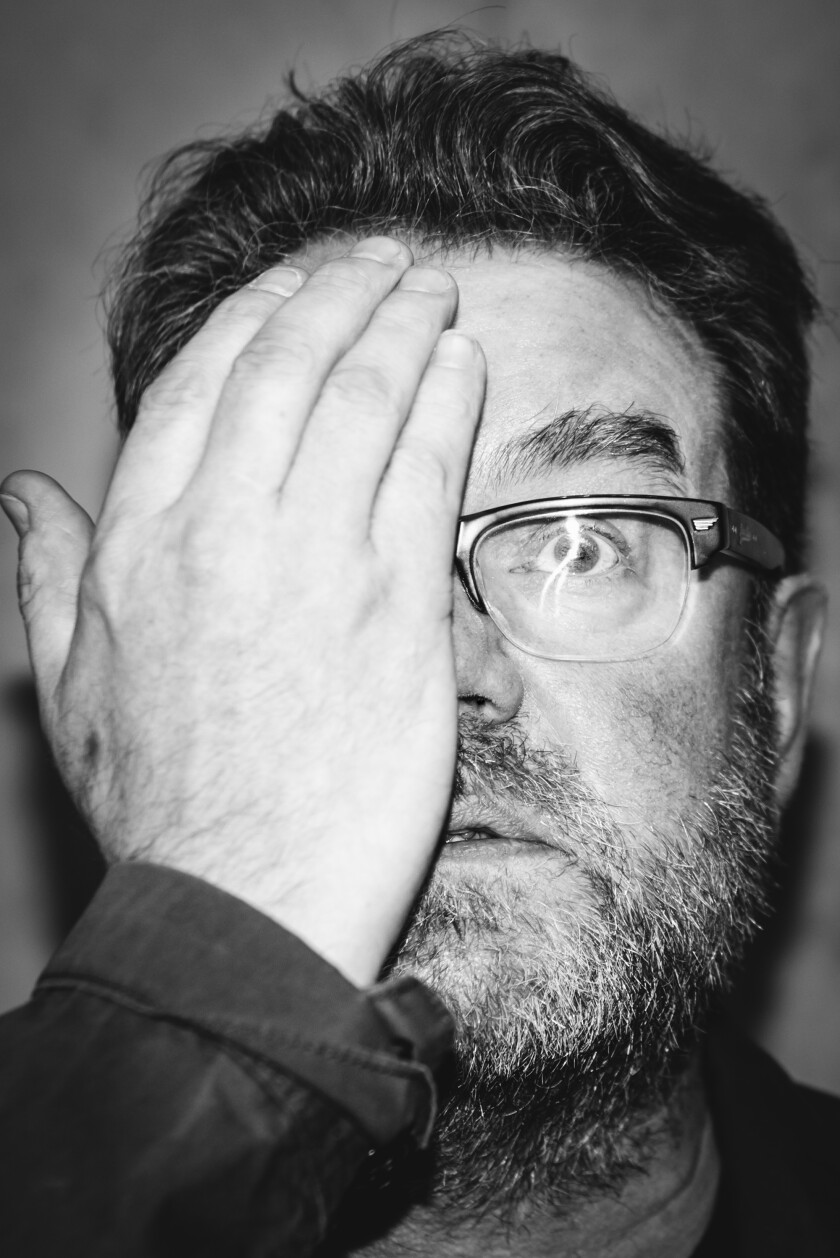 To those coming of age in the 1980s and '90s, album cover designer Vaughan Oliver created not only the look of the influential British record label 4AD, but conjured an imaginary realm that would influence generations of artists, graphic designers and pretty much anyone with an eye on image.
Oliver, whose death was announced Sunday, crafted abstract, Dada-esque record covers for dozens of bands including the Pixies, Cocteau Twins, Modern English, the Breeders and His Name is Alive. In the process, his aesthetic became a visual touchstone and helped drive listeners to ponder the ways in which sound could influence image and vice versa.
"A record sleeve is not something you simply put on a record to stop it rolling off the shelf," he told one interviewer.
The designer's death, at age 62, was confirmed by 4AD, which released a note that read, in part: "Without Vaughan, 4AD would not be 4AD, and it's no understatement to say that his style also helped to shape graphic design in the late 20th century."
No cause of death was given.
"Vaughan Oliver taught me to appreciate quality. He taught me how to look at the physical world," wrote Ivo Watts-Russell, who founded 4AD in London in 1980, in a statement.
Calling Oliver "a force of nature," Watts-Russell added: "It is rare to think of someone in one's life and know that with absolute certainty that the course of both our lives were irrevocably changed for the better as a result. The results, the fruit, is available for all to see … in pictures at least."
Oliver's most recognizable work includes the covers of the Pixies album "Doolittle," the Cocteau Twins' "Treasure," the Breeders' "Last Splash," Modern English's "After the Snow" and Bush's "Razorblade Suitcase."
"We always try to reflect the atmosphere of the music," Oliver explained of his approach, adding that his mission was to create what he dubbed "aesthetic moods derived from the music, from the texture and atmosphere the music itself already had."
In a sense, the marketplace demanded such inventiveness. In 1980s Britain, the new wave movement was producing so many albums and 12-inch singles that, visually, cover art needed to pop out of the bins as customers flipped through racks. Glossy sleeves were all the rage, reflective of the synth-driven sheen created by image-conscious bands such as Spandau Ballet, Culture Club, Human League and ABC.
Like Peter Saville's work for Manchester, England label Factory (Joy Division, New Order, the Durutti Column) and, earlier, the staged photos of the designer Hipgnosis (Pink Floyd, 10CC, Led Zeppelin), 4AD sleeves had their own internal logic. Designs were vague, and seldom highlighted images of the artists themselves. The cover of the Pixies' debut EP, "Come On Pilgrim," showed a seated, seemingly anguished, man with an extremely hairy back. How that related to the band was anyone's guess. Oliver's use of tactile matte cardboard added a certain elegance.
The Mountain Goats' John Darnielle, who worked with Oliver across a series of albums for 4AD, described the designer on Twitter as "an indispensable part of the label's identity. You can't mistake it. It holds a disparate roster together, asserts a shared vision. To know about this back then [was] to belong to a secret society."
That society was drawn to 4AD's aesthetic, which, musically, was all over the map. The guitar-driven fury that propelled post-punk band the Pixies was a jarring shift from the shoe-gazing melancholia of Cocteau Twins, whose washes of jangled guitar helped build 4ADs reputation. The sample-heavy jam "Pump Up the Volume" by M.A.R.R.S. energized dance floors. The eerie art band Dead Can Dance drew on African rhythms. The label also released "I Melt with You," the classic new wave song by Modern English.
At their best, Oliver's covers were endeavors to get lost in, to contemplate and luxuriate over while listening to 4AD records at full volume. The art for the Breeders' "Last Splash" contained a close-up of a vivid candy heart set against a bright green background. The haunting cover portrait of a woman, arms crossed and lying in repose, that accompanies This Mortal Coil's "It'll End in Tears" seems to typify the album's musical moods.
The Pixies album "Doolittle" featured an image of a monkey taken by Oliver collaborator Simon Larbalestier, an idea drawn from the album's lyrics. Oliver, though, added accents inspired by a conversation he had with the Pixies' lead singer: "Black Francis broke my heart by telling me that successful pop music was simply the intellectual pursuit of good mathematics. Simple me — I thought it all came from the heart," Oliver told Time Out. "Then I remembered that 'golden section' theory used in the composition of Renaissance painting, so I made my own grid to place over the monkey."
Each cover was similarly unique, but also seemed to suggest it was a piece in a larger puzzle to be revealed later. "When you look at all the works together, you might detect a similar texture, even an intention, an outlook, maybe," Oliver told interviewer Joan Pons. "You can also find unexpected aspects. I simply tried, all through my career, to create a different identity for each band I worked with."
In one onstage presentation on his oeuvre, Oliver recalled an early experience as a music fan, when he was walking home from the record shop with a new album under his arm. The act and the art, he said, had "cultural and social significance," and showing off the purchase was "giving a hint as to what I was interested in. How weird could you be?"
For the artist, he added, album art means as much "as how they wear their hair, what they're singing about and what jeans they're wearing."
That this art is now presented as a digitized square on a smartphone caused Oliver some consternation, he said during one interview. "We've lost touch (touch being an operative word) with packaging," he wrote. Adding that vinyl is a niche market, he bemoaned the "generations of listeners who rediscover these bands and still do not understand the value of a particular record sleeve. Even bands don't even understand how a sleeve might signify to an audience, crowd, or an area."
He remained devoted to his craft nonetheless: "It's part of my generation to remind people in a sense. It's not like we're going to turn back to vinyl, but there's still something innate within us to collect things. In our nature, we are collectors."
---