L.A. hip-hop artists Terrace Martin and Y.G. drop fiery protest songs: Listen
"This video is happening right now outside your window," reads the opening caption in the video for "Pig Feet," the new track from Terrace Martin, the longtime Kendrick Lamar producer and multi-instrumentalist. An incendiary clip and track (listen and watch here) finished over the last week by Martin and collaborators Kamasi Washington, G Perico, Denzel Curry and Daylyt, it harnesses fury over the May 25 killing of George Floyd in Minneapolis to fuel an explosive protest document.
Also on Tuesday, Compton artist YG released "FTP" (listen here), which repeats the expletive-led battle cry against law enforcement made famous three decades ago by N.W.A. YG, who verbally assaulted Donald Trump in his politically charged 2016 song "FDT," lays it out with typical directness:
Murder after murder after all these years
Buy a strap, bust back after all these tears
Mommas crying, how they gonna heal?
How you would feel?
Martin's "Pig Feet" opens with Curry rolling through a scene-setting verse: "Helicopters over my balcony / If the police can't harass / They wanna smoke every ounce of me." Behind a pumped-up beat, and backed by Washington soloing on tenor saxophone, Curry decries the injustice of a life in which black men "go to jail and get murdered," ends the indictment with a tragic determination: "Nothing can save us."
If you were protesting on Saturday in DTLA and heard hardcore punk blasting from the streets, chances are it came from a Pico Rivera band called Vandalize.
As he, South Central's G Perico and Watts-raised Daylyt maneuver through their reactions, footage shot during the protests of the last week is edited to visualize the rhythm, a relentless display of imagery that underscores the tension: police macing unarmed protesters, flames engulfing cars, National Guard troops patrolling downtown Los Angeles.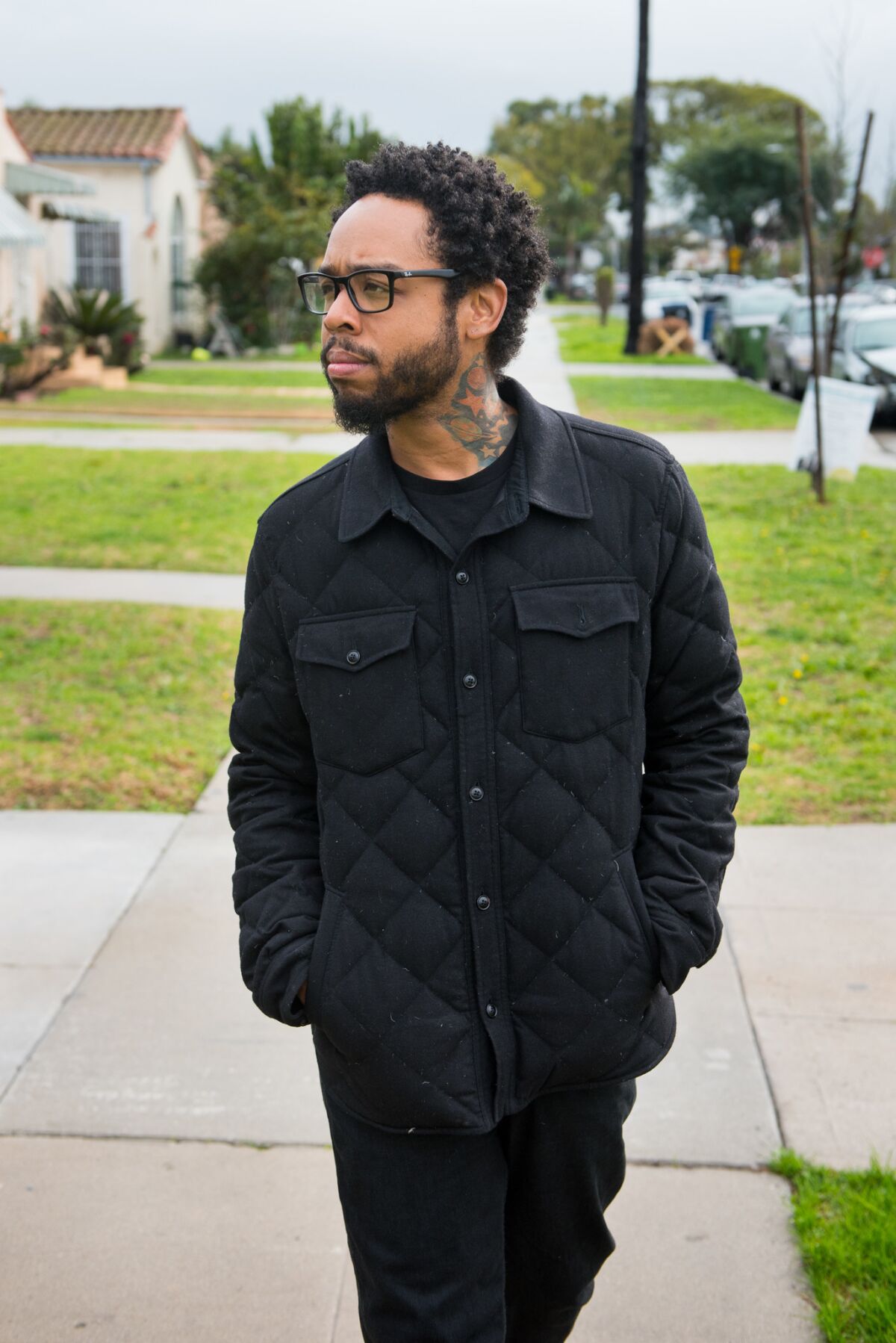 "Police departments and racism have been a part of me longer than music has," Martin said Tuesday when asked how the team so quickly combined to create "Pig Feet." His voice tense with anger, Martin added of Floyd's death, "This is an everyday part of the black man's culture."
Martin, 41, produced or co-produced six tracks on Lamar's "To Pimp a Butterfly," as well as classic jams by YG, Travis Scott, Snoop and DJ Quik. He named his acclaimed record label, Sound of Crenshaw, after his home base. The artist was in sixth grade on the first day of the 1992 riots. He was attending Orville Wright Middle School and recalls police escorting his white classmates to their parents' cars as he and other black children made their way on buses back to their South L.A. homes.
Though tempted to join in the looting in '92, he didn't want to risk incurring the wrath of his mom, so he went straight home and watched it unfold on the news. "They interviewed Ice-T. He's a hero of mine to this day, and he said something to the effect of, 'What did you guys expect would happen? You keep f— with us, you know we're going to f— with you.' "
Martin said that he and co-producers Marlon Williams and Trevor Lawrence made the track that drives "Pig Feet" at the beginning of 2014 as part of sessions with Lamar. "I was working on 'To Pimp a Butterfly' every day, and this was when Kendrick was nudging on energy that later became 'The Blacker the Berry' — very Public Enemy, N.W.A-driven music to get a certain type of message across."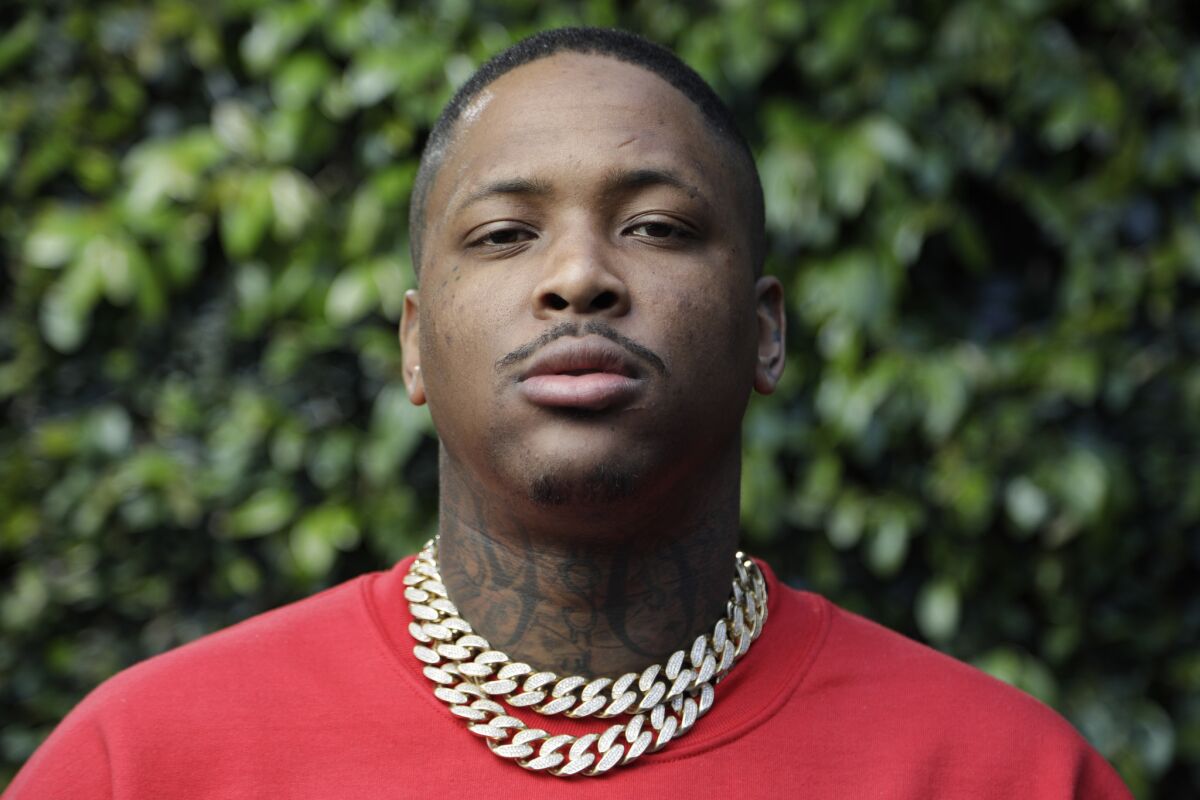 Martin flagged the track recently while digging through his archives, but he couldn't figure out what to do with it. "Then Daylyt came over, we had a discussion. Denzel, we had a discussion, [and] Kamasi." Every conversation Martin had with his collaborators was about racism and police brutality, and led him back to that 2014 record.
"All of us have been in that situation," Martin says. "I grew up in the system. I grew up fighting gun cases at a young age. Going in and out of juvenile hall, getting arrested, going to jail a few times. Sometimes I was innocent. Sometimes I wasn't. Regardless, every time I was mistreated, and that's a fact."
He adds, "I've never felt protected by the police. Quite honestly, I'm tired of paying taxes for them to kill us."
Martin fears the worst for the country. He calls it "an energy that we all are going to regret. It may not come tomorrow. It may not come next year. But until things change, people should be prepared for the darkest moment. Because the lightest moment takes real change, and I don't see the government wanting to change."
At the conclusion of "Pig Feet," the names of black men killed during encounters with police scroll across the screen for nearly three minutes.
For his part, L.A. bandleader and saxophonist Washington posted an Instagram video in which he expresses his thoughts on Floyd's killing and how he's chosen to respond.
In the five-minute video, Washington says of the four policemen involved in Floyd's death, "They murdered a man in broad daylight with cameras obviously pointed right at them, and they didn't look nervous. They didn't look scared. They didn't look like they had a care in the world. That should tell us something."
He then speaks directly to the authorities who hold the power. "We don't have the authority to make the peace. You have the authority to make the peace. You've made mistakes. Fix them. Get real. Don't just ask us to be quiet."
Get our L.A. Goes Out newsletter, with the week's best events, to help you explore and experience our city.
You may occasionally receive promotional content from the Los Angeles Times.