At Rolling Loud California, Travis Scott makes a truncated return to the stage
As comebacks go, it was dark, noisy — and brief.
Thirty-seven minutes into Travis Scott's headlining performance Saturday night at this weekend's Rolling Loud California festival, his sound abruptly cut out in the middle of his signature song, "Sicko Mode." People close to the main stage (and its monitors) could still hear him, kind of, as could those watching the festival's popular livestream, which is why Scott finished "Sicko Mode" and did a bit of his hit "Goosebumps" before walking offstage.
But to most of the tens of thousands at Rolling Loud, which took place on the grounds of Hollywood Park next to Inglewood's SoFi Stadium, the 31-year-old rapper known for his raucous sound and his rowdy presentation had suddenly become a guy jumping around in virtual silence.
"I wish I could do more, but they're making me go," Scott said as he left — one way to describe a hard 11 p.m. curfew he surely knew was looming when he began his set nearly half an hour behind schedule.
After years of legal entanglements, and the recent death of one of its members, De La Soul's first six LPs will soon be on streaming platforms.
It was a somewhat deflating end to what was supposed to be Scott's first full-scale U.S. concert since his ill-fated Astroworld festival in Houston in late 2021, when a crowd crush killed 10 people and injured hundreds more. Scott, for whom whipping up audiences is a crucial part of his act, but who has insisted he was unaware that spectators were in trouble at Astroworld, is named in multiple lawsuits related to the deaths, which led to a congressional investigation of concert promoter Live Nation.
After being shunned by many in the music industry, including being reportedly booted from Coachella's 2022 lineup, Scott has been slowly inching his way back to the A-list status he once enjoyed, though he hasn't made it easy for himself: Just last week, a sound engineer at a nightclub in New York alleged that Scott assaulted him during a DJ gig and wrecked $12,000 worth of equipment. (Scott's lawyer called the incident a "misunderstanding" and said he's "confident that Travis will be vindicated once all is said and done.")
Still, in Rolling Loud — widely referred to as the world's biggest hip-hop festival, with events in a growing number of cities and countries — Scott has found an eager partner for his return. This year, he's booked to headline Rolling Loud shows in Portugal, Germany and Thailand; according to Variety, the company paid Scott between $1.6 million and $1.8 million for Saturday's performance in L.A.
With a top five album and a prime spot at March's Rolling Loud festival in Inglewood, the 23-year-old rapper has outlasted many of his peers.
Held Friday to Sunday in what amounted to SoFi's parking lot, Rolling Loud California also featured Playboi Carti, Kodak Black, Trippie Redd, Lil Baby and Tyga, among dozens of other acts; Lil Wayne brought out Nicki Minaj for an unannounced appearance Saturday, while Don Toliver surprised fans during his set with a cameo by Justin Bieber. Like all Rolling Loud events, the festival sought to capture the experience of hip-hop as lived by its youngest fans, those for whom the genre's watchwords include "rage," "mosh" and "lit."
Scott in their eyes is something of a pioneer, having released his major-label debut eight years ago — an eternity in rap time. (The MC's most recent LP, "Astroworld," came out in 2018; lately, he's been teasing the upcoming release of a follow-up to be called "Utopia.") And here he seemed gratified to reclaim his role as king of the pit, even if he stopped short of exhorting the crowd toward the kind of wild behavior he used to demand.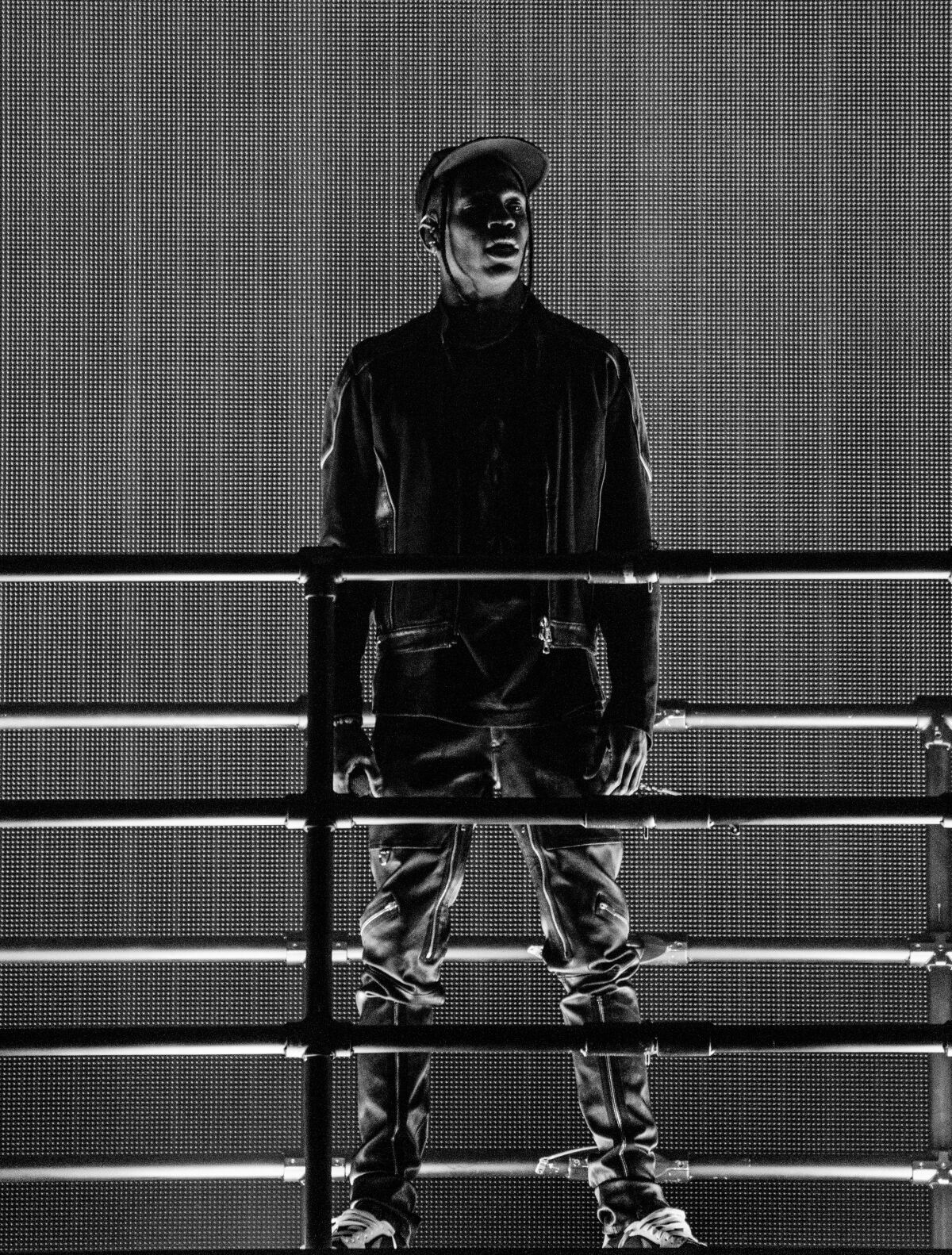 Dressed in dark clothes and a ball cap, his eyes hidden behind a futuristic-looking mask, Scott yowled through songs like "Highest in the Room," "Stargazing" and "Butterfly Effect," his heavily processed vocals slithering over throbbing trap beats draped in bleary synth textures. The low stage lighting and a hard-working smoke machine gave the show a vaguely apocalyptic feel only heightened by pyrotechnics that occasionally sent columns of fire shooting into the sky.
Short as it was, the performance was effective in that it demonstrated the state of a valuable brand unchanged by controversy. But it also reminded you that hip-hop, which has never moved faster than it does right now, was evolving during Scott's time away.
Playing the headliner's slot on Friday night, 26-year-old Playboi Carti — whose own set was temporarily halted by Rolling Loud organizers after fans reportedly jumped over a barricade — pushed the aggro-rap sound that predominates at Rolling Loud to a kind of gothic nü-metal extreme, screaming almost unintelligibly as an electric guitarist ripped frantic yet weirdly elegant solos. Compared to Carti's genuinely freaky performance, Scott's felt almost old-fashioned.
Get our L.A. Goes Out newsletter, with the week's best events, to help you explore and experience our city.
You may occasionally receive promotional content from the Los Angeles Times.