'Regeneration Summit' at the Academy Museum and more events to begin Black History Month
Chloe Bailey's highly anticipated debut album is finally dropping in March. She offered a taste of what to expect with a new single on Friday. And when it comes to the music video, all I have to say is that Fullout Cortland has done it again! The choreographer who's worked with top artists like SZA and Doja Cat has expanded his repertoire with Bailey's "Pray It Away." This time around, the style is balletic in conjunction with his signature fast-paced ensemble work — with nonstop movement from Bailey and dancers Candice Savage, Josie Thompson, Ivyana Robinson and Elana Kindred. Anyway, enough of me geeking over dance. I'm Steven Vargas, your L.A. Goes Out host, and here are your top recommendations from the crew:
Weekly Countdown
1. Regeneration Summit: A Celebration of Black Cinema
Start Black History Month at the Academy Museum of Motion Pictures in Mid-Wilshire. The museum will hold a weekend-long festival from Friday to Sunday honoring its exhibition "Regeneration: Black Cinema 1898-1971." The festival, recommended by The Times' arts and culture writer Deborah Vankin, will include interactive pop-up activations, live entertainment, workshops and events for the kids. Take in the rich history of Black cinema with the family at this immersive experience tied to the exhibit, running at the museum until July 16. To learn more about the exhibition, check out our coverage of the Black trailblazers highlighted in "Regeneration." Tickets to the festival cost up to $25 per day or event, and can be found on the Academy Museum's website.
2. "Helen Cammock: I Will Keep My Soul"
Take a trip to New Orleans with Turner Prize-winning British artist Helen Cammock in her first exhibition in the United States. "Helen Cammock: I Will Keep My Soul," organized by the Rivers Institute with the California African American Museum and presented at Art + Practice, features film, poetry, performance, archival documents and books that allow Cammock to share her experience visiting New Orleans for the first time in January 2022. The exhibition combines contemporary and historical voices — namely Elizabeth Catlett, the artist who was commissioned for the Louis Armstrong sculpture in Armstrong Park in 1976. The exhibit opens at the gallery in Leimert Park next Saturday and is free to experience. The space is open from 11 a.m. to 5 p.m. Tuesday through Saturday, and details can be found on CAAM's website.
3. "Try/Step/Trip"
Dahlak Brathwaite combines spoken word, hip-hop and theater with "Try/Step/Trip" at the Wallis Annenberg Center for the Performing Arts in Beverly Hills. An anonymous narrator documents his experience in a court-ordered drug rehabilitation program. Inspired by Brathwaite's own experience, the show uses layers of poetry, music and movement to bring light to racism in the criminal justice system, as well as the realities of addiction in the U.S. The show runs Thursday through Sunday and tickets range from $40 to $50. The 2:30 p.m. performance on Sunday will have American Sign Language interpretation provided. For more details on the upcoming show, check out the Wallis' website.
4. Ray Chen plays Mendelssohn
Ray Chen takes the Walt Disney Concert Hall stage to perform a recent work by Olga Neuwirth, plus Felix Mendelssohn and Johannes Brahms. With Todd Field's "Tár" garnering six Academy nominations, composer Gustav Mahler is lingering on people's minds. Take a look into how the composer has impacted Neuwirth's "haunting 'Masaot/Clocks Without Hands,' a reflection on Mahler, time and memory," The Times' classical music critic Mark Swed says. The performance takes place at 8 p.m. Friday and Saturday. Tickets range from $74 to $229 and can be found on Los Angeles Philharmonic's website.
5. "Fran Siegel: Chronicle"
In this exhibit, every pattern has a story — from the pattern on Joan Didion's sweater to the upholstery on a chair at Kyle Rittenhouse's trial. Fran Siegel's "Chronicle" at Wilding Cran Gallery in downtown Los Angeles turns the smallest of details into a larger story. The signature work, which holds the same title as the exhibition, combines 216 small drawings and patterns on paper that Siegel started at the beginning of the pandemic. This recommendation from The Times' Carolina Miranda includes works that are "lovely evocations of pattern, but also of solitude, humor, dreams and the sinister," she says. The free gallery is open 11 a.m. to 6 p.m. Tuesday through Saturday and the exhibition runs until March 4. More details can be found on Wilding Cran Gallery's website.
Bonus round: James Bond Collection at California International Antiquarian Book Fair
It's Bond, James Bond. Calling all 007 fans, the California International Antiquarian Book Fair at the Pasadena Convention Center will display an extensive collection of original James Bond screenplays, film scripts, costume designs and more by writer Ian Fleming. If you're interested in taking a look into the origins of the international franchise, the Peter Harrington Rare Books booth at the fair is where you'll find these pieces of cinema history. There is a total of 119 items to sift through. And, of course, there are more antique books at the rest of the fair. The event takes place next Friday to Sunday, and tickets range from $10 to $15. More details can be found on the fair's website.
Your L.A. weekend, all mapped out
For a more comprehensive roundup of exhibitions, concerts, screenings, festivals and other events, check out Matt Cooper's Culture Guide. The mapped list is a go-to for those of you who make plans based on the commute, and it also can be filtered by type of event and by price.
On my mind
Rarely do we see a 360-degree performance, but on Thursday, I got a taste of what this kind of immersive performance feels like. I saw "Still" by Studio Space in the Arts District. The performance exhibition, co-directed by co-founders Rose Zhang and Kellen Kauffman, was a meditation on stillness, combining lights (designed by Michael Roseman), sound (scored by Eric Van Thyne), movement (choreographed by Sara Silkin) and space (structures designed by Ash Hanson) to create an experience meant to fully encapsulate how stillness can manifest in the body.
At the center of the space was a two-level seating area with low-frequency music playing beneath it, vibrating every inch of your body. On the perimeter were mesh screens lit by multicolored LEDs. The vibrations below me moved up from the seats through my bones, alleviated the anxieties of the day. When dancers came in to bring the space to life, there was an intoxicating visual that was anything but still. To create a 360-degree performance, two trios of dancers inhabited the space to ensure no matter where you sat, there was always a story unfolding before you.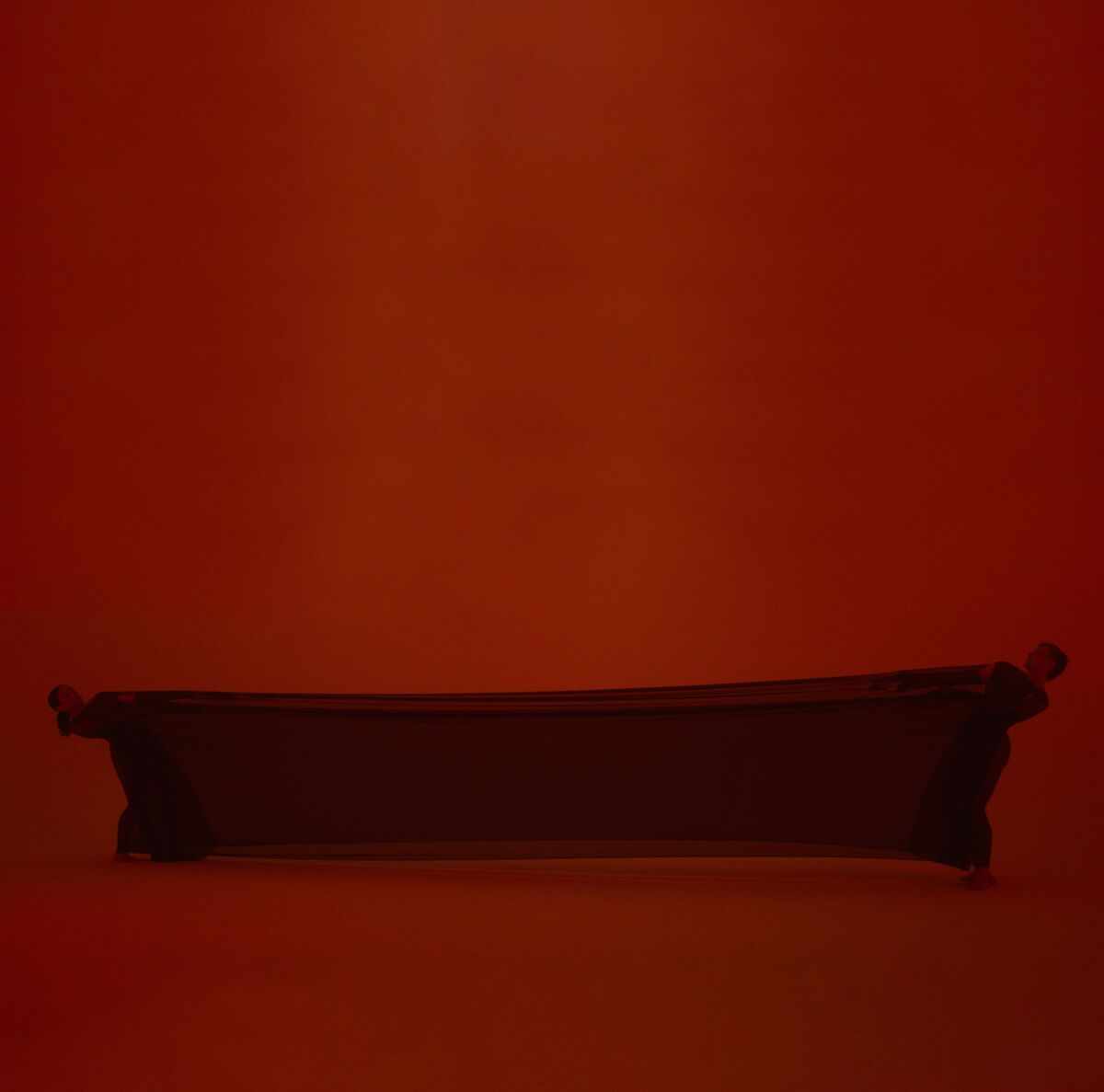 The trios entered with red linen connecting each of them, and as the soundscore got deeper and shook the body, they stretched the linen into living sculptures. They crumped, pushed and unfurled out of the linen until their movement created a being of its own. Silkin is remarkable at forming creatures from detailed choreography. This was shown best when one dancer waved their fingers and the other dancers followed to create a line of moving limbs — all cascading as one. One performer fell before me on the ground with a thump at my feet before shifting to the next area and a new side of the audience. It was a performance that I truly felt a part of. The frantic movement eventually reached a stillness and silence. The score dulled and the bodies froze — the only sound came from the deep breaths of the dancers. In the end, all that was left to do was feel those final moments in silence, and understand that through the jolting vibrations and swift movements, there is space to pause.
As Studio Space's inaugural project, "Still" is a triumphant introduction.
On Saturday, I went to Sierra Madre Playhouse to see a performance of "Mr. Yunioshi" by J. Elijah Cho. The solo show, written and performed by Cho, follows him as late actor Mickey Rooney, who's navigating how to continue after he finds out that he was cast as Mr. Yunioshi in "Breakfast at Tiffany's." Essentially, it is a show about an Asian actor portraying a white actor attempting an Asian role. The show begins very tongue-in-cheek, portraying Rooney's ego to the audience. As the performance continues and Rooney attempts to rehearse the role of Mr. Yunioshi, an eerie and uncomfortable reality sets in. And Cho navigates the ethics of the decision with nuance.
Cho's acting shines as he flips from character to character, going from Rooney to Judy Garland to Truman Capote. His character work — his specificity in movement and voice — creates such a stark difference between moments that you often forget that there is only one person on stage. After the show, Cho shared how "Mr. Yunioshi" has evolved over the years. This iteration is a beautiful balance of comedy and social commentary. There are two more performances of "Mr. Yunioshi" at Sierra Madre Playhouse at 8 p.m. Friday and Saturday, and details can be found on the show's website.
Insights: How to brings some art into your Valentine's Day plans.
You've got the chocolates, the dinner reservation, and the flowers … but something's missing. If you're looking to spice up your Valentine's Day plans with some SoCal art happenings, here are a few places you can start:
"Grand Park's Lovers Rock": Grand Park will be holding free festivities on Tuesday, Feb. 14., from 6 to 10 p.m. that'll make the night with your significant other a little bit sweeter. The event will feature live music, a photo booth hosted by Las Fotos Project, art, a flower market and more. Celebrate your love with other Angelenos in DTLA. Further details on the event can be found on Grand Park's website.
"Astaire Dances": American Contemporary Ballet will have its annual Valentine's date-night performance tradition that pays tribute to Fred Astaire. The performance brings Astaire's screen choreography to the stage for a romantic event full of glamorous clothes and cocktails on the 28th floor of a DTLA skyscraper. Performances run from next Friday to Feb. 26, and tickets range from $60 to $130. Details can be found on ACB's website.
"Death of an Outsider": SHRINE Los Angeles in East Hollywood opens with the inaugural exhibit "Death of an Outsider" on Valentine's Day. The free gallery opening reception is from 3 to 8 p.m. on the day of love. The group show is the perfect place to take in a wide variety of art with your partner. For more information, check out SHRINE's website.
Go out speed round
Go out for free: This week, we've got the best free event out there, the annual free-for-all day. On Sunday, more than 30 museums will have free general admission for all. Participating museums include the Academy Museum of Motion Pictures, Craft Contemporary, La Plaza de Cultura y Artes and the Museum of Contemporary Art. For a full list of places free for the day, check out SoCal Museum's website.
Go out and craft: Los Angeles County Museum of Art is having a couple of drop-in Communities Create LA workshops on Saturday: "Pop Art Fun" at AC Bilbrew Library and "Wonderful, Colorful Creatures" at Earvin "Magic" Johnson Park. The two crafting events in South L.A. are free and details can be found on LACMA's event pages.
Go out with the kids: If you're looking for something to do with the kids, well, LACMA has you covered there too! Attend a family art class where kids can have some fun with fabric and create collages. The event at 10 a.m. Saturday costs $40. For more information, check out the event page on LACMA's website.
Go out before it closes: Molly Surazhsky's solo exhibition at Lowell Ryan Projects in Mid-City, "Miss Americhka," combines self-portraiture with sculpture and installation to criticize America's involvement in Russian politics. The central piece to exhibit, "Slava Culture War," is a gown on a life-size model of Surazhsky that runs through both of the gallery's exhibition spaces, beginning upstairs and falling into the downstairs area like a tapestry. You have until next Saturday to get a look for yourself. The gallery is free and open from 11 a.m. to 6 p.m. Tuesday through Saturday. More details can be found on the Lowell Ryan Projects' website.
Go out on a date: Singer Ari Lennox is on her Age/Sex/Location tour and will be making her way to the Wiltern in Mid-Wilshire at 7 p.m. Thursday and Saturday. The artist is known for songs like "Shea Butter Baby" and "Queen Space," in addition to her hilarious Instagram Lives. Remaining tickets range from $106 to $341 and can be found on her website, in addition to other ticketing sites.
Go out and wander: The J. Paul Getty Museum in Brentwood presents a new exhibition, "A Passion for Collecting Manuscripts," that displays a collection of medieval objects. Stroll through the expansive museum with idyllic indoor and outdoor spaces to take in architecture and nature in between dips into the collection that opened yesterday. The museum is free and open from 10 a.m. to 5 p.m. Wednesday through Monday. Details can be found on the Getty website.
Go out all weekend: Lower Depth Theatre presents the "Cycle of Poverty" Reading Festival at A Noise Within in Pasadena. The two-day festival shares four new works from its new Commission Fellowship Program that supports new plays from BIPOC and/or women-identifying playwrights. The festival starts at 1:30 p.m. Saturday with "Footsteps" by Vasanti Saxena and "Bread and Circus" by Marlow Wyatt, and is completed with "Follow the Lady" by Delane McDuffie and "Mine" by Sage Martin at 1:30 p.m. Sunday. Details on the event can be found on A Noise Within's website and tickets range from $10 to $50.
Go out and reflect: Reflect on current events with public speaker and author Fran Lebowitz at the Theatre at Ace Hotel in DTLA. "An Evening With Fran Lebowitz" lets you into the same room as the author, known for her discussions of socioeconomic issues in New York City, feminism and politics. And more recently, you may have seen her in Martin Scorsese's "Pretend It's a City" or "Ziwe." The remaining tickets to the 7:30 p.m. Saturday event range from $49.50 to $69.50 and can be found on AXS.
Go out all night: If you're looking to bring some more energy to your weekend, check out Burlesque & Chill's "Homecoming" at the Last Call in Tarzana. The interactive burlesque show features live music, nine original performances and more. The best part is the "build-a-babe" act, where the audience participates in crafting a show with performer Stevie Minx. Burlesque & Chill is a queer-friendly, diverse show organized by Miss Lady Legs that'll bring a smile to your face. Tickets for the 8:30 to 11:30 p.m. event on Friday range from $15 to $45 and can be found on Eventbrite.
More from the crew here
Tired of the same 'ol sandwich? Here are our critic's nine favorite new sandwiches in L.A.
L.A. winter isn't just full of rain, it's also full of some of the hottest fashion drops, pop-ups and events.
Speaking of winter, don't miss these eight stunning SoCal sea caves to visit during the season's low tides.
Take leg day outside and up these stairs. Start with L.A.'s 16 hardest staircases, ranked by which walks are worth the climb.
I'm all ears!
That's all I've got for this week. Follow our feed of recommendations and itineraries on Instagram and Twitter, and if you have recs of your own, send them to steven.vargas@latimes.com.
Get our L.A. Goes Out newsletter, with the week's best events, to help you explore and experience our city.
You may occasionally receive promotional content from the Los Angeles Times.