Juanita McNeely bares it all in her debut L.A. solo show
What would you do to get your hands on Maison Margiela Tabi shoes? For one New Yorker, it involved an elaborate plan to steal a pair from a Tinder date's home. I've been enamored, infatuated, obsessed with the story of the Tabi Swiper that user nextlevellexuss posted on TikTok over the weekend. Spoiler alert: She got her Tabis back, but the way it unfolded is worth watching. I'm Steven Vargas, your L.A. Goes Out host, and here are the top events for the upcoming weekend recommended by the crew (sign up here for the newsletter):
Weekly Countdown
1. 'Juanita McNeely: Moving Through'
James Fuentes presents McNeely's debut solo exhibition in Los Angeles, "Moving Through." The show centers on three large-scale, multi-panel paintings: "Moving Through," "From the Blank Space I" and "From the Blank Space II." McNeely's work is autobiographical, chronicling her experience with cancer and an illegal abortion before Roe vs. Wade. The paintings, which she made throughout the 1970s, show visceral imagery of contorted bodies, wounds and gauze covering up bloody and broken limbs.
"That's my pain, that's what you're looking at," she told The Times.
Her work is shown across three cities; the other exhibitions are at the Whitney in New York and at the Rubell Museum in Washington, D.C. McNeely shares her cancer experience, placing bodies in the confines of hospital spaces, in the series "From the Blank Space."
Her depictions of an illegal abortion are a testament to her uncensored and unapologetic storytelling. McNeely calls on people to "be awake" and pay attention to the ways the government controls individual agency.
"They're letting their eyes close and letting themselves slip by the reality that is happening to other people," she said.
"Moving Through" is on display Friday through Oct. 14. The gallery is free, and more details can be found on James Fuentes' website.
2. 'The Gospel at Colonus'
The Getty presents "The Gospel at Colonus," a soulful twist to the story of Sophocles' "Oedipus at Colonus." The Greek myth from the fifth century BCE follows Oedipus' final years after he is banished from his city and becomes a beggar in a seaside town outside of Athens. Through the course of the play, he grows into a leading figure in the town. The adaptation by Lee Breuer and Bob Telson incorporates Black spiritual practice to re-envision the story as a musical celebration within a church congregation. Performances begin Thursday at Outdoor Classical Theater and run until Sept. 30. The show is co-produced by Court Theatre, and tickets range from $30 to $55. For more information, visit the Getty website.
3. 'Vanessa Beecroft: Rules of Non-Engagement'
When Jeffrey Deitch opened his first gallery in 1996, Beecroft became one of the first artists to showcase her work in the space. Now, the Hollywood gallery is presenting a 30-year survey of Beecroft's oeuvre with "Rules of Non-Engagement." The exhibition will feature painting, performance and sculpture, including "VB95," a revisitation of her inaugural performance at the gallery. Beecroft is best known for her performance work that investigates the naked body, highlighting challenges of constraint versus freedom and the community versus the individual. Even if you haven't seen her work in a gallery, you've most likely seen her influence on fashion and film, including her collaborations with Louis Vuitton and Valentino. The free exhibition has an opening reception from 6 to 8 p.m. Friday. The gallery is open 11 a.m. to 6 p.m. Tuesday through Saturday, and the exhibit runs until Oct. 21. More information can be found on Jeffrey Deitch's website.
4. 'Für Clarence: Celebrating the Life and Music of Klarenz Barlow'
Brightwork newmusic presents "Für Clarence: Celebrating the Life and Music of Klarenz Barlow," an evening dedicated to the leading figure in postwar European avant-garde composition, to kick off the ensemble's Tuesdays @ Monk Space series. Brightwork was founded in 2013 to celebrate contemporary classical music by West Coast composers and performers. Their concert series at Monk Space in Koreatown — recommended by Times music critic Mark Swed — brings together musical artists for an intimate performance. The performance, curated by Brandon Rolle and Nick Norton, will include the works "quarantasette estratti da un vicolo ludofilo," "ISIS studies" and "Sachets des ciseaux insatiables." The performance is at 8 p.m. Tuesday, and audiences can stay for a post-concert reception in memory of the late composer. Tickets range from $15 to $25, and more details can be found on Brightwork's website.
5. 'The Sound Inside'
Nothing is as it seems within the walls of Yale in this play by Adam Rapp. Pasadena Playhouse presents "The Sound Inside," about the unlikely bond between writing professor Bella Baird (Amy Brenneman) and student Christopher Dunn (Anders Keith). Although the mysterious student rarely speaks to the professor, he asks for a favor that has life-changing consequences. The new production of the Tony-nominated play runs until Oct. 1. Tickets range from $40 to $117, and more information can be found on Pasadena Playhouse's website.
Bonus round: UCLA Nimoy Theater Community Open House
UCLA Nimoy Theater opens Sept. 17, introducing a new performance space to L.A. UCLA's Center for the Art of Performance will celebrate the occasion with a community open house from 3:30 to 6 p.m., which includes a performance by Las Cafeteras. Other highlights: food, activities and additional special guests. While the event is later this month, attendees must RSVP by Wednesday. For more information, check out CAP UCLA's website.
On My Mind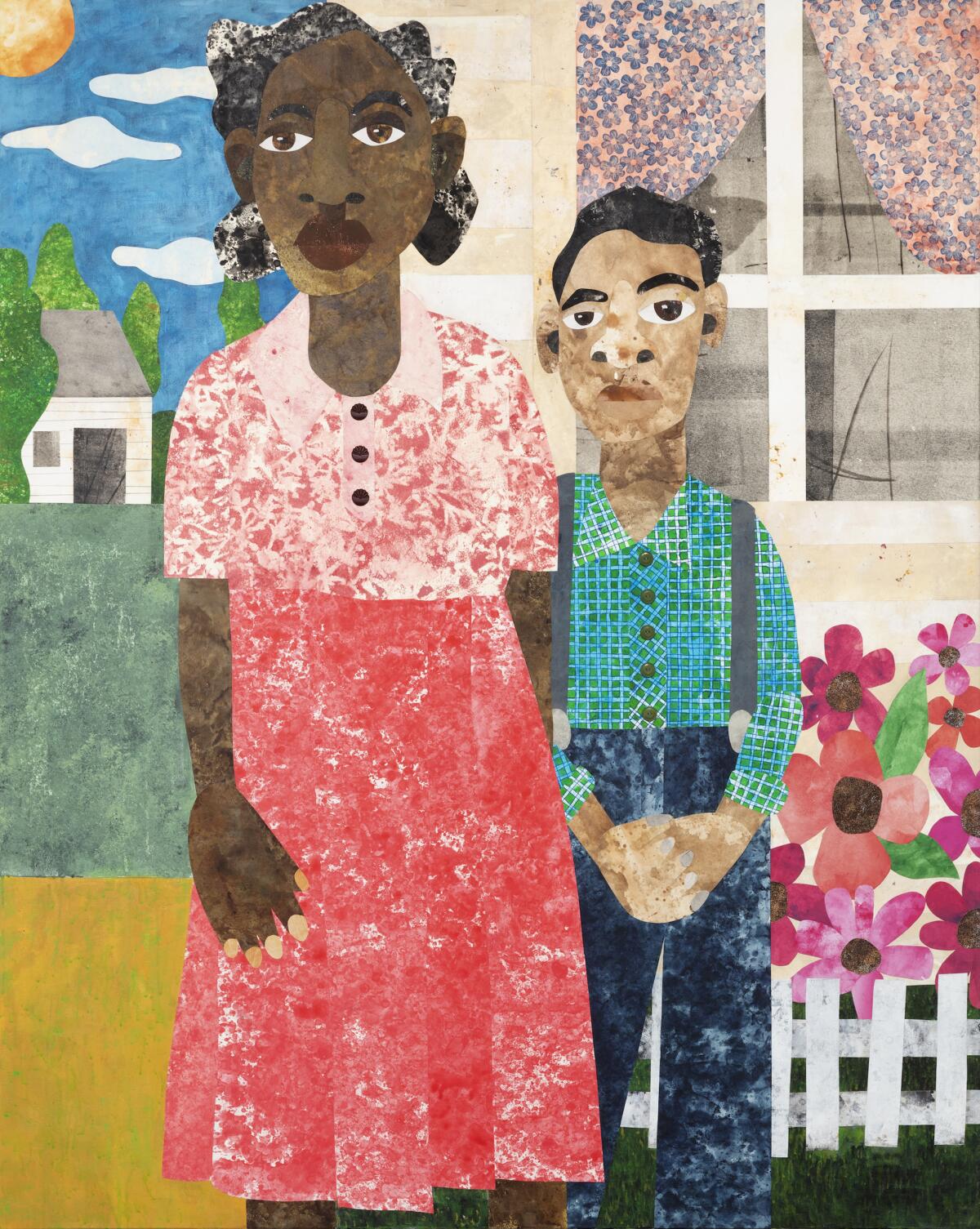 On Thursday, I checked out the new exhibitions at Luis De Jesus Los Angeles in downtown L.A.: "Evita Tezeno: The Moments We Share Are the Memories We Keep" and "Aaron Maier-Carretero: a hundred peonies." Tezeno's autobiographical exhibit consisted of snapshots of everyday Black life in Texas depicted in vibrant, large-scale, mixed-media portraits of relatives like her grandmother and great-uncle.
Each piece radiated warmth in the patterns and relationships among the subjects, especially in "When Family Gathers," depicting a multigenerational family sitting around a table. Tezeno adorned her subjects with her grandmother's buttons that were passed down to her. During my visit, Tezeno pointed to one of the few pieces in the series without buttons, "Beyond the Path There Is a New Birth." It's a self-portrait of Tezeno that represents a turning point in her life after getting divorced. It's one of the most vulnerable pieces in the show. The exhibition is intimate, as though you're walking through someone's home and looking at all the pictures on the mantle. She took that feeling of peering into the small frames and enlarged it into a collage woven with memories.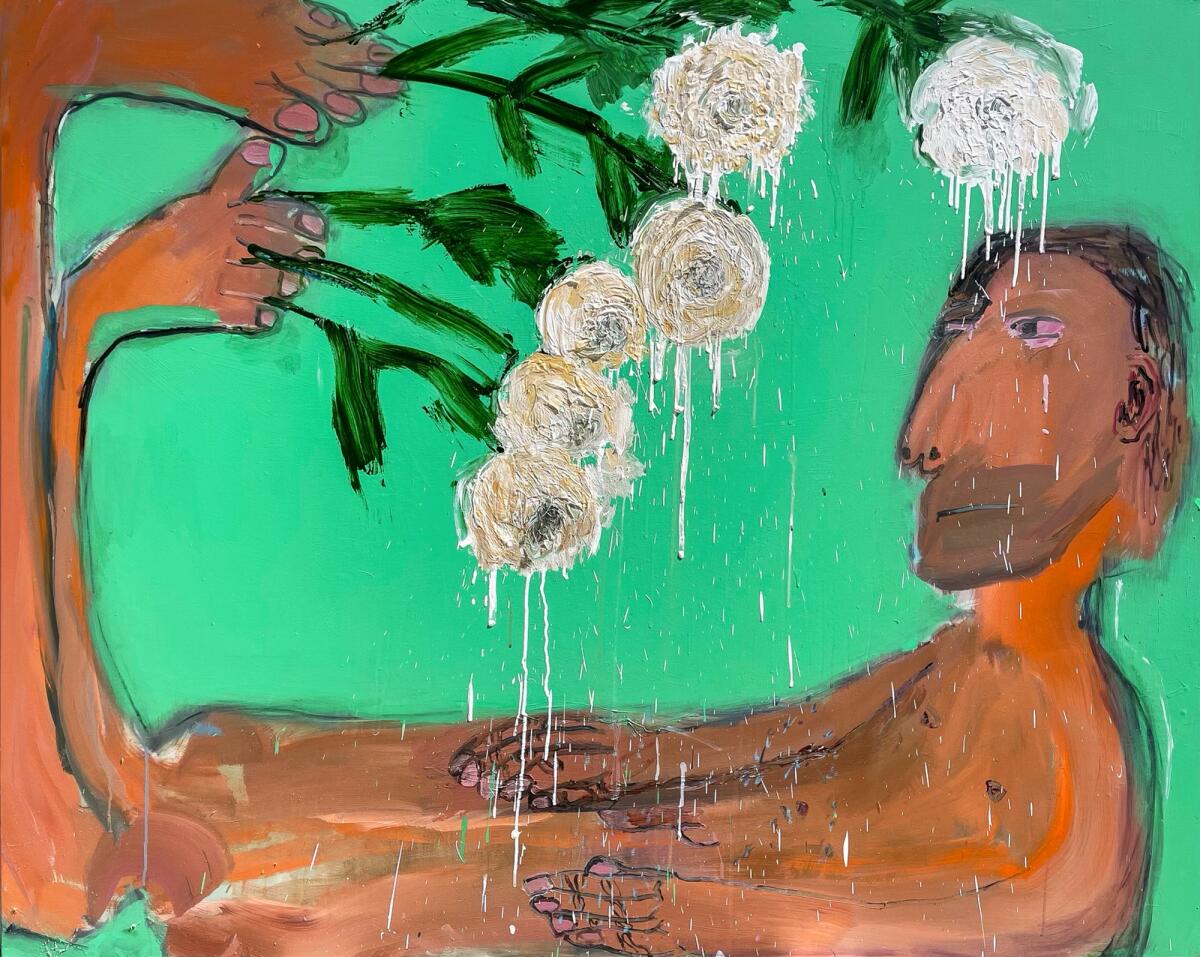 Maier-Carretero's series was intimate in a different manner. It took a look into the mind of an artist in a creative rut. He spent two months painting peonies every day. His struggle to get out of his head and delve into the nitty-gritty of the art form reflects a frantic desire for inspiration. No peony painting is the same as the next. As he moved from canvas to canvas, he made the flowers with new textures and tones. The result is best represented in the last paintings he made for the series. In them, he used fewer layers of acrylic and instead portrayed the outline of a peony, using only the necessary strokes.
Both exhibitions are free to view until Oct. 28. More information can be found on the gallery's website.
Later Thursday, I went to Hauser & Wirth West Hollywood for the opening of Jenny Holzer's exhibition "Ready for You When You Are." In "WTF," an LED beam swung over nearly 300 "curse tablets," sharing tweets by Donald Trump and Q, the leader of the conspiracy theory movement QAnon. Meanwhile, two other LED beams in the gallery titled "Good" and "Bad" used artificial intelligence to fabricate new narratives from the tweets. "Good" described poetic emotions and scenery while "Bad" shared cryptic poems of alt-right rhetoric. On the walls, Holzer presented her "Redacted Paintings," a series that puts declassified government documents on canvas to highlight the high volume of redactions. The exhibition displayed the dark sides of the U.S. government. Each element spoke to the other as you walked through the space. Light from the LED beans illuminated a word on a painting and it disappeared as you moved. The skylight shined perfectly over a piece on the ground at 3:30 p.m., bringing every word to the surface. It's the kind of exhibit that will have you returning to find something new under new circumstances on a new day.
The free exhibition runs until Oct. 21, and more information can be found on Hauser & Wirth's website.
Go out speed round
Go out before it closes: Grammy-winner Maxwell will perform at the Hollywood Bowl and set off a firework finale. The artist will be accompanied by fellow R&B musicians Pink Sweats on Friday, Sir on Saturday and Raveena on Sunday. Performances are at 8 p.m. Friday and Saturday and 7:30 p.m. Sunday. Remaining tickets range from $15 to $167, and more details can be found on the Hollywood Bowl's website.
Go out for free: Adidas Skateboarding and Jason Dill's Fucking Awesome are hosting the second Skate Jam in Hollywood at 5 p.m. Saturday. The boarding competition puts pro riders like Nora Vasconcellos, Mark Suciu, Daewon Song, Silas Baxter-Neal and Miles Silvas head-to-head for $25,000 in cash prizes. It's free to sit on the sidelines and see it all go down at 1634 N. Las Palmas Ave. RSVP via the Adidas Confirmed app. More details can be found on F— Awesome's Instagram.
Go out and craft: Take penmanship to the next level with this manuscript workshop at the Getty Center in Brentwood. The session allows the whole family to explore the design elements of manuscript pages. The bilingual workshop, led by artist Daniel González, is produced in partnership with Self Help Graphics & Art. It's free and starts at 11 a.m. Sunday. More info can be found on the Getty's website.
Go out with the kids: Keep the crafting going at Craft Contemporary in Mid-Wilshire. Artist and educator Billie Rae Vinson will lead a sculpture workshop where participants create mesmerizing abstract coral reefs and marine life. The Sunday session from 1:30 to 3:30 p.m. costs $10 for adults and $7 for children. More details can be found on Craft Contemporary's website.
Go out on a date: Spend date night at the ballet with this festival of dance at Cal State Dominguez Hills. The university co-presents Balletfest 2023 with Kenneth Walker Dance Project, presenting choreography by artists Salvatore Aiello, Emma Giselle Mertens, Jeff Raschiatore and Jose Costas of Contempo Ballet. The performance also includes special appearances by Ilaria Guerra and Lorris Eichinger of Alonzo King Lines Ballet. Tickets to the festival at 7:30 p.m. Saturday cost $30, and more details can be found on the event's ticketing site.
Go out all night: If you've been obsessed with the choreography from Jungle's "Back on 74," you won't want to miss the U.K. music duo's upcoming concert at the Kia Forum in Inglewood. Tickets start at $64.50 for the show at 7:30 p.m. Thursday. More information can be found at Ticketmaster.
Go out and wander: In celebration of hip-hop's 50th anniversary, the exhibition "Jean-Michel Basquiat: King Pleasure" in downtown L.A. will have a panel discussion hosted by Jeanine Heriveaux and Lisane Basquiat, moderated by MSNBC's Ari Melber and accompanied by panelists Rapsody, Yo-Yo and Doug E. Fresh. Stay for an after-party featuring Just Blaze. "Beat Bop: Basquiat & Hip Hop" is presented by Citi and the Estate of Jean-Michel Basquiat, and tickets cost $90. The experience begins with a viewing at 5:30 p.m. of the exhibition, where you can wander through the renowned artist's work. The panel takes place at 7:30 p.m., and the party begins at 9 p.m. More details can be found on the exhibition's website.
Go out all day: The Day of the Dog is coming to Santa Monica this weekend and is filled with fun activities for you and your furry friends. The festival features more than 70 vendors that include dog-product booths, pool parties, dog races, foam parties, doggy brunch and a photo booth. The event takes over Main Street from noon to 5 p.m. Saturday and is free to attend. For more details, check out the festival's website.
Go out and laugh: Add some giggles to your weekend at the Ice House in Pasadena with Cat Ce and friends. The lineup also includes Samantha Hale, Siege Gary, Robin Tran and Marlow Bryant. Tickets range from $20 to $25, and the show starts at 7:30 p.m. Saturday. More information can be found at showclix.com.
Go out for a cause: A group of Santa Monica residents teamed up with White People 4 Black Lives for a comedy show at the Crow to raise funds for EcoHoods, a house-building initiative developed by the Skid Row-based nonprofit Los Angeles Community Action Network. The Crow in Santa Monica will transform into a piano bar with Elizabeth Setzer on the keys and comics like Esteban Gast pulling out the jokes. Tickets cost $15, and the show begins at 8 p.m. Friday. More details can be found on the Crow's website.
Go out and support local artists: The Beehive, Gallery 90220, DCDG&co and the crew behind The Times' Black L.A. series "Behold" are coming together for the Central Ave Art Walk, a celebration of art, culture and community in South L.A. The event, 3 to 9 p.m. on Sunday, includes a showcase of 50-plus artists and vendors featuring fashion, food and much more. The group exhibition "We Are L.A." spotlights vintage lowrider cars and top contemporary artists. The event is curated by artists Anthony Freeman and Delaney George. Music will be provided by DJ Faucet, along with special guests and a performance by Compton rapper Buddy. General admission tickets cost $12 on Eventbrite.
More from the crew here
Our fall preview is here! Add these 30 must-see arts events in Southern California to your calendar.
College football is back. Check out our ultimate SoCal college football sports bar guide to find out where to watch your fav team.
The summer heat can be unbearable and ... distracting. Here are 10 inspiring L.A. libraries for when you want free AC and a quiet place to work.
Indoor rock climbing is all the rage. These 7 great SoCal gyms let you grab hold of the thrill.
I'm all ears!
That's all I've got for this week. Follow our feed of recommendations and itineraries on Instagram and Twitter, and if you have recs of your own, send them to steven.vargas@latimes.com.
Get our L.A. Goes Out newsletter, with the week's best events, to help you explore and experience our city.
You may occasionally receive promotional content from the Los Angeles Times.