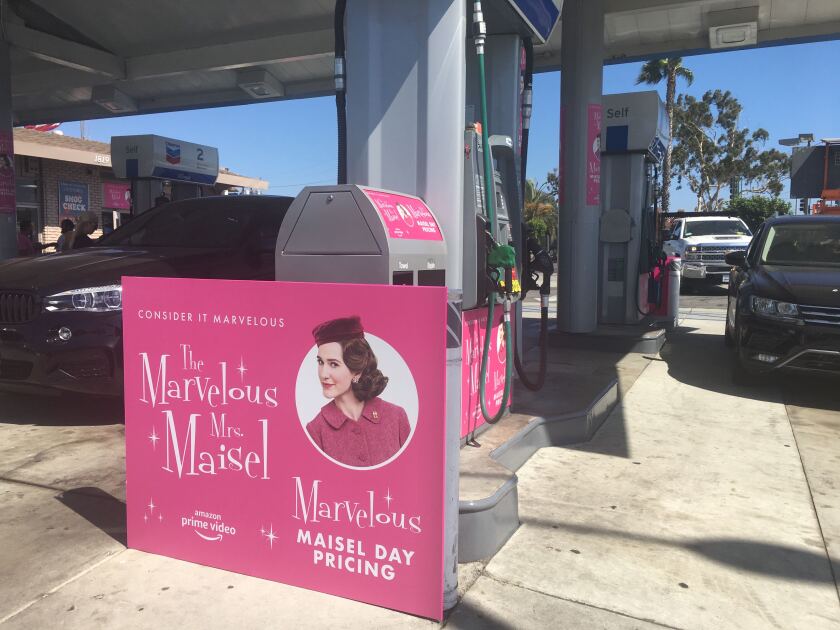 The Santa Monica Police Department put the kibosh on an Amazon "Maisel Day" promotion that attracted throngs of drivers who wanted gas at 30 cents a gallon, but ended up snarling traffic on Cloverfield Boulevard and the 10 Freeway for several hours Thursday.
"It was supposed to be shut down at 1:30 p.m. and we decided to let it go an extra hour to 2:30," SMPD spokeswoman Lt. Candice Cobarrubias told The Times Thursday afternoon. The event was originally advertised as ending at 5 p.m.
The 1950s-era pricing promotion was part of the Emmy Awards campaign for the hit TV show "The Marvelous Mrs. Maisel" and enticed consumers with deep discounts at businesses all over L.A. on Thursday. The Chevron at Cloverfield Boulevard and Michigan Avenue was the only gas station offering the 30-cent deal.
The Santa Monica Police Department received calls about the traffic almost immediately when the promotion began at 9 a.m., Cobarrubias said, and officers were on the scene directing traffic shortly thereafter.
"When we got out there and realized how big of a traffic issue it was, the sergeant on scene let the promoter know that we had to keep the flow of traffic on Cloverfield. When it got to the point that no one on Cloverfield was moving, we had to flush traffic," she added, citing fire safety concerns.
Leave it to Midge Maisel to snarl Los Angeles' already-busy streets. The TV series' Twitter account acknowledged the traffic commotion with a lighthearted tweet soon after its promotion was shut down: "When we brought LA prices from 1959, we didn't know they would come with Manhattan traffic. Oy!"
Motorists, however, didn't find the situation quite as amusing. They took to Twitter throughout the day to blame the "Maisel Day" promotion for further delaying their commutes.
Broadcast TV reports indicated that the event had been shut down much earlier, but a rep for Amazon Prime Video told The Times that wasn't the case and that Amazon had been assisting police to ensure that traffic didn't "get out of hand."
"Increased vehicle traffic near Cloverfield and Michigan, Expect delays. Avoid the area if possible," a 10:27 a.m. tweet from the Santa Monica Police Dept. warned early on.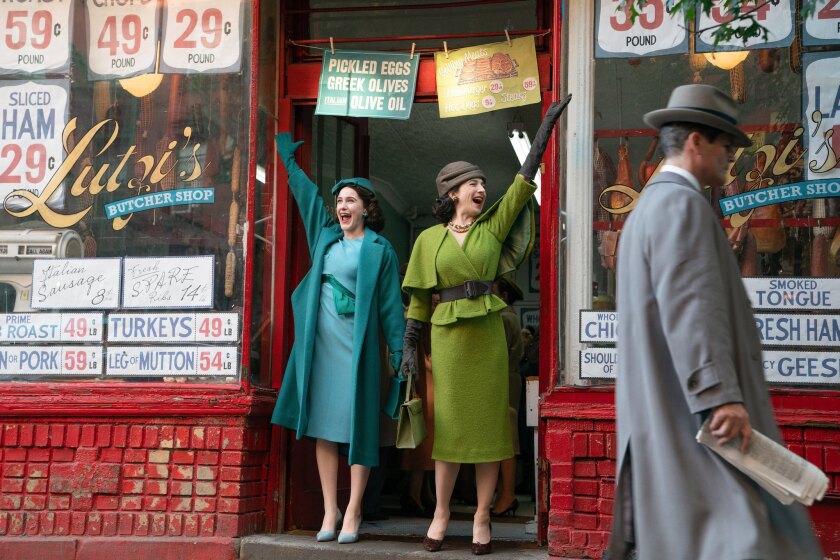 As part of Amazon's Emmy campaign for "The Marvelous Mrs. Maisel," L.A. staples like Canter's Deli and Sportsmen's Lodge will offer deals at '50s prices Thursday.
By 3 p.m. Thursday, when the promotion was over, giant signs flashing "EVENT CLOSED" replaced the bright pink "Maisel Day" posters at the entrance to the Chevron station in Santa Monica. Confused deal-seekers continued to drive up, slowing right-lane traffic only to be informed by Amazon's security that the station was closed.
Plenty filled their tanks instead at the Shell and 76 stations across the street.
A minor two-car accident with no injuries was also reported in the area earlier in the day, according to the California Highway Patrol.
Officer Vance Perreira of the CHP told The Times that "everyone is going to want to get a full tank of gas" at that steep discount, so he was not surprised by the backup.
Here's what some frustrated commuters had to say about the promotion and its fallout:
As I wait in line for 30 cent gas, I'm reminded that traffic was probably not as bad in Maisel's Day as it is now. #maiselday

— Katherine Botts (@Katherine_Botts) August 15, 2019
Maisel Day would have been a better idea if we had the same number of cars on the road as in the 50's... #maiselday #traffic

— Kevin Temmer (@KevinTemmer) August 15, 2019
$0.30 gas off for now, probably due to the crazy traffic it was causing during rush hour. Police shut down 24th Street by 9:30, try again later #maiselday

— Crystina (@bobbieness) August 15, 2019
Times staff reporter Christie D'Zurilla and intern Christi Carras contributed to this report.
---