George Santos denies he was a drag queen, but these 'Drag Race' stars aren't buying it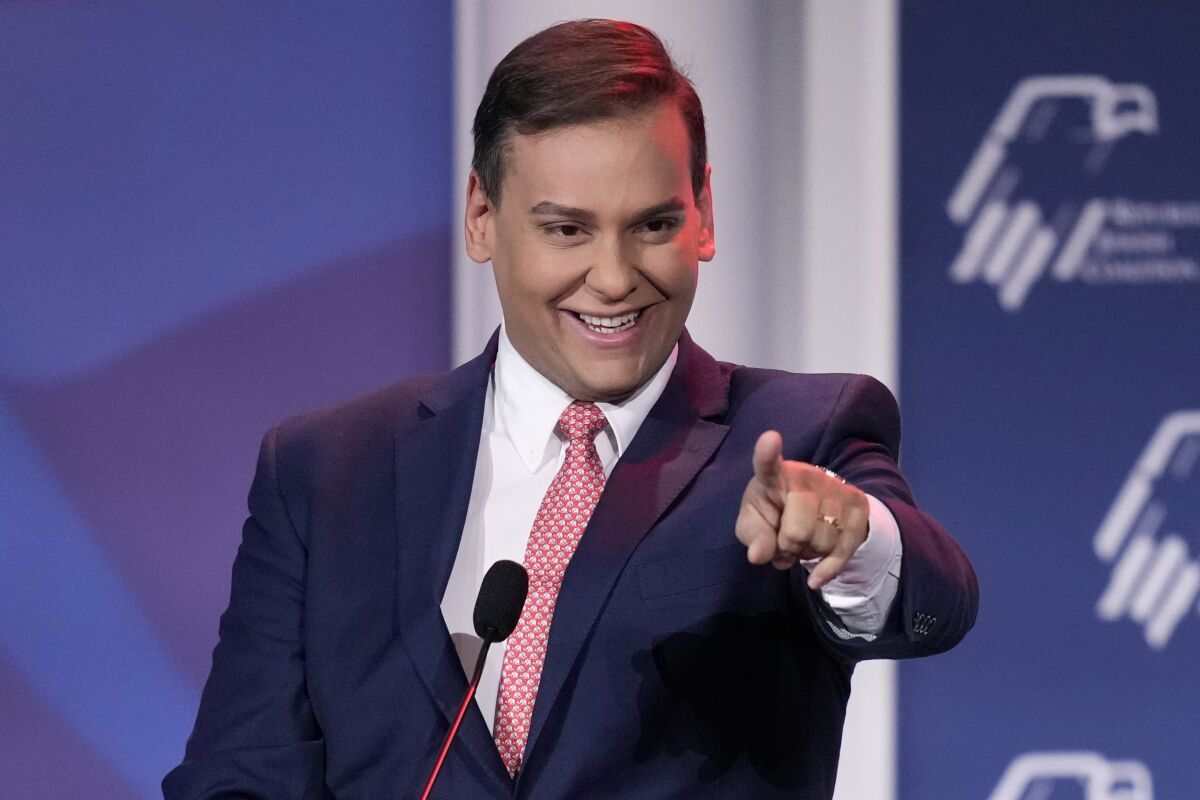 Republican Rep. George Santos has thrown some shade at a "RuPaul's Drag Race" winner days after the New York congressman denied he was ever a drag queen in Brazil.
In a tweet posted Monday afternoon, Santos dissed late-night television's recent efforts to poke fun of him and the numerous inaccuracies surrounding his personal and professional accomplishments.
On the Jan. 20 episode of "The Tonight Show," comedian Jon Lovitz impersonated Santos, who has downplayed his lies as "embellishments." Over the weekend, "Saturday Night Live" star Bowen Yang portrayed the politician and his alleged drag alter ego, named Kitara Ravache.
Santos was not a fan.
"I have now been enshrined in late night TV history with all these impersonations, but they are all TERRIBLE so far," he tweeted. "Jon Lovitz is supposed to be one of the greatest comedians of all time and that was embarrassing — for him not me! These comedians need to step their game up."
But Santos met his match in some of drag's superstars. "RuPaul's Drag Race All Stars" Season 3 winner and musician Trixie Mattel wasn't loving Santos' criticism and let the embattled politician know.
"Maybe the source material was weak," the "Trixie Motel" star responded to Santos' tweet.
Santos continued the Twitter beef, recalling one of Trixie's less-than-stellar moments on "RuPaul's Drag Race All Stars."
In 2018, Trixie embodied RuPaul for "The Snatch Game," the show's impersonation and improv challenge. Her performance, in front of the Drag Mother herself, fell flat and landed her in the bottom that episode.
"Clearly you know all about weak acting skills @trixiemattel," Santos clapped back, attaching a GIF of Mattel in that infamous moment.
With 'Snatch Game,' VH1's competition to find 'America's Next Drag Superstar' submits contestants to a time-honored test. Here's why it's so tough.
The back-and-forth continued. Mattel fired back using Santos' explanation for the recently resurfaced picture of him in a wig, lipstick, jewelry and a dress. According to CNN, Santos told reporters that he never did drag and was just "young and I had fun at a festival."
"I am not an actor! I was young and I had fun at a festival," the "UNHhhh" co-host said, echoing Santos' line.
Santos replied with even more shade, "It's all good! I won my race against the fan favorite too," referencing Mattel's "All Stars 3" victory over fellow finalists Shangela and Kennedy Davenport.
Mattel and Santos' Twitter spat came after several other "Drag Race" performers shared their take on the Republican representative's alleged drag life.
Now that we know the real George Santos, we should see what decision his voters would make if he were on the ballot again.
Jan Sport, who competed on Season 12 of the series, re-created Santos' drag look in its entirety on Twitter, from the crystal collar necklace to the haphazard smokey eye. "Kitara, I'd like a word," Sport captioned a side-by-side photo comparison.
When Santos first denied the drag queen claims on Jan. 19 — "I will not be distracted nor fazed by this," he vowed — "Season 14 contestant Kornbread "The Snack" Jeté joked that she was close to Santos' drag persona.
"Nah you a lie sis! We did tip spots together when we started! Cuz remember when you played Christina that one time for the Closing Brunch number and got mad at me cuz you originally wanted to play Lil Kim but I said I was a better fit in Lady Marmalade?" she replied.
In another tweet, Kornbread joked that Santos borrowed and never returned "my Got2B [hairspray] and my nail glue."
"Drag Race: All Stars" Season 4 co-winner Trinity the Tuck also weighed in, tweeting that Santos is a "busted drag queen and a busted politician."
Drag performers aren't the only ones taking shots at Santos. On Monday, Lovitz celebrated the New York politician's critique.
"Finally!!! You're honest about something!!!," Lovitz tweeted.
Lovitz continued in another tweet: "Thanks [for] the review and advice! You're right! I do need to step my game up! My pathological liar character can't hold a candle to you!"
Get our L.A. Goes Out newsletter, with the week's best events, to help you explore and experience our city.
You may occasionally receive promotional content from the Los Angeles Times.