Photographer Delaney George turns the lens on femininity: 'Black women are fine art'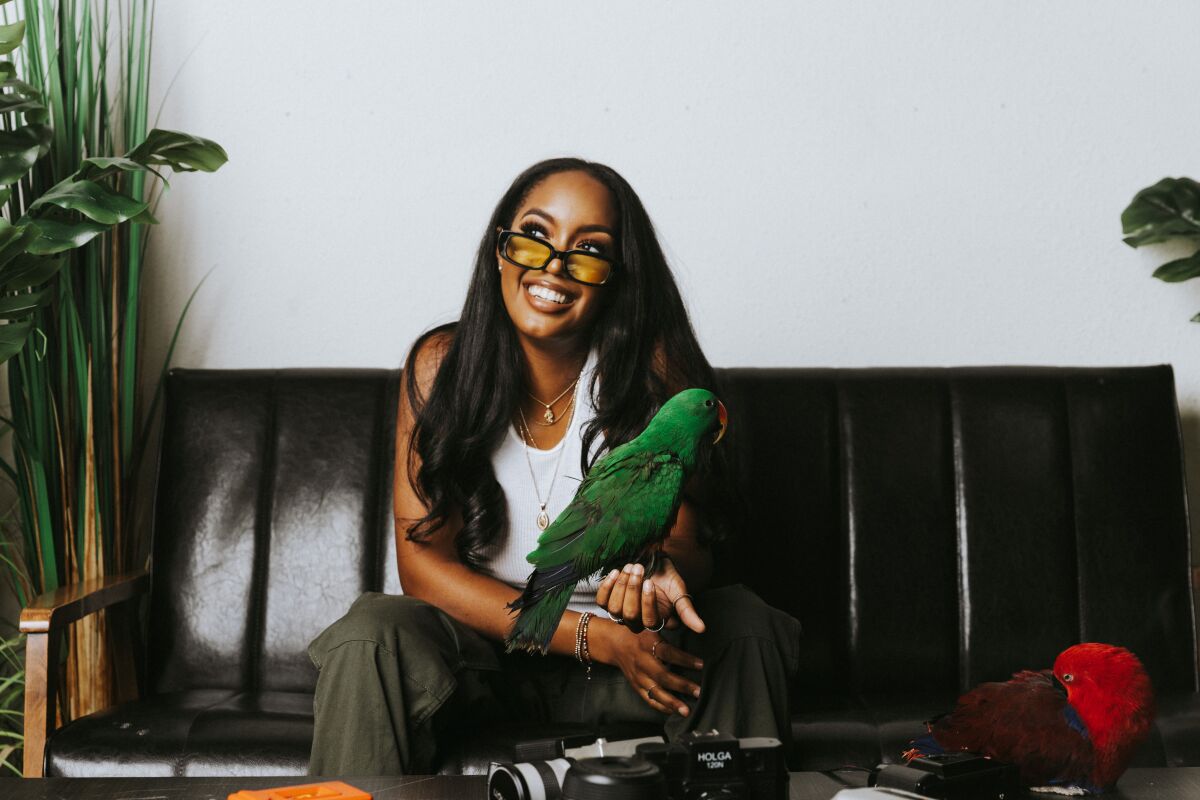 A Black female warrior, drenched in blood, holds a sword. Chain mail hangs from her head. She's there one second and gone the next.
This vision came to Delaney George in a dream, informing her photograph "The King Is Dead." She filled the gaps of the narrative by situating the warrior atop a horse. The photo was presented at Frieze with Gallery 90220, making George, at 25, the youngest Black female photographer to have work shown at the art festival.
Not far from where Los Angeles police used a Taser on teacher Keenan Anderson, Black Lives Matter co-founder Patrisse Cullors keeps his memory alive.
Now the work will be part of a solo exhibition at Gallery 90220 titled "Notre Recit" — presented with multidisciplinary visual artist Will "WCMTL" Raojenina's "The Inspirations & Joys of an Immigrant Child." The exhibit will include "The King Is Dead," "Chipo" and "Illuminate" from Gallery 90220's Frieze booth, alongside a portfolio of work centered around Black female expression.
"I'm constantly being inspired by the essence of Black women and their femininity," she says. "Black women are fine art."
George says she often envisions herself in her photography, seeking to "walk in my power" alongside her subjects. That goes for "The King Is Dead." While the piece is "set" in the Middle Ages, when most Black women were repressed , she depicted her subject as a powerful figure. In "The King Is Dead," she imagines the woman as someone who has "slashed and cut through" societal expectations, overcoming all of her tribulations. She killed the king, "the one thing that is trying to keep her down," George says.
George ventured into photography around 2014 after her mother bought her her first camera. At the time, she was modeling. She soon started making her own portfolio, conceptualizing shoots, styling them and scouting locations.
"The concepts were so in-depth and so amazing that I realized that I can't be the model for everything," George says. "That then inspired me to pick up a camera and start putting these concepts on other people."
Her photography is heavily influenced by her upbringing in New Orleans. She recalls running through the French Quarter as a kid and being surrounded by artists and jazz musicians. Her family's roots go deep; her great-great-grandfather is Cie Frazier, the original drummer for Preservation Hall Jazz Band.
"New Orleans feels like a person, like a deity," she says, likening the city to an inspiring older Black woman.
Pamela Smith Hudson, who has a new show at Craig Krull Gallery, uses her abstract mixed media art to document her connections to Los Angeles.
"Growing up with that spiritual presence around has really transferred over into my practice, not only because I'm displaying powerful, feminine figures, but I think the essence of a powerful, feminine figure followed me as I grew up as a kid and throughout my whole life," she says.
Her work depicts the essence of the maternal figures in her life, including her mother, aunt and grandmother. "Hometown Glory" is inspired by her aunt and captures her through the style, hair and nails that are focal points of the work.
"As I grew, I learned that a lot of the Black women that I was inspired by — I love them for certain aspects of their personality — but oftentimes in society, they would be demonized for a lot of the things that I was praising them for," George says.
She wants to show other Black women the beauty of their existence, whether it be through their fashion or voice. George witnessed these moments first-hand at Frieze.
"Every time I see a Black person walk up on this picture at Frieze, their reaction and their happiness, and their joy of it being there is just so warming for me," she says.
This year's Frieze was the first George ever attended. She said it was "surreal" to see her work in the artistic settings she grew up around. But at the same time, it was a reminder of the lack of representation at prestigious arts events and institutions.
"When I started to work around museums and within museums, a lot of Black people, not just women, would tell me that they've never been to a certain museum, that they never really had a reason to relate to it," she says.
Few works at Frieze spotlighted Black people, which George found "revealing that there's a lot more to be done, unfortunately."
Next on her agenda, she plans to contemporize works of Memphis-based photographer Ernest Withers for an upcoming show and to explore interactive and participatory art in her practice.
Another upcoming project is a sculpture that includes a bust of a Black woman with an Afro that spans six feet. It'll take up space and presence, inviting visitors to place Afro picks into it with messages and art. When completed, it'll be a community art project.
As she shifts mediums, George continues to put Black female figures at the forefront of her work, offering a point of connection for Black viewers.
"I'm ecstatic that people are overjoyed to see themselves in my work and to see something that they relate to in a place like Frieze, but I think that it should be more common," she says.
"Notre Recit" by Delaney George
Where: Gallery 90220, 918 E. 60th St., Los Angeles
When: Now through March 12. Open weekdays (check RSVP availability) and 5 to 9 p.m. on weekends.
Cost: Free, RSVP required
Info: gallery90220.com
Get our L.A. Goes Out newsletter, with the week's best events, to help you explore and experience our city.
You may occasionally receive promotional content from the Los Angeles Times.