'WandaVision,' explained: An episode-by-episode guide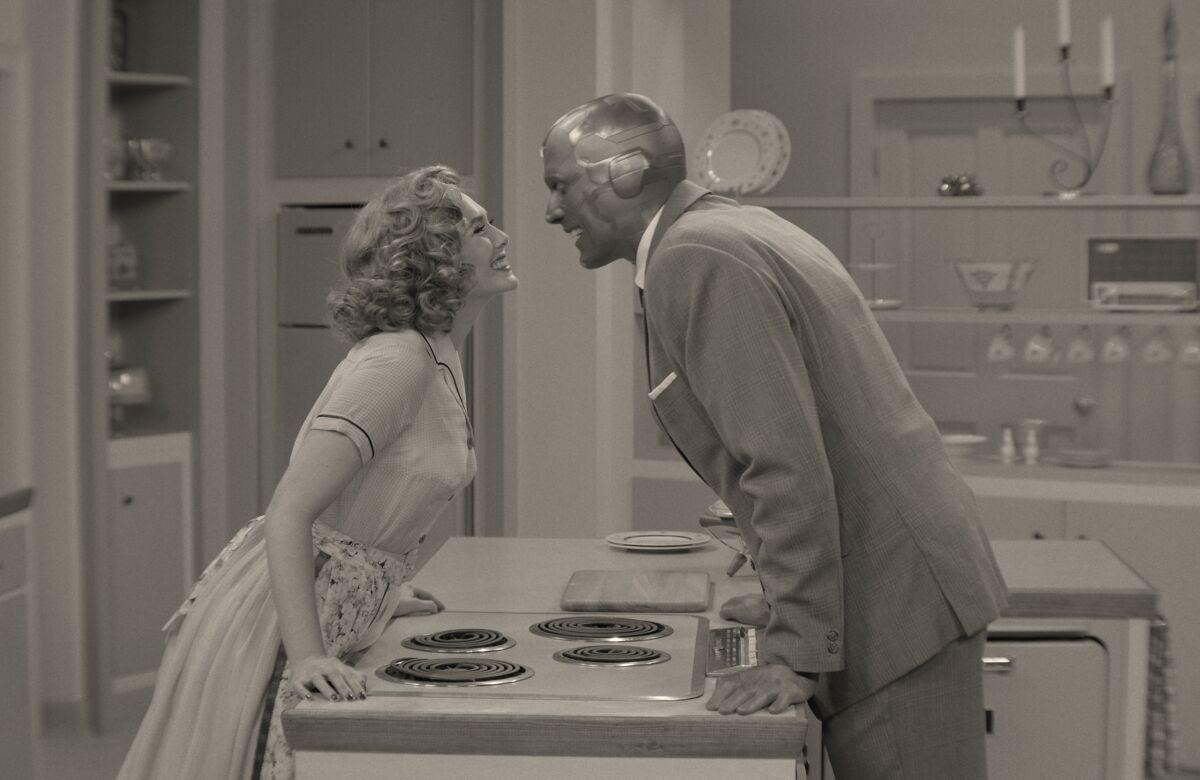 The first Disney+ original series set within the Marvel Cinematic Universe, "WandaVision" follows superpowered newlyweds starting their life together in a quaint New Jersey suburb.
Elizabeth Olsen and Paul Bettany reprise their roles as Wanda Maximoff and Vision in a series that is as much a tribute to television history as it is their characters' relationship. But over the course of its run, "WandaVision" — which costars Kathryn Hahn, Teyonah Parris, Randall Park and Kat Dennings as Marvel characters old and new — reveals that there is much more to Wanda and Vision's sitcom life than meets the eye.
The first installment of the MCU's Phase 4, "WandaVision" draws from the franchise's 20-plus-year history in addition to various Marvel comic books for its story. Although the show has plenty to appeal to the full spectrum of MCU fans, familiarity with the franchise is a plus. Here is our episode-by-episode "WandaVision" guide, highlighting key references and comic book backstories to help answer your questions. To avoid spoilers, read each explainer after you've watched the episode(s) referred to in the headline.
The Scarlet Witch and her synthezoid husband are no strangers to life in the suburbs. We dig into the comic storylines that explain the series' sitcom world.

The arrival of Wanda and Vision's twins might signal the introduction of two new characters to the MCU. We delve into the comics to explain why.

Teyonah Parris' Geraldine has often appeared disoriented in "WandaVision." The fourth episode reveals her true identity. Here's what you need to know.

How did an FBI agent and a scientist team up to investigate a New Jersey suburb? We lay out the details of their Marvel backstories here.

Each fake ad in the Disney+ series has revealed key information about what's really going on in Westview. Read our guide to what they mean.

Evan Peters, not Aaron Taylor-Johnson, turns up as Wanda's brother at the end of "WandaVision's" fifth episode. Here's what it means — and why it matters.

Wanda and Vision's wacky neighbor, Agnes (played by Kathryn Hahn), has a big secret. Here's the comic book backstory behind it all.

After exploring the events in Wanda's life that led to Westview's sitcom illusion, "WandaVision" finally calls her "the Scarlet Witch." Here's why it matters.

"WandaVision" may be over, but it's not the last we'll see of Wanda, Monica and other key characters. Here's what to expect.