Guests on Sunday talk shows: Nicole Malliotakis on Fox News' 'Sunday Morning Futures'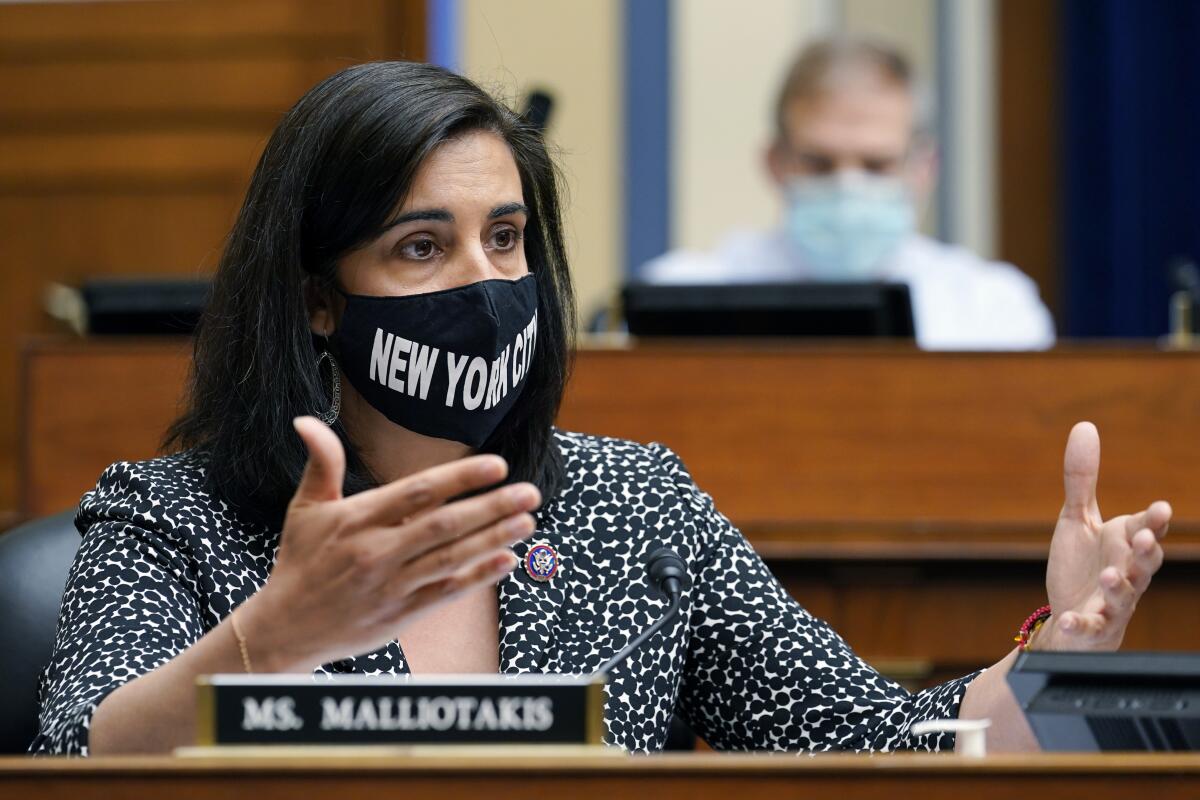 CBS News Sunday Morning (N) 6 a.m. KCBS; 10 a.m. KCAL
Good Morning America (N) 6 a.m. KABC
State of the Union Dr. Anthony Fauci, National Institute of Allergy and Infectious Diseases; Rep. Bennie Thompson (D-Miss.); Gov. Larry Hogan (R-Md.). (N) 6 and 9 a.m. CNN
Fox News Sunday Gov. Asa Hutchinson (R-Ark.); chief of U.S. Capitol Police Thomas Manger; Secretary of Education Miguel Cardona. Panel: Howard Kurtz; Jason Riley; Susan Page, USA Today. Trace Gallagher. (N) 7 a.m. KTTV; 11 a.m. and 11 p.m. Fox News
Fareed Zakaria GPS Xi Jinping's remarkable rise to become China's leader: Ian Bremmer, Eurasia Group; author Elizabeth Economy ("The Third Revolution: Xi Jinping and the New Chinese State"); author Thomas L. Friedman ("Thank You for Being Late: An Optimist's Guide to Thriving in the Age of Accelerations"); Victor Gao, Center for China and Globalization; author Evan Osnos ("Age of Ambition: Chasing Fortune, Truth, and Faith in the New China"); David Shambaugh, George Washington University; Lingling Wei, Wall Street Journal. (N) 7 and 10 a.m. CNN
Sunday Morning Futures Sen. Roger Marshall (R-Kan.); Rep. Nicole Malliotakis (R-N.Y.); Rep. Mike Turner (R-Ohio); Jon Taffer ("Bar Rescue"). Moderator Jason Chaffetz. (N) 7 a.m. and noon Fox News
The Sunday Show With Jonathan Capehart Rep. Madeleine Dean (D-Pa.); Mayor Muriel Bowser (D-Washington, D.C.); officer Harry Dunn; former U.S. Atty. Barbara McQuade; Rep. Pramila Jayapal (D-Wash.). (N) 7 a.m. MSNBC
Face the Nation Secretary of Education Miguel Cardona; Rep. Liz Cheney (R-Wyo.); Rep. Adam Schiff (D-Burbank); former FDA commissioner Dr. Scott Gottlieb; Robert Pape, Chicago Project on Security and Threats. Polling: Anthony Salvanto. (N) 7:30 a.m. and 2:45 a.m. KCBS
Meet the Press Jan. 6 one year later: Rep. Bennie Thompson (D-Miss.). Rep. Peter Meijer (R-Mich.); Fiona Hill, Brookings Institution; Barton Gellman, the Atlantic. Panel: Yamiche Alcindor, PBS; Jonah Goldberg, Los Angeles Times; Garrett Haake; Brandy Zadrozny. (N) 8 a.m. and 1:30 a.m. KNBC; 1 a.m. MSNBC
This Week With George Stephanopoulos Dr. Anthony Fauci, National Institute of Allergy and Infectious Diseases; New York City Mayor-elect Eric Adams; Rep. Bennie Thompson (D-Miss.); Rep. Liz Cheney (R-Wyo.). Panel: Chris Christie; Donna Brazile; Yvette Simpson, Democracy for America; Sarah Isgur, Dispatch. (N) 8 a.m. and 2 a.m. KABC
Reliable Sources With Brian Stelter The Jan. 6 insurrection one year later: Hunter Walker, Rolling Stone; Grace Segers, New Republic. Pro-Trump media outlets: Ryan Reilly, Huffington Post; author Nicole Hemmer ("Messengers of the Right"). Dishonest media critiques: Author David Frum ("Trumpocalypse: Restoring American Democracy"). Big Tech in 2022: Kara Swisher, New York Times. (N) 8 a.m. CNN
MediaBuzz Gayle Trotter; Mara Liasson; Gillian Turner; Guy Benson; Frank Luntz. (N) 8 a.m. Fox News
60 Minutes Jewish people who escaped the Nazis and returned with the U.S. Army to fight Hitler during World War II. (N) 7 p.m. KCBS
The prime-time TV grid is on hiatus in print. You can find more TV coverage at: latimes.com/whats-on-tv.
TV highlights for Jan. 2-8 include David Tennant in 'Around the World in 80 Days,' a reality series about TikTok creators and the return of 'The Bachelor'
TV Grids for the entire week of Jan. 2 - 8 in downloadable and printable PDF files
Movies on TV this week: Jan. 2: 'Bonnie And Clyde' on TCM; 'Milk' Starz; 'Aliens' Syfy; 'E.T. the Extra-Terrestrial' on AMC; 'Stand by Me' BBC America
Movies on TV for the entire week, Jan. 2 - 8 in interactive PDF format for easy downloading and printing
We surveyed The Times TV team to come up with a list of the 75 best TV shows you can watch on Netflix. As in, tonight.
Looking for what to watch on TV? Here are television highlights from the Los Angeles Times.
Updates
12:24 p.m. Dec. 31, 2021: Added guests for "Face the Nation" on CBS.
Get our L.A. Goes Out newsletter, with the week's best events, to help you explore and experience our city.
You may occasionally receive promotional content from the Los Angeles Times.