Leslie Jones has fans wanting more, 'killing it' as she guest-hosts 'The Daily Show'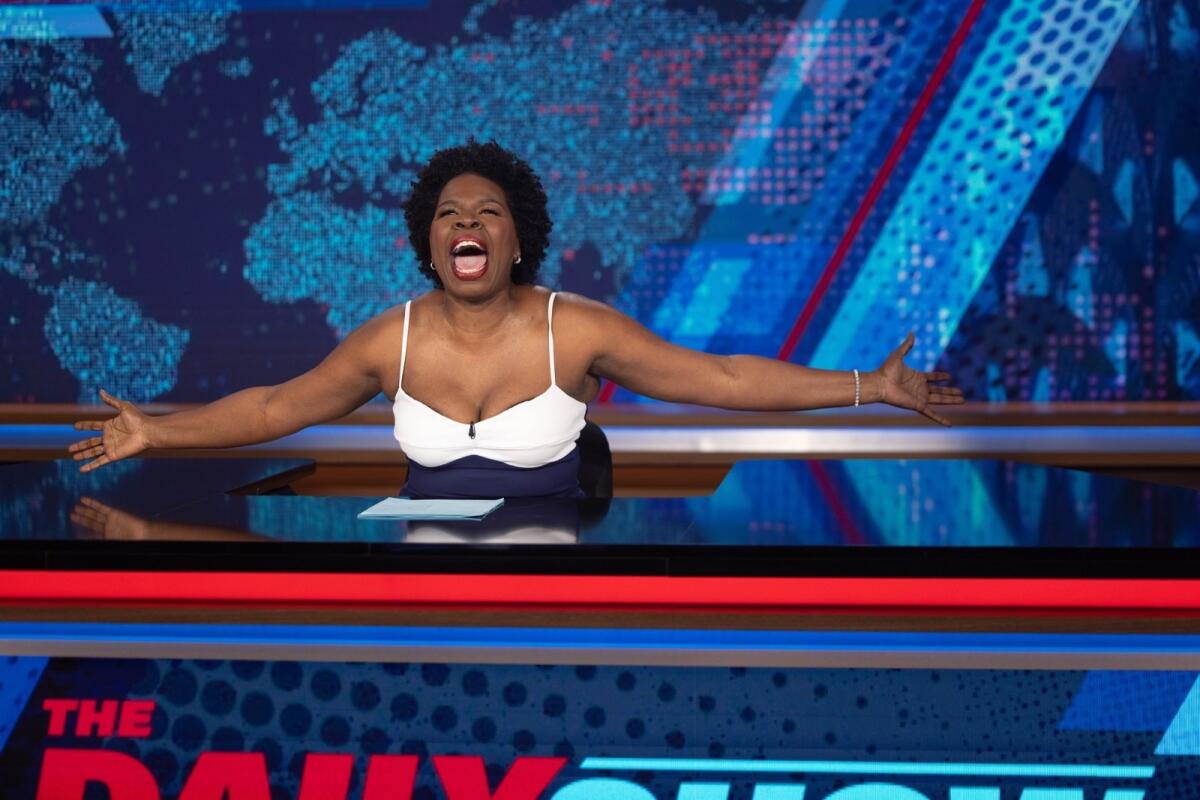 Comedian Leslie Jones brought a burst of energy to "The Daily Show" as a guest host Tuesday, and some fans of the series were all for it.
A month after former host Trevor Noah departed from the show, the "Saturday Night Live" alum picked things up in the first episode of the new year and recapped the latest in politics and culture — including that new, confusing Martin Luther King Jr. statue in Boston.
Tapping into NSFW interpretations of the abstract landmark, Jones told her audience, "I know Dr. King went down in history but this is not how you show it."
Trevor Noah debuted as host of 'The Daily Show' in 2015, taking over for former host Jon Stewart. After seven years, he said he's ready to move on.
After landing that joke, Jones turned to the camera to address white fans directly and ask that they keep their two cents on the new statue to themselves.
"White people, you don't need to be saying s— about this statue, you understand? Black hands only," she joked. "You need to sit your ass in the back of the bus for this one, OK?"
The ex-'Saturday Night Live' star has a new stand-up special on Netflix, 'Time Machine.' It's directed by the 'Game of Thrones' creators, David Benioff and D.B. Weiss.
Jones kept taking dig after dig at the Boston statue, then invited "The Daily Show" correspondent Dulcé Sloan to speak her mind.
In another segment, Jones brought her humor to Times Square, where she interviewed white pedestrians about their MLK holiday celebrations. After underwhelming responses, she asked the same people to "name a famous MLK quote."
King's opening line to his "I have a dream" speech came to mind for a number of interviewees, but not much else after that, much to Jones' disappointment.
"I have a dream that one day white people will actually know what's in that damn speech," she said.
After comedian Leslie Jones said she was 'tired of fighting the folks who don't want' her to tweet about the Olympics, NBC tries to clear up the confusion.
As part of her "Daily Show" debut, Jones sat down with (and fawned over) "The Best Man: The Final Chapters" star Morris Chestnut. In a conversation about the actor's health routine and friendships between Black men, Jones and Chestnut exchanged witty asides and mused on sports rivalries.
"Comedians — you guys are so perceptive. And you guys see everything and you hear everything, so I will not talk smack to you," Chestnut told Jones.
She reassured him: "It's OK, baby. It's OK, Morris, you can talk smack."
The South African comedian who replaced Jon Stewart in 2015 ended his seven-year run on the Comedy Central program Thursday. Here's how it went down.
After Jones lauded her guest for his recent star on the Hollywood Walk of Fame, Chestnut reciprocated the love for her late-night gig. "You're killing [it] out here," he said.
And a number of fans on social media agreed, including one person who tweeted, "I expected that it would be good; she far exceeded my expectations. I want to see more of her."
"you can go ahead and make her permanent host now," one viewer tweeted.
"Honestly I hope they give Leslie Jones the gig," another fan wrote.
"Leslie Jones is doing the Daily Show, and just KILLING IT!," a fourth user wrote.
"@Lesdogg for permanent host of @TheDailyShow please lol," NBC Universo and Telemundo Deportes anchor Jorge Andrés tweeted.
Jones is among the comedians who will fill Noah's spot temporarily as Comedy Central looks to name a successor. Also on the "Daily Show" guest-host roster are Wanda Sykes, D.L. Hughley, Chelsea Handler and Sarah Silverman.
The "Ghostbusters" reboot star will return to the "Daily Show" desk again Wednesday and Thursday night.
Get our L.A. Goes Out newsletter, with the week's best events, to help you explore and experience our city.
You may occasionally receive promotional content from the Los Angeles Times.