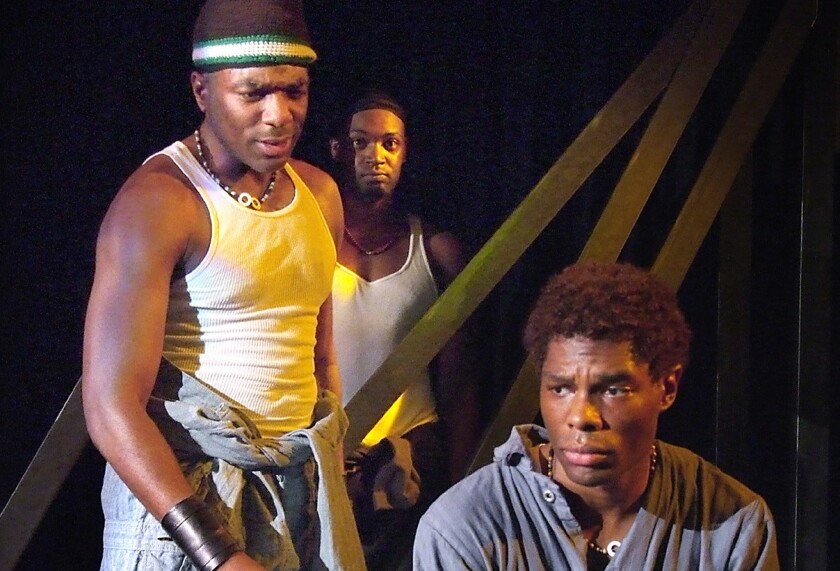 The Fountain Theatre follows up its award-winning 2012 production of Tarell Alvin McCraney's "In the Red and Brown Water" with a vibrant incarnation of "The Brothers Size," the second installment in McCraney's acclaimed trilogy.
In the three connected but stand-alone dramas of "The Brother/Sister Plays" (the third, "Marcus; Or the Secret of Sweet," has not yet arrived in L.A.), McCraney transplants deities from the West African Yoruba pantheon to the Louisiana bayou.
You don't need to know the mythic origin of the characters in "The Brothers Size" (I didn't until I read the press materials) to be engaged by their story or sense its resonance. Still, a little knowledge can't hurt.
Ogun Size (Gilbert Glenn Brown), an auto mechanic, is named for the Yoruba god of ironworking. His younger brother Oshoosi (Matthew Hancock), newly home on parole, is based on a hunter deity.
Ogun believes that a steady job will rehabilitate winsome, feckless Oshoosi. But Oshoosi resists. His longing for adventure makes him susceptible to the machinations of his lustful prison buddy, Elegba (the seductively sinister Theodore Perkins), named after a Yoruba trickster. Oshoosi also grapples with disturbing intimations of a wholly different life: In a book of photographs in the prison library, he finds a portrait of a Madagascar warrior who looked "just like me."
The battle over Oshoosi's fate plays out with thrilling immediacy in this staging by Shirley Jo Finney, who also directed "In the Red and Brown Water" at the Fountain. She is ably assisted by Hana S. Kim's evocative, abstract set, Ameenah Kaplan's powerful choreography, Peter Bayne's original music arranged by Brenda Lee Eager, and the three dazzling performances.
One of the most arresting choices by McCraney, a 2013 MacArthur "genius" grant recipient, is to make his characters speak their own stage directions, a refreshingly head-on approach to the problem of theatrical artifice, and one that works beautifully with the notion that the characters are themselves the vessels for immortal archetypes. Wisely, McCraney uses the device sparingly. It's the source of much of the production's wit, especially in the hands of Brown. At one point he describes Ogun as smiling at something exasperating Oshoosi has said -- then pointedly, he doesn't smile.
The energy flickers only briefly during the longer monologues, one of which is an update on the protagonist of "In the Red and Brown Water" that feels a bit beside the point. Otherwise this ambitious production works on its many levels. Hancock and Brown even do a version of "Try a Little Tenderness" that brings down the house. I'm looking forward to the next installment.
"The Brothers Size," Fountain Theatre, 5060 Fountain Ave., Los Angeles. 8 p.m. Thursdays through Saturdays, 2 p.m. Sundays. Ends July 27. $34. (323) 663-1525 or www.fountaintheatre.com. Running time: 1 hour, 20 minutes.
---