'Coachella Walls' raises awareness of region and farmworkers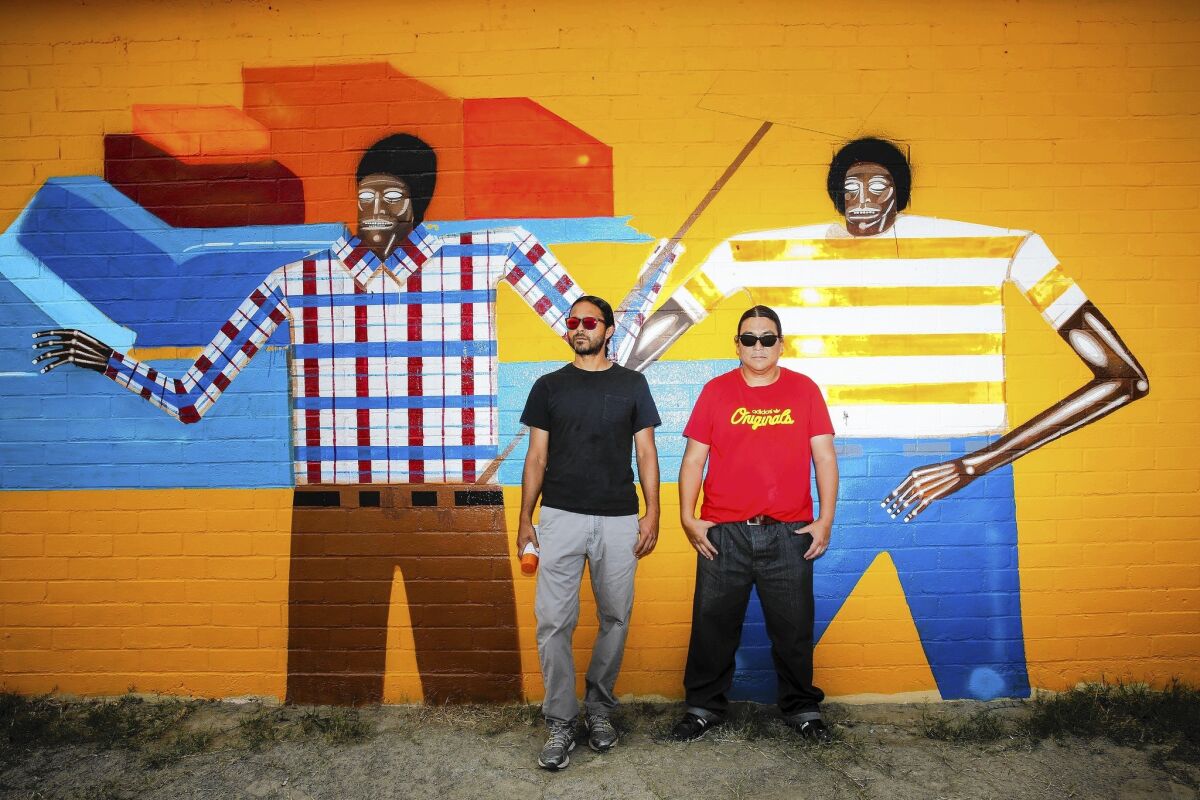 The Coachella Valley Music and Arts Festival may have wrapped up last week, but still unfurling in Coachella's Pueblo Viejo District is an ambitious project that has brought together about a dozen muralists and international contemporary artists.
"Coachella Walls," which has no formal connection to the Goldenvoice-produced festival, is billed as an "arts-driven community revitalization project." Its organizers are Coachella-based Date Farmers Art Studios, a.k.a., the artists Armando Lerma and Carlos Ramirez, who grew up in the area and now show their work at Ace Gallery in Los Angeles.
Medvin Sobio, director of L.A.'s Academy of Street Art and art director of the street art supply retailer Mid-City Arts Gallery & 33third Los Angeles, curated the project, which is financed by the city of Coachella's public arts fund.
Sobio was co-curator in 2011 of a similar mural effort in Miami, the annual "Wynwood Walls," with developer Tony Goldman. Former Museum of Contemporary Art Director Jeffrey Deitch co-curated the debut of "Wynwood Walls" with Goldman in 2009 before taking his post at the museum in 2010.
In addition to stimulating foot traffic to the area, Sobio says, "Coachella Walls" is meant to raise awareness for the larger Eastern Coachella Valley and is dedicated "to the anonymous farmworker."
"There are a lot of farmers working in bad conditions in certain parts of the Eastern valley," he says. "It's a poor city, a forgotten city. We want to shed some light on that. We want to recognize the farmers and the city of Coachella and the Eastern Valley, because they have something to say — that they exist."
Among the dozen or so artists who will be painting murals are the Date Farmers, the Mexican artist Saner, the Brazilian artist Nunca, the Spanish artist Liqen as well as L.A. artists Vyal Reyes and El Mac.
"I grew up in this town," Lerma says. "I've been wanting to do this for a long time, and to time it with Coachella so people at the festival have a reason to come here. Carlos and I were part of 'Wynwood Walls' in 2011, and we met Med [Sobio] there — and it all came together now, the timing was right."
The $25,000 given to the project by the city covers the artists' travel costs, accommodations, food and art supplies; the artists are volunteering their time and efforts.
PHOTOS: Quotes from Coachella performers
El Mac kicked off the painting on March 31, Cesar Chavez Day. Now completed, El Mac's mural — like the others, painted on the exterior of local businesses with permission from building owners — depicts an anonymous farmworker.
The mural has attracted the attention of local farmworkers, Sobio says. "They sit and stare at it because it's like looking in a mirror," he says.
The project has allowed the artists to reach out to the community, Lerma says.
"Young kids stop by and talk about art, some people are reminded of family members when looking at the murals or they're amazed at the technical skill," he says. "It sparks a lot of conversations."
A mural by Cambodian American artist Andrew Hem, who lives in L.A., depicts break dancers inspired by kids he met in his father's Cambodian village. The Date Farmers' mural is of two farmworkers marching by a car.
Nunca's mural is based partly on musicians in a local Coachella band. The artist painted the bodies of the guitar player and drummer on the mural; he plans to paint their heads on a different mural, in another country, in the future.
The Date Farmers, who have a show of new paintings scheduled to open at Ace Gallery in late summer, organized a group show at their studio featuring works by participating "Coachella Walls" artists. Sobio also launched a photo exhibition online, showcasing images he and Lerma shot chronicling "the culture of the city of Coachella," he says.
"The idea was to show people, 'Hey, this city exists and there's a lot of culture and history here,'" Sobio says. "When people hear about the Coachella Valley, they only think about Palm Springs or the festival in Indio. Hopefully, that changes here."
---
Get our L.A. Goes Out newsletter, with the week's best events, to help you explore and experience our city.
You may occasionally receive promotional content from the Los Angeles Times.