Daniil Trifonov, 24, is ready to make magic at Walt Disney Concert Hall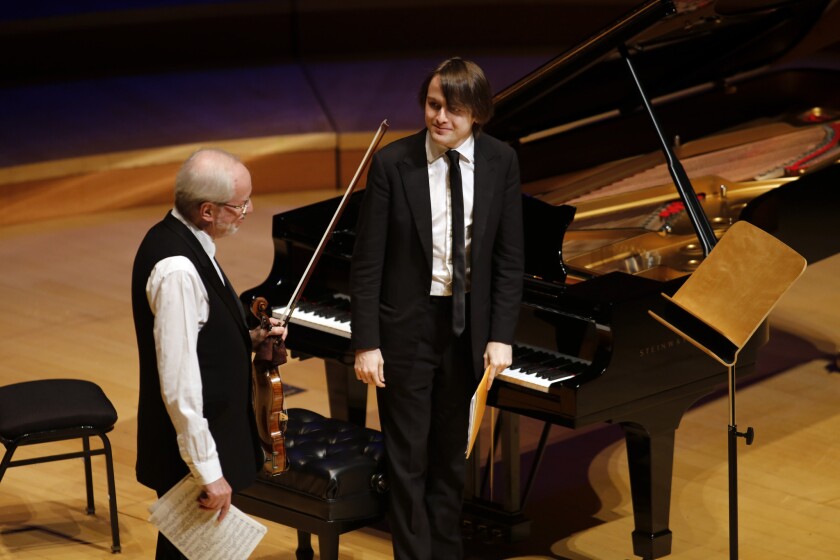 The great Russian piano tradition includes the likes of Sergei Rachmaninoff, Vladimir Horowitz and Sviatoslav Richter. Now another is vying to join those illustrious ranks: Daniil Trifonov, 24, star of a recital Friday night in Walt Disney Concert Hall.
Trifonov is one of the hottest young pianists in the world. In 2011, he won the International Tchaikovsky Competition in Moscow and the Rubinstein competition in Tel Aviv. His recordings for Deutsche Grammophon have earned three Grammy nominations, including one for his latest, an all-Rachmaninoff disc that includes a luminous rendition of "Rhapsody on a Theme of Paganini" with the Philadelphia Orchestra led by Yannick Nézet-Séguin.
See more of Entertainment's top stories on Facebook >>
In November, Trifonov was elected to the New York Philharmonic's board of directors, joining pianist Yefim Bronfman and violinists Joshua Bell and Itzhak Perlman. Last year he performed with violinist Gidon Kremer's trio in Disney Hall (Times critic Mark Swed called the performance "pure magic") and gave a thrilling recital at the Soka Performing Arts Center in Aliso Viejo that included all of Liszt's spectacularly challenging "Transcendental Etudes."
His predatory manner of hovering over the keyboard has proved unforgettable. Trifonov's Hollywood Bowl debut in 2013 in which he performed Rachmaninoff's Piano Concerto No. 2 played out on the venue's giant screens, sweat flying from his brow.
"It depends on the repertoire," Trifonov said by phone from Florida this week, recalling that September night at the Bowl. "But it's about concentration, which forces certain physical postures. During a performance, it allows me to be aware only of the music, and not the environment."
Like the elder Marc-André Hamelin and the younger Conrad Tao, Trifonov is distinguished among his peers by being one of the few pianists who composes as well as performs.
"Daniil is what we used to have — the Rachmaninoffs, Bernsteins and Previns — a tradition of pianist-composers going all the way back," said Joel Smirnoff, who recently retired as president of the Cleveland Institute of Music, where Trifonov studied from age 16, receiving a master's diploma in January.
Smirnoff recalled watching a YouTube clip of Trifonov to help decide if the young pianist should be admitted to the institute.
"It took about 20 seconds to say, 'Let's go full scholarship,'" Smirnoff said.
Trifonov spent his childhood in Nizhny Novgorod, east of Moscow, and began composing at age 5.
"Both my parents are musicians who play piano," Trifonov said. "My father is a composer, and I was first drawn not to an acoustic piano but a synthesizer, which my father used for his compositional work."
Trifonov's father was also a punk-rock guitar player, which may help explain why his son is so naturally tuned into pop culture. "He gets the big picture," Smirnoff said, "how music integrates into society."
So far, Trifonov's works include a piano concerto, which was commissioned by the Cleveland Institute, and a double concerto for violin, piano and chamber orchestra. He also composed "Rachmaniana," a lyrical suite for piano solo, which is on the new disc.
Trifonov said composing makes him more sensitive to the problems of interpreting a score.
"Things seem easier, but at the same time there are complications," he said. "For example, even when marking a score, such as a crescendo, it's difficult to precisely explain how you want it to be played. It's a difficult process of trying to find what the composer meant. For me, being a composer helps with the organization of a score and learning not to take a composer's marks literally, but in the context of a piece."
For his Disney Hall program, Trifonov will perform the Bach/Brahms Chaconne (for the left hand), Schubert's Piano Sonata in G (D.894), Brahms Paganini Variations (Book I) and Rachmaninoff's Piano Sonata No. 1.
"The Bach/Brahms is not as well known as Busoni's more romantic one for two hands," Trifonov said. "Brahms' rendition is closer to the original violin version. He almost doesn't add anything to the original score."
Trifonov noted the structural complexity of Rachmaninoff's first sonata.
"Out of only two motives, he builds this incredible 34-minute-long symphonic poem for piano," he said. "The Schubert sonata fits naturally between the Chaconne and Paganini Variations. It's one of his most lyrical in the vocal quality of every movement, even its more dramatic parts."
In upcoming seasons, Trifonov plans to play more Brahms — learning the composer's two concertos are a top priority — and expand his repertoire to include works by 20th century composers, including Olivier Messiaen, Aaron Copland, Gyorgy Ligeti and John Corigliano.
Trifonov said he values spontaneity highly, which may explain why he prefers the concert hall over the studio.
"The level of nervousness can be slightly higher," Trifonov said, "but at the same time, there's no substitute for a live performance. There is an analogy my teacher used to express: There is a butterfly in a museum, behind a glass. It can be very beautiful in its shape and color, but it's static. The same butterfly in open nature amazes us so much more."
Look for Swed's review of the recital later and follow The Times' arts team @culturemonster.
---
From the Oscars to the Emmys.
Get the Envelope newsletter for exclusive awards season coverage, behind-the-scenes stories from the Envelope podcast and columnist Glenn Whipp's must-read analysis.
You may occasionally receive promotional content from the Los Angeles Times.