Saving the 20th century: New Getty Foundation grants for modern architecture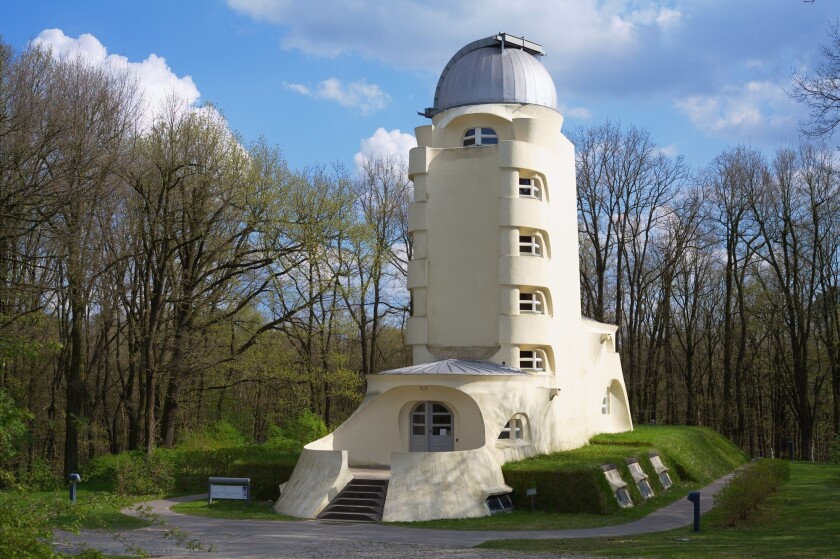 The Getty Foundation has announced a second round of grants for its Keeping It Modern conservation initiative, funding the study of exceptional architecture including Frank Lloyd Wright's Unity Temple in Oak Park, Ill., and Bauhaus founder Walter Gropius' residence in Lincoln, Mass.
Grants totaling more than $1.75 million have been awarded to 14 buildings, built in the 20th century in eight countries including India and Brazil. The goal of the studies is to discover ways of maintaining and preserving structures based upon the unique challenges presented by the building materials.
The foundation selected each structure based upon its ability to present a model for conservation practices. They include: Erich Mendelsohn's Einstein Tower in Potsdam, Germany; Marcel Breuer's St. John's Abbey and University Church in Collegeville, Minn.; and James Strutt's residence in Ottawa, Canada.
"There are still so many fabulous 20th century buildings at risk and in need of conservation support," Getty Foundation director Deborah Marrow said. "More than we could possibly support in a lifetime."
The inaugural Keeping It Modern grants announced in the fall provided funding for the study of 10 landmark structures including Jørn Utzon's Sydney Opera House in Australia, Frank Lloyd Wright's Robie House in Chicago and the Ray and Charles Eames' residence in Pacific Palisades. The recipients of those grants will convene in London in July to share their findings.
"When we talk about modern architecture in a global context, there are regional approaches to addressing a certain problem," Getty Foundation senior program officer Antoine Wilmering said. "So we'd like to have people share how they go about solving issues. That way they can all learn from each other despite different cultural backgrounds."
This year the foundation is giving its first implementation grant to Wright's Unity Temple, which means the money will be used for conservation. Prior grants have been used strictly for research and study so that the guardians of the structures in question can come up with their own preservation plans.
"Our emphasis has always been on planning and research," Marrow said. "That's the part that's harder to fund and always gets overlooked. Without research you won't be able to come up with a truly thoughtful implementation plan."
Donors interested in funding implementation projects consider a Getty grant a "seal of approval," Marrow said.
Others receiving grants in the second round: Charles Rennie Mackintosh's Hill House in Helensburgh, Scotland; Pierre Jeanneret's Gandhi Bhawan (Gandhi Center) in Chandigarh, India; Joao Batista Vilanova Artigas and Carlos Cascaldi's School of Architecture and Urbanism at the University of Sao Paulo; Gerrit Rietveld's Schroder House in Utrecht, Netherlands; Michel de Klerk's Het Schip in Amsterdam; George Nakashima's Arts Building and Cloister in New Hope, Penn.; the Giancarlo de Carlo Collegi buildings at the University of Urbino in Italy; Paul Rudolph's Jewett Arts Center at Wellesley College in Massachusetts; and Jorge Ferreira's Arthur Neiva Pavilion in Rio de Janeiro.
One of the most challenging problems facing conservationists is the novel use of architectural concrete, Wilmering said.
"When we talk about concrete there are so many types, forms, colors and textures that have been used in modern architecture over time," he said, adding that a good example can be found at St. John's Abbey and University Church, where architect Breuer used concrete in a visionary way -- as a canvas to be exposed raw and to house gorgeous stained glass that reads like a "symphony of color."
Water leakage in the building, however, has caused the iron inside the structure to push outward.
"They are so valuable," he said of the buildings. "They are important windows into certain time periods."
Follow me on Twitter @jessicagelt
---
From the Oscars to the Emmys.
Get the Envelope newsletter for exclusive awards season coverage, behind-the-scenes stories from the Envelope podcast and columnist Glenn Whipp's must-read analysis.
You may occasionally receive promotional content from the Los Angeles Times.