Enigma machine from World War II finds unlikely home in Beverly Hills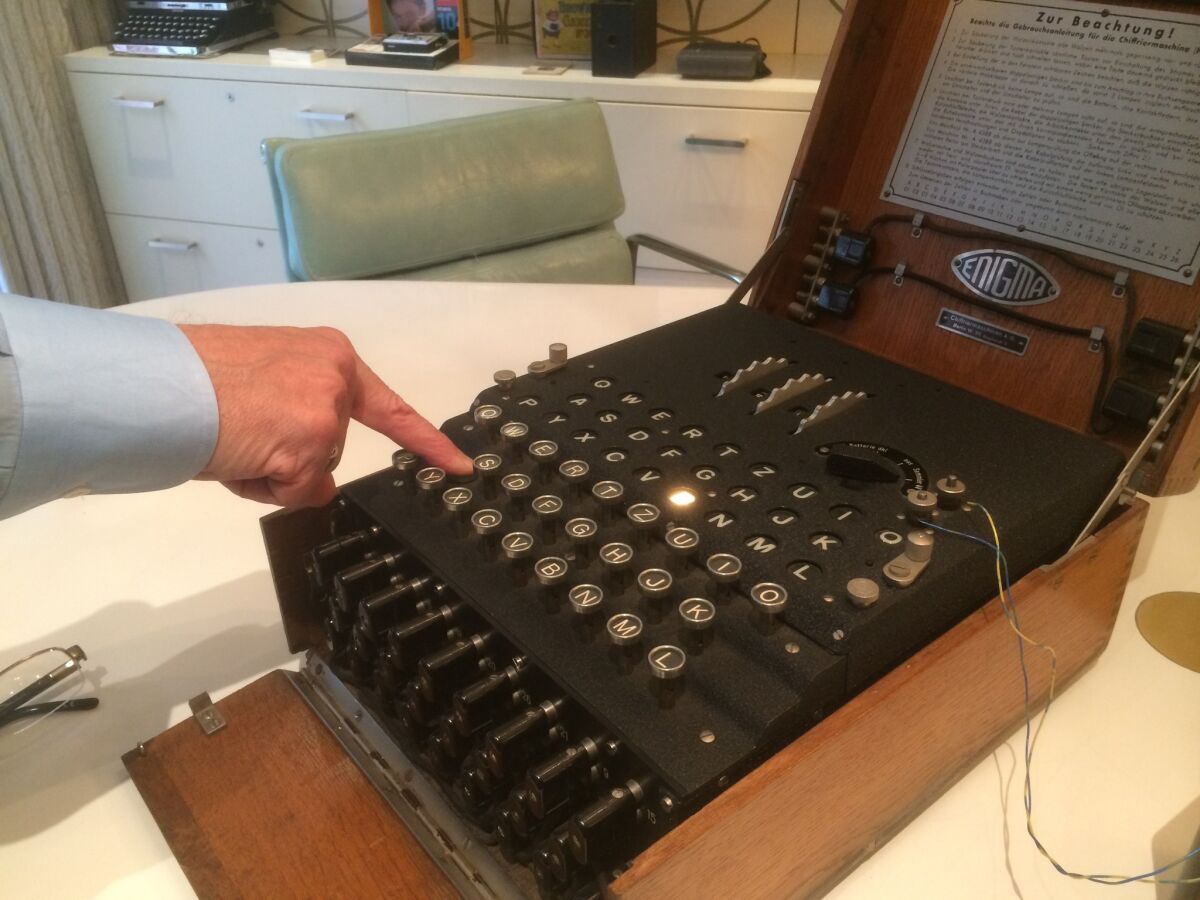 In the Oscar-nominated movie "The Imitation Game," a group of young British mathematicians is tasked with cracking the German Engima machine, the cipher device that the Nazis used to encrypt and decrypt war communications.
The sophisticated -- for its era -- device featured a keyboard and a series of mechanical rotors that allowed for millions and millions of combinations.
Enigma machines are considered today to be precious collectible objects and can sell for tens of thousands of dollars. Some are on view at museums, like the Computer History Museum in Mountain View, Calif., while many are believed to be in the hands of private collectors and computer history enthusiasts.
One of those private hands is Los Angeles-based technology venture capitalist and philanthropist David Bohnett. His Enigma machine, which is kept at his Beverly Hills office, was purchased 15 years ago at Sotheby's in London.
The machine, for which Bohnett estimated he paid around 12,000 pounds ($18,000), is believed to have once been used on a German U-boat. The machine came with three rotors, plus a spare one, as well as instructions in German, which he had translated into English.
Bohnett said in an interview that he has no plans to sell the machine. "No, never. It's going to a museum," he said.
When connected to a power source, Bohnett's machine can still function, though some of the keys are sticky, as shown during a brief demonstration.
"There aren't a lot of Enigma repair shops around," he joked.
As portrayed in "The Imitation Game," German intelligence forces changed the Enigma codes on a daily basis, making it nearly impossible for Allied forces to crack Nazi communications. But the British team at Bletchley Park found a way using a large, electromechanical computing device designed by Alan Turing.
Bohnett said he purchased the Enigma machine in part because of his fascination with Turing's life. Like Turing, Bohnett has devoted his career to computer technology and is gay. As a young man, Bohnett helped to found the Internet site GeoCities, which he later sold to Yahoo. He invests in technology start-ups through his company Baroda Ventures.
He is also a philanthropist and serves on the boards of the Los Angeles Philharmonic and the L.A. County Museum of Art. He recently announced a $20-million gift to the orchestra.
Twitter: @DavidNgLAT
MORE:
Alan Turing's story the perfect fit for 'Imitation Game' scriptwriter
'Imitation Game' a crackerjack tale about Enigma buster Alan Turing
---
Get our daily Entertainment newsletter
Get the day's top stories on Hollywood, film, television, music, arts, culture and more.
You may occasionally receive promotional content from the Los Angeles Times.