Elusive 'Space Sculpture' sold by LACMA appears to be in Stuttgart, Germany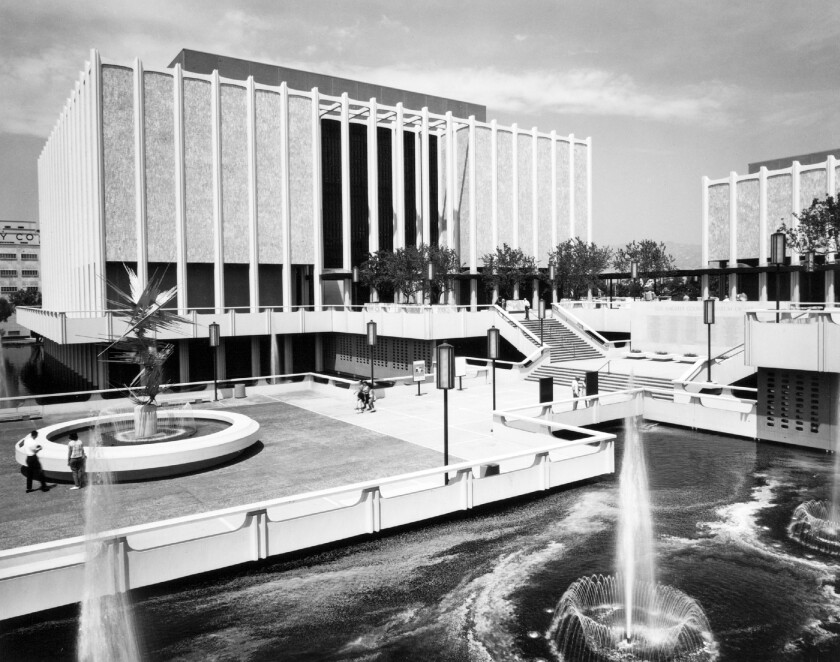 On Saturday I wrote about "Space Sculpture," the serrated tower of welded stainless-steel rods by German artist Norbert Kricke (1922-1984) that greeted visitors on the entry plaza to the Los Angeles County Museum of Art when it opened in 1965. Two decades later it disappeared from public view, sold to an unidentified German buyer by the museum, which said it no longer knew the sculpture's whereabouts.
Now, "Space Sculpture" seems to have turned up.
Phillip D. Young, an instructor in the performing/communication arts department at Pasadena City College emails to say, "It seems [the Kricke] ended up in the Daimler Collection."
That would be Daimler as in Mercedes-Benz, the automobile company with headquarters in Stuttgart, Germany. "Space Sculpture" appears to be installed at a factory site about 20 minutes southwest of the city.
Since 1977, Daimler has developed an extensive corporate collection of 20th and early 21st century paintings and sculptures -- especially by German artists, but also including other European and some American artists who came to prominence in the 1960s and after. The art is shown at sites in and around Stuttgart, as well as in Berlin.
The Daimler Art Collection website explains: "Around 1989, Mercedes-Benz acquired a group of eleven large sculptures for their site in Stuttgart-Untertürkheim, and for the public areas at their former Stuttgart-Möhringen headquarters." Thus began a collection of large-scale sculptures that now includes about 30 works -- among them pieces by Walter De Maria, George Rickey and Ulrich Rückriem -- as well as many more modest examples.
Two are by Kricke.
One is a 1954 floor piece of bent rods painted red, white and black. The other is the 1964 "Flächenplastik im Raum" -- German for "Space Sculpture," a title Kricke frequently used.
In reproduction it certainly looks like the work formerly in LACMA's collection -- although the Daimler Web photo is shot from a different angle than the one the museum provided, and Kricke made a number of works in the style. This one was among the sculptures Daimler acquired in 1989, which roughly fits with LACMA's sale date.
Today the Kricke is installed at the Daimler factory site in nearby Sindelfingen, outside Stuttgart. I have a request in to Daimler for confirmation about the sculpture's provenance and will update this post when I hear back.
---
Your essential guide to the arts in L.A.
Get Carolina A. Miranda's weekly newsletter for what's happening, plus openings, critics' picks and more.
You may occasionally receive promotional content from the Los Angeles Times.