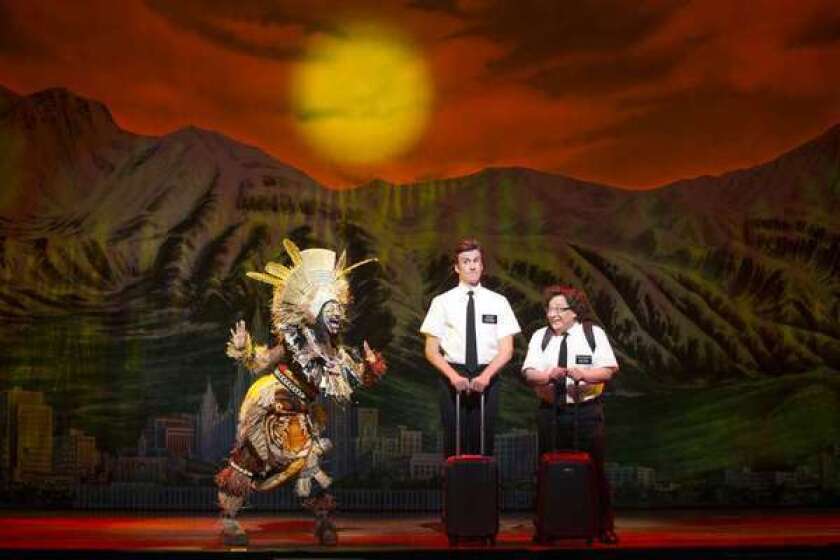 The 2013-14 season at the Pantages Theatre will feature last year's most decorated Broadway musical, "Once," Andrew Lloyd Webber thrice, and a second helping of "The Book of Mormon."
The Webber trifecta will consist of his production of "The Wizard of Oz" (Sept. 17-Oct. 6), adapted from the classic MGM film musical, with new songs by Webber and Tim Rice added to the movie's Harold Arlen and E.Y. Harburg score; "Evita," (Oct. 23-Nov. 10), whose recent Broadway revival closed last month; and a touring revue, "The Music of Andrew Lloyd Webber" (June 3-24, 2014).
"Once" is an unusually intimate Broadway musical that brought home eight Tony awards by transplanting to the stage a 2006 Irish independent film about a Dublin street guitarist and a Czech immigrant pianist who consummate a musical spark but don't go quite that far with their romantic one.
The Pantages is also bringing back to L.A. the two shows that dominated the Tony Awards in 2011 -- "The Book of Mormon" (Jan. 21-Feb. 9, 2014), which won nine Tonys, then set box office records at the Pantages during its 2012 run; and the drama "War Horse" (Oct. 8-13), whose five Tonys, including best play, owed a good deal to the show's critically lionized life-size horse puppets.
It had its L.A. premiere last year at the Ahmanson Theatre -- as did Green Day's "American Idiot," which is coming to the Pantages for a one-week run (May 13-18, 2014).
The season's holiday attraction, offering another landmark example of big-stage puppetry, is "Disney's The Lion King" (Nov. 20-Jan. 12 2014).
"Ghost the Musical" (June 27-July 13, 2014) is adapted from the hit 1990 Patrick Swayze-Demi Moore film by its screenwriter, Bruce Joel Rubin; the songs are by Dave Stewart of the Eurythmics and Alanis Morissette collaborator Glen Ballard.
The Pantages will start selling renewals to its current subscribers Friday; new subscriptions will go on sale March 4. "American Idiot" and "War Horse" are not included in the seven-show subscription season, but subscribers get first dibs on tickets to the two stand-alones.
For the record, 11:04 a.m.: an earlier version of this post incorrectly said the Pantages was offering a five-show subscription, rather than seven.
ALSO:
Pantages tweaks recent box office record for `Book of Mormon'
Theater review: `Once' on Broadway
Rex Reed eviscerates Broadway's `Evita' starring Ricky Martin
---