'Peter and the Starcatcher' writer Rick Elice flying high
Bruce Norris constructed a provocative history of the house that the African American Younger family is heading to at the end of Lorraine Hansberry's "A Raisin in the Sun." An impeccable ensemble, under the direction of Pam MacKinnon, helped this Pulitzer Prize-winning drama capture the Tony Award for best play after the production went on to Broadway.
(Lawrence K. Ho / Los Angeles Times)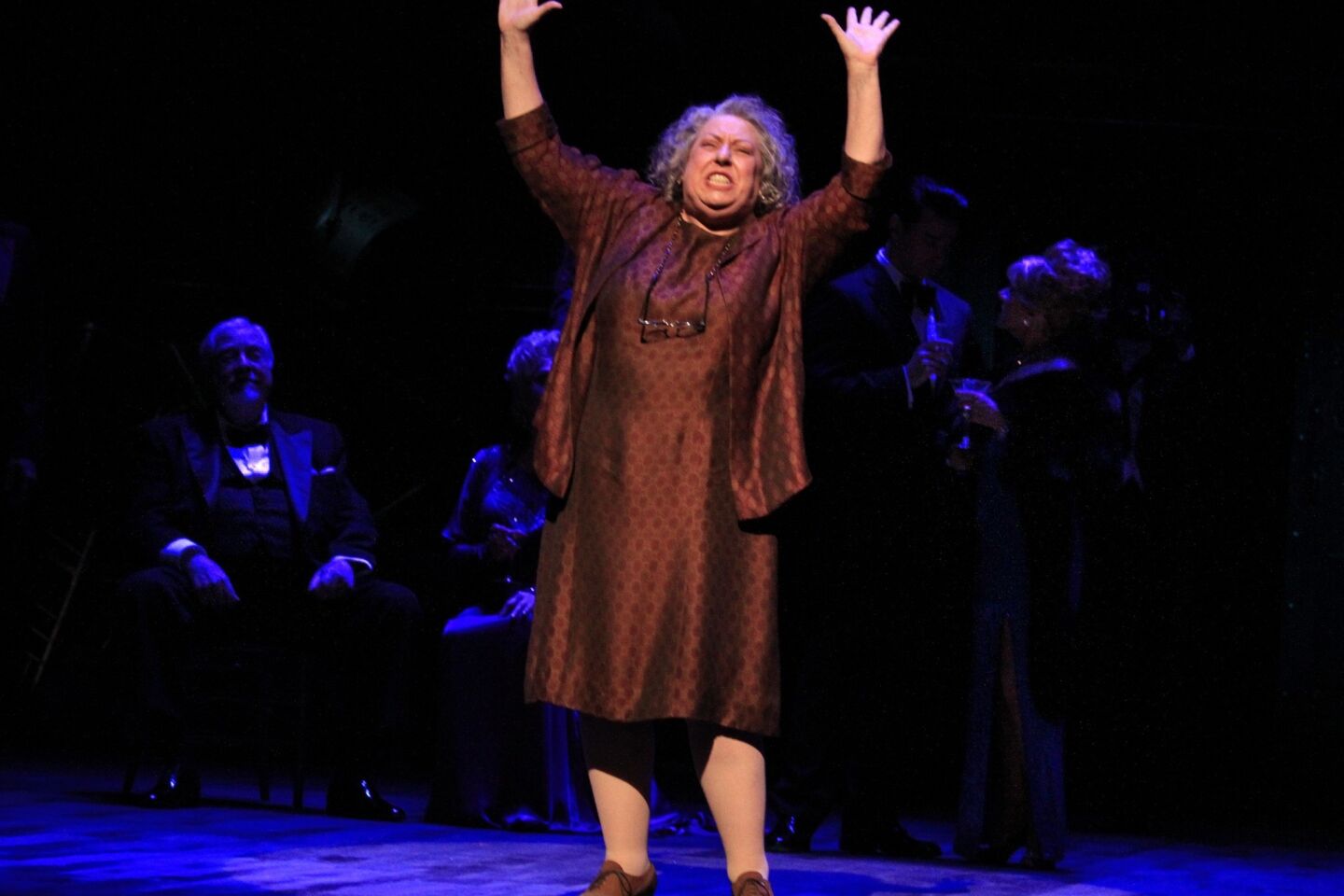 Sheer ecstasy for musical theater aficionados of a Sondheim bent. The side dishes alone (Elaine Paige singing "I'm Still Here," Jayne Houdyshell belting "Broadway Baby") are pièces de résistance by any showbiz standard.
(Glenn Koenig / Los Angeles Times)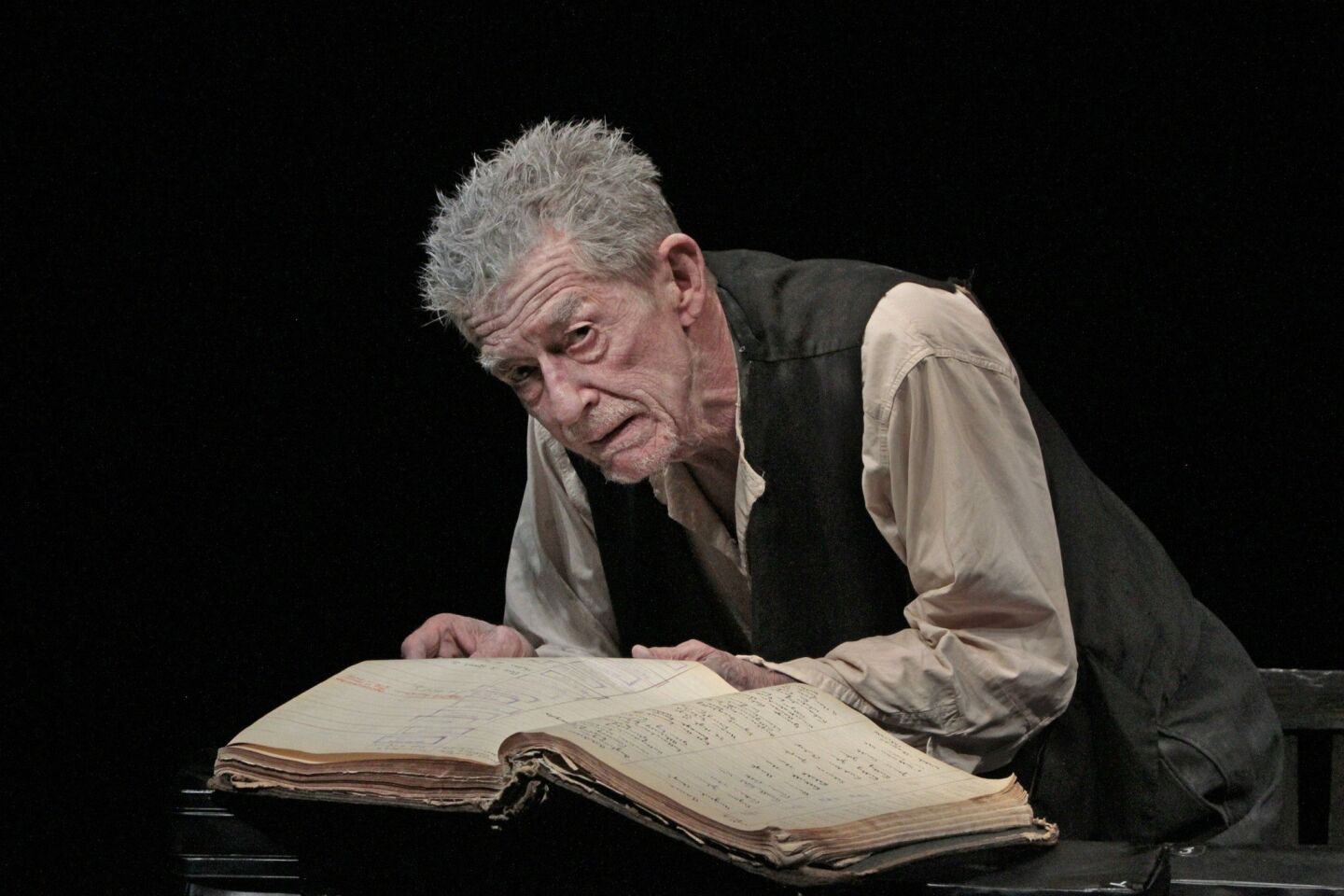 John Hurt's performance in this two-character piece (the aged Krapp and his recorded younger voice on tape) was a tour de force of Beckettian acting in which slapstick and poetry united to scale our common abyss.
(Anne Cusack / Los Angeles Times)
NEW YORK — Playwright Rick Elice calls the memorabilia-filled study in his Upper West Side apartment "the garage."
It's a good term for the workshop of a self-described workaholic whose method is a combination of technical rigor, restless imagination and playful tinkering.
At one end of the study is a long table piled with folders and books, each one representing a current or future project and demonstrating the exponential increase in offers he attributes to the success of "Peter and the Starcatcher," his dramatic adaptation of the Dave Barry and Ridley Pearson young adult novel.
"I'm now welcomed into the many rooms that I used to stare at through various windows," says the one-time actor, former ad executive and creative consultant for Walt Disney Studios. "I get to roll up my sleeves and solve problems, have ideas, a few good fights, a few good laughs. Thanks to this kid and this play, I'm part of something bigger than myself."
The "kid" who changed Elice's life is an unnamed feral orphan in Victorian England whose heroic potential is unleashed by Molly, a self-possessed and fearless 13-year-old in this prequel of sorts to J.M. Barrie's "Peter Pan." The two join forces to keep a magical, all-powerful substance — "starstuff" — from falling into the hands of pirates who would use it for evil gain.
Elice's rise is an eclectic and unusual Broadway success story. Barely a decade ago, he was playing a 25-year-old porn star in "Adult Entertainment," an off-Broadway comedy by Elaine May. Not long after, the opportunity arose to collaborate with Oscar-winning screenwriter ("Annie Hall") Marshall Brickman on a musical about Frankie Valli and the Four Seasons. The teaming resulted in the 2005 smash hit "Jersey Boys," earning Elice his first Tony nomination.
"Peter," his first solo effort, proved his Broadway debut was not a fluke. The fact that it was co-directed (along with Alex Timbers) by his longtime partner Roger Rees made it all the sweeter when the play debuted on Broadway in March 2012 to rave reviews and won five Tony Awards. (Two of its nine nominations went to Elice.)
The projects stacked up in the "garage" may give the impression that Elice has moved on but earlier this week he and Rees were about to return to their ragtag ragamuffins, flying to Los Angeles for Wednesday's opening at the Ahmanson Theatre, a major stop on a national tour that launched in August in Denver.
PHOTOS: Operas by Philip Glass
It's not hard to see what excited Elice when he was brought into the project by Timbers ("Bloody Bloody Andrew Jackson") and Rees. Elice had fallen in love with Rees when he saw the Royal Shakespeare Company's epic 1981 production of "Nicholas Nickleby," in which the distinguished British actor played the title role.
Elice was intrigued when "Peter's" two directors told him that they would use minimalist storytelling techniques, as in "Nickleby." A thick rope could serve as both a doorway and a pirate ship's hull, and later, a versatile, energetic cast of 12 seems to increase four-fold.
The concept clearly worked. "A blissful exercise in make-believe," Ben Brantley wrote in the New York Times.
The immersion into Victorian gender mores also appealed to Elice. "I've always been fascinated by J.M. Barrie, not so much 'Peter Pan' as his other proto-feminist plays like 'What Every Woman Knows.' I loved the idea of taking this fiercely intelligent and empowered young girl on a hero's journey. Together with this inarticulate boy they discover the surprise of being a part of something larger than themselves."
PHOTOS: Google Doodles of 2013
Elice and Brickman had gone from "Jersey Boys" to the musical "The Addams Family." Scaling down to the intimacy of "Peter" came as something of a relief, he says, though he sees the heart of each story as similar. "Each is a story about family and connection, about acceptance and belonging," he says.
Unsurprisingly Rees sees the big and questing heart of "Peter" coming from his partner of 32 years. "Rick has an electric, febrile energy, always curious, always questioning," says Rees. "He can be very strong-minded but his words are not precious to him. He's wonderfully elastic. If something isn't working, he'll change it. Perfection is always a moving point."
That perfectionism, if not flexibility, was honed in a family of overachievers. Elice was born in Manhattan and raised in Queens, one of two boys born to a furniture retailer who, though a workaholic and absentee father, became a hero in his son's eyes. "He had real skill, a quality I aspire to but I never thought I would have myself: He could build and draw anything," recalls Elice. When young Rick was cast as Tevye in the high school production of "Fiddler on the Roof," his father built the milkman's cart in the backyard of their Queens house.
He says his early love of theater, especially the musicals of Stephen Sondheim and Harold Prince, provided salve to the trauma of coming to terms with his homosexuality. "I had a bottle of pills in one hand and copies of 'Company,' 'Follies' and 'A Little Night Music' in the other," he recalls.
After graduating from Cornell and getting a master's of fine arts at Yale, Elice pursued an acting career, becoming one of the founding members of the American Repertory Theatre in Cambridge.
But it was during his 18-year stint as a creative director at Serino-Coyne, an entertainment advertising agency, and through his relationship with Rees that Elice began to befriend and learn from a veritable who's who of top theatrical talent: Bob Fosse, Michael Bennett, Tom Stoppard, Harold Prince, Stephen Sondheim, Trevor Nunn, Arthur Laurents, Elaine May and Stanley Donen, through whom he would meet Brickman.
Elice was a good student.
INTERACTIVE: Tour Los Angeles' boulevards
"Bob Fosse gave me a master class in editing over a weekend," recalls Elice of the time he was creating trailers for Broadway shows. "He taught me how you marry music with the visuals to build the most emotional impact, Arthur taught me how to have a passionate point of view, Trevor, the economy of storytelling…. All of these great artists follow me around like a cast of characters. These guys are always whispering in my ear. My head is a very crowded place."
No doubt, Elice will be hearing voices as he embarks on the new projects idling in the garage while he's in Los Angeles, among them a Disney musical about young magicians, a period TV miniseries with Brickman, and "Dog and Pony," which he describes as a romantic musical comedy in the Howard Hawks tradition of "His Girl Friday." "Dog and Pony" will receive a world premiere next spring at the Old Globe in San Diego, with songs by Michael Patrick Walker and possibly starring Christian Borle, who won a Tony Award as the pratfall-prone villain in "Peter" and was one of the lead actors in the NBC series "Smash."
ART: Can you guess the high price?
Elice likes to work on a number of projects concurrently. "Working on one is not enough," he says. "If you get stuck and you've got nothing else to do, that's called writer's block. But if you can work on another, the solution to the one you're stuck on often presents itself somehow."
Another reason for the frenetic schedule is what Elice calls a family trait: impatience.
"We Elices have never been good at coasting with the pleasure of the moment," he says. "OK, that's done — what's next? It's a workingman's philosophy of life. We're always on the move."
ature-well-arts-story" />
Get our L.A. Goes Out newsletter, with the week's best events, to help you explore and experience our city.
You may occasionally receive promotional content from the Los Angeles Times.