From the Archives: Philharmonic, Manager Differ on Departure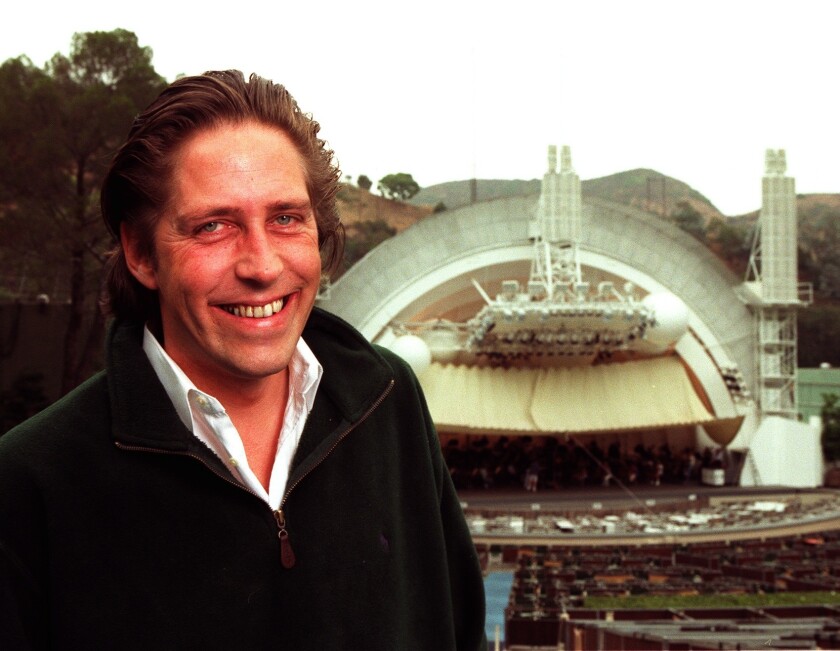 The sudden and surprising announcement Tuesday of the resignation of Los Angeles Philharmonic Managing Director Willem Wijnbergen may be the result of a negotiating ploy that backfired.
In a phone conversation from Holland, where he is vacationing, Wijnbergen said Wednesday that before leaving town he instructed his attorney to send the Philharmonic board a letter citing "serious issues" and informing them of his intention to terminate his contract if those issues were not addressed. According to Wijnbergen, a clause in his contract, called "Notice of Termination for Good Reason," allows for his departure over significant issues. Despite repeated questioning, Wijnbergen would not identify the nature of the issues.
"I can't tell you what the situations are," Wijnbergen said, "but they are serious and I hope I will never have to disclose [them]."
Wijnbergen, 40, is only the second person in 30 years to manage the Los Angeles Philharmonic, widely acknowledged as one of the top orchestras in the United States, as well as the Hollywood Bowl Orchestra and the Bowl's programming. To take the Los Angeles post, he left a similar executive position at the Royal Concertgebouw Orchestra in Amsterdam.
Wijnbergen, who has served in the position for just 15 months, said Wednesday that he was surprised by the announcement by Barry Sanders, president of the Philharmonic Assn., that he had resigned.
Wijnbergen said the notice he gave "effectively gives the board until the end of this month to take steps to resolve the situation. And so I expected that to happen, and I still do."
Sanders said he instead chose to accept the notice of termination as a resignation.
"We didn't want it to happen, but we think you can't put Humpty Dumpty together again," Sanders said. "We chose to accept his resignation rather than argue with him about whether or not he was resigning."
Both parties agree that the Philharmonic received a letter from Wijnbergen's attorney, Howard Rosen, on June 9. Wijnbergen says that the letter didn't use the term "resignation," but, in an action he terms "a procedure allowed for in his contract," it informed the board of his termination of the contract effective Sept. 9, 1999. "You give the notice," he said, "and the organization gets time to fix the problem."
"He did give us a letter," Sanders said, "and in it he gave notice of resignation, and he did state some things that would be reasons. But if you resign with a bunch of reasons, you have resigned."
Like Wijnbergen, Sanders will not state what the issues are. Wijnbergen calls them "serious internal" matters that have for the most part been under discussion already. In fact, according to both parties, the week before Wijnbergen left on vacation the board unanimously gave him a vote of confidence.
"We indicated our support and our ongoing need for him," Sanders said. "He had not been threatening to leave until this letter came."
Wijnbergen confirmed that the vote of confidence had occurred, but said it did not go far enough.
"There was an incident weeks ago which triggered me voicing my concerns toward the board, and that's where apparently the vote of confidence came from, but I felt that it didn't address the issues. So [via the letter] my lawyer and I explained the issues at length, with a little bit more ... with a little more determination. My lawyer and I felt we had no choice."
Sanders said he has the authority to accept resignations on behalf of the board and that he did so in a letter to Rosen. He said he informed the board's executive committee and the whole board through conference calls placed later in the week.
Wijnbergen said he has not had formal notice from the Philharmonic: "That's news for me. It is in the hands of lawyers. Our position is that this is an ongoing discussion."
Wijnbergen was born and raised in the Netherlands and trained as a concert pianist in Europe. He also earned a master's degree from Southern Methodist University in Dallas. He took charge of the Los Angeles Philharmonic in March 1998, after the board spent nearly two years searching for a replacement for Ernest Fleischmann, who in January 1996 announced his plan to retire.
At the time of Wijnbergen's appointment, Sanders underlined how difficult the search had been: "He has a very strong musical background, a good business orientation, as well as an interesting marketing background. Some very, very talented people don't have all those characteristics, and for that reason we were looking for a very, very long time."
According to Sanders, a transition team has been named. Gene Pasquarelli, chief financial and administrative officer of the Philharmonic Assn., will oversee the organization's day-to-day operations, and Sanders is in the process of organizing a search committee. Pasquarelli served as acting deputy managing director during the transition between Fleischmann's retirement and Wijnbergen's arrival.
The turmoil around the potential departure of Wijnbergen fits into a larger set of issues for the Philharmonic, said county Supervisor Zev Yaroslavsky, whose district includes the Hollywood Bowl.
"They have had steadily declining audiences over the last decade," Yaroslavsky said Wednesday. "Whether it's Willem, or somebody else, it's got to modernize, it's got to change, or it's going to die. . . . It needs to serve a diverse public. No change in personnel is going to paper over that problem."
Wijnbergen, whose vacation in Holland is scheduled to end next week, said the dispute could still be resolved.
Holding firm to his position that negotiations will continue, he said: "I will be back in the office unless instructed otherwise. One thing is sure: It isn't over yet."
---
Inside the business of entertainment
The Wide Shot brings you news, analysis and insights on everything from streaming wars to production — and what it all means for the future.
You may occasionally receive promotional content from the Los Angeles Times.