Review: 'Porgy and Bess' adapts a treasured opera to rewarding pop
Cast of the Broadway musical "The Gershwins' Porgy and Bess" on stage at the Ahmanson Theatre April 22, 2014, in Los Angeles.
(Brian van der Brug / Los Angeles Times)
Nathaniel Stampley, right, and Alicia Hall Moran embrace onstage as Porgy and Bess at the Ahmanson.
(Brian van der Brug / Los Angeles Times)
Nathaniel Stampley, right, and Alicia Hall Moran as Porgy and Bess.
(Brian van der Brug / Los Angeles Times)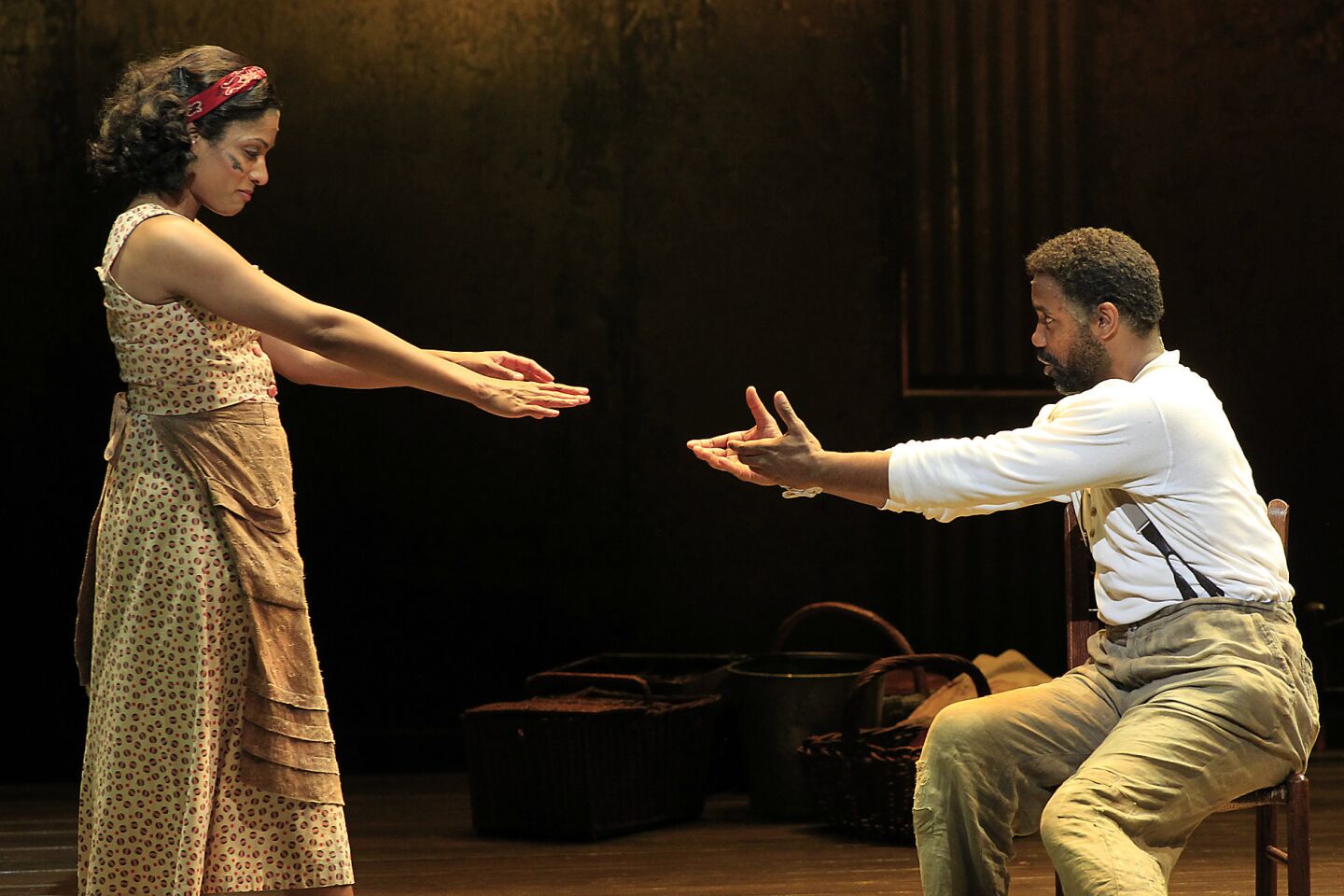 Alicia Hall Moran and Nathaniel Stampley as Porgy and Bess.
(Brian van der Brug / Los Angeles Times)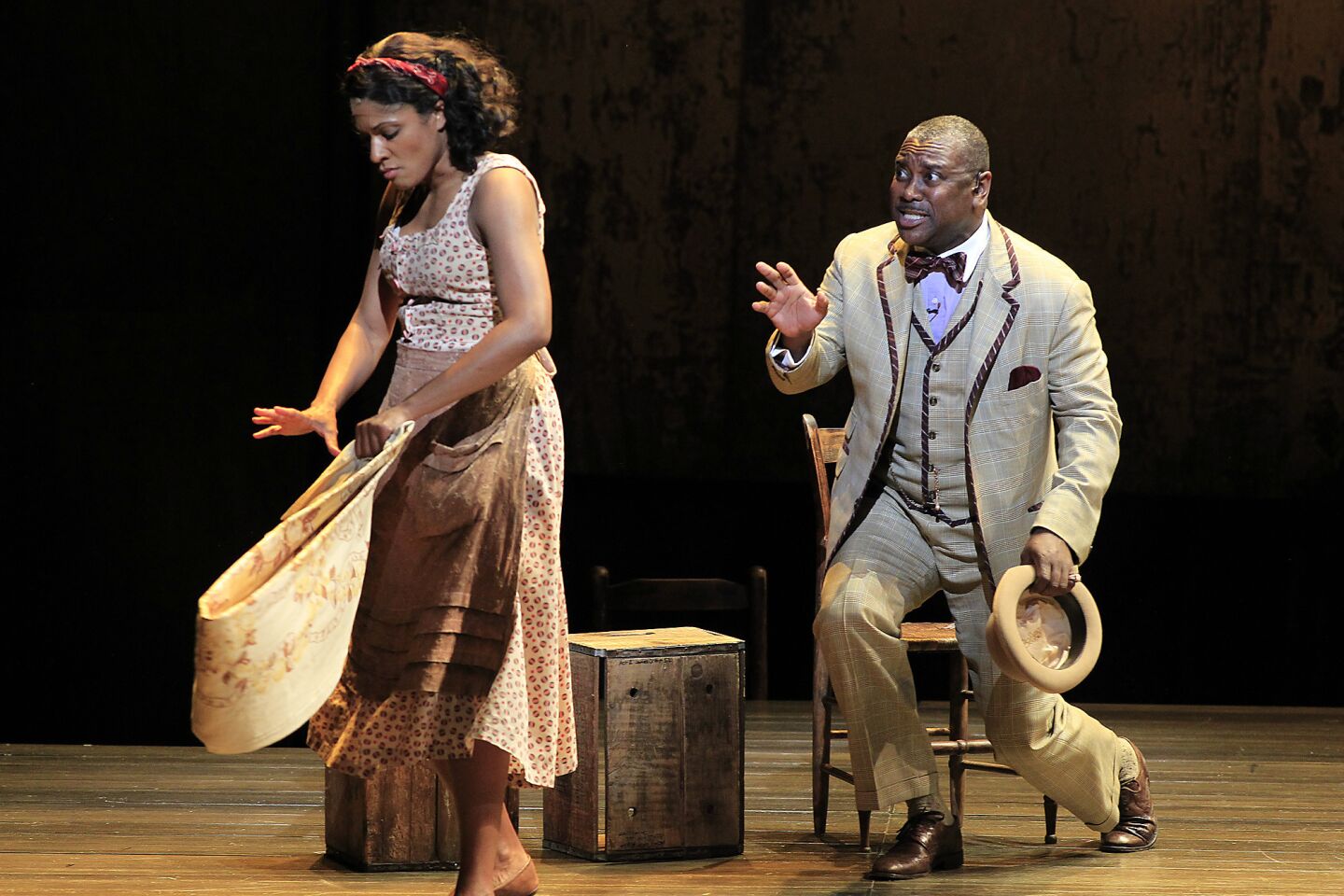 Kingsley Leggs, right, as Sporting Life, vies for the attention of Alicia Hall Moran's Bess in "Porgy and Bess."
(Brian van der Brug / Los Angeles Times)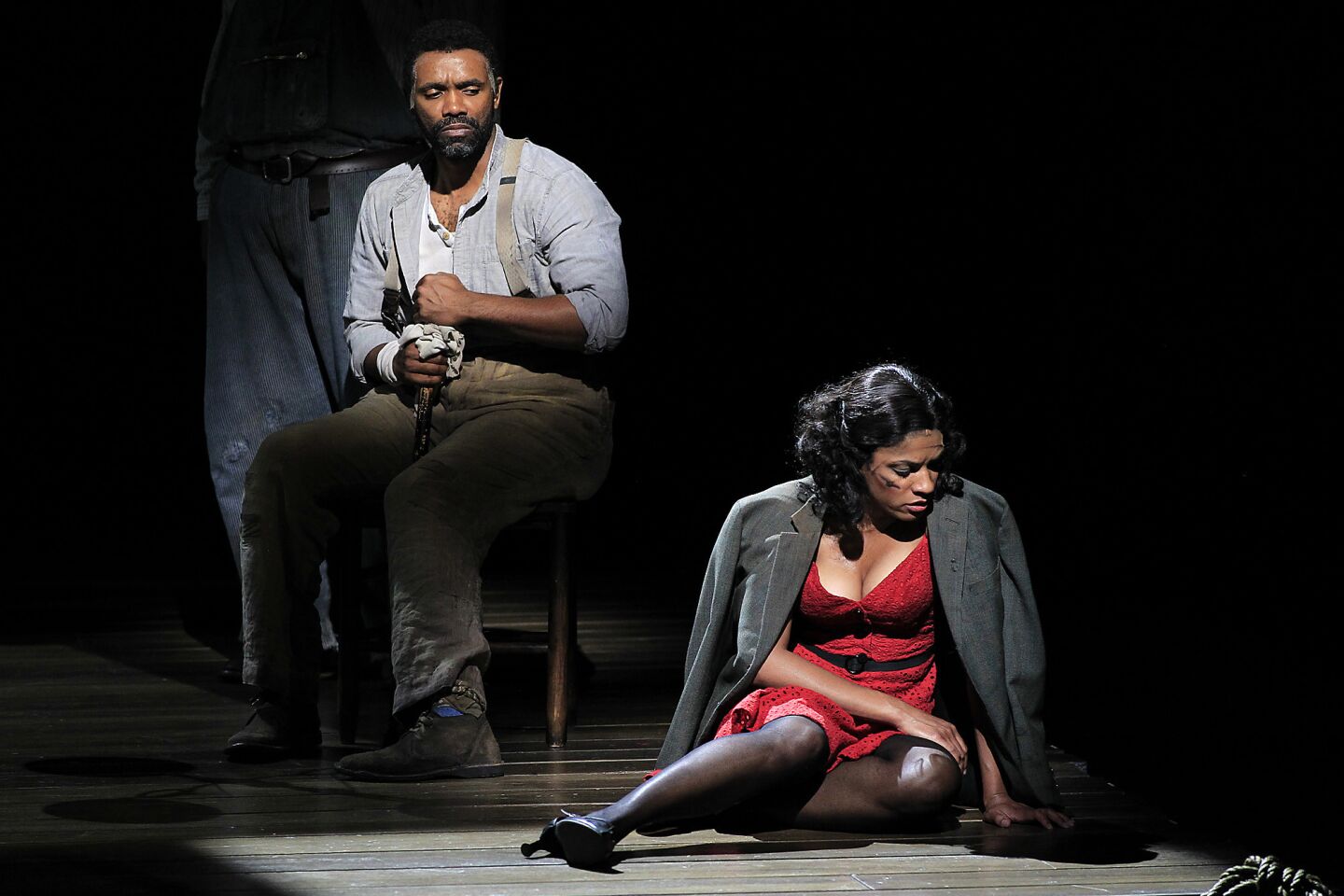 Nathaniel Stampley, left, and Alicia Hall Moran in "Porgy and Bess."
(Brian van der Brug / Los Angeles Times)
Danielle Lee Greaves as Mariah tries to comfort Denisha Ballew, playing Serena, following murder of her husband in "Porgy and Bess."
(Brian van der Brug / Los Angeles Times)
Alvin Crawford plays Crown, with Alicia Hall Moran as Bess.
(Brian van der Brug / Los Angeles Times)
Nathaniel Stampley, left, stars as Porgy in "Porgy and Bess."
(Brian van der Brug / Los Angeles Times)
Kingsley Leggs cuts a figure as Sporting Life in "The Gershwins' Porgy and Bess."
(Brian van der Brug / Los Angeles Times)
David Hughey, left, as Jake and Sumayya Ali, right, with baby, as Clara in "Porgy and Bess."
(Brian van der Brug / Los Angeles Times)
Depending on your knowledge of the material and expectations going in, the touring version of "The Gershwins' Porgy and Bess," which opened Wednesday at the Ahmanson Theatre, might be either an ingenious, audience-friendly re-creation or a bastardization of this classic American show.
Both perspectives can reside within the same spectator, as they do within me, one alternately gaining the upper hand over the other. Undeniable, however, is the majesty of the score, which begins after the Overture with "Summertime" and keeps soaring with "My Man's Gone Now," "Bess, You Is My Woman Now" and "I Loves You, Porgy."
This adapted version of the show, directed by Diane Paulus of the American Repertory Theater, is a brilliant diminishment. The work sacrifices operatic sublimity for pop accessibility. If this slick overhaul of "Porgy and Bess" is the production that our thoroughly commercialized theater deserves, it is nonetheless an agreeably effective staging that offers us a rewarding encounter with these unsurpassable musical treasures. Even when the singing follows a more ordinary R&B line, the ecstasy is infectious.
PHOTOS: Best in theater 2013 | Charles McNulty
Opera, operetta, Broadway musical, jazz folk drama, concert vehicle, "Porgy and Bess" has never had a stable identity in the theater. As masterpieces go, there's something radically undecided about the original work — perhaps a function of there being so much music and book to shape and prune to contemporary tastes.
When Paulus set out to produce a Broadway musical version, with Suzan-Lori Parks adapting the original book and Diedre L. Murray adapting George Gershwin's magisterial musical score, controversy erupted.
The work was re-titled "The Gershwins' Porgy and Bess," an upgrade for lyricist Ira Gershwin but not a very sporting thing to do to DuBose Heyward, who wrote the novel "Porgy," or his wife, Dorothy Heyward, who adapted this literary work with her husband to the stage. (DuBose Heyward also contributed some of the show's best lyrics.)
Before Paulus' production opened at A.R.T., Stephen Sondheim thundered his disapproval in a letter to the New York Times, complaining of certain planned liberties and an attitude of "disdain" toward the original opera.
The odds seemed stacked against this musical venture succeeding on Broadway, but the show had a secret weapon: Audra McDonald in the role of Bess. Her searing performance as the drug-addicted prostitute, a reinvention of the character in stark realism, changed the tenor of the work's reception, mollifying critics, earning her yet another Tony and helping the show win the Tony for best musical revival.
PHOTOS: Faces to watch 2014 | Theater
This touring production operates without McDonald, who's currently captivating Broadway audiences in "Lady Day at Emerson's Bar & Grill," and this is an immeasurable loss. It's not, however, fatal, as I feared.
As an actor, Alicia Hall Moran doesn't bring the same fierce internal conviction to her portrayal of Bess. But as a singer, she gives the character's wrenching, futile yearning a distinctive sound. She finds the truth of the character in her magnificent voice.
That's the thing about "Porgy and Bess" — the music knows more about the inhabitants of Catfish Row (the dockside 1930s tenement South Carolina setting abstractly rendered with wood panels by scenic designer Riccardo Hernandez) than the libretto. The psychology is extended by the score, with each character wreathed in a musical penumbra that turns stereotype into archetype.
Parks' update, expressly designed to give greater communal dignity to these African American figures, doesn't always add up dramatically. For instance, Porgy, played by the handsome, bright-eyed Nathaniel Stampley, no longer gets around on a goat cart. He's still referred to as a cripple, but his disability is less obtrusive. He walks with a cane but otherwise seems remarkably eligible.
The charge that "the cripple can't hold Bess" seems to come almost out of nowhere. What right-minded woman wouldn't prefer Porgy to Crown (Alvin Crawford), Bess' reckless, abusive lover who's had to go into hiding after killing a man.
INTERACTIVE: Hollywood's Theatre Row
Of course Bess isn't exactly a right-minded woman, as the preying drug dealer Sporting Life (a gamely mischievous Kingsley Leggs) can see. Flitting in the background with his vials of "happy dust" like a jazz junkie Mephistopheles, he waits for the right moment of weakness to pounce on Bess. A fast-talking coward, he makes sure that watchdog Mariah (the excellent Danielle Lee Greaves), who threatens to cut him up in "I Hates Your Strutting Style," is first out of sight.
This rewrite includes sharper realistic touches, but it's not as though the melodrama has been banished. The character of Crown could be a 19th century stage villain, if the brutal sex scene were less graphically treated. (Crown's seduction of Bess is transformed into a rape here.) The point is that in seeking to solve certain perceived problems, the new artistic team has only met with partial success while creating a new set of issues.
It's the music that redeems the drama of this uncategorizable show. (The great German-Jewish critic Walter Benjamin's contention that "all great works of literature found a genre or dissolve one" is proved to apply to musical works through "Porgy and Bess.")
The score at the Ahmanson, when not impeded by fuzzy amplification, wields its potent magic, even if opera aficionados might understandably feel that the 23-person orchestra, conducted by Dale Rieling, can't provide the gale-force of a symphony orchestra. The most memorable moments for me were those sung by Denisha Ballew's widowed Serena. (Her "My Man's Gone Now" is a showstopper, and she led a fervent "Oh, Doctor Jesus" that had many non-believers affirming the truth of spiritual medicine.)
The fuller sound of the ensemble numbers — the Ahmanson joyfully quakes with Jake (David Hughey) and the fishermen's rendition of "It Takes a Long Pull" — took my mind off the thinness of some of the solos. Sumayya Ali's handling of "Summertime" is far from slight but doesn't have the heft I've experienced elsewhere.
Stampley has an appealing voice that expresses Porgy's longing and loneliness, but there were times when his songs sounded as though they were being reinterpreted by a disciple of James Ingram. There's nothing wrong with that, but it's a different scope.
This production of "Porgy and Bess" brought me to the edge of transcendence but would have required more of a musical push to thrust me into the sublime. Still, I wouldn't pass up a brush with the incontestable greatness of George Gershwin.
Get our L.A. Goes Out newsletter, with the week's best events, to help you explore and experience our city.
You may occasionally receive promotional content from the Los Angeles Times.