Review: Pablo Bronstein's dance with design at REDCAT gallery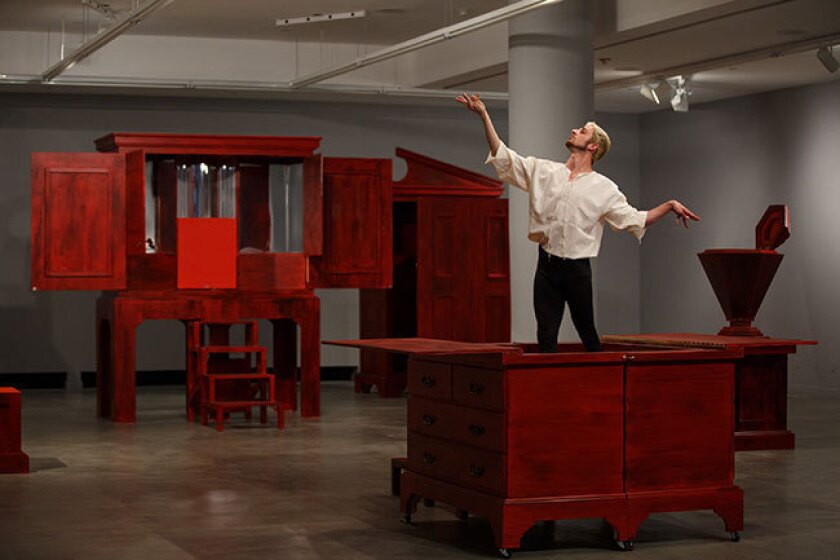 Pablo Bronstein's installation at REDCAT is a comically oversize living room. But unlike many architecturally inspired works, it isn't empty. A single performer, clad in a loose white blouse and black tights, maneuvers throughout the space from 3 to 6 p.m. daily. He or she methodically transforms the furniture — which is full of unexpected openings and dual uses — and performs a balletic dance. It's a startling, and quite beautiful, intervention that draws intriguing parallels between bodily movement and furniture design.
It's also a bit surreal, not only because of the unexpected transformations but because these pieces of furniture — Enlightenment-era, neoclassical designs — are ponderously large, giving the work an almost architectural feel. Indeed, the objects are arranged with an eye for symmetry around a large central cabinet; the wardrobes, dressers, chairs and even a decorative obelisk mimic the layout of a city or perhaps a church.
Reinforcing this ritualistic notion, the cabinet opens up to form an altar-like structure, and one of the chairs converts into a staircase leading up to it. A wardrobe's doors actually function more like a garage door that can be propped up as a kind of lean-to. The hinged top of a seemingly decorative urn opens to reveal a storage cavity within. And in a cheeky move, the obelisk flips open to reveal a flat surface with a circular opening: a crude toilet.
PHOTOS: Faces to watch 2014 | Art
Bronstein's installation is dryly titled "Enlightenment Discourse on the Origins of Architecture." And these little surprises are humorous jabs at the Enlightenment belief that the design of furniture (and any structure, really) can be traced back to the basic needs of the human body: shelter, food storage, waste disposal.
The most affecting juxtaposition is a dance performed atop and within two chests of drawers. The chests are actually hollow and can be linked together, back to back. Their hinged tops open to reveal a single, black cavity within. Balancing precariously around the edge of this box, the performer executes a stylized ballet that ends with the body slumped down into the opening as if enacting Jacques-Louis David's 1793 painting "The Death of Marat." As the exhibition handout suggests, the tomb, or the hole in the ground, was likely the first form of architecture.
The Enlightenment return to first principles in architecture might seem strange to us in the wake of the even more stripped-down aesthetic of the International Style, in which form was supposed to slavishly follow function according to Machine Age logic. The 17th and 18th century furniture still looks excessively decorated to our modern eyes, but it was the same idea clad in the trappings of a different era.
ART: Can you guess the high price?
The dancer's highly stylized and codified ballet moves put this disconnect into context. Dance, like architectural languages, has always been a style, an aesthetic affectation. If design is the hitching of a form to bodily functions, dance is the submission of the body to an ideal geometry. Both efforts, Bronstein suggests, are bound to be approximations. In other words, there's no such thing as pure style.
The Gallery at REDCAT, 631 W. 2nd St., Los Angeles, (213) 237-2800, through March 15. Closed Mondays. www.redcat.org
ALSO:
Chazz Palminteri to star in 'Unorganized Crime' in Los Angeles
Hollywood Bowl 2014: Dudamel conducts Dudamel, 'Hair' goes bare
Will Woody Allen controversy affect 'Bullets Over Broadway' musical?
---
Inside the business of entertainment
The Wide Shot brings you news, analysis and insights on everything from streaming wars to production — and what it all means for the future.
You may occasionally receive promotional content from the Los Angeles Times.