'Hamilton' breaks Tonys record with 16 nominations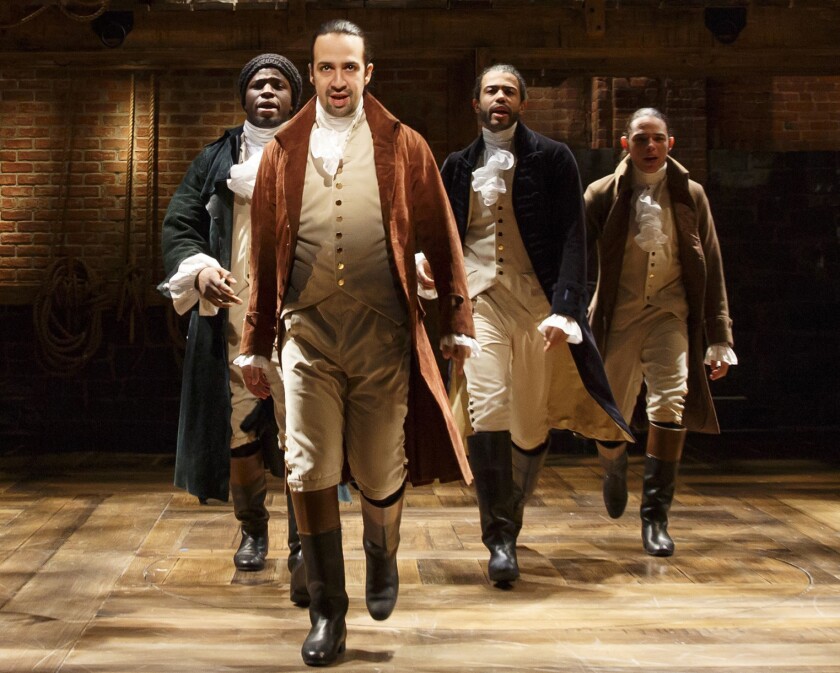 Reporting from NEW YORK —
Shortly after the news broke that "Hamilton" had landed 16 Tony Award nominations, the musical's director, Thomas Kail, sent a text to choreographer Andy Blankenbuehler and others on the show's creative team.
"I just woke up. What happened?" Kail asked facetiously.
The message was in keeping with the sly humor of the show. It also contained a dollop of truth. Because what happened, as it turned out, was one for the Broadway record books.
"Hamilton," Lin-Manuel Miranda's hip-hop musical about America's founding fathers, wrote its own piece of history Tuesday morning. After selling out theaters and becoming a cultural sensation since it opened on Broadway last summer, the show has now broken the record of 15 Tony nominations previously held by "The Producers" (2001) and "Billy Elliot" (2009).
In the top category of best musical, "Hamilton" will compete, nominally, against Andrew Lloyd Webber's "School of Rock," the small-town charmer "Waitress," the Appalachian bluegrass piece "Bright Star" and the race-themed meta-tale "Shuffle Along, or the Making of the Musical Sensation of 1921 and All That Followed."
But those other shows may consider it indeed an honor just to be nominated. "Hamilton" is regarded by nearly every expert as a shoo-in for best musical, one of many awards that can help it break "The Producers'" record of 12 Tony wins when theater's biggest night kicks off June 12 on CBS from New York's Beacon Theatre.
"Hamilton" landed nominations in such expected categories as score, choreography and direction of a musical, but it was also boosted by multiple nominations in acting categories, including lead actor (Miranda and Leslie Odom Jr., the latter a front-runner) and featured actor (Daveed Diggs, Christopher Jackson and Jonathan Groff). It received a remarkable half of the performance nominations available in male musical categories.
The nominations continue a magic-carpet ride that began with a Miranda performance of a "Hamilton Mixtape" at the White House in 2009, continued with an august run at downtown's Public Theater in early 2015 and then a building juggernaut after opening at the Richard Rodgers in the summer. The record set Tuesday is an industry capper of sorts on what had become the most unlikely of phenomena: a Broadway musical, often regarded as the narrowest of cultural niches, becoming a crossover hit and a gateway to a larger discussion about history and race.
"Someone asked me today if this is all old hat," the newly minted Tony nominee Blankenbuehler recalled from the North Carolina set of "Dirty Dancing," where, in part thanks to the success of "Hamilton" he is choreographing the new ABC reboot. "And I said, 'Are you kidding? I'm still like a kid in a candy store.' We all are."
Miranda, at 36 already one of the theater world's most influential creators, offered his own valedictory, noting in a statement that "for 'Hamilton' to receive a record-breaking number of nominations is an honor so humbling it's so far been beyond my comprehension."
He then Tweeted a well-known Vine from Seinfeld of the cast joyously welcoming Elaine home, captioning it "The Rodgers tonight," referring to the theater where "Hamilton" plays.
The 16 nominations for the show were even more impressive given that "Billy Elliot" reached 15 with the help of sound design, a category that was phased out in 2014.
But "Hamilton" was far from the only story Tuesday morning. "Bright Star" proved perhaps the biggest surprise. The period tale, written by Steve Martin and Edie Brickell and inspired by an earlier musical collaboration between the pair, was nominated for best musical even though it was not on most pundits' list.
Indeed, even the presence of five nominees was a surprise. Tony rules require that for a fifth show to be accepted it must finish close to the top four among the several dozen nominators who select the Tony shortlists.
"Bright Star" also landed book, score and orchestration nominations, in addition to the more expected nod for Carmen Cusack for lead actress in a musical. The little-known actress — she had been in several touring productions of "Wicked" — plays both a middle-aged repressed magazine editor and a younger free spirit in North Carolina in a melodrama that cuts between the 1920s and '40s.
"It's a shocker. A total shocker," Cusack said by phone. "Because everything these days is based off of a movie or something people heard of. And this isn't. People just have to by a ticket because they're intrigued."
The show has generated modest box-office results — it was running at about 70% occupancy on a recent week — making the Tony nominations that much more critical. Generally the box-office bump mainly goes to the winner of best musical. But this year, with the James Corden-hosted telecast expecting a ratings spike thanks to "Hamilton," even a Tony nomination and production number in the telecast could drive ticket sales.
"We had a meeting a few weeks ago where producers said they were worried because it was hard to sell an idea," Cusack said. "We'll have a meeting today before the show. I suspect it will be a very different kind of meeting."
Cusack will compete against 2014 Tony winner Jessie Mueller ("Waitress"), Phillipa Soo ("Hamilton"), upstart Laura Benanti ("She Loves Me") and front-runner Cynthia Erivo ("The Color Purple").
Mueller, returning to the limelight after winning the lead actress in a musical Tony in 2014 for "Beautiful — The Carole King Musical," said the attention was noteworthy because of the uncertainty that surrounds any opening. "It really is like putting your baby out into the world, and you think it's cute, but really it could be ugly," she said.
The category of lead actress in a musical also saw perhaps the biggest snub of the day: Audra McDonald, lauded for her performance as the diva Lottie Gee in the newly opened "Shuffle Along," was left off the list. McDonald holds the record for most Tonys by a performer (six) and was thought to be a serious contender for a seventh.
"Shuffle Along" was at the center of another Tonys drama as the George C. Wolfe production sought a spot in the revival category, where the road to a win was perceived as smoother without "Hamilton." But the Tony administration committee on Friday rejected that bid.
Instead, "The Color Purple," "Spring Awakening," "She Loves Me" and "Fiddler on the Roof" were nominated for musical revival, an expected array of candidates. "The Color Purple," the Menier Chocolate Factory's well-regarded production that also starred Jennifer Hudson, is considered the front-runner.
But with a winner still unclear — or at least less clear than the best new musical race with "Hamilton" — the revival category has vaulted in prominence.
"The Color Purple" could also have a big night in June thanks to Erivo, a 29-year-old Brit of Nigerian heritage who is a favorite to win for her performance as the ardent protagonist Celie. If she does, and if other categories fall into place, this could mark the first time in Tonys history that all four musical performance winners are people of color. Odom is a front-runner for lead actor, cast mates Diggs and Jackson have a solid shot at featured actor with Brandon Victor Dixon of "Shuffle Along," while the featured actress category also has a majority of minority contenders.
Meanwhile, in nonmusical categories, best play nominations fell into line with pundits' expectations as front-runners "Eclipsed" and "The Humans" — Danai Gurira's Liberian Civil War drama and Stephen Karam's dysfunctional-family holiday tale, respectively — will share slots with Michael Bartlett's so-called future-history royals tale "King Charles III" and Florian Zeller's first-person dementia drama "The Father."
Best revival of a play slots went to "Arthur Miller's The Crucible" and "Arthur Miller's A View from the Bridge," both reimagined by the Flemish director Ivo Van Hove, as well as "Blackbird," "Noises Off" and "Long Day's Journey Into Night." The Miller nominations fittingly followed the months-long celebration of the writer's 100th birthday last October.
Lead actress in a play is a Hollywood-heavy race, as Lupita Nyong'o ("Eclipsed"), Michelle Williams ("Blackbird") and Jessica Lange ("Long Day's Journey Into Night") compete against Sophie Okonedo ("The Crucible") and Laurie Metcalf ("Misery").
On the male side, Jeff Daniels ("Blackbird"), Gabriel Byrne ("Long Day's Journey Into Night"), Mark Strong ("A View From the Bridge"), Frank Langella ("The Father") and Tim Pigott-Smith ("King Charles III") will go head-to-head. Jesse Tyler Ferguson, well-reviewed for his many-charactered turn as an overworked restaurant employee in the one-man show "Fully Committed," was not nominated.
Still, for all the big names, it remained a "Hamilton" kind of day.
The show was on the minds of even competing nominees, who are very aware they will be standing in the founding father's shadow come June 12.
"We've been joking we were invited to 'The Hamiltons,'" Mueller quipped. Then, after being told some on social-media had already christened the telecast "The Hamiltonys," she said, "I think these jokes are all great and hilarious. Because any of us saying stuff like that is saying it because we've seen the show three times and keep listening to the soundtrack. It really is about being part of the same community."
The "Hamilton" team, for its part, was trying to maintain perspective on what has bordered on the unprecedented.
"To be compared to other shows this season, or to shows like 'The Producers' or '[The Book of] Mormon' or 'A Chorus Line' or something from another era, can be a little strange because all of these shows are so different," Blankenbuehler said. "Yet it does give us more of a feeling we're a show for the long haul, that we made an impact, which is what we really wanted to do."
MORE
Complete list of Tony nominations
The 'Hamilton' Effect: The hit re-shapes Broadway's Tony season
Most Tony nominations ever: How does 'Hamilton' stack up to history?
'Hamilton's' revolutionary power is in its hip-hop musical numbers
---
UPDATES:
2:25 p.m.: This post has been updated with reaction and other details.
8:10 a.m.: This post has been updated with new information.
This post was originally published at 6:02 a.m.
---
The complete guide to home viewing
Get Screen Gab for weekly recommendations, analysis, interviews and irreverent discussion of the TV and streaming movies everyone's talking about.
You may occasionally receive promotional content from the Los Angeles Times.