The 'Hamilton' Effect: The hit re-shapes Broadway's Tony season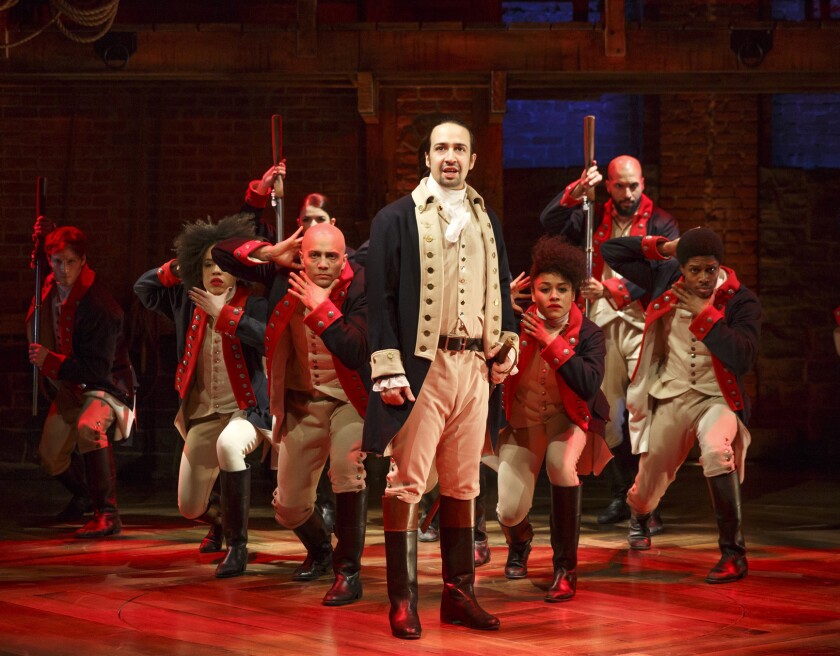 Reporting from NEW YORK —
Springtime on Broadway is usually racked with strategy, stress and speculation. New shows vie for any possible edge to capture the Tony Awards' brass ring of best musical, on the (often correct) assumption the award means industry prestige and a box-office bounce.
To paraphrase a certain hit show, Broadway this year is saying no to this.
As Tony nominations approach May 3 (the eligibility period ends this weekend), a different type of drama is unfolding in the country's theater capital. The best musical honor is off the table for every show but one, with the odds of a production upsetting "Hamilton" pretty much on par with Aaron Burr becoming the 45th president of the United States.
But as it continues its inexorable march to the prize, the Lin-Manuel Miranda smash, which has enlivened critics and packed houses with its blend of hip-hop and history, is causing dominoes to drop all around town. The show's invincibility in the new-musical category has prompted a rethink of seasonal customs, diverted interest to other races and even led one show to seek categorization as a revival instead.
Call it "The 'Hamilton' Effect." The sight and sound of rapping founding fathers has delighted theatergoers since it opened last summer, at least those lucky enough to score a ticket. But it's doing something very different to the people who work on Broadway: furrowing their brows.
See more of Entertainment's top stories on Facebook >>
"What we all have to do is look at the assignment differently," said Rick Miramontez, the veteran strategist behind such Tony winners as "Kinky Boots" who this year counts the Andrew Lloyd Webber musical "School of Rock" and the Steve Martin-Edie Brickell bluegrass piece "Bright Star" among the shows whose campaigns he'd be leading. "You're not going to win the medallion, but that doesn't mean the ante isn't upped in a lot of other ways."
Barely once each Broadway generation — "A Chorus Line" in 1975, "The Producers" in 2001 — a juggernaut so powerful comes along that it causes competitors a brief moment of despair. And then, just as quickly, it sets off a round of tactical maneuvering.
That maneuvering is in full effect.
By generating so much attention on the race and the Tonys telecast — which has struggled to attract viewers in the last few years — "Hamilton" has ensured that a nomination will be more valuable this year.
That's critical for shows such as "Waitress," the adaptation of the feel-good indie film, which opened last week and is looking to seize ticket buyers' attention.
And it has offered hope and incentive to the modestly performing "Bright Star," whose theater was at a mediocre 70% capacity last wee; the tepidly reviewed macabre musical "American Psycho;" and the meditative children's fantasy "Tuck Everlasting." All could use a splashy spot in a highly rated Tonys telecast to help its prospects both in New York and on potential national tours.
In the cutthroat world of modern Broadway, in which a Tonys nomination in any year can be a shot of adrenaline, this year it could be life-or-death crucial.
Don't, however, tell that to some show creators.
"In a weird way I've found it all kind of liberating," said Diane Paulus, the acclaimed director who brought "Waitress" to Broadway. "It's like, 'OK, we know where this [awards] story is going to end. So let's just focus on making our show great.' "
But others are seeing the "Hamilton" dominance and recalibrating their strategy. At least two musical insiders who requested anonymity because they were not authorized to speak about budget matters said that post-nomination print ads aimed at voters — a staple of Tony season — will shrink as shows that have no chance at toppling "Hamilton" instead spend their money on consumer-targeted ads, such as broadcast-TV commercials.
Nor is the effect limited to dollars. The inevitability of a "Hamilton" best musical win when the American Theatre Wing and Broadway League hand out their Tonys at a James Corden-hosted ceremony June 12 is channeling interest to other races — especially musical revival.
Long a second banana to the top prize, musical revival this year is bringing a flood of interest. The Jennifer Hudson-Cynthia Erivo reprise of "The Color Purple," coming just a decade after the original opened, is considered a front-runner, followed closely by inventive new stagings of "Fiddler on the Roof," "She Loves Me" and "Spring Awakening," the last of which comes from Deaf West Theatre, the North Hollywood company specializing in casts that include hearing-impaired members.
In part because the field is deep, but even more largely because revival is the lone truly competitive musical race, the approximately 860 Tony voters and the larger Broadway community are debating contenders more closely than they otherwise would have.
"The drama," said Ken Davenport, the producer of "Spring Awakening," "is suddenly in revival."
Intrigue also has shifted to the acting races. Though "Hamilton" is almost certain to win best score along with musical, performance honors remain in question. Its best hope for lead actor in a musical is in fact not Miranda, in the title role, but Leslie Odom Jr., as Burr. On the lead actress side, Phillipa Soo, as Eliza Hamilton, is a front-runner but faces stiff competition in the form of Erivo, Jessie Mueller in "Waitress" and Audra McDonald, the star of "Shuffle Along," seeking a historic seventh Tony.
The question in these acting categories is a perpetual one whenever an entertainment award-season sees a massive blockbuster: Will voters be swept up in the frenzy and vote the ticket? Or will they spread the love?
"Hamilton" has stirred a complicated set of feelings among Broadway insiders. On the one hand, most recognize how it has brought an unprecedented cultural attention to their craft. "The level of conversation, and the quality of conversation, is unlike any I've ever seen," said Gordon Cox, the longtime theater correspondent for Variety.
Box office too has been ear-splitting: The show plays at full capacity and regularly takes in nearly $2 million a week, an extreme rarity, particularly for a non-Disney musical, and is sold-out for the near and further future.
But some producers and others privately worry that the idea of a rising tide — that is, tourists come to Broadway hoping for a "Hamilton" ticket but end up heading to other shows — is a nice theory that has thus far yielded little empirical evidence.
The number of Broadway tickets sold in the month of April, for instance, has been down three of the four weeks compared with 2015, in one case by nearly 8%. That's hardly proof of a great "Hamilton" halo effect.
Meanwhile, however, the show continues to exert its effect on Tony season. Perhaps the biggest monkey wrench in this year's race concerns "Shuffle Along." The much-scrutinized George C. Wolfe-directed production, a kind of meta look at a game-changing race-themed musical from the 1920s, has been seen by many Broadway experts as a clear-cut new musical ahead of its opening this week, just under the Tonys' eligibility wire.
But producer Scott Rudin, aware that "Hamilton" presents an immovable roadblock in that category, has been building a case for the show as a revival, partly on the basis of songs appearing in both productions. Ads have been taken out citing press quotes that call it a revival.
On Friday, however, the Tonys administration committee rejected the bid, classifying "Shuffle Along" as a new musical.
Paradoxically, the administration committee's decision could work out better for the show. "Shuffle Along" now will likely coast to a nomination in the somewhat shallower new-musical field alongside "Hamilton." Nor will there be any pressure for it to win in that category. Had the bid succeded, "Shuffle Along" would have competed against a deeper revival field for a nomination and also, within industry circles, comes with its own pressure to win the category.
As Tony nominations are set to be announced, with the month-long parade of smaller awards and cocktail parties follow —the Tonys have a kind of Oscar season in miniature — many theater insiders are still processing their thoughts on "Hamilton."
The show has prompted some veterans to be creative. Miramontez, for instance, noted that with the "Hamilton" songs so acclaimed, the trick has been to remind voters early and often of the well-regarded "Bright Star" music, so that the songs are not swarmed under in the room where it happens. He and staffers, in turn, have embarked on a multitiered campaign to get the music to voters, creating additional mailers and download links.
Others note that, beyond the Tonys, the larger "Hamilton" legacy should be kept in perspective. The biggest effect the show exerts this season may not be what contender it crushes or carries but, rather, how the production motivates Broadway insiders.
For someone to do an innovative musical with a wildly diverse cast and have it succeed this way, that's a little crazy. That's what I keep trying to remember.
Ken Davenport, the producer of 'Spring Awakening,' on 'Hamilton'
"In our world, where so much of theater is about movie studios producing shows or about celebrity-driven revivals, here's a show that independent producers can look at and still see what's possible, can see why we got into the business," Davenport said. "For someone to do an innovative musical with a wildly diverse cast and have it succeed this way, that's a little crazy. That's what I keep trying to remember."
Twitter: @ZeitchikLAT
---
Your essential guide to the arts in L.A.
Get Carolina A. Miranda's weekly newsletter for what's happening, plus openings, critics' picks and more.
You may occasionally receive promotional content from the Los Angeles Times.