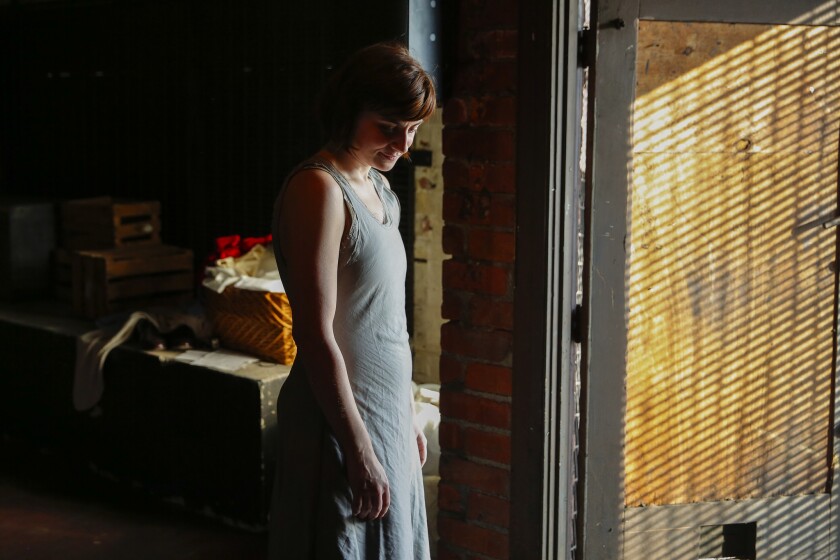 Angelenos will get another dose of immersive theater beginning May 10 from the experimental company Wilderness, which will stage a six-week encore run of its performance piece "The Day Shall Declare It."
The show had its U.S. premiere here in March 2015, after a critically acclaimed run in London. "The Day Shall Declare It" stitches together Tennessee Williams' one-act plays from the book "American Blues" with text from Studs Terkel's 1974 book, "Working."
The three-person show unfolds in a 3,000-square-foot Los Angeles Arts District warehouse while the audience -- no more than 32 people -- follows the performers around the space. The story line is intentionally opaque and examines the nature of work and the effect that work has on the lives of those who do it.
Wilderness artistic director Annie Saunders said the show sold out after the first week of its run and again during a two-week extension last year.
"My peers were skeptical about L.A. audiences. There was a lot of dire talk, so I felt so vindicated and overjoyed and grateful about the response we got," said Saunders. "I had faith in L.A. audiences and their ability to ignore categories. They just want to see cool and unusual work."
After "The Day Shall Declare It" closed, Saunders had plans to move it to New York City. Instead she got involved in a series of new projects, including taking a show with the experimental performance company and "art lab" Early Morning Opera to the Edinburgh Festival in Scotland. She also staged a new piece based on "Antigone" at the Getty Villa.
Re-staging "The Day Shall Declare It" became possible when the industrial space used last year became available again and the ad agency HeLo offered to fund a Wilderness project.
"There's always some trepidation about a remount in the same city," Saunders said. "Have we exhausted that audience? But we didn't think so. It's such a small house."
Saunders said the support from HeLo has allowed her team of designers to do more. Of particular note is the addition of a larger bar that is incorporated into the fabric of the show and also used before and after, serving cocktails by Venice-based Vagrant Bartenders. The set, including the bar, is meant to feel Depression era. After the show, a live band will play.
Tickets are $25 to $75, on sale at www.thisisthewilderness.com. The show runs to June 19.
Twitter: @jessicagelt
---