A native sensibility to Autry exhibition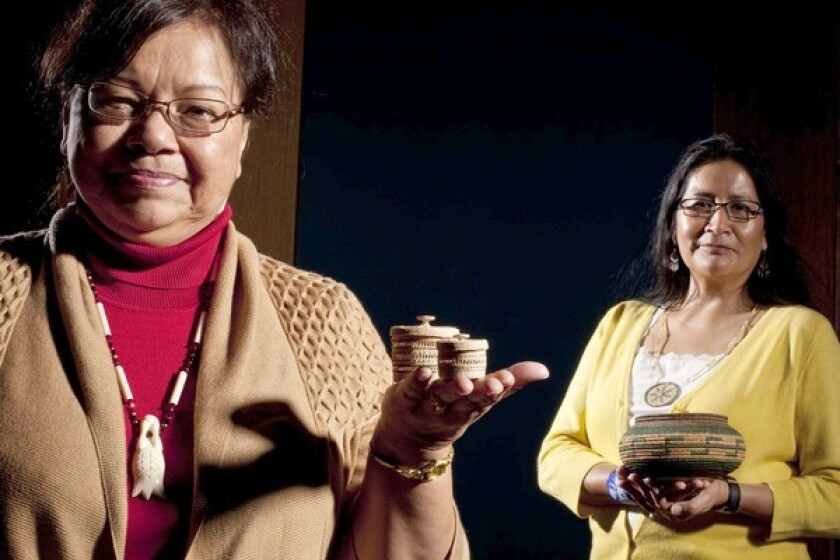 When June Pardue got the call at her home in Sutton, Alaska, her response wasn't yes or no. It was: "How did you find me?"
For Carol Emarthle-Douglas, who lives in suburban Seattle, the question was how to fit the invitation into her schedule.
But one by one, 13 American Indian basket weavers -- in Arizona, Nevada, California, Michigan, Louisiana and beyond -- were tracked down by Los Angeles' Southwest Museum#23lummis and enlisted as consultants for "The Art of Native American Basketry: A Living Tradition," a revealing exhibition at the Autry Museum of the American West in Griffith Park.
The display of more than 250 objects, drawn from the Southwest's trove of nearly 14,000 North American baskets and mostly made by women, spotlights an underexposed component of Southern California's artistic riches. It also presents the clearest evidence that the museum subscribes to a current way of thinking about how to display the cultural heritage of Native Americans: with their help.
"If we are not working with Native Americans, we are not doing an exhibition," says Steven M. Karr, the Southwest's interim executive director and lead curator of the show. "We are not interested in exhibiting things based solely on our institutional viewpoint. If you are going to look at a particular artistic expression, such as basketry, it's essential to include the interpretation, nuance and perspective of people who continue to participate in it."
The Southwest Museum of the American Indian, L.A.'s oldest museum, was chartered in 1907 and opened in 1914 in a Mission Revival building on Mt. Washington. In 2003, exhausted by chronic financial problems, it merged with the Autry Museum under the umbrella of the Autry National Center. Since then, the Autry has spent more than $7.5 million to repair the Southwest's building and conserve its 250,000-piece collection of Native American art and artifacts.
The Autry recently dropped a controversial expansion plan, but the exhibition program is forging ahead. The basket show, which runs through Nov. 7, launches a series celebrating parts of the Southwest's collection that have been out of the public eye for decades, languishing in storage or undergoing conservation.
Visitors enter through a glass-encased, floor-to-ceiling display of collection highlights, meant to "create an immediate sense of awe and interest in these beautiful items," Karr says. They include finely woven vessels, boxes and feathered containers as well as enormous food-gathering and storage baskets adorned with geometric patterns. In the main gallery, a tabletop map lays out the 11 regions covered in surrounding exhibits.
Made from the late 19th to the early 21st century, the baskets include rare and valuable items such as a circa 1913 lidded container with a knob handle, fashioned in a "stacked wood" design by Elizabeth Hickox, of Karuk/Wiyot heritage. A willow coiled basket with a redbud and bracken fern root pattern is a 1909 work by Dat-So-la-Lee, a highly regarded Washo weaver.
The consultants' job was to choose objects representing their tribal heritage and provide information about how the baskets were made and used. Working at home, they made their selections from images viewed on computers. The museum's video crew visited some of the artists and shot footage of them at work, which is screened on monitors in the exhibition. The staff also conducted telephone interviews with the consultants, recording comments that appear on labels and in an audio tour.
"This way of working is time consuming," Karr says. "It's the only way to present their views and voices directly and immediately."
Many years of experience
Pardue, whose heritage is a mix of Alutiiq and Inupiaq, started weaving as a child, 46 years ago. She chose 15 objects for the Arctic/Subarctic section, including a basket made of seal hide and a pair of moisture-absorbing socks woven of wild grasses. "When I began looking at the images," she says, "my first thought was to be fair to the Alaskan nation and make sure I chose baskets that represented all the regions."
Pardue had hundreds of potential choices. Emarthle-Douglas, whose ancestors are Northern Arapaho and Seminole, had relatively few contenders for the Plains section of the show. Plains people moved frequently, and many of their baskets have been lost, she says, but the museum has examples of painted leather trunks, sometimes called Indian suitcases. As part of an ongoing effort to update its collection, the museum also commissioned each artist to create a basket.
Pardue's "Woven Rainbow" is a tiny, lidded trinket basket of beach grass, raffia, cotton, embroidery, thread and dye. Kelly Church, an Ottawa and Chippewa weaver from Michigan, used strips of black ash and dye to fashion a bristling, bright red basket in the form of a giant strawberry. Julia Parker, a Kashaya Pomo and Coast Miwok artist, and her daughter, Lucy, who live in Yosemite Valley, combined glass beads and abalone shell with native grasses in gift baskets.
"Heritage and Hi-tech," a basket of waxed linen, glass beads and dye by Emarthle-Douglas, may not attract much attention because it looks like an ordinary bowl. But in a procession of little figures woven around the sides, Native American horseback riders and pedestrians talk on cellphones, write text messages and play video games.
"I got the idea at a pow wow," she says. "You see all the native people dressed in their regalia, but the kids are texting and some of the adults are on cellphones. It's a mix of both worlds."
As Pardue puts it, "culture is evolving."
So are attitudes about displaying Native American art. The tendency to present it as part of a living culture instead of remnants of a long-gone way of life, emerged with a splash in 2004, when the National Museum of the American Indian opened in Washington, D.C. With exhibits shaped by many consultants, the museum has a mission of "advancing knowledge and understanding of the Native cultures of the Western Hemisphere, past, present and future, through partnership with Native people and others."
Inviting native people to interpret the museum's collections signaled a paradigm shift that had been developing for years, Karr says. And it brought heated criticism. Washington Post columnist Mark Fisher lamented the "trendy faux-selflessness of today's historian" to "let the Indians present themselves as they wish to be seen." In the New York Times, Edward Rothstein bemoaned the museum's "studious avoidance of scholarship." The result of listening to so many constituencies, he wrote, "is that a monotony sets in; every tribe is equal, and so is every idea."
But the controversy seems to have subsided as Native American art has gained a larger presence at museums of art and history. The Nelson-Atkins Museum of Art in Kansas City, Mo., recently unveiled a suite of American Indian galleries intended to represent the work as an important part of the nation's cultural legacy -- adjacent to traditional American art galleries.
At the Denver Art Museum, a general art museum with a strong Native American collection, veteran curator Nancy Blomberg says the biggest change she has witnessed in her career is "working with Native American artists and communities to represent them hand in hand, to have those voices included in your exhibits." She's working on a new installation of the collection that she describes as "even more artist-centered than it has been."
For some artists involved in the Southwest show, simply seeing the works on public display is a thrill. "When I walked through the door, I wanted to cry," says Julia Parker, who learned to weave from her husband's grandmother. "I hope that people will begin to understand what these women left for us, the peace, harmony and beauty."
---
The complete guide to home viewing
Get Screen Gab for weekly recommendations, analysis, interviews and irreverent discussion of the TV and streaming movies everyone's talking about.
You may occasionally receive promotional content from the Los Angeles Times.