Six-time Oscar nominee Lalo Schifrin brings 'message of joy' to the Hollywood Bowl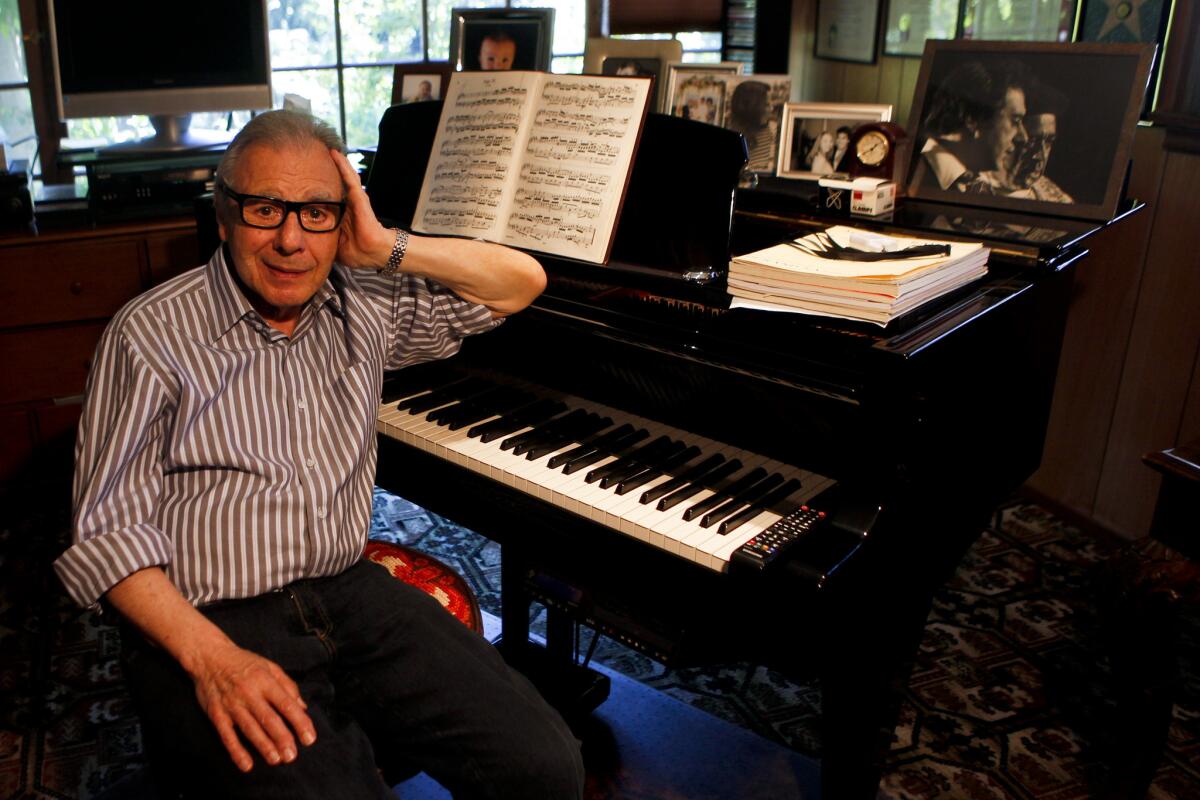 Lalo Schifrin, the Argentine-born composer responsible for the propulsive, infectious theme for "Mission: Impossible," as well as such classic film scores as "Bullitt," "Cool Hand Luke" and "Dirty Harry," says he's retired from the movie-music grind.
After more than 100 feature films, an estimated 75 TV projects and numerous jazz albums, which cumulatively resulted in six Oscar nominations and five Grammys, he's entitled to a rest.
But at the age of 84, he continues to compose music for the concert hall. His latest, a guitar concerto for soloist Angel Romero, will debut Tuesday night at the Hollywood Bowl with Gustavo Dudamel conducting the Los Angeles Philharmonic.
How did the new concerto come about?
Angel and I have a really nice relationship. I wrote a concerto for him in 1984. This is No. 2. I call it "Concierto de la Amistad," or Friendship Concerto.
Can you describe, in general, what we will hear in the new work?
The concerto is a journey in time, reaching back to the ancestors of the guitar (lutes, viguelas, ancient instruments from the Orient and Africa) to the six-string guitar we know today. The music travels from the Middle Ages, the Renaissance, to the Romantic era and modern times, through different scales and rhythms. The journey goes through Europe, especially Spain and Portugal, to Latin America and the rest of the world. It's also a series of dialogues between the orchestra and the guitar. Basically, this work brings a message of joy, or the memories of a dream.
When you're writing for the concert hall, there are no excuses – you're out on your own.
— Lalo Schifrin
Did you consult with Romero during the writing?
Of course. I want to make life easier for him. He is the interpreter. With any instrument, you have to know the possibilities and the impossibilities. Even with the piano, there are many things that an instrument cannot do. For Romero, the guitar is not an instrument to do weird, angular, asymmetric music. It has to be put into some kind of order, with feeling.
What's the difference between scoring a movie and composing for the concert hall?
Big. When you're working on a movie, the real creators are the director and the screenwriter. The music plays a supporting part; it's not the main thing. It's a collaboration among different artists working toward one goal. When you're writing for the concert hall, there are no excuses – you're out on your own. You have to say something meaningful.
This isn't your first concert work to debut at the Hollywood Bowl. What's your most memorable Bowl experience?
Well, I think concerto No. 1 (in September 1984). I also did some jazz works [with drummer Louis Bellson, August 1966]. And "The Rise and Fall of the Third Reich" [dramatic cantata, August 1967]. That was interesting. That was based on a television documentary. I used a lot of the score from the television show, but for the Bowl I extended it. I had a poet who wrote narration, and I sometimes used the voice of Hitler.
Did you know conductor Dudamel prior to this?
Angel introduced me to him. I know I'm in very good hands. I trust him blindly. Secondly, we all speak Spanish. Angel was born in Spain, Gustavo in Venezuela, and I was born in Argentina.
And you all speak music.
Exactly. We have the same language.
You share the program with works by two other Argentinian composers, Astor Piazzolla and Alberto Ginastera. Did you know either of them?
Piazzolla and I were good friends. Not only in Buenos Aires but also in Paris. He was in Paris when I was studying there and he was in New York when I arrived there. He asked me to conduct his Concerto for Bandoneon and Orchestra. We had many things in common. He was a gourmet; he liked good food from all over the world. Me too. Ginastera I did not know personally. But I knew his music very well.
It's foolish to try and write 'a hit.'
— Lalo Schifrin
What are you working on now?
The Yamaha Foundation commissioned me to write an hour of solo piano music for Mirian Conti. She's also Argentinian, and a virtuoso pianist. I've finished a piano sonata, a suite of Argentinian dances, also a Theme and Variations, and a lullaby for my grandson Jack. And I've adapted Ravel's "Bolero" for piano. That's never been done, and it's very difficult.
Your "Mission: Impossible" theme may be your most famous work. It won two of your five Grammys and sold thousands of records. And it's now a key component of the big-screen film franchise with Tom Cruise. Looking back, how do you view that experience?
It was just work. For everything I've done, I did my best. I like what I did. I don't think it's a masterpiece, but it's OK. It's foolish to try and write "a hit." If people like it, to the point of embracing it, great. That doesn't happen too often. It happened to David Raksin with "Laura" and two or three themes for Henry Mancini. It's not like Mozart or Beethoven or Ravel or Debussy.
So have you really given up movies for good?
I still love movies. I've been offered two or three lately, and I've said no. But I've met a young filmmaker from Argentina named Martin Guigui. I met him in Buenos Aires when he was a kid. His father was a flute player in the Buenos Aires Philharmonic. My father played the violin, so they were friends. So maybe, in the future, if Martin calls, I might do one more.
Get our L.A. Goes Out newsletter, with the week's best events, to help you explore and experience our city.
You may occasionally receive promotional content from the Los Angeles Times.