At 29, this 'El Niño' singer is the buzz of California's opera world
Standing ovations at performances get handed out like Halloween candy, a reflexive exercise that shows how the over-liking of anything has long since become the norm.
On the rural outskirts of Ojai one Saturday morning in June, an audience of 230, crammed into tiny Zalk Theater, rose as one. But this response felt different, real. And then surreal.
Pulitzer Prize-winning composer Caroline Shaw, whose song "By and By" had just been performed, cut through the applause as, tears streaming down her face, she emerged from the seats and flung herself onto the small stage, prostrate at the feet of the singer, Davóne Tines.
A couple of hours later and a few miles away at Libbey Bowl, where larger crowds at the 70th Ojai Music Festival had assembled for the afternoon program, buzz was building. Something special had happened that morning.
"Everyone was talking about it," said Tom Morris, artistic director of the festival.
The word spread through the crowd: A striking, young singer had emerged through a sun-drenched opening at the back of the darkened theater, planted himself amid the Calder Quartet and delivered a soulful rendition of a plaintive song. Most compelling, Tines' rich bass-baritone somehow ranged up to an equally resonant falsetto.
Reflecting later, Peter Sellars, music director of the festival and the man who had organized the performance, had an assessment:
"You know, nobody, ever, ever forgets that astonishing moment when there is someone new on the scene and we feel in a moment they are not just entering the scene, but can be part of shaping it.
"You could feel that so powerfully. Just exhilarating."
Tines went on to sing a deliberate, powerful reading of Kaija Saariaho's "Sombre," and at a free street party concert closing the festival in nearby Santa Paula he soloed stirring spirituals to a rapt audience near a Goodwill storefront.
Now Tines, 29, is lined up to be in composer John Adams' "El Niño," set for Dec. 16 and 18 at Walt Disney Concert Hall with Grant Gershon leading the Los Angeles Philharmonic.
For many in the audience, the question likely will be: Who is this guy?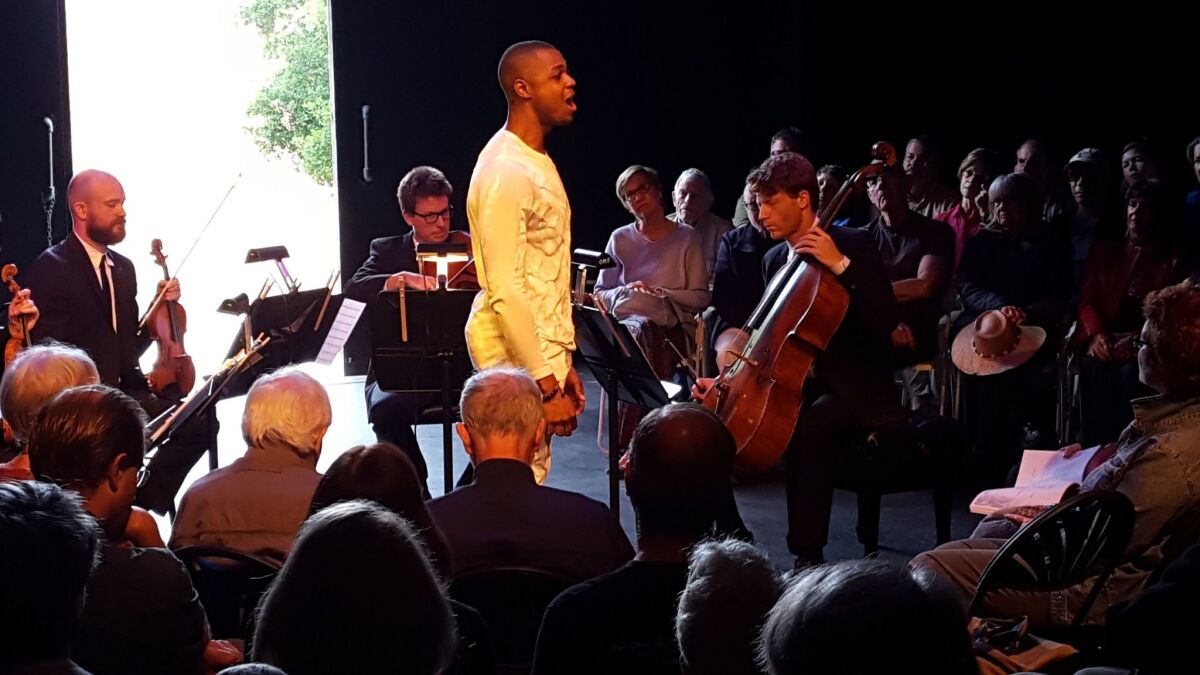 ---
Davóne Tines was born in 1986 in rural Virginia — "horse country," he describes it — and grew up largely in Orlean, an unincorporated village small enough to be uncounted in the 2010 census. It lies about 50 miles east of Washington, D.C.
Tines began playing violin at 7. He put the instrument aside three years ago, explaining why during a recent interview.
"Like a lot of things, I think I thought about the violin too much and overprepared," he said. "This is a little bit of a blessing and a curse."
The discovery that he might be a singer came from his grandfather, John Hilton Tines Sr., a Navy officer for about 30 years who also ran three church choirs.
"He came to the house when I was young and would pronounce with operatic enunciation: 'Howww arrre youuu?''' Tines recalled. "On one occasion I responded in kind, 'Iii ammm fiiine.' He peered down and said he thought I had a voice."
As Tines started to sing in African American church and high school choirs, further musical connections were forged.
"What struck me was the happiness I felt in encountering gospel or church music I would then find that same feeling inside a Mendelssohn piece or a chord structure in Beethoven," Tines said. "Not the same kinds of music, structurally, but they would appeal to me not just intellectually, but emotionally.
"'Soulful aspects,' I would say."
Jump ahead to Harvard: He continued with the violin, explored set design and served as president of Harvard's orchestra.
A younger classmate noticed. Matthew Aucoin, then a freshman and now a composer and conductor, was struck by "not just his voice of enviable lushness and uncanny power but all the things he was undertaking."
Aucoin, now Los Angeles Opera's first artist in residence, views it as Tines "drawing on every aspect of his intelligence and his experience when he sings."
Sellars initially encountered Tines at Juilliard, where he earned a master's degree in music in 2013.
"I am always interested in working with young singers that are emerging, and Juilliard had arranged auditions for us," Sellars said. "He sang a spiritual" — Sellars burst out with a trademark gust of laughter at the recollection — "that I will never forget! It went on for 15 minutes. It was truly overwhelming."
For Aucoin, who created the role of the escaped slave Freddie for Tines in the well-received 2015 opera "Crossing," the singer's range is a huge slate on which to compose.
"I was able to write music both at the very bottom of the bass range and waaaay up in the falsetto range — we're talking countertenor territory," Aucoin said. "But when Davóne sings at these extremes, it's not grotesque. The bottom is rich and resonant, and his falsetto is like an instrument-within-his-instrument, with its own beauty and penetrative power."
Sellars believes Tines' vocal prowess derives from his background and experience.
"I think what you are hearing there is deeply within the tradition of the black church, where you have to go way down and way up," he said. "And that poses a spiritual question as well as a vocal question, something that is conveying the range of the human soul."
Tines finds his singing perhaps at its most engaged in making new music.
"It's not exactly new music that I love, but it's the act of creating something with explicit context. New music projects tend toward explicit relevance because of their very nature; the composer, the director, the organizations that mount the work are motivated by clear and present impetus which makes my role of being a vessel delivering this amassed energy crazy thrilling."
Tines is anticipating some crazy thrilling in Adams' "El Niño."
"The Christian basis of the piece taps into my background, and the explorations about these themes are ones I am drawn to, plus I can rock out to shake the heavens, some of the coolest orchestral rock songs ever written," he said.
SIGN UP for the free Essential Arts & Culture newsletter »
Tines will again sing Adams, with Sellars writing the libretto and directing, in a world premiere at San Francisco Opera next year. Called "Girls of the Golden West," the work in part references Puccini's "The Girl of the Golden West" but will be a deeper exploration of California's roots that, Sellars feels, haven't been adequately communicated before. Adams wrote music for, and in response to, Tines' voice.
Sellars marvels at the journey of a performer who has not reached 30.
"How many singers have three new major operas with parts being written for them in the space of two years? That is astonishing. You really have to go back to Verdi and Mozart's time for that."
Tines has other projects in progress, including "The Black Clown," which he is writing the libretto for as well as playing the title role.
He will be backed by a Greek chorus of male and female voices in a piece based on Langston Hughes' poem of the same name that examines challenges of black life in America through time.
"I met [composer] Mike Schachter in college, and he has a sort of jazz tradition, so this will have a chamber orchestra with a jazz trio built into it. We have worked on and off for over five years, and Mike wrote a song-cycle and from that, the idea became, 'Why not develop these 10 to 15 miniatures?'"
It is set to be unveiled in 2018 by the American Repertory Theater in Cambridge, Mass. Tines is "so damn excited to be saying the most personal thing I can think of and to get to do it at Harvard."
---
Missing from this narrative are the usual trappings of a music career on the rise: management-directed roles focused on standard repertory. (Tines has cut a swath through European houses this year, singing in the Netherlands, Finland and Portugal, as well as performing "El Niño" in Paris and London.)
Tines said he's had conversations with industry people who ask, "What do you like to sing?" His answer is, "I like to sing things I think are truthful." If they reply,"Well, you don't always get to do that," Tines said his reply is, "Why not?"
"So far I have been able to pay the bills doing things I connect to and I am walking on stages to try to deliver something that counts," he said.
"Hopefully, that is not naïve or me sounding like trying to be special, but if I make choices to sing otherwise, what am I doing, why am I even bothering?"
------------
"El Niño"
Who: L.A. Phil, Los Angeles Master Chorale, Los Angeles Children's Chorus, conductor Grant Gershon
Where: Walt Disney Concert Hall, 111 S. Grand Ave., L.A.
When: 8 p.m. Dec. 16, 2 p.m. Dec. 18
Tickets: $53-183
Information: (323) 850-2300, laphil.org
Other Adams programs
The classical world's celebration of Adams' 70th birthday in 2017 will include three concerts at Valley Performing Arts Center in Northridge: Jacaranda Music's "America Beserk" on Jan. 14, the St. Lawrence String Quartet's concert on Feb. 3, and Wild Up conducted by Christopher Rountree on Feb. 16.
Los Angeles Chamber Orchestra has concerts celebrating Adams on Feb. 25 at the Alex Theatre in Glendale and Feb. 26 at Royce Hall at UCLA.
The L.A. Phil will present Adams conducting his opera "Nixon in China" on March 3 and 5 at Disney Hall.
Follow The Times' arts team @culturemonster.
ALSO
Grammys: Classical nominations for L.A. Opera's 'Versailles,' L.A. Phil's '200 Motels'
My kingdom for a can of beans! A radical take on the Bard in 'Table Top Shakespeare'
---
Get our L.A. Goes Out newsletter, with the week's best events, to help you explore and experience our city.
You may occasionally receive promotional content from the Los Angeles Times.