For curators, the quest to build 'Golden Kingdoms' for Getty exhibit leads to stunning surprises
When Moctezuma II met Hernán Cortés for the first time, the Aztec leader gave the Spanish conqueror a greenstone necklace with gold bell attachments. He promised Cortés more for the king of Spain, because greenstone was more precious than gold.
That account is just part of the research behind the J. Paul Getty Museum's expansive exhibition "Golden Kingdoms: Luxury and Legacy in the Ancient Americas," a centerpiece of the Getty's Pacific Standard Time: LA/LA programming.
The show, which will travel to the Metropolitan Museum of Art in New York in February, presents examples of art made for the elite to convey social status, political power and religious beliefs — sometimes through shimmering gold, yes, but also through stone, shells, feathers and other materials.
SIGN UP for the free Essential Arts & Culture newsletter »
Getty Museum Director Timothy Potts, Getty Research Institute specialist Kim Richter and Met curator Joanne Pillsbury organized the exhibit, which traces these artworks in a south-to-north path, starting in the Andes and moving to Central America and reaching Mexico. Pieces date from 1000 BC to the 16th century.
Pillsbury had the idea to focus on luxury arts "but give it this new perspective of trying to understand the value systems of the indigenous cultures, rather than the Spanish obsession with gold work," Potts said. "Gold is a very important part of the story, but it's been treated in many other exhibitions and often presented as if this is the epitome of value of what these ancient cultures created."
Take the Aztec word for gold, teocuitlatl, which also means divine excrement. The Aztecs believed that when the sun crossed the underground, it deposited gold nuggets that later emerged in rivers.
The earliest gold work emerged in the Andean region and was also tied to the power of the sun. Regalia from the richest unlooted tomb in the ancient Americas are among the first set of gold works displayed in the exhibit.
Archaeologist Walter Alva and his colleagues excavated 14 tombs in the Lambayeque Valley on Peru's north coast 30 years ago. Alva helped the "Golden Kingdoms" curators select a headdress, nose ornament, rattle, necklace beads and ear spools of a middle-aged Moche man, nicknamed the Lord of Sipán.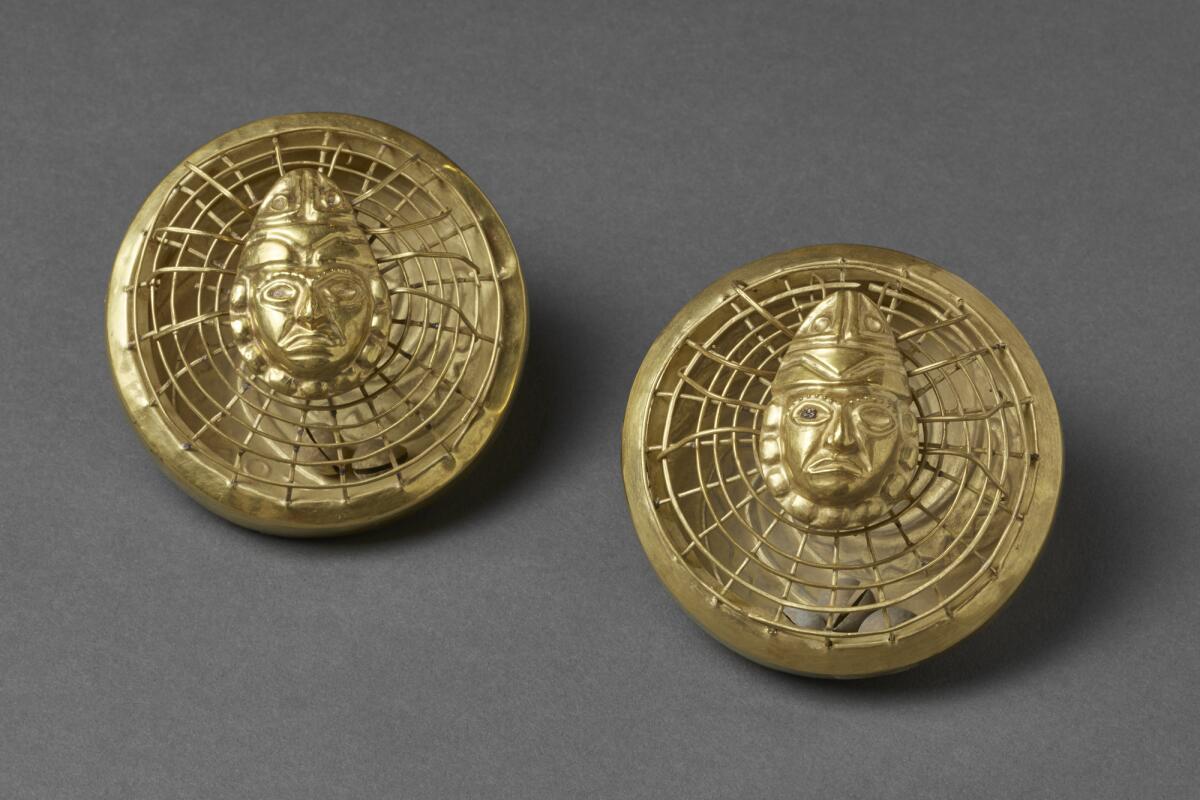 The three-dimensional warrior on one of the ear ornaments, hung exclusively from the stretched lobes of ancient Andean nobility, is fashioned after the regalia the lord wore in his tomb. The ear spool is made out of sheet gold and turquoise on a wood backing. Most of the miniature warrior's ornaments are removable, including the shield and club.
Many of the exhibit pieces were meant to catch light and make noise as they moved on the bodies of kings and queens. Other objects — vases, sculptures, reliefs, books and paintings — offer a glimpse into how these small ornaments adorned the elite from head to toe.
"The choice of objects in the exhibit speak about the immense richness found in the countries of the ancient Americas, which are now different countries," Alva said in Spanish. "It's very important to know that gold wasn't the only luxury material, it was also feathers, jade and silver."
Add obsidian, shells, textiles and turquoise to the list. The show continually departs from gold to other materials that were considered even more precious.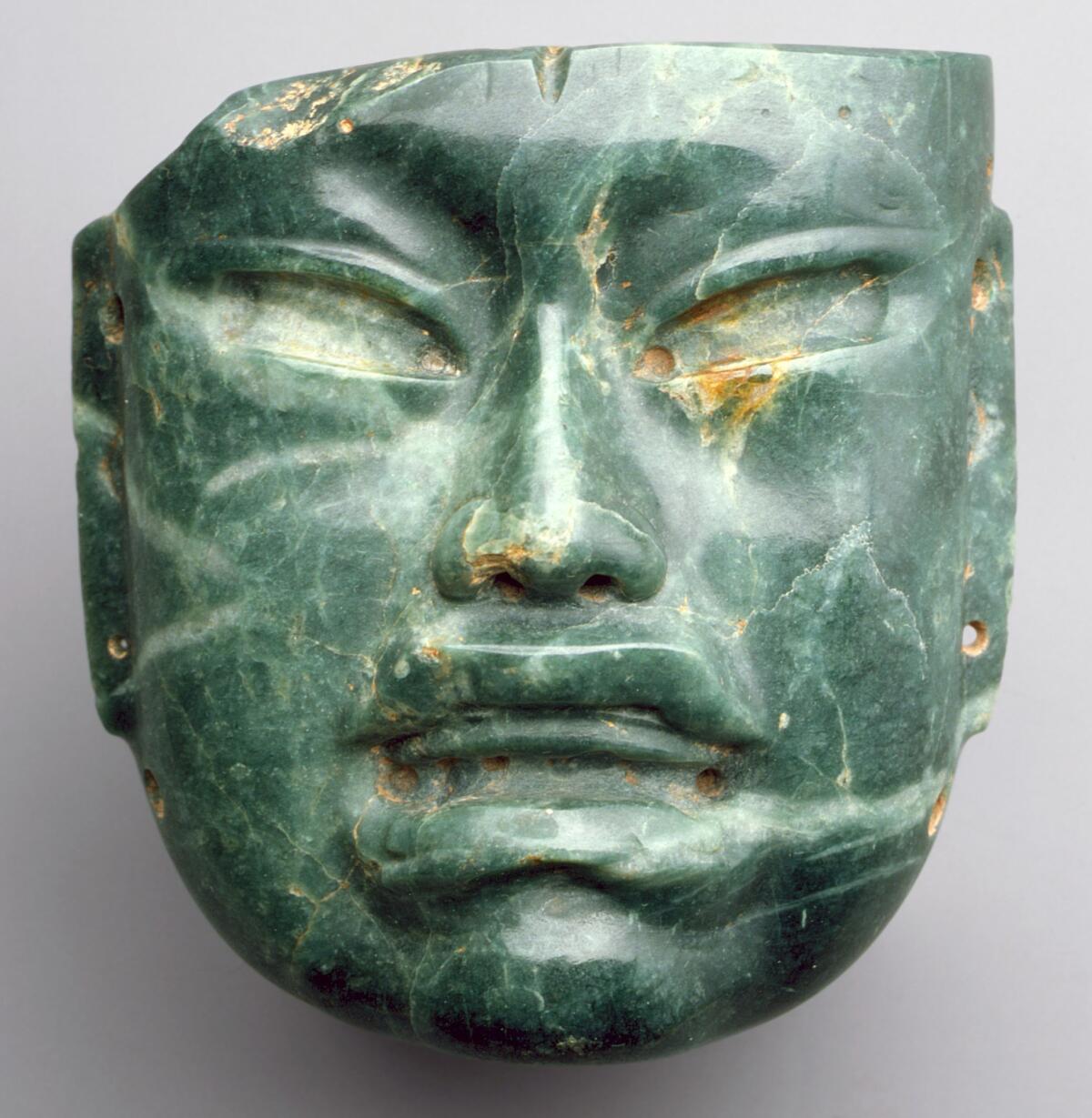 It's easy to gravitate toward the stunning Olmec and Maya masks without glancing once at a seemingly simple jade plaque with faint marks. But the piece traveled over a few centuries and several hundred miles, exchanged from culture to culture.
The rectangular plaque began as a cobble in Guatemala, the only documented source of jade in Latin America. It was worked to be an early classic Maya belt plaque around 200-500 AD. Then, it was stolen from a defeated ruler or looted from a tomb and traded in Costa Rica, where it was reworked as a pendant. It was traded again in the Gulf of Mexico and excavated at an archaeological site in Veracruz among a large collection of finished and unfinished jade ornaments and working tools.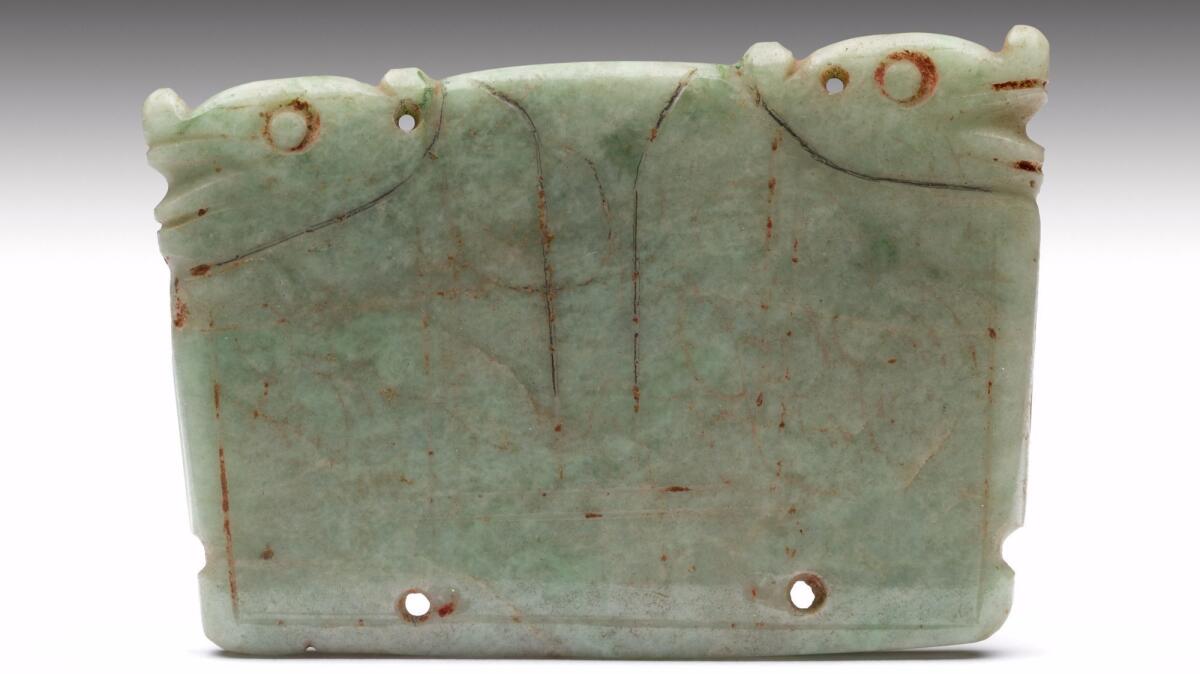 Green and blue-green colored stones were used as luxurious gifts, offered in sacred ceremonies and commercially traded. Agricultural fertility was one of the meanings associated with the stones. In the Florentine Codex, a 16th century study of Latin America, a Franciscan friar writes about how some green stones were thought to emit vapor that helped vegetation grow greener.
"These luxury arts were ways in which ideas moved across regions and, dare I say it, moved across borders. We were very excited to do a project that wasn't a single culture or a single modern nation state. In that sense, it's a project very in tune with PST: LA/LA as a whole in that art doesn't respect borders," said Pillsbury, a curator of ancient American art.
REVIEW: Art critic Christopher Knight on "Golden Kingdoms" »
To convey how ideas were exchanged across borders in the ancient Americas, the curators fittingly collaborated with archaeologists, researchers and professors internationally. They held workshops in Peru, Mexico and Los Angeles to discuss the context of the show and the selection of more than 300 works.
During one research trip, ornaments found in northern Peru suddenly made more sense when put in context with regalia from Colombia.
"We got to see things that we never dreamed we would see," Richter said. "I hope our team feels privileged that they got to interchange amongst each other — that the Peruvians got to see what the Colombians had, and the Costa Ricans could see what the Panamanians had."
When Richter teaches, she often asks students if they have a familial connection to Latin America.
"Half my students are either from Latin America or their parents are from Latin America," she said. "They deeply identify with the history and typically come with extensive knowledge that they have learned, not in school, but by oral tradition through their parents and popular knowledge about the ancient Americas."
Organizers hope the relevance of the show translates when it moves to the Met. It's a fitting destination: a museum whose celebrity-studded gala draws modern-day kings and queens every year, draped in jewelry and decked out in luxurious designer garments — a golden kingdom, for sure.
'Golden Kingdoms: Luxury and Legacy in the Ancient Americas'
Where: The Getty Center, 1200 Getty Center Drive, Brentwood
When: Through Jan. 28; closed Mondays
See all of our latest arts news and reviews at latimes.com/arts.
MORE ON VIEW:
USC Pacific Asia Museum will reopen Friday after year-long closure
Coca-Cola BlāK? Apple's Newton? Six big flops at the Museum of Failure
Sculpture censored after the Harvey Weinstein scandal has been returned
Get our L.A. Goes Out newsletter, with the week's best events, to help you explore and experience our city.
You may occasionally receive promotional content from the Los Angeles Times.