Hollywood sculpture censored after the Harvey Weinstein scandal has been returned to view
Art Critic
The Art Deco-style daybed removed seven weeks ago from an important Hollywood public artwork in wake of the Harvey Weinstein sexual misconduct scandal has been returned to view.
Erika Rothenberg's popular installation "The Road to Hollywood," a marble mosaic and concrete floor piece installed in 2001 at the Hollywood & Highland shopping mall adjacent to the theater where the Academy Awards are handed out, became the focus of a censorship controversy when mall management received a complaint. In the eyes of some, an innocuous daybed became a casting couch.
Forty-nine floor mosaics tell stories of how people in the entertainment business came to Hollywood and began their careers. The path begins at Hollywood Boulevard, winds through the shopping center and ends at a terrace overlook that features a massive concrete chaise, designed in a period style from the movie industry's emergence in the 1920s. The Hollywood sign in the distant hills provides a backdrop.
When the Weinstein scandal broke, the heavy sculpture was dragged from the site and hidden beneath a blue-plastic tarp in a nearby hallway.
Now, the installation is whole again. The sculpture was restored in recent days.
"The chaise is back in place," Rothenberg said when reached by telephone, expressing satisfaction with the outcome. In an agreement proposed by the artist and agreed to by the management company, Rothenberg provided a descriptive text to be displayed on a printed plaque nearby.
"Groups of people can sit on the chaise and pose for photos and selfies with the iconic Hollywood sign in the background," it reads in part. "I invite you to have fun reading the stories on the mosaic path, taking photos on the chaise, and thinking about Hollywood as a real place, and a mythic one, too." The statement ends with the artist's signature.
For the moment, the chaise is not quite in its correct position on the terrace. A large Christmas tree occupies that spot, with the sculpture adjacent. Rothenberg said the chaise will be moved into its proper place after New Year's Day.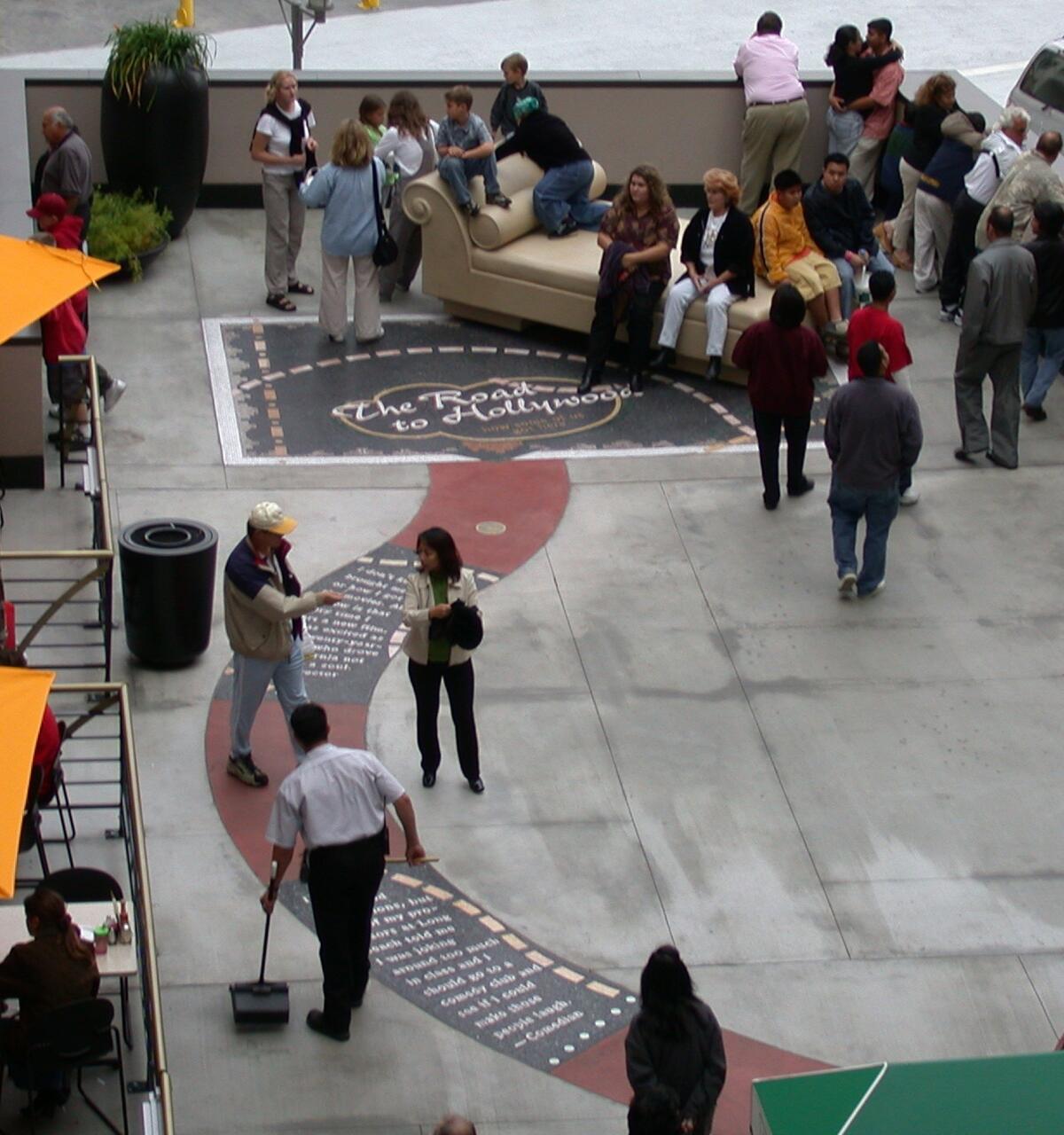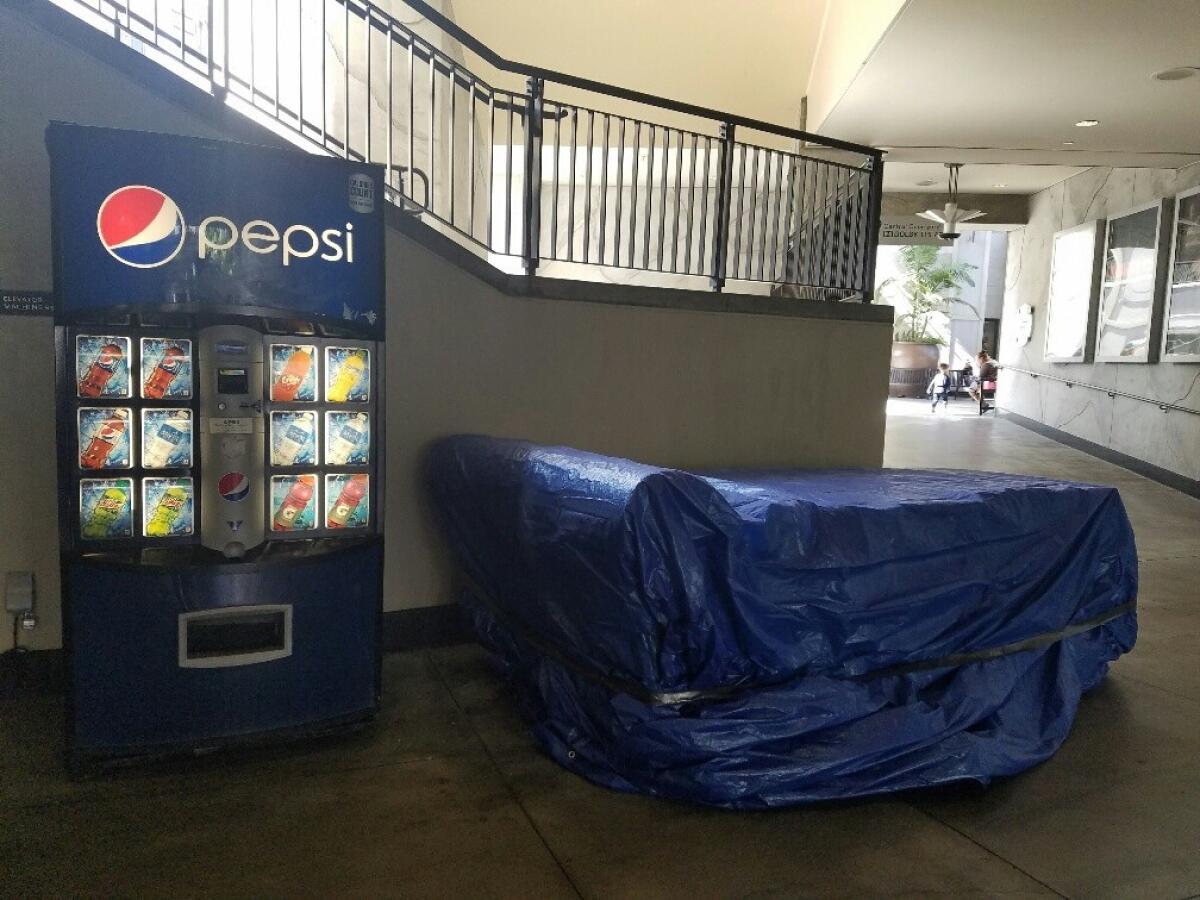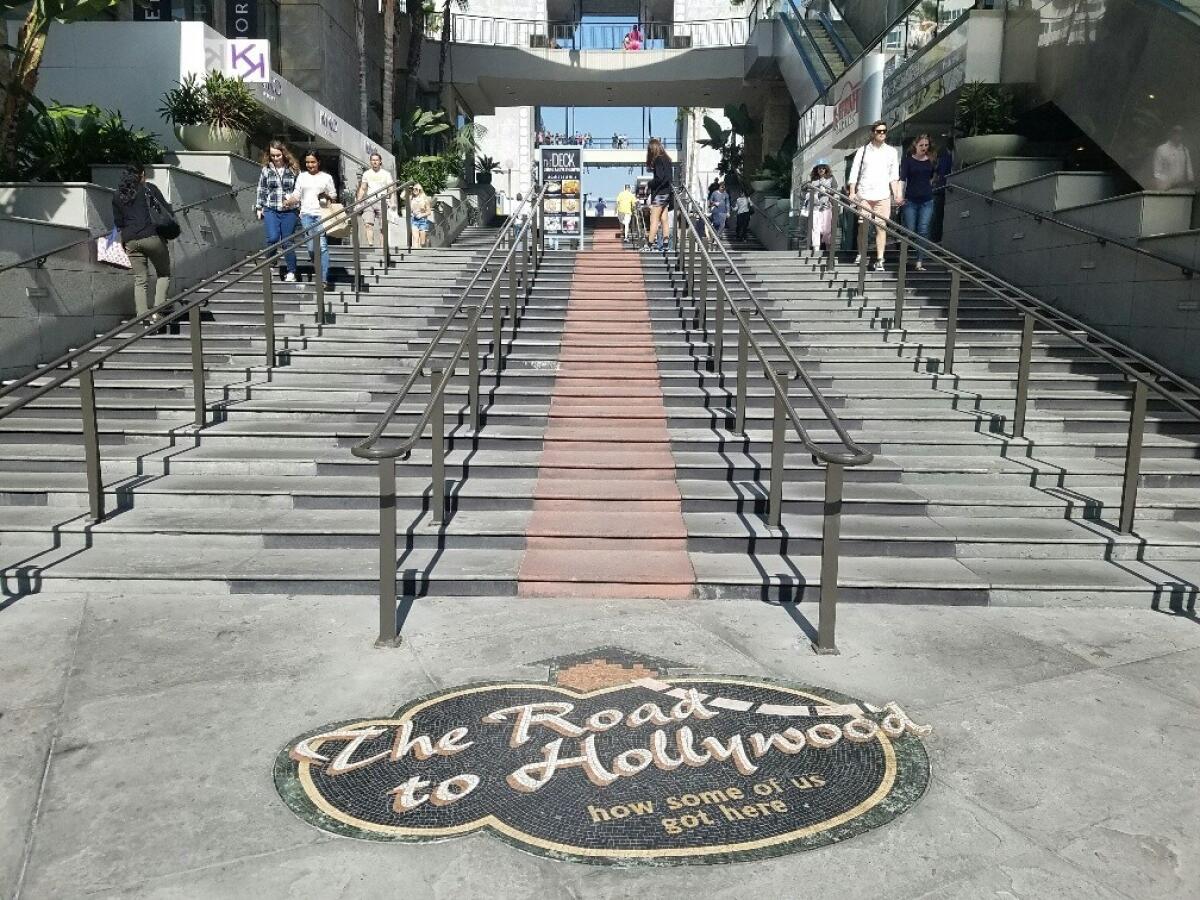 christopher.knight@latimes.com
Twitter: @KnightLAT
MORE ARTS NEWS AND REVIEWS:
When are feathers worth more than gold? 'Kingdoms' exhibition answers with spectacular finds
Pasadena Symphony musicians authorize a strike for higher pay
Get our L.A. Goes Out newsletter, with the week's best events, to help you explore and experience our city.
You may occasionally receive promotional content from the Los Angeles Times.