He's your Aaron Burr, sir: 'Hamilton' star Joshua Henry on why kids in the audience bring him to tears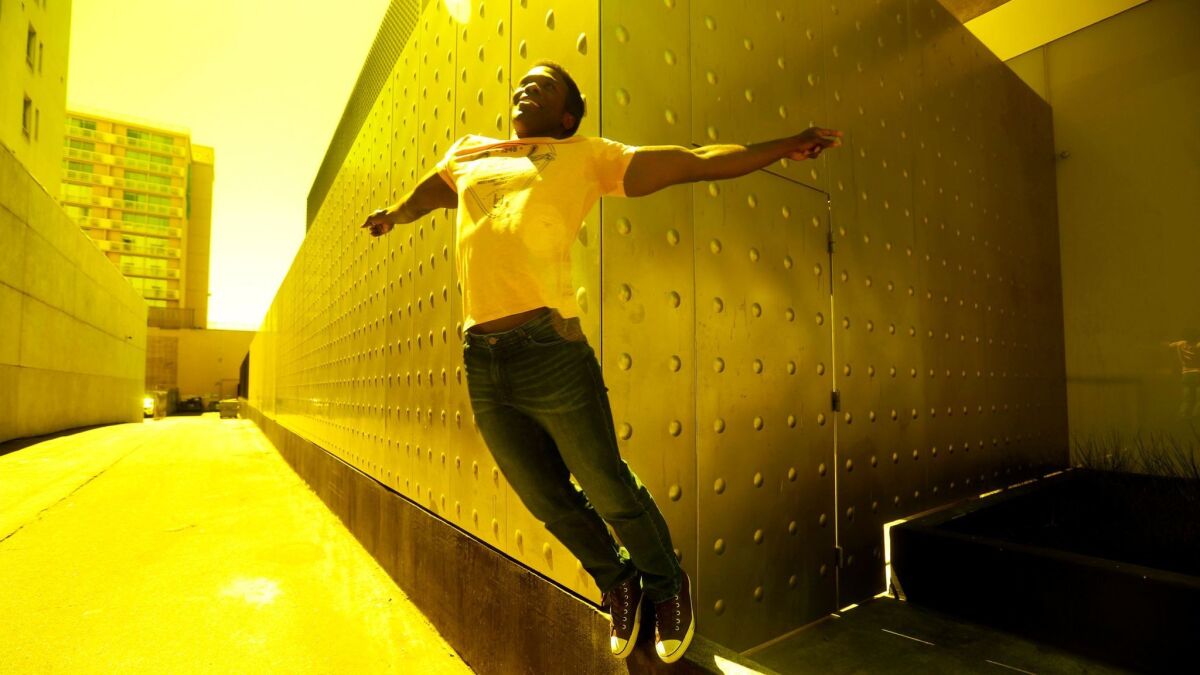 Joshua Henry is at a loss for words. It doesn't happen often. The gregarious, golden-voiced actor who stars as Aaron Burr in the national tour of "Hamilton" opening Aug. 16 at the Hollywood Pantages is as hyper-articulate as he is humble. But the thought of "Hamilton" as a cultural force unlike anything before it — one that has the power to change the way children of color see themselves — has him all choked up.
Sitting in a booth at Sams American Eatery, down the street from the Orpheum Theatre in San Francisco, where for the last six months he has appeared onstage in one sold-out show after another, Henry takes a deep breath and shifts his gaze momentarily skyward to gather his thoughts.
"As a black man in this show, I'm excited for the little children of color that get to see me do this," he says, explaining that their parents often take them to meet him at the backstage door. "They want their children to see what's possible, they want them to know that you matter a lot, no matter what anybody says, you can be important, you're valuable, you have something to contribute and that is the biggest.…"
He stops here, his eyes filling with emotion. "That's the biggest thing for me with this show."
He looks away and shakes his head ever so slightly, trying to clear the tears that fog his vision. Then he looks straight ahead and nods emphatically.
"Yeah," he says.
The moment brings chills that linger in the brief silence that follows. These are the same chills audience members might feel who, having never seen "Hamilton" before, are suddenly confronted with a stage filled with actors of color on a scale they may never have seen before. Black actors, Asian actors, Latino, white — all singing about the founding of a country, their country, in a way that feels at once acutely familiar and completely fresh.
This is my purpose right now. I believe in it like I do my next breath.
— Joshua Henry, of his role in "Hamilton."
That's the power of "Hamilton," Henry says — the diversity onstage, as meticulously conceived by creator Lin-Manuel Miranda. Particularly when coupled with characters that until now have been universally associated with white masculinity.
"It's an anomaly," Henry says of the musical's black Burr, George Washington and Alexander Hamilton. "This cast telling a story of America then, the way it looks now."
Henry goes on to say that for him the show is about inclusion and patriotism, about how we all — regardless of where we're from or what we look like — can succeed and do great things for their country.
In many ways, that's what Henry feels like he's doing in "Hamilton." It's not just a plum acting gig. It's a calling. It's what he was meant to do. He calls himself a spoke in a wheel that is much bigger than he is.
Optimism is one of Henry's defining traits. His shirt on this chilly morning is a cheerful yellow. His smile is easily summoned, and it takes over his face until it seems he is smiling with the entirety of his being. You could call it charisma, which it most certainly is, but there is more to it. He is a true believer — not only in himself and "Hamilton" but in a brighter future that can be won only through kindness and humanity.
"I always tell people that when Josh wakes up, you can hear him smiling," says Henry's mother, Leila Henry, over the phone from her home in Florida. "Even as a little baby, he was like that."
Henry's Twitter feed is telling. A pinned tweet dated May 24 hovers at the top. It reads, "Have you heard that you're amazing? Well, not enough. YOU'RE AMAZING! Also, have you told anyone that recently? Please do."
Find him on Facebook and you'll see a video that he took of a screaming crowd outside of the Orpheum waiting to see the show. Henry has centered his face in the screen and pans the crowd in a wide arc while saying brightly, "Love you San Francisco!"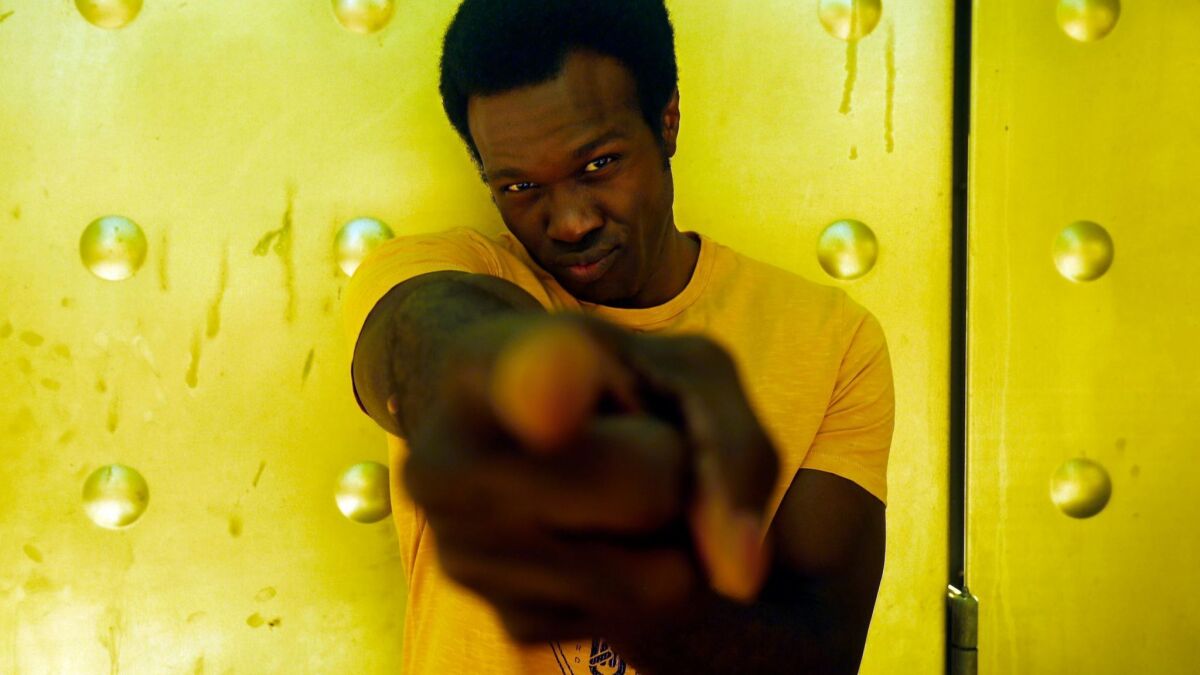 At 32, Henry has been acting seriously for more than a decade. He has twice been nominated for a Tony Award: in 2011 for the role of Haywood Patterson in "The Scottsboro Boys" and again in 2014 for playing Flick in "Violet."
When the former arrived at the Ahmanson in L.A. in 2013, Times theater critic Charles McNulty wrote that Henry's "powerhouse performance … gives this dazzling, envelope-pushing show a beautiful gravity."
A review of the "Violet" in the New York Times credited the evening's "ultimate showstopper" to "Mr. Henry's thrilling rendition of 'Let It Sing.' "
"Hamilton," however, is Henry's favorite musical. So when he was offered the role of Burr in the Chicago production, where he starred for 15 months, he felt his career had ascended to a whole new level.
"As you keep going, as you get higher and higher, the demands get greater and the spotlight gets brighter, and there's a little more isolation, so I try to surround myself with great people who really have my best interests in mind, who have known me before any of this happened," he says.
Those people include his parents and his wife, a nurse named Cathryn Henry, who works in New York but who comes to see him every two weeks or so when he's on the road.
I remember going to college and my parents telling me that I would have to work twice as hard to be at the same level.
— Joshua Henry, on being the son of Jamaican immigrants
Henry was raised in Miami by immigrant parents from Jamaica. His mother works at an accounting firm, and his father is a math teacher. Hard work was in their blood, and they passed on this ethic to Henry, along with a sense that there was no limit to what their three children could achieve.
Henry's father drove 30 miles from home to work daily, stopping along the way to drop off his wife at work. He picked her up on the way home.
"He put a spiritual foundation in us that made us ready for the pitfalls that would come, and the things we would have to do in America," Henry says, recalling how he learned to sing and play guitar in church as a young boy. "I remember going to college and my parents telling me that I would have to work twice as hard to be at the same level."
That sentiment is a theme in "Hamilton" and one of many reasons why Henry feels such a kinship with the show.
"We had to pump up our children a lot, because we live in a country that is not always kind to people of color," Leila Henry says. "So we countered that with the positive. We raised Josh with some strong core values, and he has taken them on as his own."
As a student at the University of Miami, Henry auditioned for the musical theater department at the behest of his high school chorus teacher, Birgit Fioravante, who had realized his talent and had cast him as the lead in "The Music Man." After a five-day run she came to Henry with tears in her eyes and told him, "You know, you can do this for a living."
Henry remembers the moment as marked by incredulity. To Fioravante he replied, "Do what?" He didn't understand that singing and dancing could be a career.
Fioravante, who has since founded a vocal boot camp for aspiring singers called Opera Fusion in Fort Lauderdale, says she had never before taken a student aside and said anything like that. She always feared seeding false hope in a notoriously difficult field.
Henry was different, though.
"He was going to be an accountant!" she exclaims by phone. "And something was nagging at me. I thought, 'This kid really doesn't know what he has.' "
Since then, she says, he has called her from time to time to thank her.
"He's a very warm person, and he's very grateful for what happened to him," Fioravante says. "I think he understands that it doesn't happen for everybody."
Talk to Henry about his life, and it's easy to see that's true. He still feels as if he's dreaming.
"This is my gift. This is my time. This is my purpose right now," he says. "I believe in it like I do my next breath."
Out on the street an hour later, Henry dons a puffy sleeveless jacket and a baseball cap. As he blends into the noontime foot traffic, a homeless man in a tattered coat asks who he is, and then looks at him with wonder.
"He's the star? You're kidding me!" he says. "They're taking high school kids to see him. There's something historic about that play."
Find all of our latest "Hamilton" national tour news at latimes.com/hamilton.
MORE 'HAMILTON':
Meet Angelica Schuyler: How Emmy Raver-Lampman rose into the spotlight
A critic's take on why 'Hamilton' matters more than ever
Oskar Eustis on how a YouTube video went on to change theater history
Tickets: The $10 lottery and other ways to score seats
Get our L.A. Goes Out newsletter, with the week's best events, to help you explore and experience our city.
You may occasionally receive promotional content from the Los Angeles Times.