Goodbye Britain, hello Beverly Hills: Newly arrived artistic director of the Wallis throws an open house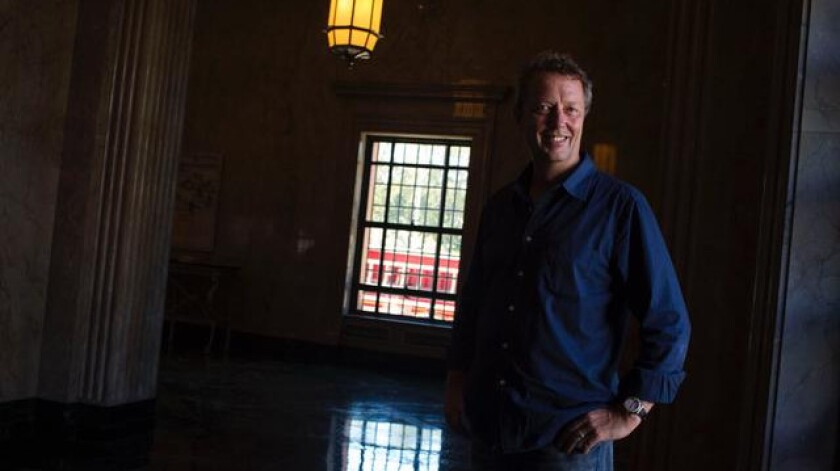 It's a thumbs up kind of day.
Paul Crewes, the new artistic director of the Wallis Annenberg Center for the Performing Arts in Beverly Hills, positions himself atop the venue's stone entrance steps on Saturday afternoon to greet a crowd of about 200 culture seekers – families pushing strollers, older ladies in floral sun visors, hipsters in matching Comic-Con T-shirts canoodling under a parasol.
Crewes is welcoming the throng to "WelcomeFest," a two-day celebration marking his arrival in L.A. and kicking off the Wallis' fourth season.
The Beverly Hills High School marching band launches into a version of Kool & the Gang's "Celebration" as Crewes – an affable Brit in roomy blue jeans and with a head of loose, wind-tussled, salt and pepper curls -- vigorously taps his feet and claps his palms above his head, a bullhorn in one hand and a Wallis season brochure in the other. When the band finally winds down, Crewes flashes a thumbs up.
"Today is a celebration of the arts," he proclaims. "And today is a celebration of the community in Beverly Hills, and of performers and artists and members of the creative community working to make art here in L.A."
Crewes, formerly the head of the innovative, Tony-nominated U.K.-based company Kneehigh Theatre, is something of a "get" for the Wallis, which has rolled out the welcome mat for him. The free arts festival includes a roster of more than 100 artists, many from the Wallis' upcoming season, including Deaf West Theatre, Jacob Jonas the Company and choreographer Matthew Bourne. In this way, "WelcomeFest" is not only Crewes' debut but also a taste of the Wallis' coming attractions.
But "WelcomeFest" also marks a reboot of sorts for the still-young Wallis. When it opened in 2013 after more than a decade of fundraising and planning, the more than $70-million startup got off to a bumpy start. While its campus was tricked out with two theaters, costume, wig and prop shops, an educational wing, a spacious promenade terrace and sculpture garden, it didn't have an artistic director until now.
Executive Director Lou Moore led the Wallis' inaugural season, which saw a 33% jump in attendance the next year. Still, building an audience from scratch and filling programming was tricky, and Moore departed in 2014. Crewes, 55, was appointed in October 2015, initially working part-time from Leeds, England; he moved his family to L.A. this spring and began full-time at the Wallis in April. Managing director Rachel Fine joined the organization full-time in November along with chairman David Bohnett, completing the new management trio.
The Wallis now has a chance to solidify its identity as a major cultural player in Los Angeles. That means producing and co-producing productions, as well as presenting renowned artists from L.A. and around the world – not to mention keeping the stages packed, Crewes says. A whopping 310 performances are planned for this season.
"I'm trying, with the producing of theater, to make work with L.A.-based artists and producers and directors and performers," Crewes says. "We're calling it 'locally sourced.' I think, as a resource, this is what we should be doing. But likewise, we're bringing in top quality international and national work as well. It's a balance."
Crewes also aims to shape the Wallis into a destination where visitors not only take in a performance but also spend the entire evening, lingering over dinner beforehand and bonding over the work afterward. There may be pop-up culinary happenings, pre-concert talks or live music prior to shows; afterward, performers will be encouraged to mingle in the bar with audience members.
"I love the idea that people come and talk about what they've seen and maybe meet the people who've been doing the show," Crewes says. "It's about eating and watching and being part of a community."
As "WelcomeFest" hits its mid-afternoon peak, the Wallis' lobby, a renovated, 1934 former post office, bustles with foot traffic. Site-specific performances quietly unfold in various corners: a young woman in a kelly green dress performs jerky, mime-like movements in the bar, pressing her palms against the translucent glass walls and playing peekaboo with passersby. Down the hall, a young man, a dancer, tangles his body into a knot in a windowsill nook.
Live piano music fills the lobby, but the musician performing is not a professional.
"I just came here with my parents," says 17-year-old Blake Gingold, from Brentwood, adding that the atmosphere at the Wallis inspired him to take a seat at the empty piano bench. "It's beautiful here, the people seem nice." The Wallis, he says, brings a lot to the community: "Life, energy, emotion, diversity."
Which is exactly what Crewes is aiming for in terms of expanding the Wallis' audience: inclusiveness. While Crewes aims to "support and embrace" its local core audience, he wants to get the word out that the Wallis "is a space for everybody, not just those in Beverly Hills," he says.
Ultimately, it's the programming that will draw audiences and set the Wallis apart from competing mid-size venues such as the Broad Stage and the Valley Performing Arts Center. "I think what distinguishes us all is the individuality of the people involved," says Crewes. "And I have a particular aesthetic and taste and interest, which is really creating theater that is both exciting, challenging and populist."
That includes producing or co-producing four productions this season. "Scorsese: American Crime Requiem," created with the L.A.-based company For the Record, debuts this month in the 500-seat Bram Goldsmith Theater. It's a rock 'n' roll musical weaving scores from six Martin Scorsese films in an immersive environment that breaks the theater's fourth wall. Later this fall, the Wallis will debut a co-production, with Tony-nominated theater producer Cody Lassen, of the Stephen Sondheim musical "Merrily We Roll Along"; the Wallis' first artist-in-residence, Michael Arden, will direct.
And it will produce an original drama, "The Pride," written by London-based Alexi Kaye Campbell and directed by Arden. With Deaf West Theatre, the Wallis will co-produce "Edward Albee's at Home at the Zoo" next spring, directed by Wallis staffer Coy Middlebrook and featuring both deaf and hearing actors.
Crewes is especially excited to present three early works by the London-based choreographer Bourne. "He's one of the most popular, successful choreographers alive," Crewes says. "Peter Brook too, is bringing his "Battlefield" here. That's the level of artists we can start to attract."
He is also thinking small. Six weeks out of the year, he'll transform the more intimate Lovelace Studio Theater into a cross-genre cabaret called the Sorting Room, named after the space's original post office function. It will host comedy, cabaret and contemporary music with known artists such as Sandra Bernhard and singer-storyteller Loudon Wainwright III to lesser-known acts such as the youth-oriented spoken word performance troupe Get Lit.
By late afternoon, the Sole Sisters' Melinda Sullivan and Sarah Reich are well into a tap dancing duet on the promenade terrace while in the lobby, performance artist Jacqueline Suskin doles out snippets of custom poetry to a growing posse of curious kids.
Backstage at the Goldsmith, Crewes hovers in the wings, beaming, watching the audience watch the Praizum Gospel Choir belting out soulful tunes. Then he gives a passing staff member a hearty thumbs up.
"This is the vibe I want the building to have," Crewes says. "People are here. It's just lovely."
deborah.vankin@latimes.com
Follow me on Twitter: @DebVankin
ALSO
Kanye West's famous 'Famous' sculpture is not for sale, gallery says
Doug Aitken's 'Electric Earth' will shake the MOCA landscape
The Broad announces its first visiting special exhibit: 'Yayoi Kusama: Infinity Mirrors'
French artist to spend two months 'excavating' L.A. River for 'Eat the River' project
An L.A. art star turns 50: Gemini G.E.L. celebrates with a LACMA exhibition
---
Get our daily Entertainment newsletter
Get the day's top stories on Hollywood, film, television, music, arts, culture and more.
You may occasionally receive promotional content from the Los Angeles Times.