How La Scala Ballet will get a special star — Misty Copeland — for one night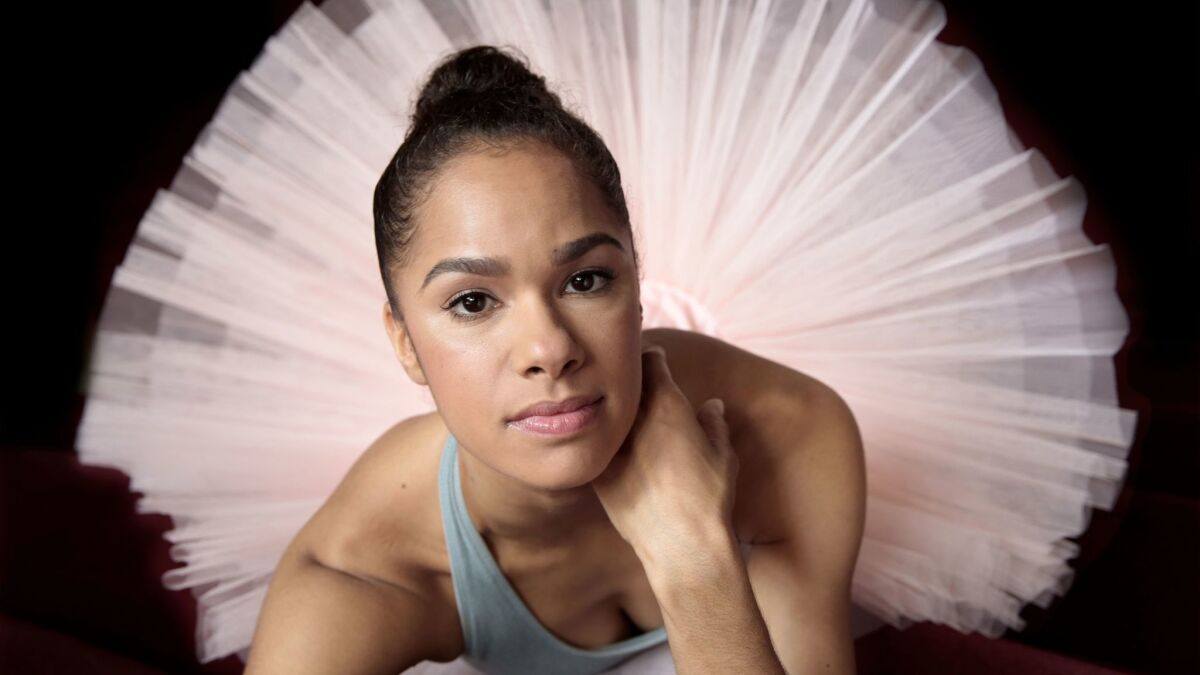 Milan's Teatro alla Scala Ballet Company returns to Southern California next weekend for the first time in 16 years, presenting a favorite of the traditional repertory, the 19th century Romantic ballet "Giselle." But those dance fans hoping to get a look at how the troupe's leading ballerinas tackle the starring role of the doomed peasant girl will have only one opportunity.
That's because three of the four performances will be headlined by star dancers from other companies, women who have big names and selling power: Misty Copeland of American Ballet Theatre and Marianela Nuñez of Britain's Royal Ballet, who will perform twice. Both Copeland and Nuñez are guest artists with La Scala.
It is one of the quirks of the ballet world that two seemingly contradictory forces are at play. On the one hand, a company such as La Scala, which arguably represents the best of classical dance in Italy, is promoted overseas for its centuries-long history, its national identity and its distinct style. And yet, when it comes to casting starring parts, guest artists from other countries are brought in, in this case for the prestigious opening, closing and evening performances.
There's a further twist to this story. Copeland and Nuñez's partner is Italian, the étoile Roberto Bolle, who trained at La Scala and for almost two decades has been one of the world's leading danseurs. Bolle, who last performed at the Music Center in 2015 and is making his first appearance at Segerstrom Hall in Orange County, joined La Scala Ballet at age 19.
Thanks to his outstanding technique, as well as his strength and good looks, Bolle began receiving offers to perform with other leading ballet troupes when he was only 21. He left his secure position as La Scala principal dancer two years after that and has been something of a gypsy ever since, appearing as a guest artist with companies such as the English National Ballet, the National Ballet of Canada, the Royal Ballet and later, ABT.
"After two years, because I had so many engagements, I had to become a guest artist in my own company [La Scala] to have the possibility to choose" to dance elsewhere, said Bolle, who spoke by phone from Italy. "For me, this was the best possible career, because I had the freedom to choose the repertory. The possibility to dance with different companies and with different ballerinas was very special."
Such opportunities are just now being presented to Copeland, who was raised in San Pedro, joined ABT in 2001 and was promoted to principal dancer in June 2015, becoming the first African American woman in the company's history to achieve the highest rank. Bolle and La Scala's former artistic director, Mauro Bigonzetti, approached Copeland about guesting with the Milan company after watching her last year in "The Firebird."
"It was kind of shocking," Copeland said in a recent interview. "I've been in ABT almost 17 years and it's my second year as a principal… and it was a big deal with a company of the caliber of La Scala."
As eager as she was, Copeland was also cognizant that she was entering delicate terrain. While company directors are eager to have international stars add luster to their rosters and give ticket-buyers added incentive to run to the box office, some company dancers have a different feeling about outsiders. Some look at these "guests" as interlopers who take away parts they'd like to have.
"Yes, ABT has always been known for being so worldly and has dancers from everywhere, and my experience has been watching guest artists coming in, and it can be difficult. I know that the atmosphere can be really resentful," Copeland said.
"With that experience in mind, whenever I'm going [to be a guest artist], I'm sensitive to having been on the other side. I try to be as respectful as possible and be friendly and introduce myself. I think it's important when you're coming into someone else's 'home' to be open and to share your art with them and learn from them."
Copeland made her La Scala debut last year opposite Bolle in "Romeo and Juliet." She described the other dancers as "warm and inviting" and said that at the curtain call, she was in tears — and so were some of her fellow cast members.
Figuring out casting is often a group effort, decided among a company's directors, but also with input from theater presenters. This was the case with this engagement, because it was more complicated than normal. The Segerstrom Center and Bigonzetti had originally scheduled Bigonzetti's new production of "Cinderella." But the choreographer, who has health problems, was forced to resign last fall, and a new program had to be substituted. La Scala is certainly a prestigious troupe, but for the general public, it is a relatively unknown quantity, compared with other companies like ABT and the Joffrey Ballet. In addition, Bolle is its only dancer well-known to local audiences. The decision of both repertory and casting had to be weighed carefully.
Segerstrom Executive Vice President Judy Morr, who has curated the center's vaunted dance series since 1986, said she was very pleased to have the company perform its "Giselle," a version of the Jean Coralli-Jules Perrot original that was revived for La Scala by the late French ballerina Yvette Chauviré. Morr said she took part in casting discussions, and was thrilled that Copeland would be appearing on opening night.
"If I am intent upon making sure that there would be what I would call success at the box office, I talk about casting," Morr said. "I would rarely interfere with an artistic desire on behalf of the company, but I think companies are already concerned about how they appear and what the thoughts are of the people they work with. I can't imagine that there isn't a presenter of dance that doesn't think about how it will shake out and who will dance the first night, the second night."
The La Scala principals who will be dancing in that one spotlighted performance (the Saturday matinee) are Nicoletta Manni and Claudio Coviello. Manni is a product of La Scala's school, while Coviello trained in Rome and was then hired in Milan. Both are young and highly praised, said Frédéric Olivieri, La Scala's new artistic director — who is French.
"I think it is important that a company has a growing path within it, for young talents that make a day-by-day improvement," Olivieri said by email. "We have a ballet school of ancient and glorious history from which many of today's leading artists have come out and therefore it is a pleasure to witness their artistic and interpretative development. Nevertheless, as in all companies, there are artists from other schools and nationalities."
**********
'Giselle'
Who: Teatro alla Scala Ballet Company
When: July 28 to July 30
Where: Segerstrom Center for the Arts, 600 Town Center Drive, Costa Mesa
Cost: $29 to $159
Info: (714) 556-2787 or scfta.org
SIGN UP for the free Essential Arts & Culture newsletter »
Support coverage of the arts. Share this article.
ALSO
Times art critic Christopher Knight's latest reviews
Times theater critic Charles McNulty's latest reviews
Times architecture critic Christopher Hawthorne's latest columns
Get our L.A. Goes Out newsletter, with the week's best events, to help you explore and experience our city.
You may occasionally receive promotional content from the Los Angeles Times.