From 'Game of Thrones' to Geffen Playhouse: Why top TV director Matt Shakman has returned to theater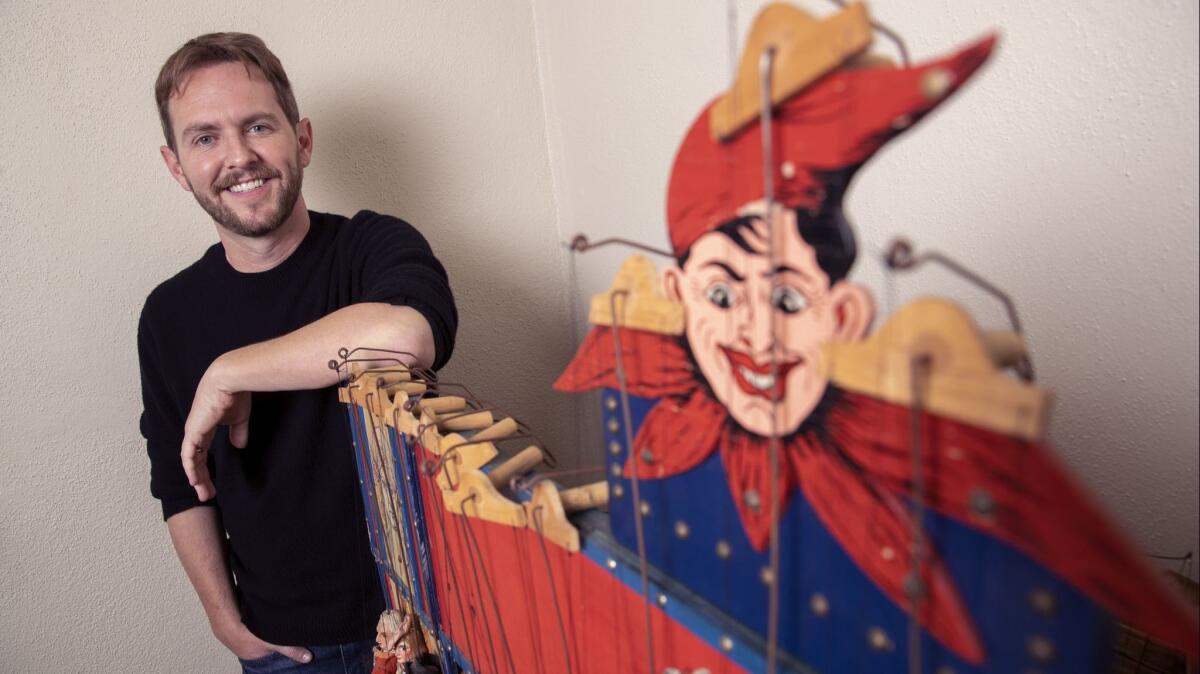 Matt Shakman had just returned from Ireland after a months-long stint as director of "Game of Thrones" and was launching into his next project, a pilot for USA Network, when the call came.
The Geffen Playhouse was looking for applicants to be its new artistic director. Would he be interested?
The decision wasn't easy. Shakman, founder of the Black Dahlia Theatre Company, had built a reputation in the L.A. theater community since 2001 with his daring and inventive programming. But more recently, he has been one of Hollywood's most in-demand young television directors, with more than 45 shows to his credit, including "It's Always Sunny in Philadelphia" (for which he was an executive producer), "Billions," "The Good Wife," "Fargo" and "Mad Men."
"It felt like maybe in a decade it would be the perfect job, but right now?" Shakman, 43, recalls. "But nothing ever happens at the perfect time, and this was such a great opportunity and a dream for me. You can't pass on great opportunities when they come."
FULL COVERAGE: 2018 fall arts preview »
The first thing visitors notice when entering Shakman's office on the second floor of the Geffen is an elaborate antique puppet theater, complete with 25 handcrafted marionettes. He stumbled upon it in a tiny shop in the Czech Republic while on a trip with his wife, Maggie Malone, an executive producer with Illumination Entertainment, the studio behind the "Despicable Me" and "Minions" franchise. It was largely a conversation piece in their living room until their daughter was born.
"Every night we would put on a puppet show," he says. Now that Maisie is an inquisitive 2½-year-old, the stage is safer in his office, and puppet shows are reserved for their daily FaceTime chats.
"I was working on 'Game of Thrones' in Ireland and Spain for 6½ months, and I missed half of my daughter's first year of her life," he says. "The work now in film and TV is increasingly away from Los Angeles, which means that I have been increasingly away from home at the time when I want to be at home the most. Having a foothold here like the Geffen allows me to be around for her more while at the same time doing something that I love to do, theater."
Dotting his office walls are colorful theater posters, including one dating back to his college years at Yale, "The Tempest," directed by Shakman with original score by Bobby Lopez — yes, the Bobby Lopez of "Frozen" and "The Book of Mormon" fame. Awards from his Black Dahlia days perch atop a bookshelf, well stocked with plays. Nearby is a prop poster for "The Nightman Cometh," a musical episode of "It's Always Sunny in Philadelphia."
Shakman stepped into the top role at a time of change — some have called it upheaval — at the Geffen. Just two years after emerging from its 2009 financial crisis, the theater was rocked by the unexpected death of its founder and producing director, Gil Cates. Many questioned whether the playhouse, which has a budget of about $10 million and a very modest endowment as well as a restricted legacy fund, would survive. By 2015, Cates' son, Gil Cates Jr., was named executive director, and the Geffen began inching toward more solid financial footing.
Then in February of last year, the board of directors stunned the theater community when it opted not to renew the contract of Randall Arney, the well-liked Steppenwolf alumnus who was the theater's artistic director for 17 years. By spring, the Geffen launched a nationwide search for a replacement.
Just days after Shakman's selection was announced, Arney, 62, sued the theater and two board members, accusing them of age and disability discrimination and defamation. The suit was settled out of court, Arney said in a recent interview, declining further comment.
Cates said he can't comment on the lawsuit. "In the big picture, the theater is in good financial shape in the sense that I know we're going to be open more years," he says, noting that the board can tap into the legacy fund in times of need. "In the day-to-day, we're coming off a couple of really tough years financially and that's why, I think, part of the change and the search took place."
Among about 50 candidates interviewed for the job, Shakman was a familiar face, having directed three shows at the Geffen.
"He's talented. He's directed here before. The staff adored him. He has a commitment to new work," Cates says. "We needed a real vision. At the end of the day, Matt checked all the boxes."
I was working on 'Game of Thrones' in Ireland and Spain for 6½ months, and I missed half of my daughter's first year of her life.
— Matt Shakman, the Geffen Playhouse's new artistic director
Shakman's inaugural season kicks off this month with a new José Rivera play. Of the nine productions on the two Geffen stages, four are world premieres, two are new adaptations and one is a West Coast premiere.
"I started at the Black Dahlia wanting to do new work and world premieres," Shakman says. "Adding things to the canon and the future of theater seems to be a worthwhile goal. By the time we ended the Dahlia's life, we were focusing on world premieres by L.A.-based writers. That's been my love and goal, and I hope to bring that emphasis on new work to the Geffen."
A commitment to new work can be challenging, frustrating and time-consuming. "I'm not Oskar Eustis [at the Public Theater] or Playwrights Horizons. Obviously, that's where agents send the world premieres first," Shakman says. "If I'm going to be active in the new play space, I need to be scrappy about how we find our material."
To that end, his first Geffen initiative is the Writers' Room, a lab of sorts for L.A.-area playwrights. Six writers selected from more than 300 applicants — Angelica Chéri, Dipika Guha, Chelsea Marcantel, Brian Otaño, Liza Powel O'Brien and Matt Schatz — begin their yearlong residency this month. They'll receive feedback, dramaturgical support and, potentially, a production of their plays.
Shakman's season includes new adaptations of familiar plays, such as a darker interpretation of "A Christmas Carol," adapted and performed by Tony winner Jefferson Mays. But Shakman's desire to present new work is risky – especially with an audience accustomed to 17 years of the previous artistic director's programming. Building and diversifying the theater's offerings and its audience, Shakman says, is always on his mind.
"The paradigm is the Taper under Gordon Davidson. They were telling amazing, important stories that reflected the diversity of the city. They were influencing the larger national and international conversation about theater with 'Angels in America' and Anna Deavere Smith and 'Zoot Suit,'" he says. "That's the goal. Of course, it's a big goal, but that's the hope."
FULL COVERAGE: 2018 fall arts preview »
Any doubters about Shakman's ambitions need only look at his track record at the Black Dahlia.
At 24, he landed in Los Angeles after brief stints in New York and Vail, Colo., where he attempted to launch a summer Shakespeare festival. For his inaugural season at the Dahlia, he reached out to established playwrights, securing nearly a full season of premieres, including "Den of Thieves" by 2015 Pulitzer Prize-winning playwright Stephen Adly Guirgis.
"What was unique about Matt is that he was wise beyond his years. He was young, but he knew how to handle a writer from New York," Guirgis says by phone from Manhattan. "I saw a play he directed, and it was obvious he could direct. It was obvious he knew how to run a theater. He's smart. He had a lot of passion. With just everything about him, the vibe was good. It's not a surprise to me that he's running the Geffen."
Guirgis had seen the Dahlia's first production, the West Coast premiere of Austin Pendleton's "Orson's Shadow," which put Shakman and his company on the map. The play ran for about six months at the Dahlia's 30-seat storefront theater before transferring for a short run at the larger, now-defunct Tiffany Theater on the Sunset Strip.
That production also caught the attention of Oscar-winning director-producer Ed Zwick, at the time best known as co-creator of the TV series "thirtysomething" and director of films including "Legends of the Fall." After seeing the play, Zwick invited Shakman to shadow him on his series "Once and Again."
"He already had so many of the basics, but he's so diligent and studious," Zwick says. "Just based on his acuity and what I had already seen of his talent, we asked him to direct an episode."
Shakman continued running the Dahlia while trailing Zwick, an experience he lovingly calls his "film school."
In reality, Shakman had a taste of theater and the inner-workings of Hollywood from an early age. He appeared in his first play in Ventura at 4½, playing Bilbo Baggins in "The Lord of the Rings." As a child, he was obsessed with magic and superheroes, and one day, dressed in a Superman costume, he was "discovered" during an outing with his father. Soon Shakman was appearing in commercials, movies and popular TV shows like "The Facts of Life," "Growing Pains" and "Webster." By the time he was 12, he was a series regular in the "Growing Pains" spinoff, "Just the Ten of Us."
Though he continued acting, mostly on the stage, Shakman found he was drawn to the other side of the camera. As a teen, he developed an interest in special-effects makeup and was taken under the wing of legendary makeup man Dick Smith. That led to small jobs on movie sets, including "Dick Tracy."
"I wonder what would have happened in my life if I hadn't dressed up as superheroes or been on that path when I was 4," he says, with a laugh.
His dual passions prompted him to work out a deal with the Geffen to continue his outside directing projects.
"I couldn't completely give up television and film. I'd reached a point in my career that I worked really hard to get to, where there was a certain momentum going," he says.
The arrangement is not unprecedented. Gil Cates Sr. produced 14 Oscar telecasts, was president of the Directors Guild of America and head of the UCLA School of Theater, Film and Television, all while running the theater.
Recognizing that Shakman has TV and film projects in the wings, the Geffen leadership said it was naming longtime literary manager Amy Levinson as associate artistic director.
"She's given her heart and soul to this place. I'm thrilled to have her helping me even more than she already does," Shakman said when he announced her promotion last month at a Geffen staff meeting.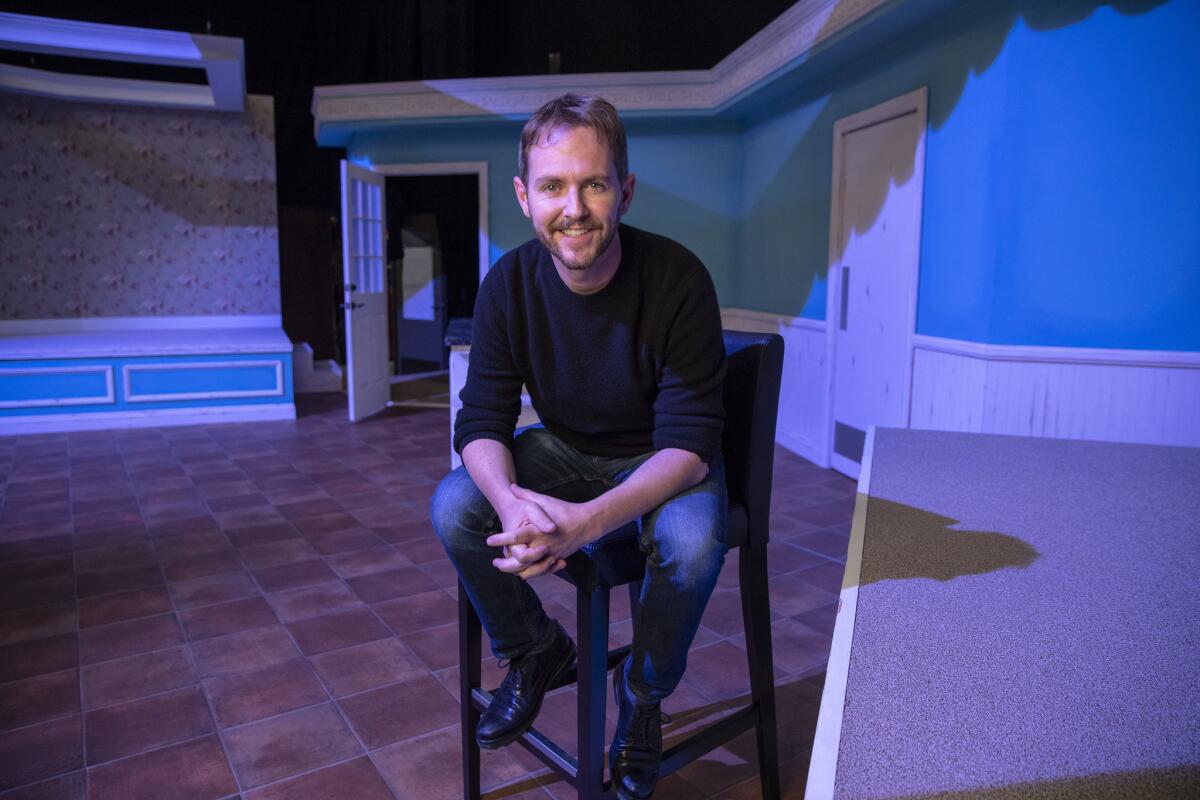 Shakman knows many eyes are on him. The jump from a 30-seat theater to the Geffen's 512-seat house is monumental. But if he's nervous, he shows no signs. He remains focused on the work ahead — particularly Michael Mitnick's "Mysterious Circumstances," which he will direct in the spring. Based on a 2004 New Yorker article, the play is a passion project for Shakman, who optioned the article before he was under consideration for artistic director.
"It's something that I've been working on for a little over a decade," he says of the time-travel mystery that revolves around the real-life death of a Sherlock Holmes expert.
In March, he and Mitnick held the first reading of the play at the Geffen.
"Matt seems completely egoless, in a way that feels entirely genuine. He's laid back, but he's extremely meticulous and intensely detail-oriented," Mitnick says later in a phone interview from Brooklyn. "He's respectful and tactful. He's a playwright's dream."
In the meantime, Shakman is putting together a Theater for Young Audiences program that he hopes to launch next year. Further down the line is a New Play Festival. "That's a far more expensive, time-consuming initiative, so it's on a slower path," he says.
This fall he will lead a workshop of a Geffen-commissioned work from Qui Nguyen, author of the critically acclaimed play "Vietgone," who will reunite with his company the Vampire Cowboys. And Shakman is scouting out plays and musicals for his next season.
"I still feel like I have to be scrappy here. At the Dahlia, I was literally the guy painting sets, building things and staying up all night during tech. Thankfully, I haven't had to do that yet here, but you never know," he says, a big grin on his face. "I'm available for painting."
See all of our latest arts news and reviews at latimes.com/arts.
Get our L.A. Goes Out newsletter, with the week's best events, to help you explore and experience our city.
You may occasionally receive promotional content from the Los Angeles Times.