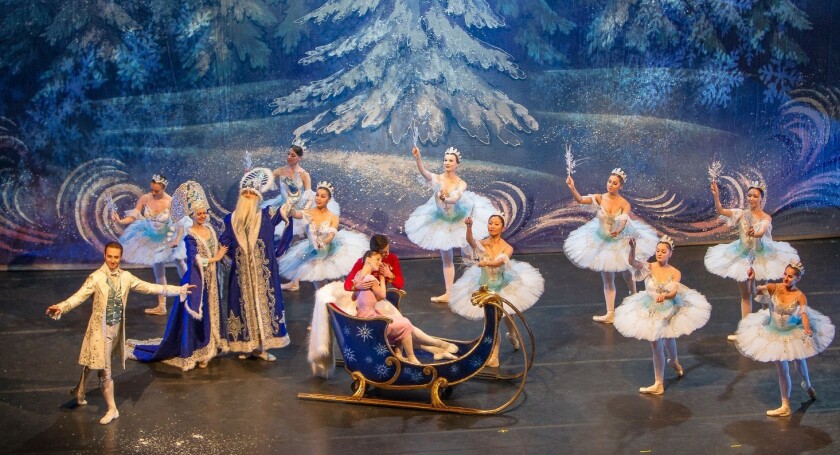 How many crystals can one tutu take? How many inches of snow will sprinkle down on stages in Glendale, Northridge and Redondo Beach? How many toy soldiers will be marching their merry way through Costa Mesa? It's the season of "The Nutcracker," so whether you're taking a little one for the first time or seeing the show yourself for the umpteenth year, we've assembled a quick by-the-numbers look at performances planned for Southern California stages.
See the most-read stories in Entertainment this hour >>
Los Angeles Ballet
3: Inches of snow that will fall during the "Land of Snow" scene
2 p.m. Dec. 6 at Alex Theatre, 216 N. Brand Blvd., Glendale. 7:30 p.m. Dec. 8 and 9 at Valley Performing Arts Center, 18111 Nordhoff St., Northridge. 1 and 5 p.m. Saturday Dec. 12 and 13 at Dolby Theatre, 6801 Hollywood Blvd., Hollywood. 7 p.m. Dec. 15 at McCallum Theatre, 73000 Fred Waring Drive, Palm Desert. 7:30 p.m. Dec. 18, 1 and 5 p.m. Dec. 19 and 20 at Royce Hall, UCLA, 340 Royce Drive, Westwood. 1 and 5 p.m. Dec. 26 and 27 at Redondo Beach Performing Arts Center, 1935 Manhattan Beach Blvd., Redondo Beach. $31-$99
Westside Ballet of Santa Monica
43: Number of seasons, which the company says makes it the longest-running "Nutcracker" ballet in Southern California
1 and 5 p.m. Dec. 6. Santa Monica College Symphony, the Broad Stage, Santa Monica College Performing Arts Center, 1310 11th St. $40
Long Beach Ballet
33: Years the company has staged the holiday production
550: People involved in the show
2: Ballet companies in the country believed to use two harps to ensure the performance sounds as Tchaikovsky intended (Long Beach is one of them)
2 and 7:30 p.m. Saturdays, 2 p.m. Sundays, Dec. 12-Dec. 20. Long Beach Terrace Theater, 300 E. Ocean Blvd. $31-$68
Inland Pacific Ballet
1: Traditional Albany Flyer horse-drawn open sleigh
40: Length, in feet, of the Chinese dragon used for a traditional Chinese dragon dance
2 p.m. Dec. 6 at Bridges Auditorium, Pomona College, 450 N. College Way, Claremont. 2 and 7:30 p.m. Dec. 12, 2 p.m. Dec. 13 at Fox Performing Arts Center, 3801 Mission Inn Ave., Riverside. 7:30 p.m. Dec. 18, 2 and 7:30 p.m. Dec. 19, 2 p.m. Dec. 20 at Lewis Family Playhouse, 12505 Cultural Center Drive, Rancho Cucamonga. From $38.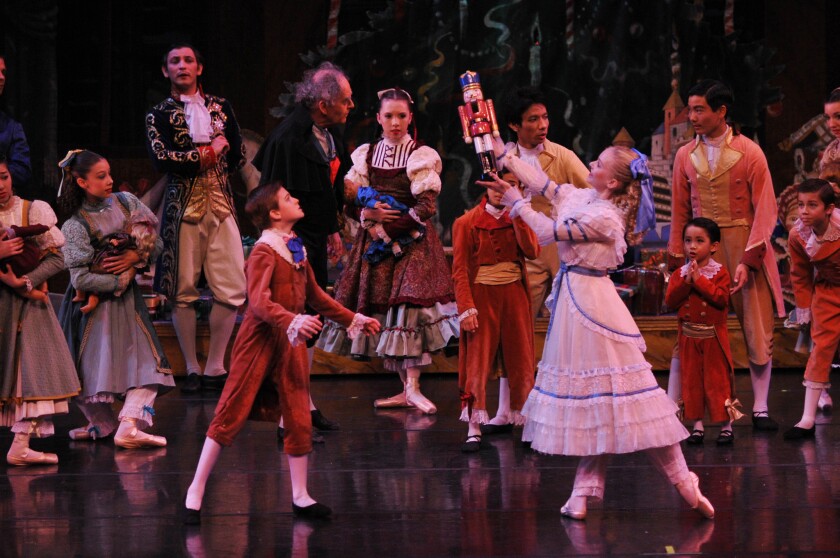 Festival Ballet Theatre
300: Number of children who perform during the run
6: Guest artists (from San Francisco, New York City and Joffrey ballets as well as American Ballet Theatre) featured as the Sugar Plum Fairy and her Cavalier
2 and 7 p.m. Dec. 12, 1 and 6 p.m. Dec. 13, 7 p.m. Dec. 18, 2 and 7 p.m. Dec. 19, 1 and 6 p.m. Dec. 20, 2 and 7 p.m. Dec. 22, 2 p.m. Dec. 23 and 11 a.m. Dec. 24. Irvine Barclay Theatre, 4242 Campus Drive, Irvine. $40-$45
Pasadena Dance Theatre
0: Number of times some of the company's youngest audience members have seen ballet before; just as with generations past, the "Nutcracker" remains their introduction to the art of dance
5,000: Students invited to special "Nutcracker" shows the company stages in addition to its regular holiday schedule
2 p.m. Saturday, Dec. 13, 19, 20, 22 and 23. San Gabriel Mission Playhouse, 320 S. Mission Drive, San Gabriel. $20-$60
American Ballet Theatre
1: Number of Mouse King
16: Toy soldiers
24: Snowflakes
7:30 p.m. Tuesday to Friday, 2 and 7:30 p.m. Saturdays, 1 and 6:30 p.m. Sundays, Dec. 10 to Dec. 20. Segerstrom Center for the Arts, 600 Town Center Drive, Costa Mesa. $46 to $293
Conejo Civic Ballet
3: Number of generations of dancers in the family of Natalie Hadek, who dances the role of Clara; her grandmother Eva Pokorny and aunt Helena Pokorny Jones were professional dancers in the Czech Republic
2:30 p.m. Dec. 13. Kavli Theatre in the Thousand Oaks Civic Arts Plaza,
2100 E. Thousand Oaks Blvd. $15-$36.
Moscow Ballet
36: Vaganova-trained Russian dancers
40: Height, in feet, of the Christmas tree
200: Bejeweled costumes, each handmade in Russia
3 and 7 p.m. Dec. 20, 7 p.m. Dec. 21. The Wiltern, 3790 Wilshire Blvd., L.A. $30 and up
Bob Baker Marionette Theatre
1: Number of "Nutcracker" performances in Southern California danced by more than 100 marionettes (this is it!)
See www.bobbakermarionettes.com for schedule. 1345 W. 1st St., L.A. $20
---