Critic's Notebook: The one and only Patricia Kopatchinskaja comes to the Ojai Music Festival
Last summer at the Salzburg Festival, violinist Patricia Kopatchinskaja wandered onstage looking a little lost. Perhaps she was looking for something. Or communing with nature. Dressed in a fashionably torn formal outfit and barefoot, she appeared to be from her own Ophelia-like world, playing a Carthinian folksong that began with the line, "A bird in the plum tree has wakened me from the bed of yesterday."
She, of course, wasn't in her own world at all. An orchestra, MusicAeterna, awaited her onstage, as did the radically probing conductor Teodor Currentzis, who was wearing a skintight black outfit and bulky boots. The world she was in was that of Alban Berg, whose Violin Concerto she was about to play with such inquisitive, revelatory, even erotic authority that she seemed to penetrate a composer's private, forbidden inner being.
Kopatchinskaja, music director of this year's Ojai Music Festival, running June 7-10, has repeatedly and shallowly been called a wild child. A big deal gets made of her playing barefoot, which she does simply because that feels right to her. The fact is, Kopatchinskaja is one of those transformative musicians who comes along, if we are lucky, once or twice in a generation.
Over tea a few weeks ago, on her first visit to Los Angeles for a festival fundraising event in the downtown Arts District, Kopatchinskaja answered questions — be it about music, her life, the state of the world — in an hour-long interview as though everything were a launching pad for a philosophical or personal inquiry. She could be unflinchingly certain and realistically tentative at the same time.
In her conversation and in her playing, the rapidity and immediacy in which she can express a full range of feelings is startling. She is both an intense bundle of nerves and a free spirit, an unnerving conveyor of momentous darkness and of bright light.
Every day, her festival will be packed from early morning to late night with an unprecedented variety of events too extensive to list, let alone describe.
There will be a children's concert and a staged meditation on the dying Earth ("Dies Irae" on June 9), a staged investigation on what Beethoven means today and why we need to move on ("Bye Bye Beethoven" on June 7), as well as much Baroque and earlier music.
The European avant-garde music is honored alongside the American avant-garde music. Kopatchinskaja will focus on the darkly formidable Soviet composer Galina Ustvolskaya and on the darkly formidable contemporary American composer Michael Hersch, who will be present. Her native Moldovan folk music will be played alongside Romanian, Hungarian and Transylvanian 20th century classical pieces.
The JACK Quartet will give the world premiere of Austrian composer Georg Friedrich Haas' Ninth String Quartet early June 10 in a pitch-black auditorium in the Ojai hinterlands. Other Kopatchinskaja collaborators include the Mahler Chamber Orchestra, pianist Markus Hinterhäuser and her parents, who are Moldavan folk performers.
Kopatchinskaja was born in the Moldovan capital, Chisinau, in 1977. She studied in Vienna. Her career, other than having been an artistic partner with the St. Paul Chamber Orchestra in Minnesota the last four years, has been mostly in Europe. She performs with a variety of musicians, including sitarist Anoushka Shankar. She lives in Bern, Switzerland, and is married to a neurologist, author and politician who was a founder of the Swiss Green Party. They have a daughter.
She questions everything, beginning with all that she performs. She won a Grammy this year for leading from the violin the St. Paul Chamber Orchestra's arresting recording of a string orchestra version of Schubert's "Death in the Maiden" Quartet, with pieces ancient, modern and timeless surprisingly introducing each movement.
Her recent recording of Tchaikovsky's played-to-death Violin Concerto with Currentzis has astounded — and in some circles, horrified — listeners for being over-the-top transgressive. She sounds as if she is making it up as she goes along, yet she plays nothing that Tchaikovsky didn't put in, or imply in, the score. She is simply more adamant about not taking a single accent mark for granted.
In her unending quest, lately she has begun performing the vocal part of Schönberg's "Pierrot Lunaire," dressed in a Pierrot costume, and also has been making films. Conversation with her is a kind of reverie. This one ended when her cellphone rang, reminding her it was time to prepare for her evening event. The ring tone bringing her back to reality was that of a duck quacking.
For Kopatchinskaja, context is everything. Nothing should be played for arbitrary reasons. She explores all that she plays from many sides, and you can find her thinking about much of her vast repertory in a section of her website labeled "My Kitchen."
Writing, for instance, about Leonard Bernstein's Serenade, a violin concerto based on Plato's Symposium, she began by acknowledging that she is "a female interpreter … in a world dominated by homoerotic men," and thus finds herself identifying with Diotima, a rare woman found in Plato and for Kopatchinskaja, "deeper and more convincing than the rest of the lot."
Kopatchinskaja says Diotima's views about perpetual spiritual innovation in art correspond to her own on musical interpretation as an "ever evolving creative work in progress." According to Diotima, "a musician is only an artist if he connects to the divine by the demonic spell of Eros," otherwise remaining mere technician.
There are hardly any conventional programs in Kopatchinskaja's festival. Music for her needs the context of other music, old and new, and the context of the world around her. It needs theater. It needs the demonic and the divine. It needs Eros. But it also needs to speak for itself. One thing must be allowed to lead to another.
To a considerable extent, that is also true of Kopatchinskaja in conversation. Her remarks can be bombs. They can be deeply personal and reflective. They can be funny, her laugh coming out of nowhere. They can be tragic: She's passionate and deeply pessimistic about the state of the environment. She doesn't like to be pinned down. She has a strong — but personal and original — sense of logic, which you can hear in her playing and find, if you look deeply, in her programs.
And just as she likes to let music speak for itself, I will let her do the same, the bombs drop as they will.
On waving bye-bye to Beethoven:
"The world of Beethoven was a very groundbreaking and exciting world, but we have made out of this glorious time a very conventional and petrified presence which has no future. We use Beethoven as the focus of our attention in our concerts, but he wouldn't want to be the obstacle in the way of new music, of contemporary music. Because of that, the most important and interesting, truly interesting topic of our creative energies is stuck behind doors of conservative opinion."
"'Bye Bye Beethoven' was the result of thinking about our backwards orientation in classical music business. I'm saying bye-bye to this monument we all respect by looking forward."
On why all music must become contemporary:
"Contemporary music is a lost language, and we have to relearn it again — not only the audience but also the musicians who play it. We consider it too much as a beast to be feared. But it is a very dear child we have to take care of and to send into this world with all our support and love, to play it as with as much emotion as we play anything else.
"I make no difference between composers who are dead and composers who are alive. First of all, I don't think they are really dead, because through their pieces, we communicate with them. And composers who are alive can be obstacles. Sometimes they are helpful and very inspiring, other times they are very difficult to work with, and I wish they were dead. And I wish the dead ones would be alive. For me, there is no border between here and there, there and here. It's all one."
On why the concert stage is a stage:
"I want to stage more and more concerts. I think it's a wonderful, unexplored way of making clear the garden where pieces grow. Programs should be like mushrooms with roots under the earth.
"I'm even thinking of filming 'Pierrot Lunaire.' I want to combine it with a circus — jugglers, fire-eaters and other things. Pierrot is a very interesting figure. I see him as a beggar, as a dreamer, as a killer. And when I'm in a costume, I really feel like a Pierrot. For the first time, I don't have to invent any role, it's me. I would love to play Schönberg's Violin Concerto in my Pierrot costume with the Berlin Philharmonic [which she will perform with the orchestra next season], but I'm afraid they will not let me.
"There was an old professor who came to my concerts and said, 'Thank you. When I come to your concerts I don't have to go to the theater.'"
On the process of beginning to prepare a performance or project:
"Everything appears with the music. When I know it's right, then it's right. But I have stopped trying to plan, because it never comes out as I planned.
"Also, I forget what I said yesterday or what I planned yesterday. Sometimes that scares people who work with me. But I'm not a suicide commando. I like things to work out in the end, and I enjoy also when it all comes together. But the beginning has to be chaos. ...
"I learn new music very quickly. Unknown music is no problem for me. But known music takes so much longer, because you have to forget everything you heard about it. Every recording you heard. You have to make it work for yourself, as if you are a child and see something for the first time in your life. Then, when the perception is right, you can start working on technique. You cannot learn a technique without seeing what you can do. Every single phrase needs a physical expression."
On the big picture:
"How is it possible to listen and not to reflect on what is relevant today? I don't understand how can we classical musicians still be polite. That's not a political statement, it's a human statement."
On program notes:
"I don't like evening program notes. I think concerts should be played that people understand it without words, because music is so much more. I want what I play to be as clear and emotional that even a dog can understand a gesture."
On Ustvolskaya:
I met Ustvolskaya when she came to Bern. I was supposed to translate for her. I was also the running boy. I had to buy for her pajamas. I had to find the right style of pajama, the right fabric, the right color. I had the entrance to her through the pajamas.
"Ustvolskaya expresses things which nobody could in her way, her incredibly uncompromised and unique way. You cannot analyze these pieces. She even prohibited comparing her music with any other pieces. I find it very valuable to write a piece that nobody can analyze."
On playing barefoot:
"It has become such a conventional world that even the fact that I don't wear shoes is a huge issue to many people. It catches their attention even more than the music. It's turned into a bad joke."
On playing versus composing:
"I did a lot of composing earlier, but then I had to earn my bread. I think I'm too creative. When I play something, I'm so full of [this music] that there is no place for my music. I can't imagine a different way than playing and becoming. Otherwise, I would feel like a sausage. It's a battle onstage, like life and death. It's always for real."
On Ojai:
"Usually, I have to keep many of the different kinds of pieces I want to do in my own boxes or drawers. But Ojai is completely open. I feel like I have found a kindergarten for all my beasts."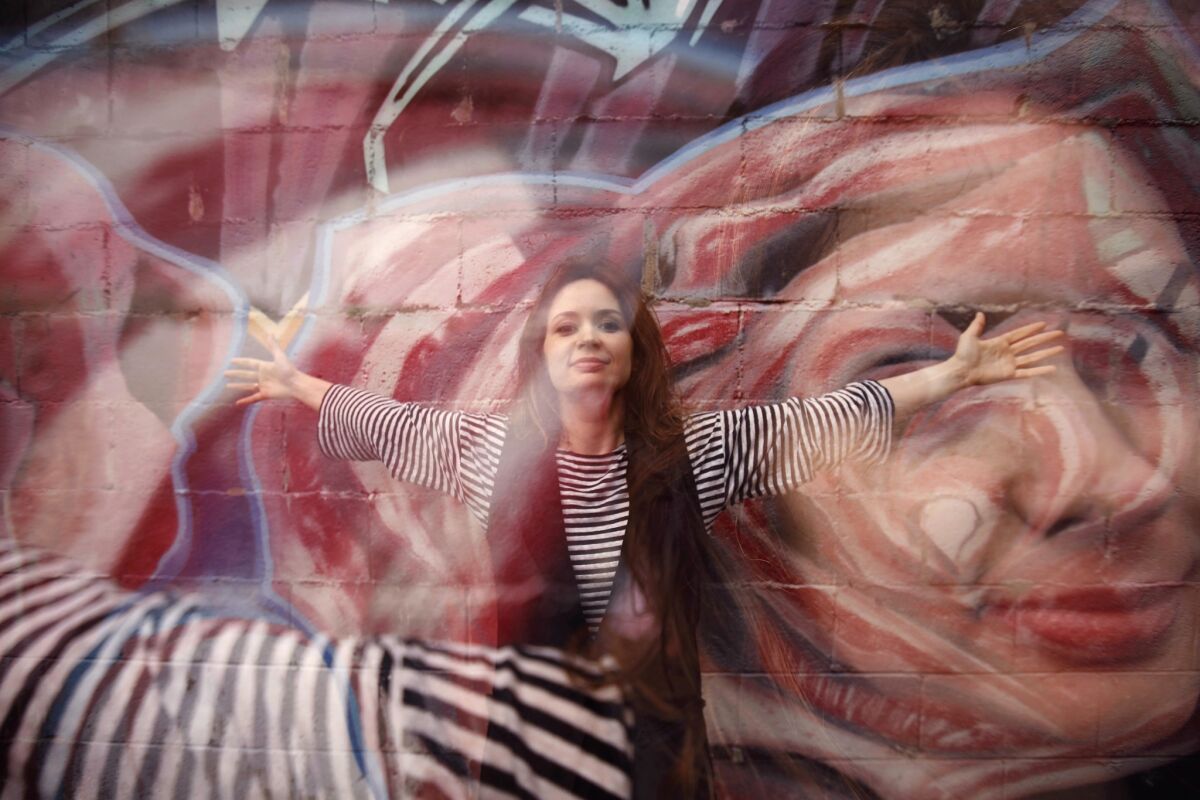 ♦ ♦ ♦ ♦ ♦ ♦ ♦ ♦ ♦ ♦
Ojai Music Festival
Where: Most concerts take place at Libbey Park and Bowl, 210 S Signal St., although other locations in Ojai are used
When: June 7-10
Price: Park events are free. Bowl concerts are $20-$150. Two-, three- and four-day passes are $75-$925
Info: (805) 646-2053 or www.ojaifestival.com
MORE MUSIC:
Dudamel untangles the strangeness of Schumann's symphonies
Walt Whitman's operatic America in 'Crossing' gets its West Coast premiere
Get our L.A. Goes Out newsletter, with the week's best events, to help you explore and experience our city.
You may occasionally receive promotional content from the Los Angeles Times.