Review: The ecstasy of Julius Eastman's 'Femenine,' and how angst and anger turn to beauty and grace
Music Critic
There has been nothing quite like the Julius Eastman revival. It is fueled by the backstory of the blazingly talented composer, vocalist, pianist and progressive black and gay provocateur. Like no one else on the 1970s and '80s new-music scene, Eastman bridged New York's uptight uptown and Minimalist downtown, and threw into the mix jazz as well as racial and gender issues that generally felt irrelevant to the abstraction that characterized much of the era's new music. His life fell apart at the end. He presumably had drug problems. He became homeless. Many of his scores, which could be sketchy, were lost when he was evicted from his apartment. He died in 1990 at 49 in obscurity.
But that back story only goes so far. People wouldn't likely put up with his aggressively repetitive, sometimes angry but also joyous, pieces that can last over an hour were they not in themselves remarkable. Nor would musicians go through all the reconstruction needed to perform much of Eastman's work.
Reconstruct and reimagine they do. And the audience comes. Monday night at the Colburn School's Zipper Concert Hall, a large sold-out sign was posted by the box office for a Monday Evening Concerts program built around Eastman's 70-minute "Femenine." The crowd was different from any you will likely find elsewhere — new music old-timers mixed with an up-to-date young contingent that has happily discovered the longest-running new-music series in the country, if not the world.
At a time when music has become a clannish activity, the age range, from teens to octogenarian and possibly beyond, was exceptional. The racial mix may not yet be ideal, but at least it was there. The common cause was recognition that when the experience of awe doesn't come easily, it is most profound.
You have to give "Femenine" time and the benefit of the doubt. The first 10 minutes are little more than a vibraphone playing, ad infinitum, a short motive, more like a pre-installed ring tone or military tattoo calling you to attention. You need faith.
Eastman has Thelonious Monk's bounce and Meredith Monk's beatitude.
The premiere of "Femenine" in 1974 in Albany, N.Y., wasn't quite as austere as the concert setting in Zipper. Eastman built a contraption of mechanical sleigh bells that beat out a jangling pulse throughout the 70 minutes. That now is handled by an electronic background, which sounded here rather like crickets on a pleasant summer evening. The composer, who was the pianist of an ensemble of around a dozen (no one is quite sure about that or quite a bit else when it comes to "Femenine") and he wore a skirt. He asked that soup be served to the audience.
A recording in poor sound of that performance has been found and was released on CD two years ago. It leaves as many questions as it answers. The score is a collection of short motives, clearly influenced by Terry Riley's "In C." But exactly how they function is not spelled out, and there seem to be jazzy additions (improvisations?) in the performance. Yet this weird archival recording makes an unexpected impression.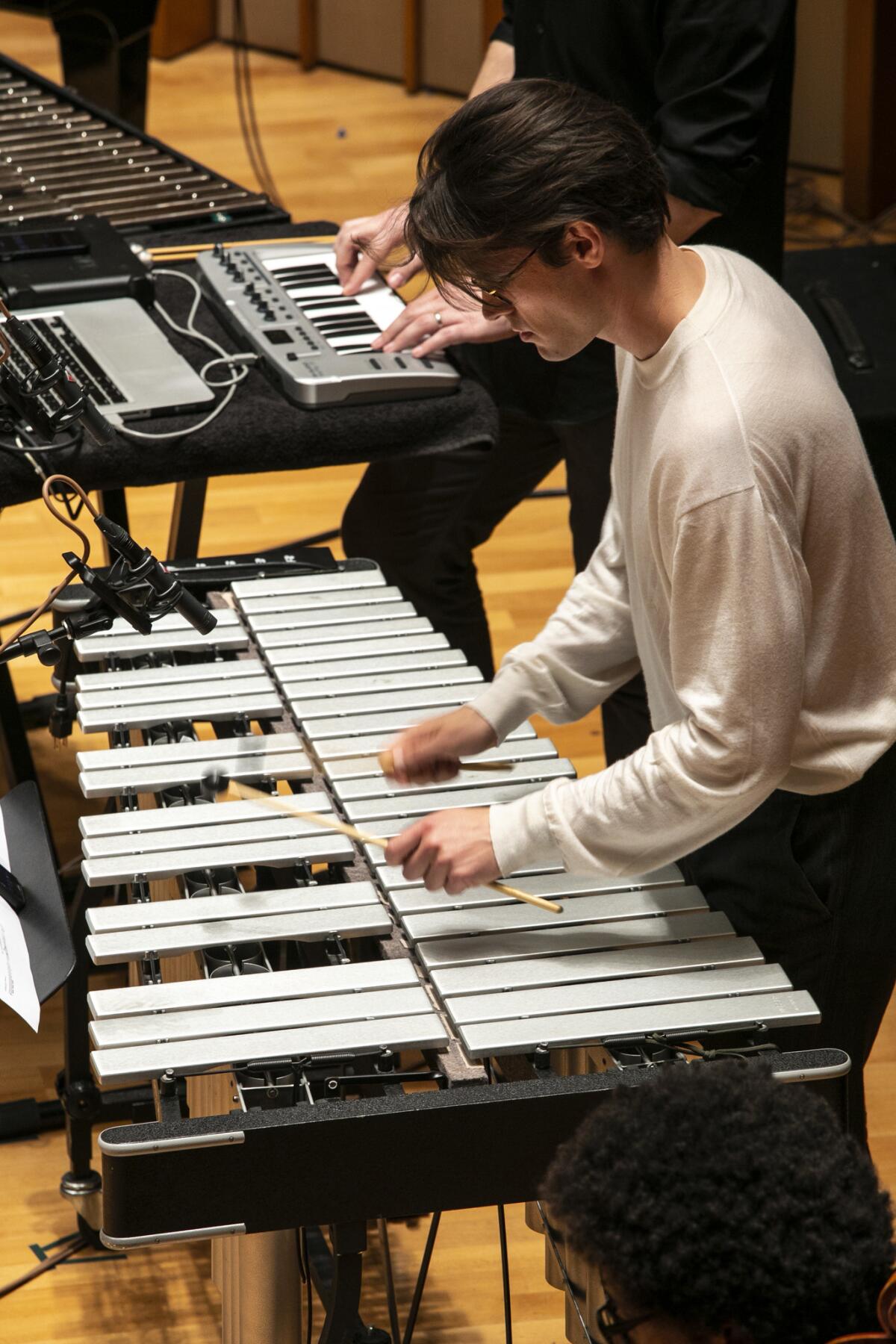 At the time of its release, for instance, the New Yorker pop critic Hua Hsu wrote that the ruckus of "Femenine" brought to him a feeling of euphoria, pulling him away from the sounds of that summer's 2016 presidential campaign. Meanwhile, his wife told him to turn it off after 20 minutes.
The version of "Femenine" for Monday's performance for 10 players was created/excavated by pianist Richard Valitutto and featured a terrific ensemble that included Jonathan Hepfer (Monday Evening Concerts' artistic director, who made Eastman one of his missions) playing the lead vibraphone and cellist Seth Parker Woods, who is quickly becoming a groundbreaking new-music star both in the avant-garde and pop worlds.
The elements of "Femenine" can be easily identified. The melodic motives are pure "In C." The way notes are added or subtracted to motives was what Philip Glass was up to at the time. Eastman adapted aspects of Steve Reich's rhythmic manipulation. He carries past moments to present moments, new sections building new ideas out of what came before, just like Leonard Bernstein did. He has Thelonious Monk's bounce and Meredith Monk's beatitude.
But as ideas accrue over the crust of that endless vibraphone lick, the world around it keeps changing and this sounds like nothing you've ever heard before. Angst and anger, which are a big part of Eastman's psyche, turn to beauty and grace, thanks to jubilant riffs on high wind instruments. The textures become sumptuous thanks to violin, viola and the Parker Woods magical cello. A soprano sax takes an ecstatic Coltrane turn.
The piano has a starring role with Satie-esque figures. A grand crescendo after around 40 minutes is the point where effusiveness takes over. I looked around the hall and didn't see a soul who wasn't hooked. A big beat followed with injections of ecstasy. By the end, when it's back to just the vibraphone and the crickets, the world has turned on its axis and that is ineffably moving.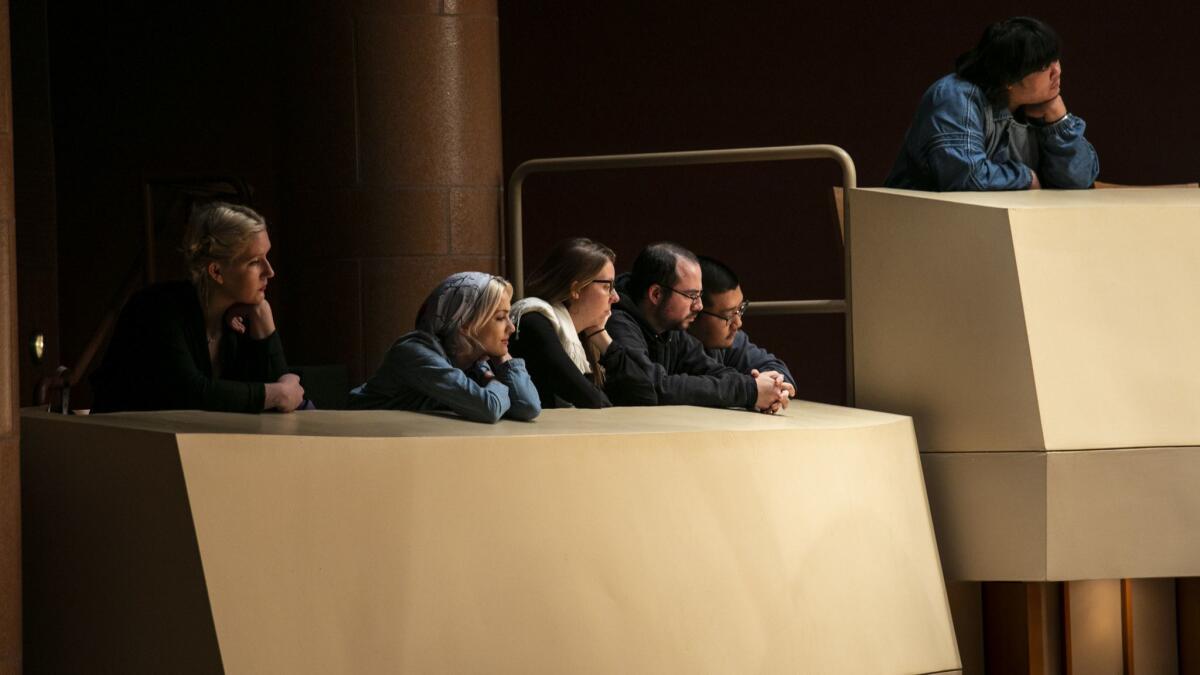 The scene for "Femenine" was set with a short first half of the program devoted to a half-dozen pieces by Meredith Monk for one and two pianos. In theory, this paid homage to Eastman having sung in Monk's ensemble. In practice, it functioned as mood enhancer.
The pianists were Gloria Cheng and Ursula Oppens, and they did their own bit of cultural restoration. Monk's piano pieces are often relegated to the bin for enviable naiveté. But there was nothing childish about the eerily exacting playing from two pianists known for their phenomenal control and uncompromising musicianship.
When Oppens' right hand in the solo, "Paris," suddenly broke away from the beat into fluttery extravagance, a stationary bird might have thrust in sudden flight — not out of fear, but just because it could. The significance of that for Eastman was everything.
Get our L.A. Goes Out newsletter, with the week's best events, to help you explore and experience our city.
You may occasionally receive promotional content from the Los Angeles Times.