Review: Dudamel untangles the strangeness of Schumann's symphonies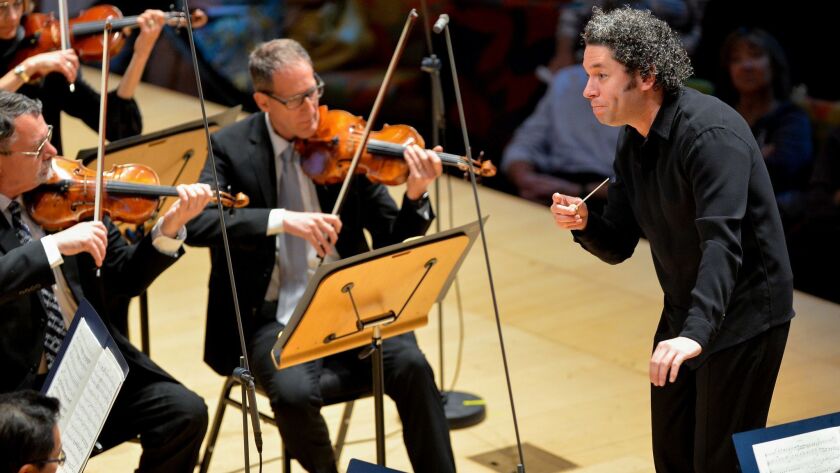 Music Critic
There are no special T-shirts on sale as swag for the Los Angeles Philharmonic's "Schumann Focus" festival, the way there have been for Gustavo Dudamel's Beethoven and Mahler symphony cycles at Walt Disney Concert Hall. Schumann may have been the crucial symphonic link between Beethoven and Mahler, but he is not thought of as a composer to be worn heart on sleeve, even if he all but invented Romanticism in music and was a Romantic's romantic if there ever was one.
Schumann has long been considered a composer for the fingers, his piano music treasured above the rest of his catalogue, and of the voice, his songs coming in second. Most of all, though, he has been accorded the dubious distinction of having been a composer of the psyche who, once he began hearing voices, no longer commanded a coherent one of his own.
The symphonies, as were the concertos for piano and cello that Dudamel paired with them, were relatively late works, written between 1841 and 1851. Schumann had a complete mental breakdown soon afterward; the theories of his death at 46 in 1856 include syphilis, a brain tumor, schizophrenia and bipolar disorder. He long had issues with depression, and the state then of medical science offered little help for the torment of his last years.
Lacking psychopharmacology, Schumann turned to psychosymphonicology during his decade devoted to orchestral music. Writing these four symphonies may not have been able to remove a composer's day-to-day mental anguish, but Dudamel's coherently searing performances revealed, against hard-to-break conventional wisdom, Schumann's great triumph of music over mind.
In the First Symphony, which began the festival, Dudamel put to rest the nonsense that Schumann didn't know how to orchestrate, that he lacked the concentration for rational symphonic argument and that he had too many new ideas to sustain cogent symphonic structure. But that this more or less conventional symphony is a paean to spring, optimism might be thanked for forgiving compositional sins. In fact, Dudamel's propulsive performance, accenting the positive as well as the accents, proved preparation for the downright spectacular Schumann to follow.
My guide for Dudamel's readings of the symphonies has been Antonio Damasio's revelatory discussions of the deep structure of feelings and their relationship to not only the body but all biology in his new book, "The Strange Order of Things." "The most strongly ordered emergences of high faculties," the noted USC neuroscientist and philosopher writes, "are probably feeling and consciousness."
The strange order of all things Schumann in his symphonies is that feelings follow cognition itself. To hear a trombone play a soft, lyrically seductive melodic phrase in the introduction of the Second Symphony — something that was new to symphonic music — was not incompetence but a vision for broadening of the aspects of beauty. Instruments of the orchestra, in Schumann's hands, were not simply tools for clarifying the details in a score but for creation of new meaning — the instruments, themselves, were connected to and of feelings.
That was how Dudamel proceeded. Moment after moment after moment, he made sense of Schumann by effusively bringing out all that was new and adventurous in the symphonies not as details or asides to the structure but as an integral part of the experience.
Like so much else in Schumann, his rhythms have a quixotic peculiarity easily explained as clumsiness, a broken mind-body connection somewhere along the line. Dudamel extravagantly made them seem not nearsighted but farsighted: This is where music rightfully was heading, a step beyond Beethoven. Schumann's unexplained changes in tone or time or tune had little effect on Dudamel. He kept looking ahead, the only difference being that getting where he was going was no longer as overwhelmingly important as the going.
Still, there was more than enough smelling the roses in these performances. In the movement of the Third Symphony ("Rhenish") that evokes Cologne's great cathedral on the Rhine, the hallowed effusiveness the L.A. Phil produced made the picturesque downright mystical. A little swell in the last movement of the Fourth Symphony, otherwise played with bravo-inducing excitement, was so perfectly time as to be the pause that refreshes before launching into a life-enhancing fugue.
No T-shirts, but there will be a souvenir for these symphony performances. The orchestra recorded them live for unspecified future release. It will burnish its reputation. The playing was about as good, and as L.A., as it gets. Dudamel and the orchestra have recently returned from an East Coast and European tour. The reviews have been mixed. Critics expect the L.A. sound to be loud and brash and, well, Hollywoodish.
It can be. But the orchestra is also uniquely flexible, capable of displaying a phenomenal quickness of reflexes, and it rarely fails to exhibit a sense of rhythm. Perhaps then it will come as news when the recordings are released that Schumann's symphonies need not come across as too thick of texture, too fussy in structure and not danceable, and that they need not be toned down.
This past weekend's concerts with the last two symphonies were preceded by the "Genoveva" Overture and Cello Concerto. Most of Schumann's audacious late music is neglected, and that includes his large-scale dramatic works, such as his only opera, "Genoveva." "Schumann Focus" will partially rectify that this coming weekend when it turns to Schumann's brilliantly inventive oratorio "Das Paradies und die Peri," with staging by Peter Sellars.
No one can complain about the lack of performances of the poetically elegiac Cello Concerto, on this occasion featuring Sol Gabetta as the graphically vivid soloist. But it's long past time for more attention to the Violin Concerto, Schumann's farewell to the world, which has been dismissed as the ravings of a composer who had lost his mental powers. Dudamel's Schumann, however, focuses on a composer achieving a heightened power of expression where peception cannot be contained by mere mind alone.
---
The complete guide to home viewing
Get Screen Gab for weekly recommendations, analysis, interviews and irreverent discussion of the TV and streaming movies everyone's talking about.
You may occasionally receive promotional content from the Los Angeles Times.