For Quiara Alegría Hudes, a soldier's story leads to this remarkable feat: 3 plays on 3 L.A. stages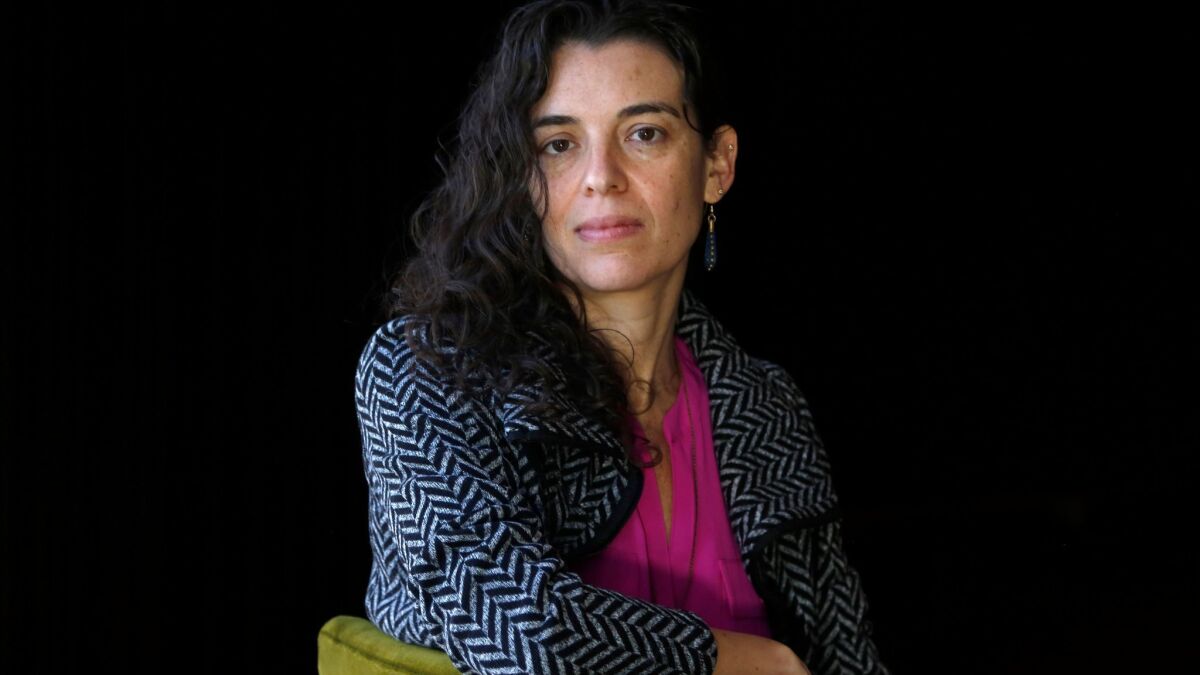 Pulitzer Prize-winning playwright Quiara Alegría Hudes learned storytelling among a sprawl of aunts, uncles and cousins. When her mother's talkative Puerto Rican family got together, Hudes not only picked up the art of entertaining an audience with a story, but also accumulated many of the details — and characters — now filling her tales.
She learned so well that at just 29 she had her first brush with a Pulitzer. In 2007, she was a drama prize finalist for "Elliot, A Soldier's Fugue," which was inspired by a Marine cousin serving in Iraq during the first days of fighting there. As that story grew into what would become three plays brimming with other family members, she won the 2012 drama Pulitzer for the second tale, "Water by the Spoonful," in which the cousin reacclimates to civilian life after sustaining a grievous leg injury in the war.
In between, she was a 2009 finalist with Lin-Manuel Miranda for writing the script to his musical "In the Heights," about life in a vibrant Latin American neighborhood in New York. Her writing for the musical also earned a Tony nomination, and the show was named best musical.
These days, Hudes is causing a stir with the musical "Miss You Like Hell," which traverses the United States alongside an undocumented Mexican mother and her U.S.-born teenage daughter. The show exploded onto the scene when its La Jolla Playhouse premiere coincided with President Trump's election.
"Miss You Like Hell" is being readied for an April 10 opening at the Public Theater in New York, where Hudes lives. Here in L.A., her three soldier plays are being produced.
"Elliot, A Soldier's Fugue" opens Saturday at Center Theatre Group's Kirk Douglas Theatre in Culver City; "Water by the Spoonful" opens Feb. 11 at CTG's Mark Taper Forum in downtown L.A.; and "The Happiest Song Plays Last" opens Feb. 22 in a Latino Theater Company production at the Los Angeles Theatre Center downtown.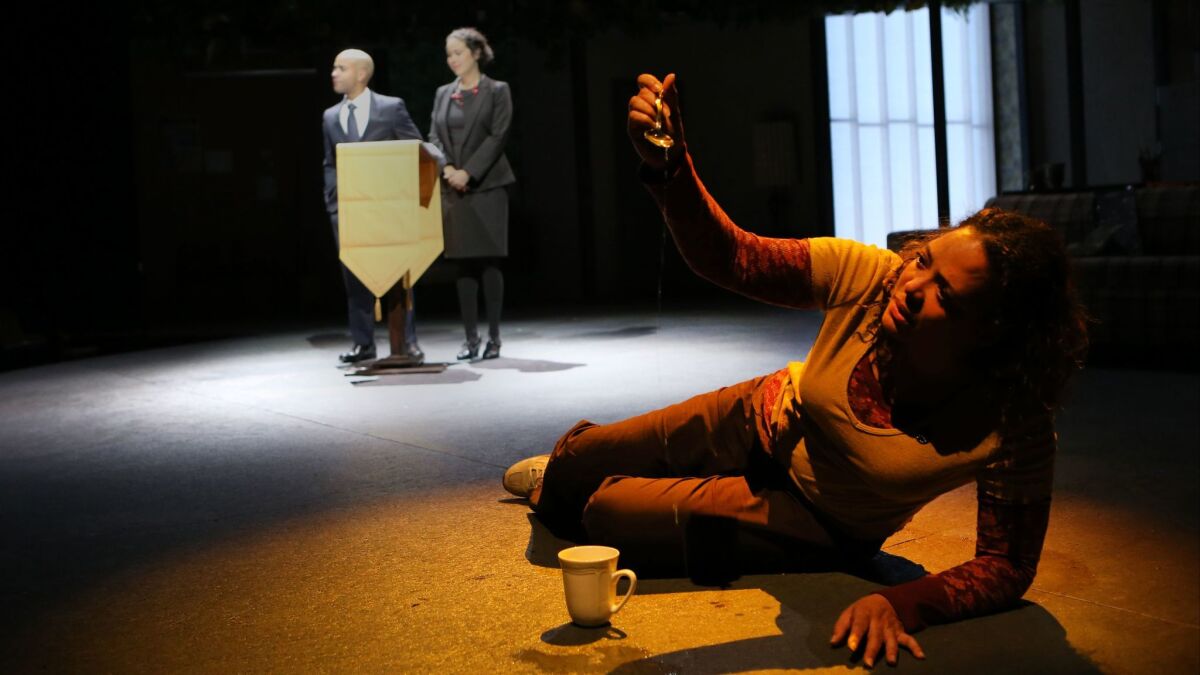 While in Los Angeles recently for an extended weekend of rehearsal visits, the 40-year-old playwright thought back to the family gatherings in her hometown, Philadelphia, that proved to be so formative.
"We told stories, watched the Eagles, had dance parties and ate," she recalled. Storytelling was a form of cultural preservation. The family had moved from Puerto Rico when Hudes' mother was a preteen. "Everyone was always telling stories about 'the island.' They would say, 'Sit and listen to this'" because it wasn't in history books and wouldn't otherwise be passed along.
"When there's not a widely recognized, written literature of your culture's history, the oral histories are so urgent and so important."
Not only did she listen, but she would ask to hear stories again, prompting laughs from the adults. But that's how she learned the essentials she would later master at Brown University with playwright Paula Vogel ("How I Learned to Drive") as her mentor.
Writing came naturally, and as a girl she experimented with everything from self-made 'zines to movie scripts. But not until her mid-20s did she realize that writing could be a career. By then she had earned a degree in music, another love.
It was Hudes' mother, a longtime community organizer, who gave her the push.
"My grandmother was getting sick," she recalled, when Mom pointed out: "'We're about to lose a lot of stories. You've always been a writer. Could you do this for real?'"
When one of Hudes' younger cousins returned from Iraq in 2003 with a serious leg injury, she sensed a story coiled there.
Hudes grew up in the bridge years between her first cousins and the first cousins' children. Elliot Ruiz, 6 ½ years younger, was one of the latter.
"He was so much like Fresh Prince of Bel-Air I used to call him Fresh Prince," Hudes said — "extremely charismatic and charming, extremely silly and goofy, huge smile." None of that had changed after Iraq, she added, "but there was a pain there in his eyes that I had not seen, and this is a kid who grew up with some serious trauma. This was different, and I wanted to explore that to find out what that was."
They talked for hours. What emerged in Hudes' writing is fictional but emotionally genuine.
"Elliot" traces a lineage of military service. The voices of two prior generations ring in the air as the title character, inspired by Ruiz, heads to Iraq. Ruiz's adoptive father served in Vietnam, and an older uncle of Hudes' fought in Korea with a Puerto Rican regiment. They were the models for two of the earlier soldiers.
Ruiz, now a 33-year-old office manager and dive master who lives in the San Fernando Valley, had just turned 18 when his Marine battalion entered Iraq at the start of the war. A month later, a car rammed a checkpoint and dragged him along in a snare of concertina wire.
"I don't really talk to other people about my experiences," Ruiz said in a separate interview. But he opened up to Hudes because "that's my big cousin, someone I trust, someone I knew I could say whatever I wanted and she wouldn't judge me."
"Water by the Spoonful" catches up with the injured Elliot back home in Philadelphia. Pain and frustration dog him, as does an Arabic-speaking ghost. Fortunately, his lively cousin Yazmin is rarely more than a phone call away.
Elliot's scars are mirrored in a parallel story line about a woman who monitors a chat room for recovering addicts like herself. Hudes said her inspiration here was a cousin whose heroism might've been easy to overlook. "She had triumphed on this very difficult path and, really, path of no glory, of just staying clean and sober."
The character is a devoted mother to her online companions, but we sense that elsewhere she has failed in this role.
Suffusing the story, though she's unseen, is Ginny, a sunny spirit modeled on Hudes' aunt and Ruiz's adoptive mother, who was a pioneer in community gardening in blighted North Philadelphia.
The final play, "The Happiest Song Plays Last," draws inspiration from Ruiz's stint as a technical advisor and actor for the 2007 film "Battle for Haditha," which was shot in Jordan. Back in Philadelphia, Yazmin steps into the role of family matriarch.
Music is a key component — Bach in the first play, John Coltrane's jazz in the second and música jíbara, born in Puerto Rico's countryside, in the third. The writing sounds at times like music too, especially in the first play, which is written in a verbal equivalent of fugue form.
Hudes views all three plays as depictions of a "wildly diverse" America in which some people are close to the levers of change and others far away — "a metaphor about the health and the state of our nation," she said, "and our responsibility to each other."
Looking at the plays from a veteran's perspective, Ruiz appreciates their ability to bring issues like post-traumatic stress disorder to life, letting people see what it's like and how it affects families.
The ghost that follows Elliot home from Iraq is, Ruiz observed, "an issue that a lot of the guys deal with. We have to live every day with the things that we've done."
But the real Elliot, like the fictional one, moves determinedly forward. Ruiz was told that he probably would have to use a cane for the rest of his life, but he was determined to defy doctors' expectations as he progressed through more than a dozen surgeries to his right leg. Today he has a slight limp, just enough to make people think, "'This guy's walking with some swagger.' I let people think it's the swagger," he said. "Make it look cool."
Hudes' family does not figure directly in the musical "Miss You Like Hell," but the anxiety of its undocumented mother is something the playwright witnessed. Her mother was a community organizer for women's health issues, and Hudes remembers as a young child being scooped into a car in the middle of the night to accompany her mother on a crisis call to a woman who was giving birth at home and needed medical attention "but would not go to the hospital because she was terrified she would be deported."
Hudes and composer and co-lyricist Erin McKeown have been writing the musical for five years.
"This is not a Trump musical," Hudes said. "These issues go way back."
Are more family stories cued up? "There is a lot to tell," Hudes said. "I have only just begun."
One that's in the formulative stage is a play inspired by some cousins.
"It's about young motherhood and extremely low self-esteem — and also about reggaeton stars," she said.
She's also deep into a memoir about coming of age in the '90s.
Hudes sees her writing as equal to the contributions her family members have made to their communities, whether her stepfather, a building contractor; Aunt Ginny, the urban gardener; or Hudes' husband and father to their two children, who is a public defender and, she adds, "my hero."
"It really takes a village," she said. "I'm one part of the village. I'm the griot, I'm the storyteller … speaking the story into the American story."
♦ ♦ ♦ ♦ ♦ ♦ ♦ ♦ ♦ ♦ ♦
The Elliot trilogy
"Elliot, A Soldier's Fugue": Kirk Douglas Theatre, 9820 Washington Blvd., Culver City. Through Feb. 25. (213) 628-2772, www.CenterTheatreGroup.org
"Water by the Spoonful": Mark Taper Forum, 135 N. Grand Ave., downtown L.A. In previews now, opens Feb. 11, ends March 11. (213) 628-2772, www.CenterTheatreGroup.org
"The Happiest Song Plays Last," Los Angeles Theatre Center, 514 S. Spring St., L.A. In previews beginning Feb. 17, opens Feb. 22, ends March 19. (866) 811-4111, thelatc.org
SIGN UP for the free Essential Arts & Culture newsletter »
Twitter: @darylhmiller
---
Get our L.A. Goes Out newsletter, with the week's best events, to help you explore and experience our city.
You may occasionally receive promotional content from the Los Angeles Times.