Rory O'Malley's comic road to King George in 'Hamilton' started in Burbank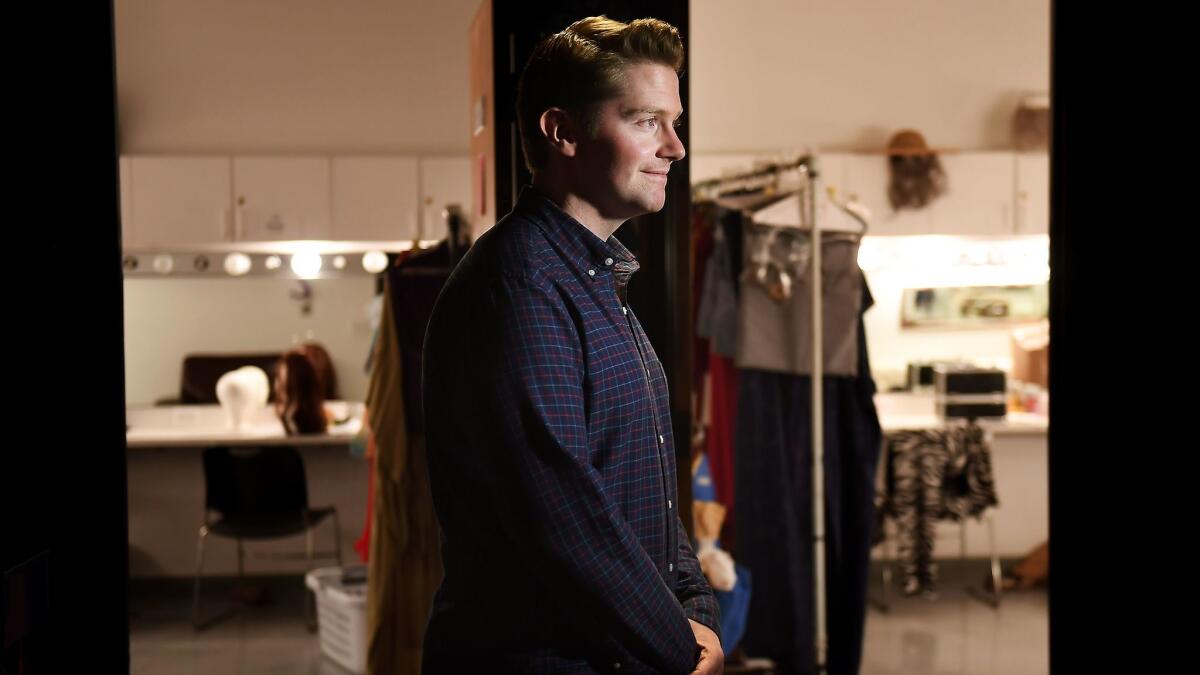 Rory O'Malley's husband says O'Malley's head has gotten bigger since it's been wearing a crown. O'Malley doesn't argue. Playing King George III in the national tour of "Hamilton," after ruling the role for nine months on Broadway, has done wonders for his self-confidence.
"It's definitely a high when you walk onstage and everybody starts applauding before you even say anything," O'Malley says over coffee in Burbank on a recent afternoon.
The sun pounds mercilessly on an outdoor table, causing O'Malley, the self-professed "whitest person who ever walked the face of the Earth," to shrink like a violet.
I basically parachuted down into the biggest phenomenon Broadway has ever seen.
— Rory O'Malley
King George provides comic relief in Lin-Manuel Miranda's hit musical, which wraps its run at the Hollywood Pantages Theatre on Dec. 30. O'Malley appears alone onstage at pivotal moments during the dramatized American Revolution, singing songs like "You'll Be Back," with the lyrics, "When you're gone, I'll go mad / So don't throw away this thing we had / Cuz when push comes to shove / I will kill your friends and family to remind you of my love."
O'Malley delivers the lines with delightful wickedness. King George serves as a lighthearted foil to the inherent tragedy of the plot while standing in as a symbol of lingering white oppression in a show celebrated for casting actors of color in most starring roles.
With his keen insights on the power of a musical that harnesses current events to illuminate the lessons of history, and with his rapid-fire delivery of self-deprecating jokes, O'Malley seems well suited to play this walking paradox.
When "Hamilton" opened at the Pantages in August, Times theater critic Charles McNulty wrote, "Rory O'Malley is such an ingenious chuckle as King George tooting out British pop as his colonies go rogue that I was secretly hoping Miranda would have written a few scenes for the character in the months that have passed since I last saw the show."
For O'Malley, finding himself in Los Angeles was a homecoming. He chose to meet down the street from the Garry Marshall Theatre, formerly the Falcon Theatre, where O'Malley got his big break playing Charlie Brown in "Snoopy! The Musical" in 2004. He credits his subsequent success to the family he found under Marshall's mentorship. For O'Malley, Los Angeles is a theater town.
"The reason I'm an actor at all is because Garry gave me a home at this theater," he says later in the theater's lobby. "I was ecstatic. I loved being here. These people are the greatest people ever. They saw something in me."
At that moment, Marshall's widow, Barbara, pushes through the auditorium doors. She beams, recalling the time she and Marshall saw O'Malley perform in "Hamilton" on Broadway.
"Garry and I just couldn't get over it," she exclaims, clasping her hands. "Rory is standing on that stage all alone — it's just him on that big Broadway stage."
O'Malley is clearly pleased.
"Yeah, Richie Cunningham, all grown up," he tells her, referring to another role he played at the Falcon in a production of "Happy Days," based on the TV show Marshall created.
O'Malley is funny and doesn't mind when the joke is on him. He relishes the fact that his husband, Gerold Schroeder, calls him a "Tony loser" for having lost the coveted award in 2011. (O'Malley was nominated for playing Elder McKinley in "The Book of Mormon" but lost to John Larroquette for "How to Succeed in Business Without Really Trying.") The couple were still dating at the time, and Schroeder turned to O'Malley and said, "I'm sorry, but I don't date losers."
"That's why I married him," O'Malley says happily. "To keep me level-headed."
Because at heart, he's still an Irish boy from Cleveland raised by a hard-working single mom who encouraged his early love of song and dance and who served as a treasurer for every theater group he joined.
His mother was an accountant who worked at an Irish pub on the weekends to make ends meet. O'Malley loved the "Irish-Catholic pub scene" and later wrote a one-man show called "Pub Crawl" that features the drinking songs he learned as a child.
He attended a Catholic elementary school where an aunt taught second grade. That aunt also happened to be the director of the annual Christmas pageant, and when O'Malley was 8, she cast him as Joseph.
"It's always who you know in this business," O'Malley says. "Unfortunately that's as far as nepotism would take me, but that night I sat my mom down at the dining room table and said, 'I know what I want to do for the rest of my life.'"
He studied musical theater at Carnegie Mellon University in Pittsburgh, where he roomed with fellow "Book of Mormon" alum Josh Gad. O'Malley had his sights set on New York City after graduation, but when he performed there in a showcase, no agents bit.
"I had a week blocked off for all my meetings, and only one woman wanted to meet with me. But when I called her, she said she must've checked the wrong box," O'Malley says. "So I thought, 'Well, I'll give Los Angeles a try.' "
He was still training to be a host at the Wood Ranch barbecue restaurant at the Grove when he landed an acting job, a play called "Jesus' Kid Brother" at the Hudson.
"I called Wood Ranch and said, 'I might have to quit, I just got my first acting gig,' " he says. "But then I found out the show paid $7 a night and I said, 'Actually, I'm going to have to pick up a few more shifts.' "
Cut to January 2016. O'Malley was offered the role of Bill Gates in the new musical comedy "Nerds," which was slated for Broadway. After three weeks of intense rehearsal, an executive producer told everyone to go home. An investor had pulled out.
O'Malley returned to Los Angeles heartbroken.
"I said, 'Alright, Gerold ... Broadway is done with me,' " O'Malley recalls. Schroeder took his despondent husband to a SoulCycle class, feeling it was just the thing to brighten his spirits.
"The instructor was, like, 'Let's meet at the corner of courage and curiosity,' and I was like, 'Shut up, I don't want to hear it,'" O'Malley jokes.
But just two days later he got called to play King George in "Hamilton" on Broadway. He had seen the show at the Public when it first began making waves and became obsessed with it ("wanting to be Angelica Schuyler, if we're honest").
"From that moment on, it's been like being shot out of a rocket," O'Malley marvels. "I basically parachuted down into the biggest phenomenon Broadway has ever seen."
He shared a floor of dressing rooms with "Hamilton" creator Miranda and got to meet all the personalities who headed back to congratulate the show's star — people like John Kerry, Jennifer Lopez and David Letterman. He performed the night Vice President-elect Mike Pence was famously in the audience, and he experienced a feeling unlike any other when the audience went wild after he sang "You'll Be Back."
"You watch the show through the lens of what's going on in the news that day," O'Malley says. "You're reminded eight times a week how hard generations before us fought to make America, and it was never perfect in any shape or form. We cannot give up on working toward that more perfect union."
Find cast profiles, behind-the-scenes features and more in our "Hamilton" archive.
Get our L.A. Goes Out newsletter, with the week's best events, to help you explore and experience our city.
You may occasionally receive promotional content from the Los Angeles Times.