Syncopated Ladies dance their way into the boys club of tap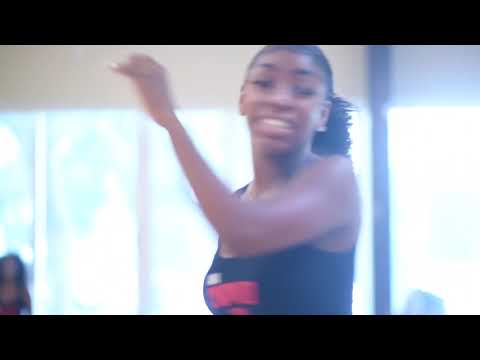 The Syncopated Ladies is an L.A. based dance group bending the tap genre for modern audiences and carving out their place in what traditionally has been a tap-dancing boys club.
Flashes of footwork and a flurry of sound filled the Debbie Allen Dance Academy as tap dancers gathered for their weekly improvisational jam session. Dancing on and in between the beat, dancers spoke with their feet — expressed themselves without inhibition.
But on this particular evening in 2003, dancer Chloe Arnold noticed something unusual about the makeup of the group. Instead of a room full of men, this group consisted of mostly women.
It was a rare sight for Arnold, who for years had participated in jam sessions in New York, working her way up the ranks of what was tap dancing's boys club.
"Women are taught to follow the rules, to be quiet, to ask permission," Arnold said, referring to the deep cultural norms that help to explain why so many aspiring female dancers did not see a place for themselves in tap. "When you're dealing with improvisation and freestyle, there is no asking permission."
It requires courage, she said. "A lot of courage."
But seeing the group of women dancing without confines, inspiration struck.
"I thought these are sisters I need to bring together to create something," she said.
So Arnold, along with her sister and fellow tap dancer Maud Arnold, recruited tappers for an all-women group called the Syncopated Ladies.
They began by putting on free shows, dancing for the pure love of tap. But in 2012, the Arnold sisters took the group to the next level by choreographing and directing highly stylized videos to popular music.
In 2016 one of those videos — a tribute to Beyoncé's women empowerment anthem "Formation" — got a nod from the pop goddess herself. Since then the Syncopated Ladies have racked up millions of views online, put on a sold-out show in L.A. and are featured in the documentary "Tap World" on Netflix. The Arnold sisters have even launched their own tap shoe.
More important, the Syncopated Ladies are pushing back on the notion that tap dance is a dying art form.
What had been at the center of American pop culture starting in the 1920s eventually fell into the category of nostalgia. Now, however, it has bounces back as a thriving subculture, said Brian Seibert, author of the tap history novel "What the Eye Hears." The Syncopated Ladies, he said, are part of the movement to bring tap back to the masses.
They join others like the Tony Award-winning dancer and choreographer Savion Glover and 2015 MacArthur fellow Michelle Dorrance, whose troupe Dorrance Dance recently won raves for its performance in Beverly Hills. The Syncopated Ladies represent the next generation of genre-bending tappers who are revitalizing historic dance for modern times.
"We have the opportunity to educate and shed light on an art form that has never died," Arnold said. "We are excited to reach into every wave that art can be shared and put tap dance on those realms."
Raised in Washington, D.C., Arnold decided at age 10 that she wanted to be a tap dancer. Joining a youth tap company gave her the opportunity to train with legends like Gregory Hines, the Nicholas Brothers, Buster Brown and Dianne Walker. It wasn't long before younger sister Maud followed at 7, joining the same dance studio as Chloe.
Under the tutelage of entertainment mogul Debbie Allen, the Arnold sisters took their vision to the next level. As teenagers, Allen forced the sisters to think bigger: In addition to tap dancing, they needed to pursue film, writing and entrepreneurship — they needed to be the total package.
Both sisters attended Columbia University to study film, and they launched Chloe and Maud productions in 2009.
"Chloe Arnold always had the appetite and instinct to go further," Allen said by email. "I pushed her as a dancer, an actor, a businesswoman and a creative mind. I am so proud to watch her blossom."
A prominent aspect of their philosophy is paying homage to the history of tap — a dance form that allowed black performers to break boundaries throughout the 1900s.
"Tap dance is an art form that was born out of oppression," Maud said. "It's only right to utilize it as a vehicle to try to inspire and to bring light to injustices, especially in the world that we're living in now."
The Arnold sisters grew up in a household that was anything but rich, and they say they're acutely aware of the lack of access to the arts for those with little money, especially people of color. That's why they created a free program teaching tap and hip-hop dance to children in inner-city schools. Their youth tap company, Sole Talk, sees dance and art as a way to improve communities.
Several of the Syncopated Ladies' videos are dedicated to ideas like empowering women or raising money for charity efforts, such as hurricane relief in Houston and Puerto Rico.
The Arnold sisters have endured some harsh criticism for daring to be different. Tap traditionalists have called them out for original choreography that infuses tap with hip-hop, samba and contemporary dance.
But when those critics seem particularly loud, Chloe reflected on her greatest influence, the late tap virtuoso Hines. He helped the art form "to reach us as young people, which was make it current, make it fresh, give it new life, use his whole body, give it soul and also his humanity," Chloe said.
"Whenever you're going against the grain and having your own voice that you assert, it can make people uncomfortable," she added. "The flip side of that is that the general public is rallying behind us in masses, and that is powerful."
Their first evening-length summer show at the Ford Amphitheatre was a glimpse at what the future could bring for the group.
The energy mirrored that of of a pop concert, with the crowd cheering wildly when young dancers from Sole Talk performed to pop, rap and classical music.
It's the multitudes of tap — the movement, the rhythm, the athleticism — that Arnold said allow audiences to connect with the dance form.
In the coming years, she hopes to build a franchise concert series, tour abroad and create a television show, movie and album — and employ female tappers from around the world.
"We have so many outlets that we can put the art form into," she said. "And with our foundation be able to … expose the art form to an entirely new generation."
MORE DANCE:
Garth Fagan Dance delivers new spirit-lifting work
In Benjamin Millepied's L.A. Dance Project program, the name to remember is Noé Soulier
Get our L.A. Goes Out newsletter, with the week's best events, to help you explore and experience our city.
You may occasionally receive promotional content from the Los Angeles Times.